We all want to get away from our homes right about now. The endless lockdowns and the lackluster approach to restoring our freedoms have made millions of people contract cabin fever. We just want to go. Go somewhere nice, warm, and exciting. Well, even though China may have spread the virus to some nations, surprisingly, the eastern Asian countries have done very well. In fact, this is probably the safest area in the world right now, because of how governments have reacted to the pandemic. So, buckle up and take a ride, let's see what kind of things you can in this part of the world and which nations you should visit.
** This is a sponsored post.
Indonesia
This ancient nation of stone lions is definitely high up on the list. You should visit Tanah Lot, a temple that is on an island. Set in crashing waves and beautiful sunsets, this temple is a homage to the ancient gods and spirits that have kept Indonesia safe for centuries. With over 65,000 reviews on Google, it has a 4.6 star rating. This is almost unheard of in some parts of the online world. It's an amazing holy place which is set in a gorgeous location. It was built during the 16th century but it was fully restored in 1980. Among other things to visit and see, Indonesia has some of the best food in the region. Try the local rendang chicken curry. It's a mixture of cinnamon spice and some herbs that make for a spicy but earthy dish. 
Singapore
Singapore is one of the safest places on earth right now, because of their very low infection rate. In fact, they are showing Western governments how to handle a pandemic. They have been open for quite a long time now, so you should feel more than secure visiting this incredible city-state. That's why there is a range of condominium for rent in singapore. You can get a 400 square feet apartment all to yourself or with a friend or lover, for literally just $336 a month. Considering that you have a lounge room, bathroom and bedroom to yourself, this is something that you could afford quite happily. But where to go? Well, you have the Hawkers Center for all your authentic Singapore cuisine cravings, the amazing Gardens by the Bay, the Night Safari, the incredible Marina Bay Sands hotel and leisure center, as well as Sentosa Island. 
Malaysia
Just over the border is the amazing country of Malaysia. It too has symbols of lions and ancient temples, but it also has a truly modern lifestyle that rivals Western countries. The skyline for example, is perhaps the best in all of Eastern Asia. The Petronas Towers are a symbol of the country's power. In fact, Petronas is so good at what they do, they supply their car engine oil products to world F1 champions, Mercedes. The Batu Caves are also something you will want to experience. These ancient Hindu temples harbor a lot of power for the citizens of Malaysia. However they have been modernized, with classic straw huts on stilts, standing above the water. The place is serene and beautiful, the perfect getaway during this global panic. If you need to challenge yourself, Mount Kinabalu is awaiting your presence. The climb will be tough but the paths are very safe and there are experts to guide you.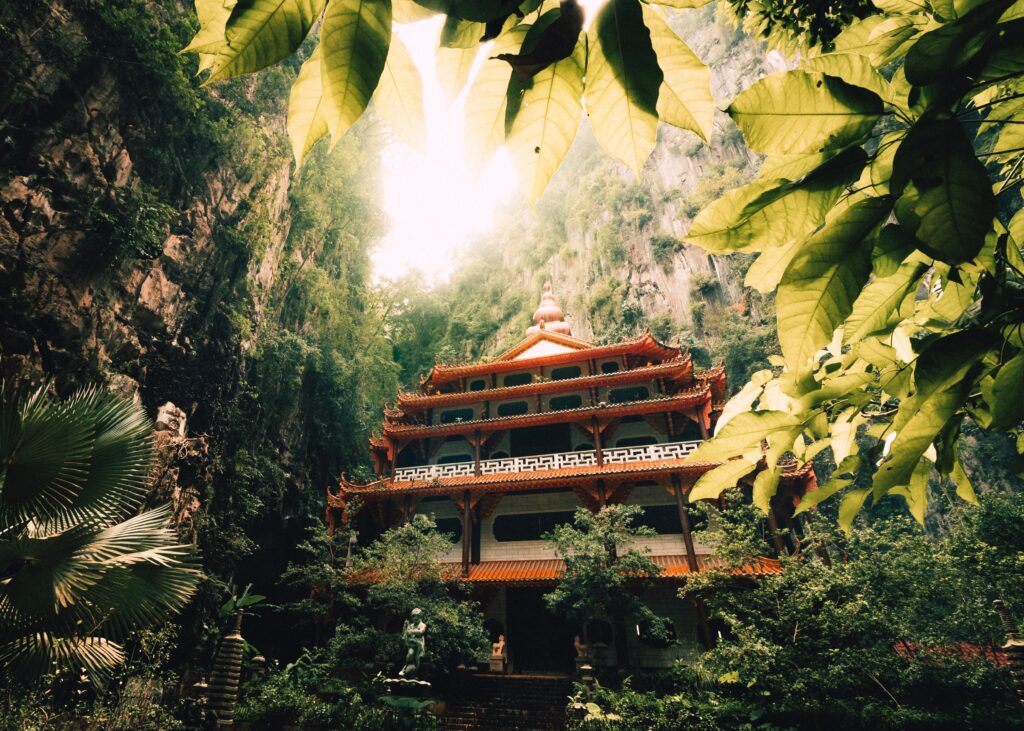 Cambodia
A nation with a sad past, due to the genocide of millions of people by Pol Pot, Cambodia is now trying to recover it's international image. And to put it lightly, it's succeeding very well. The ancient temples in Cambodia are probably the largest in the region. The Angkor Wat, Angkor Tham and the Bayon Temple are just three examples among hundreds. These temples are made from sandstone among other materials, which is why they were so easy to carve into. The statues and architecture of these temples is splendid and very moving. To think that thousands of people made these shrines by hand and all that is left of their lives are these epic buildings, really puts things into perspective.  
Vietnam
Some might say that all they know about Vietnam is the war. But, trust us, there are many more things to Vietnam than just the conflict that happened here over half a century ago. For example, the Old Quarter, where the street food scene draws people from all over the world. Here you will find seafood, chicken, vegan dishes and more, all cooked at the side of the road and inside the market. If you want spicy food, here is where you need to come.
Eastern Asia is a lot safer than some Western countries right now, which is why you should book yourself a holiday for a few weeks and go exploring in some ancient temples!