As I child, I remember spending hours outside running about, swinging on my swing, playing badminton, riding my bike, but according to experts, the children of today are missing out on vital experiences and learning opportunities because they don't spend enough time outside. The Telegraph published a survey that revealed only 40% of children, would rather be outside having fun and the other 60% wanted to be inside watching TV or playing on devices.
*This is a paid post in partnership with Wickey
Technology plays such a huge part in children's lives and whilst we cannot stop this, it is us as parents that need to create fun and engaging opportunities in the fresh air for children to want to be out there. With this in mind, I have come up with three outdoor play ideas to encourage your little ones outside.
Create Play Zones
You can get so many different outdoor play ideas by making different play zones in your garden just like it is in nurseries or in school play areas. The reason behind this is to keep your children active and engaged. The last thing we want is for them to get outside and within 10 minutes say that are bored and to find the indoor space more stimulating.
In our ideal garden we would have a home area where we would have a small playhouse, a sports area with a badminton net, a gardening area where they can help daddy with his veggies, a seating area for quiet play, an area that is mulched with bark chippings and give your kids buckets, spades and dumper truck toys for digging and tipping, children's car games, you could also add a mud kitchen in here too – the messy area and I would also have an active area with swings and slides so that little ones can burn off all that excess energy.
Wickey have some great outdoor play ideas  which include fabulous play-sets which cater for all ages and level of budgets. From a single wooden swing and sandpits, to multi level climbing frames and play houses.  Physical play is very important for children. The government are always promoting physical activity and to be able to do some in your own garden is extremely beneficial to your child's wellbeing.
Get Crafty
When you think about it, the garden is the perfect place to do kids activities like arts and crafts with children and let's face it, they generally love making a mess, I know the twins do! Some real fun outdoor play ideas can be had with crafts and painting terracotta pots is just one. They brighten up the garden and children can then use them for planting their own flowers in.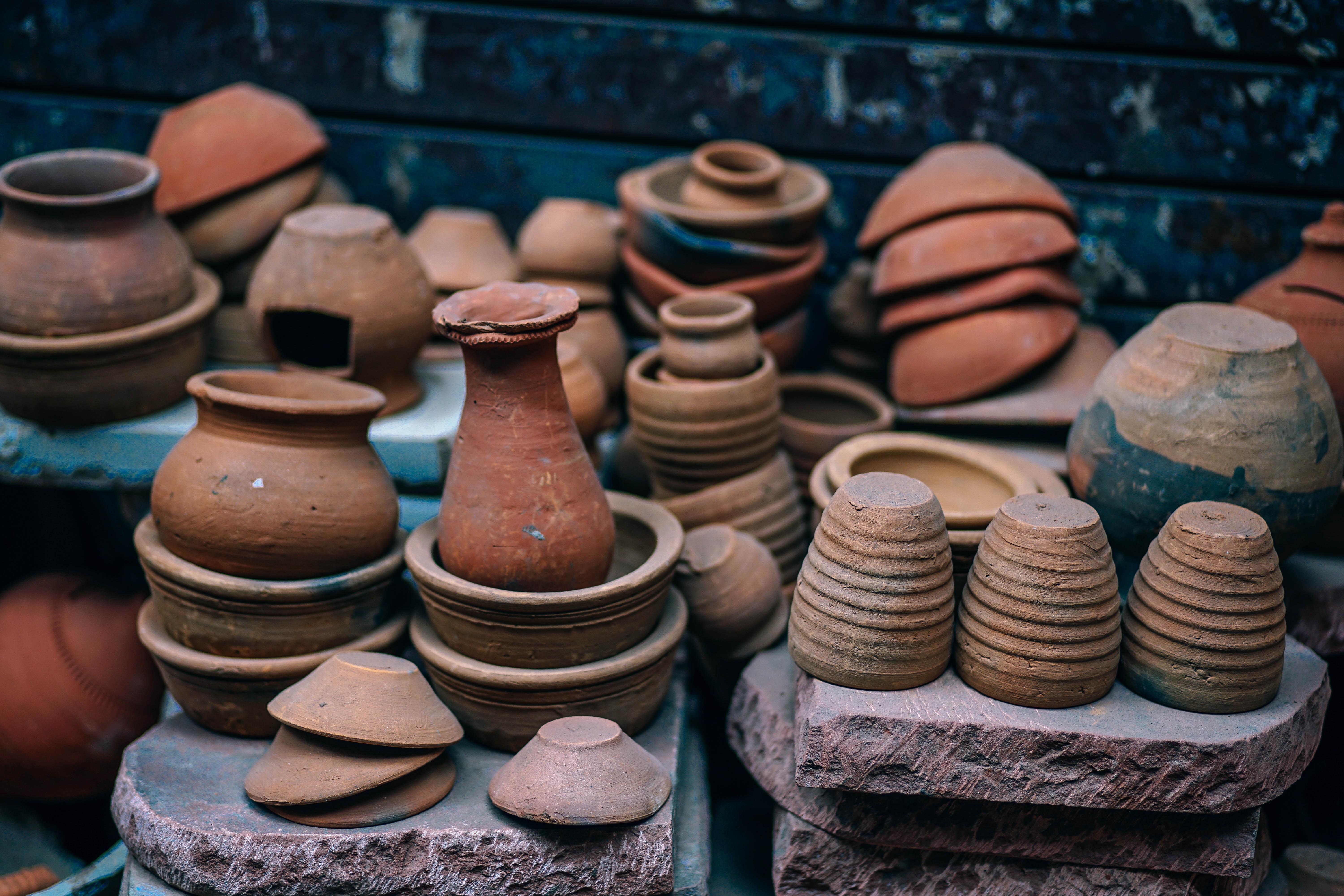 Start by giving the pots a quick base coat with emulsion, then let the children loose with some paints and allow them to use any colours they wish. Finish by giving them a vanish to ensure they last a little longer.
Tell them it's okay to get wet, dirty, and messy
And so the mess word comes up again, children simply love to get messy, most seem to be able to do it without even trying but if you are anything like me, you spend half your day telling them not to! But when children go out to play in the garden, they need the freedom and a carefree attitude to be creative. As silly as it sounds, you will probably have to tell your child that it is ok to get them to get dirty and maybe even show them how and to encourage it.
Since our trip to North Bradbury Farm where I did exactly the above and allowed the twins to play in the mud by getting them a mud kitchen, they now plan sessions out there themselves. They start in their indoor kitchen, and then take the fun outside.
You could even provide your children with some 'muddy clothes' and the best garden hose which can be used in the garden to have fun in and get dirty.
Why not come and join us on our Facebook or Instagram pages, we are always off on adventures so I might just be able to inspire you to do something fun!
** This is a paid partnership with Wickey