It seems like only yesterday you discovered you were expecting, and you had plenty of time to plan and have everything in place before your due date. But now your baby's arrival is imminent and you're starting to feel a little anxious and concerned that you've overlooked something major!
If this anxiety-inducing scenario sounds familiar, then you're not alone. Many parents-to-be spend the days leading up to their due date scratching their heads and waiting for whatever they've forgotten to suddenly make itself known. No one wants to arrive at the hospital or have their home-birth plans spoilt by an oversight. To help put your mind at ease, let's take a look at what you should have in place before the baby arrives, read on to find out more.
A secure financial future
Your baby might not be here just yet, but there's never been a better time to consider their financial future. We all want our children to have the very best start in life, and putting the right financial support in place for when they become an adult will give you peace of mind and allow them to hit the ground running. Many parents look to have a junior stocks and shares ISA in place for when their baby arrives. It gives them ample time to start saving for a brighter and secure financial future.
Whether they want to buy their first home, go travelling or start their own business, handing over ownership of the savings you've built for them for the past 18 years is an incredible achievement and a gesture they'll always cherish.

A space for visitors
Of course, having visitors will depend entirely on current Covid restrictions in your area. However, if you can have family members visit to care for other children or to support you through your labour, it's much better to be prepared. Towels, fresh sheets, plenty of loo roll, cupboard and fridge essentials and somewhere for visitors to sleep should be ticked off in anticipation of the baby's arrival.
Changing stations
The idea of having a cute little changing station upstairs in the baby's room is idyllic, sadly it's not always practical. Especially if you have other children who need supervision downstairs, or while you're recovering from labour. Instead, consider having changing stations and supplies in each room. So, this way, you can quickly change baby without running out of wipes or nappies!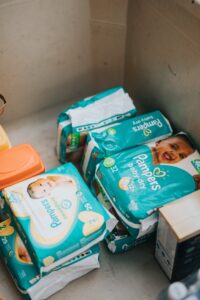 A fully stocked freezer
The last thing you or your partner will want to do is spend hours slaving over the hot stove, and ordering takeaway every evening isn't healthy for your body or your bank balance. Instead, plan ahead! Batch cook lots of meals that can be frozen in advance and then cooked later. This is a cheap and easy way to ensure everyone is well-fed and getting a good, home-cooked meal no matter how much sleep you've missed!
Final thoughts…
When it comes to welcoming a baby into your life, there's a lot to get done. Just remembering to call on your support network when you need to and enjoy this special time with your newborn.