Do you struggle with meal times; finding something the whole family will enjoy? We do and I'm forever going through recipe books to find new meals in the hope that not everyone will turn their noses up and what I put in front of them.
** This post is written in partnership with Hello Fresh and we have been compensated for our time.
Now the girls are at school, it is vital that catering for the family is quick and simple. We don't have the time that we used to with clubs and homework to get done, plus they are always starving the minute we get home. We love to get the children involved in cooking their meals as we find they try more new things this way.
We have started making a 2 weekly menu on rotation, but Monday has become pizza night. Each Monday we try new toppings and talk about what we like the best. This week we gave red pepper and sweetcorn pizza a go – what a hit it was! Find out how to make your own 'Red Pepper and Sweetcorn Pizza' in just 20 minutes!
What You Will Need
2 Ready Made Pizza Bases
1 Red Pepper
1 Ball of Mozzarella
1 Punnet Baby Plum Tomatoes
Balsamic vinegar
½ Packet Tomato Puree
1 Tin of Sweetcorn
Black Olives
1 Bag of Rocket
Olive Oil
Red Pepper and Sweetcorn Pizza Instructions
Turn on and preheat your oven to 200°C
Take out 2 ready-made pizza bases and place them in front of you.
Divide the tomato puree between the two pizzas and spread out evenly using a spoon. Leave a small boarder around the edge.
Cut up the Pepper in to thin slices taking out the core and pips. Drain the sweetcorn and mozzarella. Tear the mozzarella into small pieces.
Add the pepper to both Pizzas and sprinkle ¾ of the sweetcorn over the top.
Add the mozzarella and olives to both pizzas.
Place the pizzas on to baking trays and place in the oven for 9-10 minuites.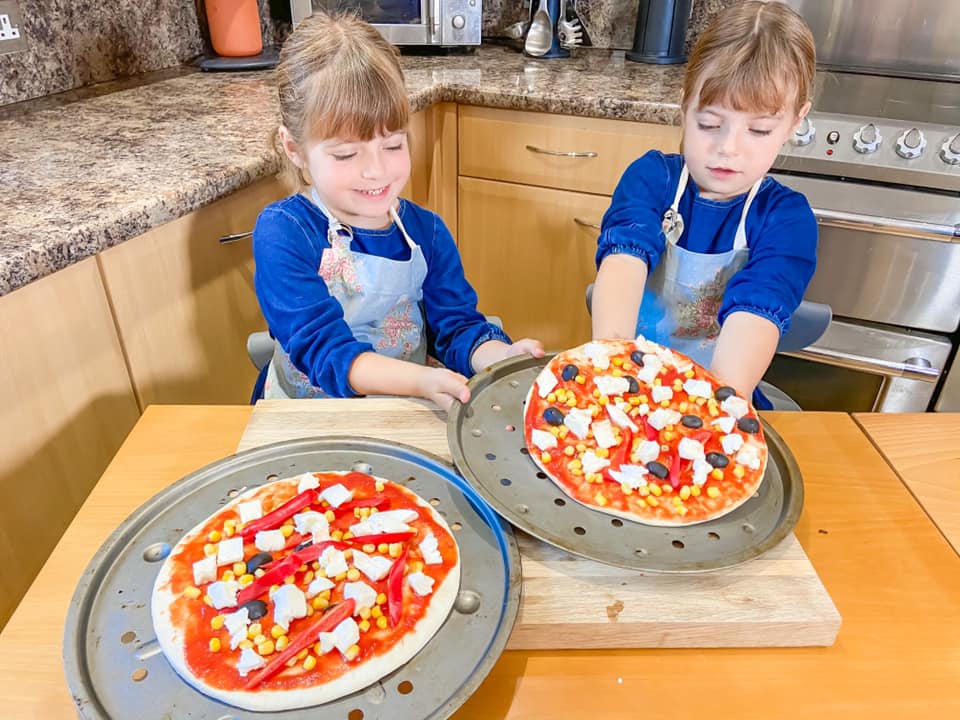 Whilst your pizza is cooking, prepare your salad.
How to Make the Rocket & Tomato Salad
Chop up the baby plum tomatoes in half.
Put the chopped tomatoes, remaining sweetcorn and rocket into a bowl.
Add the balsamic vinegar and olive oil.
Season with a pinch of salt and pepper, toss to coat.
Red Pepper and Sweetcorn Pizza Instructions Continued…
When the cheese is bubbling, your pizzas are ready. Remove from the oven.
Serve the red pepper and sweetcorn pizzas topped with a handful of rocket, tomato and sweetcorn salad and enjoy!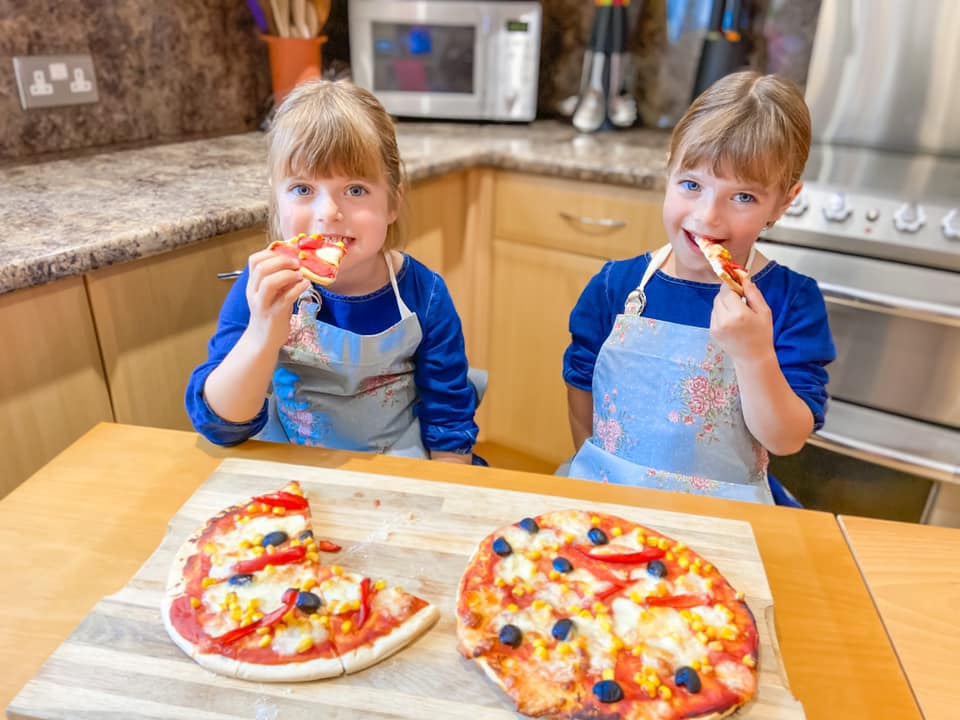 GO ON, PIN IT