Unleash your child's imagination and bring stories to life with the Toniebox. They allow little ones to love stories and listen away to their hearts content. Stories play such an important part in a child's life from developing their vocabulary, to what we have just mentioned above by allowing them to be creative and giving them their own ideas for stories that they will later write when they start school. Tonieboxes allow even toddlers to listen to stories on their own as they are that simple to use. 
**Sponsored Post / We were gifted the tonie for the purpose of writing this article.
So what are tonies®?
tonies® is an innovative audio speaker made for children – it even has two ears that control the volume and a space on top to which connects with characters to read stories!  You simply place a character from a story on top (there are over 45 stories to choose from) and they read your child the story – It really is as easy as that!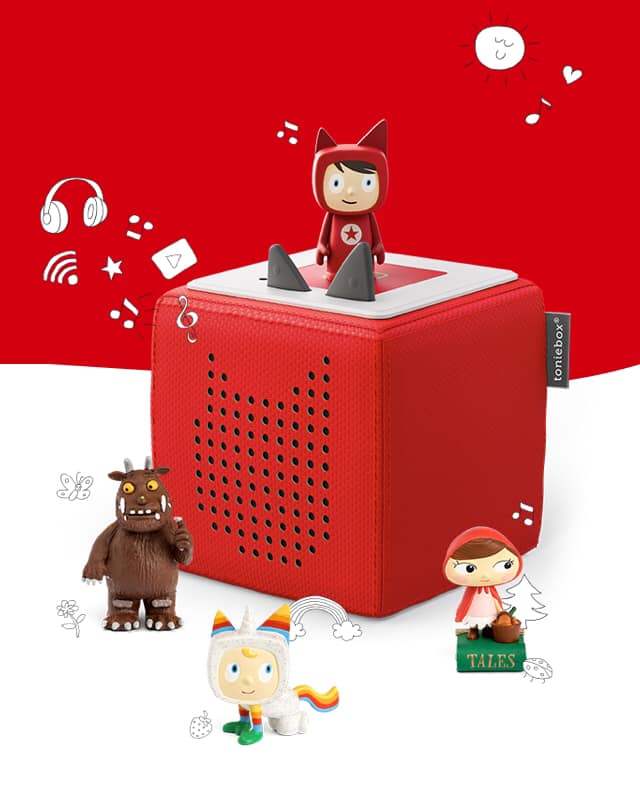 The Tonie characters range from your favourite Julia Donaldson's, to nursery rhymes, to fairy tales. You name it, they have it and the collection is being added to all the time. By the end of the year, they will over 65 to choose from. The stories are only short, 20-30 mins long each so keep children entertained and engaged and many of the stories include all of your child's favourite songs too!
A New Disney Partnership
tonies® have recently announced the launch of a new partnership with Disney which is totally incredible. Children are now able to listen to their much loved Disney favourites any time of the day. The first of theDisney characters to the market are Simba from The Lion King and Baloo from The Jungle Book. These two stories will have your children fixated and dancing around the house all at the same time as they include some of your favourite, well known tunes such as Hakuna Matata and The Bare Necessities

Try before you buy with AR Technology!
I think we all love products when you can try them out before you buy them and tonies® are giving you the chance to do just that. By using new AR technology you can preview the new Tonies characters in action via Facebook Camera.
Whether you have a Toniebox or not, you can visit the @tonies Facebook page and once the AR has been activated, you can preview Baloo and Simba singing and dancing on top of the Toniebox. You can listen to the songs for both Disney Tonies – but they're also available to buy now on the tonies® website!
What are your children's favourite stories? What Tonie Characters would your child be listening to right now?
**Sponsored Post / We were gifted the tonie for the purpose of writing this article.