Schleich Wild Life – A wild kind of toy!
Schleich toys have always been a hit in our house. You really can't beat a good quality toy to play with and the fine detail in which Schleich go in to when making their products, is totally amazing and the Schleich Wild Life range is no exception.  Our collection started when the twins Godparents bought them a whole selection of Bayala Unicorns and the glittering flower house. Not only are Schleich models a true representation of real animals, but they are made to last and really sturdy. Great for little hands.
**Disclosure – We received these products for the purpose of this review. However, all thoughts and opinions are my own.
Schleich Wild Life
With our upcoming trip to Kenya, we were asked if we would like to test our a few of the newer toys in the 'Wild Life' range. Not only are the girls able to be imaginative with Schleich, but there is also an element of educational play. I also feel that imaginative play is so important to build on children's creativity and Schleich toys are perfect for that.
Schleich produce both animals and larger play products in the Wild Life range. They open up a series of questions and discussion points around conservation and animals in the wild. Something we will be experiencing in Kenya very soon.
We received some new animals to the Schleich range to test, along with the animal rescue helicopter and the animal rescue large truck. Here's what we thought.
Schleich Wild Life Instructions
Both the animal rescue helicopter and the animal rescue large truck needed putting together. Good job it was Christmas and Grandad was on hand.
There was a very clear instruction booklet with both products. Whilst they were easy to follow, there was a lot of parts to put together, especially in the rescue truck so it took a little while but then that's the attention to detail that Schleich pride themselves with and include in all of their products.
Animal Rescue Helicopter
Animal Rescue Helicopter comes complete with alion, baby hippopotamus, a ranger, helicopter, helmet, cable winch, net and shovel.
The animal rescue helicopter is in demand. A small baby hippo needs rescuing from a lion. The ranger, complete with helmet, flies the helicopter over the planes of Africa to save the injured baby hippo which has just been attacked.
Once the helicopter reaches the hippo, the net is lowered to enable the hippo to be pulled on and flown off to safety, away from any more predators and towards the rescue truck where it can be examined properly.
Key Features
Cable winch for transporting heavy loads
Movable rotor blades!
The Shovel can be attached to the helicopter!
The pilot comes with movable arms and legs!
Schleich Wild Life Animal rescue large truck
The animal rescue truck comes complete with lion, meerkat, ranger, crane with cable winch, cage, truck, ladder, container, stethoscope, bandage.
Having tracked the helicopter, the rescue truck is now in a safe position to assess the hippos injuries. Fully equipped to give medical attention and perform small tasks to treat sick animals. The ranger is at the ready with hisbandages and stethoscope.
After treatment, animals are accommodated in the transport box. The crane first pulls the cabin onto the truck and then attaches the box to the truck. They then move away from the site and release the hippo at a large watering hole.
Key Features
A rotatable crane
Truck with integrated loading ramp
The cage can be stored in the truck
Removable container
Cable winch which can be flexibly positioned
NEW ANIMALS TO THE SCHLEICH WILD LIFE RANGE in 2020
Schleich pride themselves in being able to bring animals and people to life. They steer children's creativity and imaginations in to a world where both fact and fiction are real. They encourage learning and development in an age appropriate manor and create products to match.
Schleich have made it their task to grant children an understanding of animals and their natural habitats. With new products being created year after year, the educational expectations are endless. Let's see a few of the new products that 2020 has in store.
Schleich Reindeer
Reindeer can be found in large herds mainly in the colder regions of the world including regions of North America, northern Europe and northern Asia.
These reindeer, are the only species of deer where females have these antlers, as well as the males. Another special feature is their hooves which are wide spread and make a cracking sound when the walk.
Schleich Snow Leopard
The intricately painted snow leopard has a light grey coat, covered with black rosettes. A large cat which lives in the high Rocky Mountains of Central Asia. Thick fur protects it against freezing cold temperatures but its beauty means that many animals fall prey to poachers. That's why the snow leopard is an endangered species.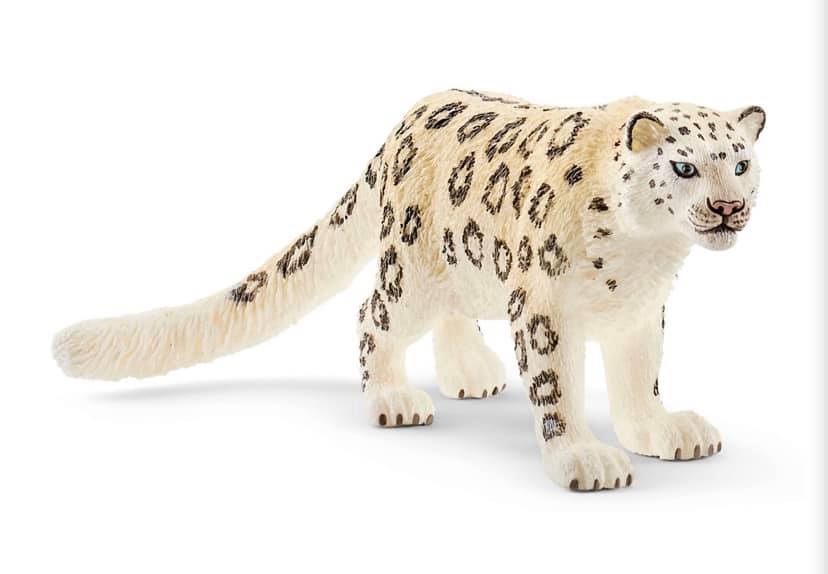 Schleich Baby Killer Whale
Killer whales are part of the dolphin family and are also known as Orcas. Their beautiful colouring means they are easily spotted and recognised for who they are.
Schleich Hammerhead Shark
The hammerhead shark lives in groups of up to 100 animals. They eat small fish including sardines, herring and mackerel. It has a distinctive head like a hammer and due to its wide spread eyes, means it had good vision giving the predator a 360 degree view. The snout allows them to sense electromagnetic signals of their prey.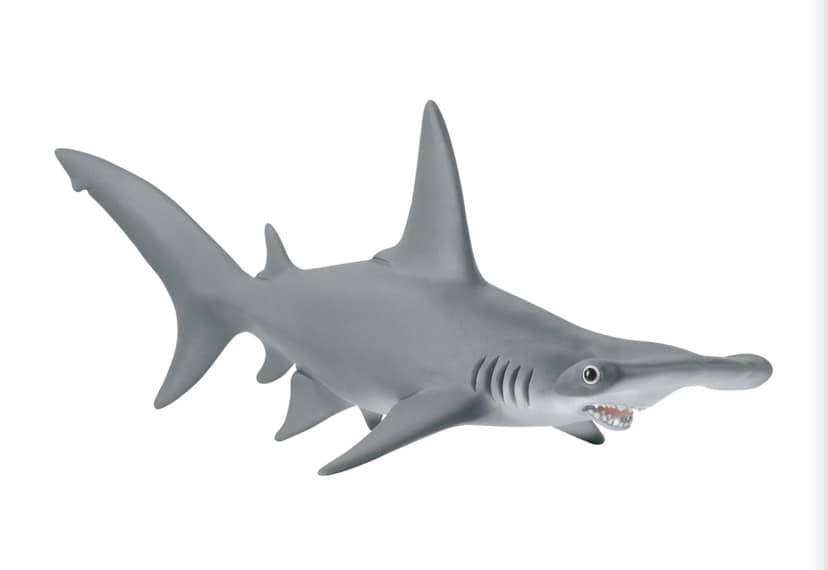 To purchase these Schleich Wild Life toys, or any other Schleich product, click here.
If you have enjoyed reading about these Schleich toys, you may be interested to read about our trip to Kenya and why we want to take the family there!
GO ON, PIN IT