A BABY MONITOR FOR FAMILIES WHO LOVE TO TRAVEL!
Even though the twins are 2 ½, I still swear by my video monitors at home so I can see what mischief the girls are getting up to! I take them everywhere with us – on holidays, to grandparents, and having just booked our first glamping holiday, I had always planned to take them there too. I don't know why it hadn't crossed my mind before but of course we wouldn't have electricity. So how would I get my trusty monitors from home to work. Well quite frankly I wouldn't. In reality I know they would be fine, we were only in a tent but I still worried. Then I came across the Summer Infant LIV CAM Travel Baby Monitor which worked with batteries (as well as the ability to plug it in) and instantly knew they were what this worried mother needed for her first Glamping trip with the Twins.
Before we set off on our holiday, I wanted to set the cameras up so I knew I was ready to go and it was simple! The way they work is through a phone or devise and you don't need wifi or mobile coverage to use the camera. You use your phone or devise as the monitor and the set-up is really simple. Even I could do it! You simply download the free Liv Cam app and follow the instructions. You do have to pair the camera with your device by typing in the password which is found on the bottom of the camera but that is pretty much it! Simple set ups get my vote straight away!
One of the first things we always do when we go on holiday is set up the Twins bedroom so the minute 7pm arrives, they can pop into bed! So having lined everything up so we could see them, all was ready to go! The cameras have a 3-4 hour battery life when not plugged in but they do also have wires to plug them in too so they do last all night in most cases, just not if you are without electricity. Just remember your adaptors if abroad!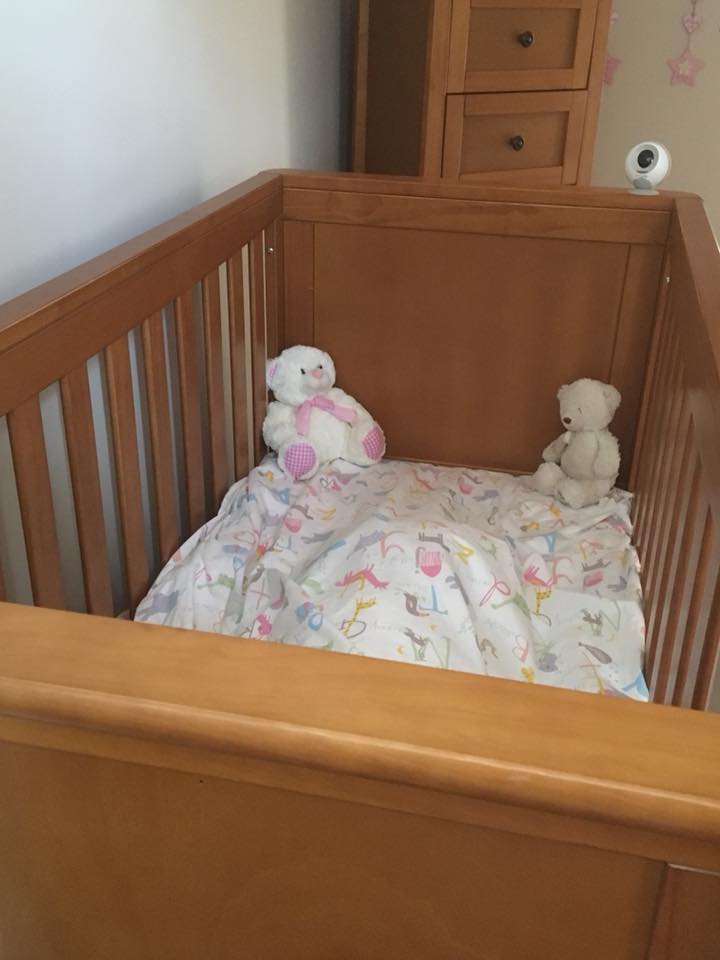 You can attach the travel camera to the cot, or travel cot in two ways. Either by using the suction pad on the bottom and pressing it down firmly, or using the clip which lifts up from the back. Either way, it means that the camera stays put.
Have you, like me also wondered how to keep an eye on your children if asleep at a friend's house, or in the car? Well the LIV CAMS are also small enough to just pop in your bag and use on the go – how amazing is that!
How was the display?
As you can see from the photo, the camera display sent to my device is great and I can clearly see what my little one is up to and make the background light darker or lighter accordingly. This is a shot using the night vision. The sound is clear and can your child can easily be heard.
LIV Cam Key Features
* Replay – The LIV CAM has a one minute video replay feature to see and share baby's special moments.
* Automatic clear black and white night vision.
* Easy set up using the free app – Even I could do it!
* Ideal for travelling or popping to a friend's with a suction cup mount, height adjustable arm and outer shell for indoor and outdoor use.
* Remote zoom.
* 3-4 hour rechargeable battery.
* 76m range.
Price
If you are quick, they are currently on sale and priced at just £69 on the Summer Infant website. Usual price £99.
To purchase your own Summer Infant LIV Monitor, Just click HERE.
Read more from Popitha
If you have found this travel product review useful, you might also find some of my other travel tips useful too!
Stay in touch with Popitha on Facebook and Instagram – join us and say hi!
PIN FOR LATER