Are your children like mine and no matter where they are, have to have a million story books with them. Whether it is a sleepover at grandmas, or a holiday to Spain, the books have to come – and don't they weigh a ton!! I shouldn't knock it really as books are such an important part of our lives, so I was really glad to have been asked to review the Moonlite stories which I believe are perfect travel stories for children.
The Moonlite,  is an innovative storybook projector for your mobile phone which brings favourite stories to life. So gone are the days of lugging all the story books around, all we need to do now is take the story reels – see… perfect travel stories for children but of course the are also great to use at home for a little imaginative fun.
By using your mobile phone, favourite stories are projected onto the wall or celling (I am hoping they might work on a plane too but I will let you know on that one!) and can be used in two ways, either you read the stories to your child using the script that comes up through an app onto your phone, or you make the story up as you go through the pictures – the twins actually love retelling the stories too which allows story time to be a fun family affair!
Titles
There are over 30 titles to choose from so there is certainly something there for every child. For the purpose of this review, we were sent the Fairy Tale Pack, Goose by Laura Wall and The Princess and the Pea. All of the Moonlite titles are illustrated with bright, fun colours and were designed to put a smile on your child's face. Moonlite has remade some classics that kids will love!
How do they work?
It is so easy to set up. Firstly, download the Moonlite app from the App Store onto your phone which is free. Then attach the small device onto your phone by clipping it onto your smartphone (not included). Pop in the story reel of your choice, open the app, follow the simple instructions that come up on your phone and use the flashlight to project vibrant storybook images onto any surface! The lights do have to be dimmed for the images to be seen. While projecting the storybook images, the Moonlite app displays story text and plays charming music, creating an immersive and magical story time experience for you and your child.
You can also share the stories with up to 3 other people which means both my husband and I can read to the girls at the same time. All you have to do is enter your story library in the app and press the gear (settings) symbol in the bottom right corner, and select 'share my stories' and put in the recipient's email address. They then will get an email and just need to register on the Moonlite app with that email address, and your stories should all be there – easy as that. Compatible with most Android and iOS devices.
The girls loved us reading stories to them this way. Moonlite are not looking to replace good old traditional books, but bridge a gap between old and modern day. Children can still be creative and allow their imaginations to run wild. They are great as stocking fillers, birthday presents or just a little reward box treat. The stories are suitable for ages 0-7.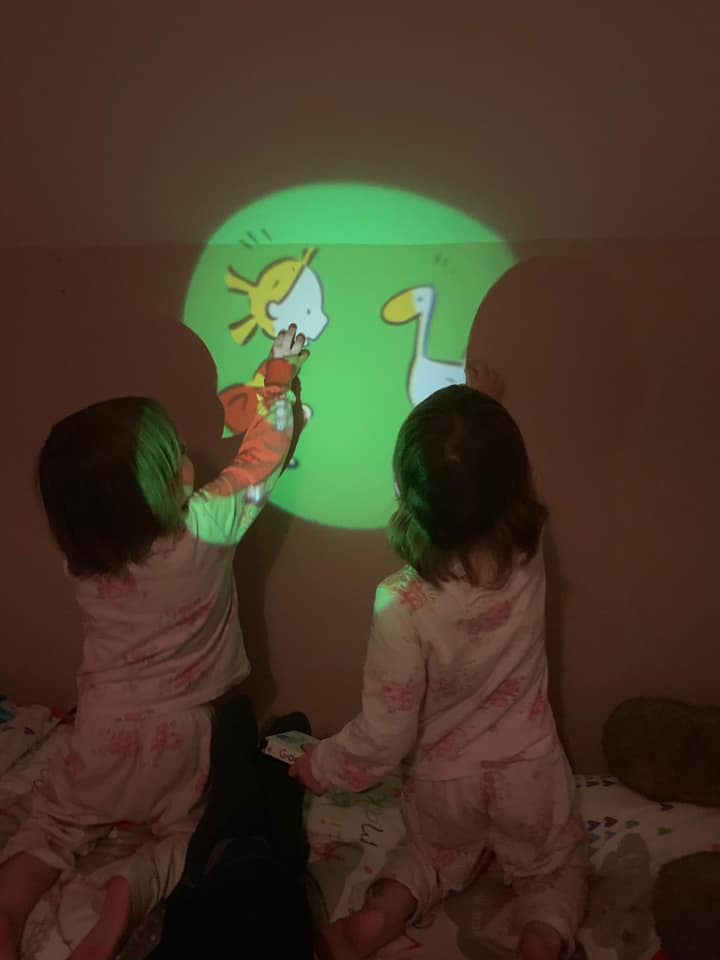 To buy your own Moonlite products, just click on the link below. By doing so I may earn a small commission, but it will cost you no extra.
If you have enjoyed reading this, then why not join us on social media. You can find us on Facebook and Instagram.
GO ON, PIN IT!
**The moonlite products were gifted for the purpose of this review. All thoughts and opinions are our own.