Holland as a holiday destination had never really come onto my radar. I am sure like many of you, you would never think of it for a family holiday but let me tell you, this really needs to be on to your bucket list and our stay with Eurocamp Beekse Bergen has been one of our best holidays to date.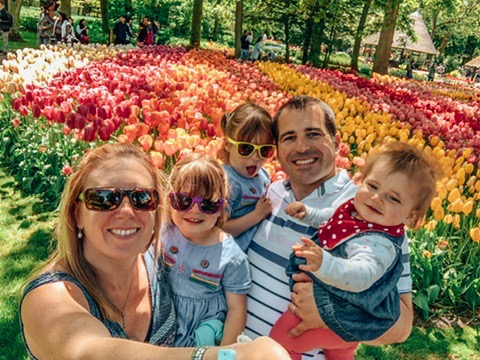 **We were invited to stay at Beekse Bergen by Eurocamp which was in collaboration with Little Clogs Holidays in exchange for this review, all thoughts and opinions are my own.
Travel to Beekse Bergen
Setting off on our Eurocamp holiday in Holland at 5am is not my idea of fun, but I am so glad we did because it really did give us an extra day exploring. We made the decision to drive and take the ferry from Dover to Calais. The crossing took 1 hour 20 mins and it was a 3 hour drive the other side. Alternatively you could either take a short flight or the train. We found driving and the ferry extremely easy and it meant we had a car at the other end too which we used daily to get out and about. I would highly recommend this, however the driving rules in Holland are slightly different to the UK so make sure you read up on these first.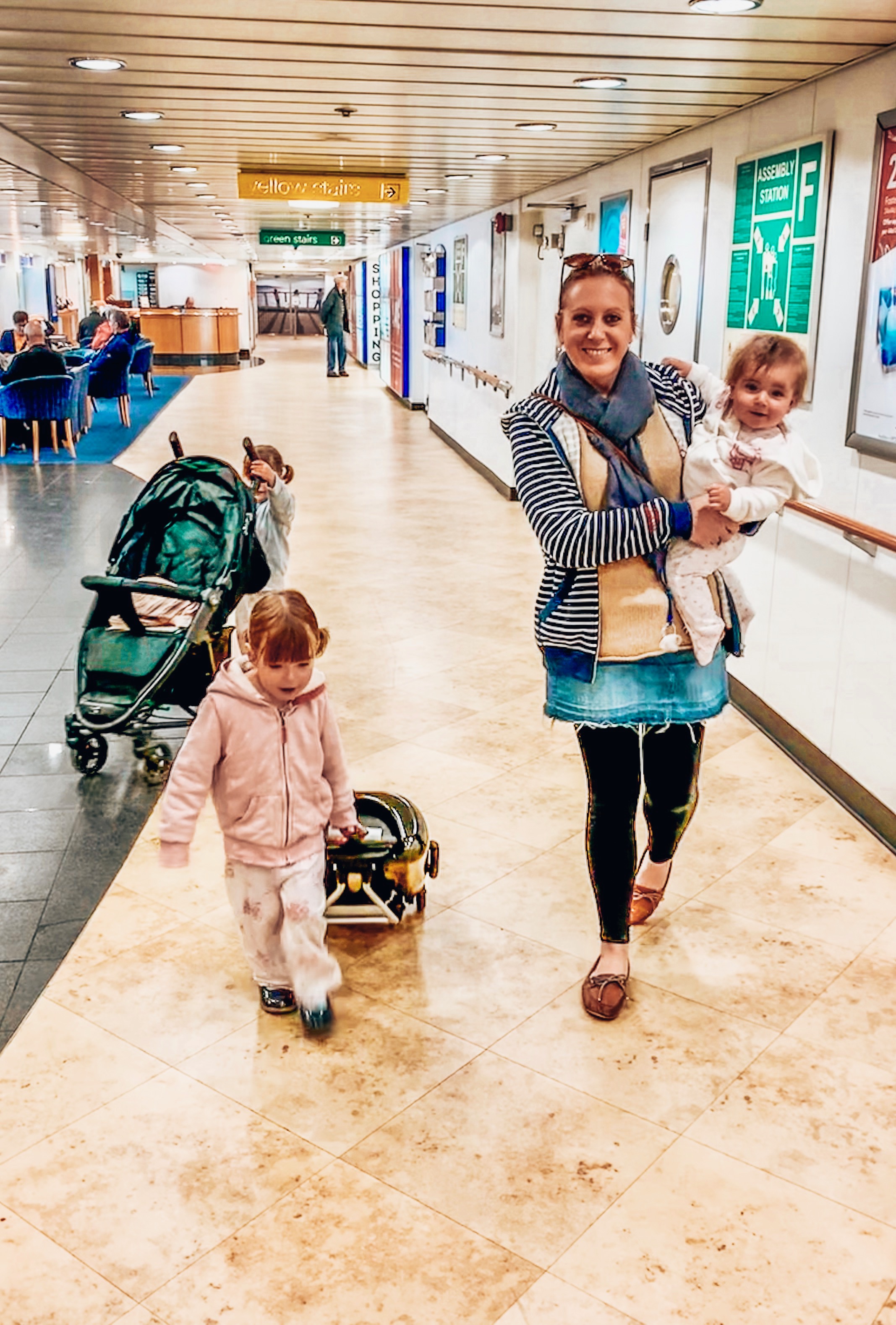 We popped the girls into the car  in their PJ's and took a small case with their clothes in to get them changed on the ferry. Passport control was easy and we were actually early for once. On board the ferry, the children were given a little colouring pack to keep them busy.  By the time they had changed, had breakfast and done a little colouring, it was time to get off – so quick. We also found a little play area with toys and a TV on the way home so it is worth looking for this.
We also decided to break the journey up on our way to Beekse Bergen by stopping in Gent, Belgium for lunch. I am so glad we did as we had such a beautiful few hours in this small quaint city, we could easily have spent a few days there exploring. It was like we had stepped back in time being surrounded by castles and the river.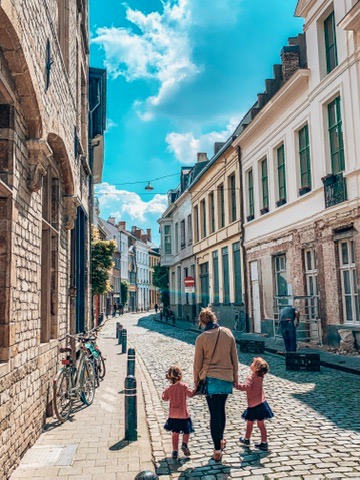 The journey was easy and we arrived at Beeske Bergen just before dinner. I get a lot of questions about time differences and how to deal with them. Holland are only an hour ahead of UK time so on this occasion we decided to stick to the UK time throughout our stay. It just meant they went to bed at 8 (rather than 7) and up at 8, this way there was no disruption when we got home! I try to stick to schedule as much as I can when I am on holiday but some days I am happy to go with the flow now the twins are getting older.
Eurocamp Beekse Bergen
Eurocamp Beekse Bergen is set in beautiful woodland around a large swimming lake, with sand play areas and next to a wonderful safari park in beautiful woodland in the Brabant region of southern Holland.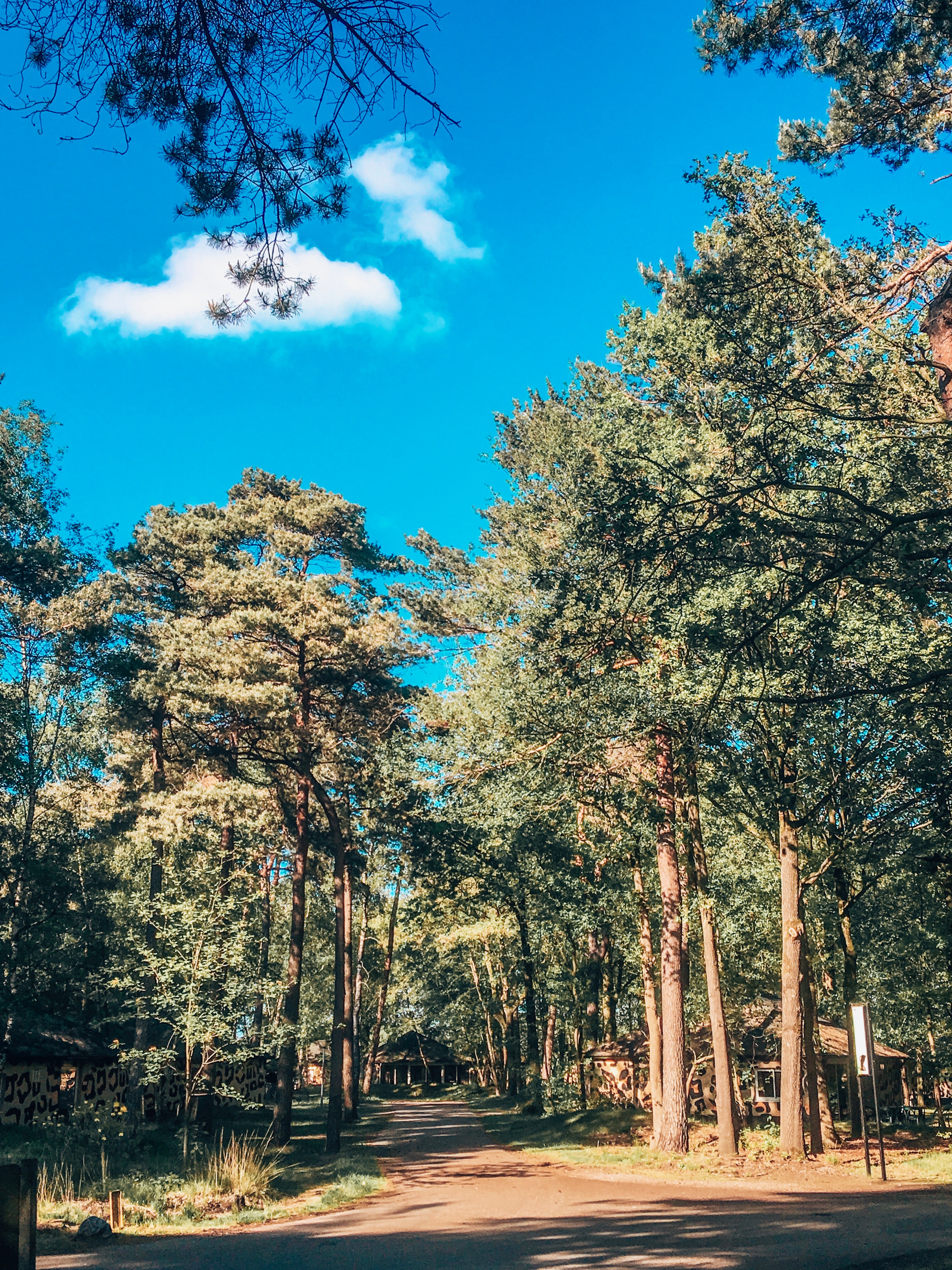 The main hub of Eurocamp Beekse Bergen is the Afrika Club. Here you will find a restaurant, snack hut, outdoor seating, shop and swimming pool. The children's evening entertainment is also based over here too. There is a train which runs you around the holiday parc and it also goes up to Speelland and the safari park although we mostly took the car or walked.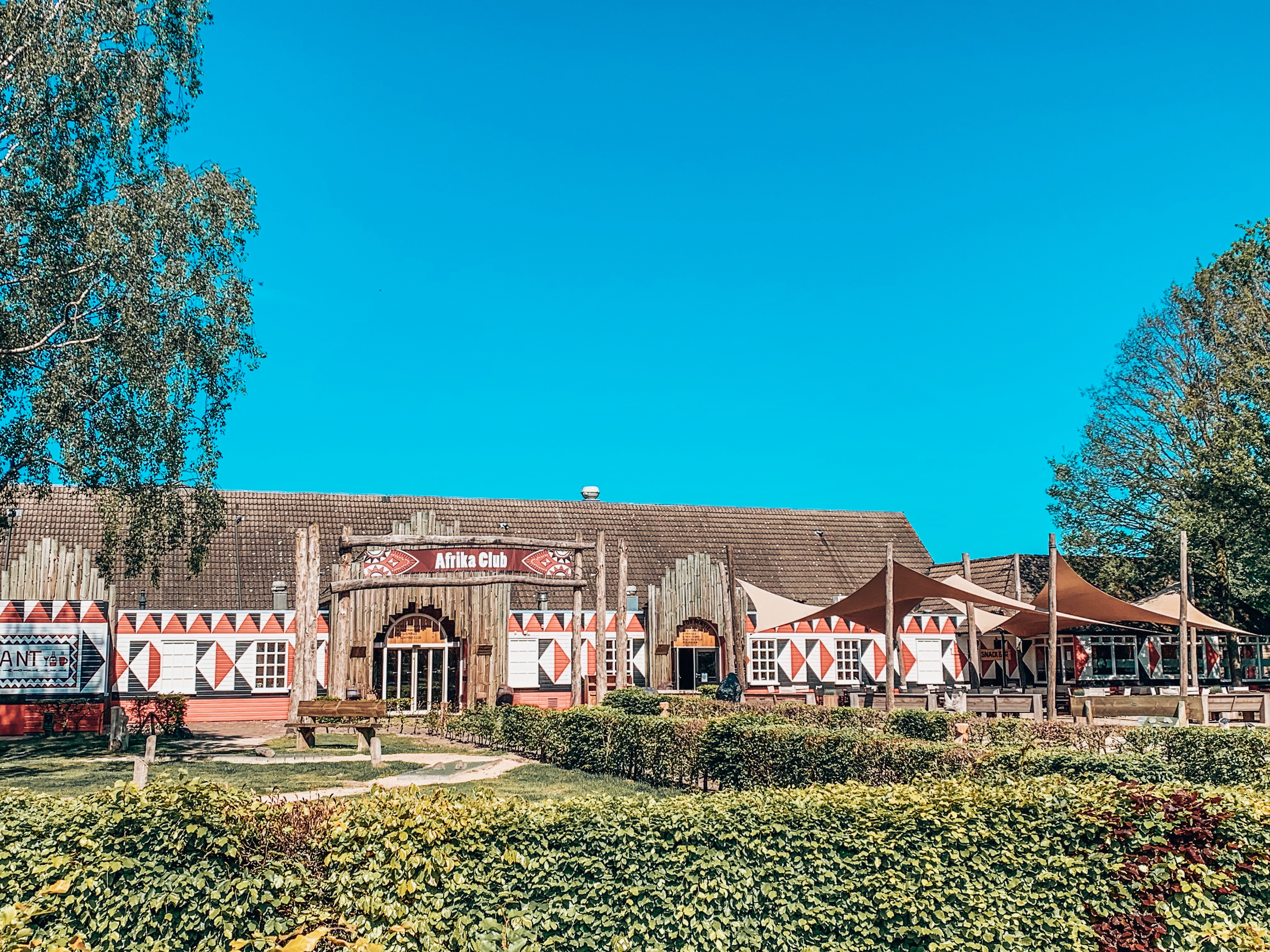 We ate in the restaurant on the first night and whilst it is pricy, the menu was good serving typical Dutch food. The second night, we ordered food from the snack hut and ate outside whilst the children were watching the evening entertainment – they loved this. This was good value for money yet serving very similar food to the restaurant next door! The girls grew fond of the Frikendel – a Dutch sausage, whilst I loved the satay chicken.
The girls enjoyed the evening entertainment although it is in Dutch. Every evening there is a mini disco often followed by another activity. You will be given a programme of children's entertainment when you arrive. There are also activities going on during the day which is great if you are looking for a relaxed holiday where you stay in the Parc. Within the Afrika Club there is a crazy golf course and a small park for bigger children, the girls needed help getting up the slide but still enjoyed playing around it.
The pool is situated here too. It is perfect for all ages and includes a wonderful smaller toddler area with slides – this was a lot of fun for all of the girls. It is in a stunning location looking out to the lake – The pool is open until 8pm and is very pretty if you are able to have an evening swim!
There was an excellent little shop at the Afrika Club. I decided to take snacks for the girls with me from home and then buy some meals when we got there – this worked well. The shop was well stocked with most things including meat for BBQ's, some freezer basics, hams, cheeses etc and was reasonably priced. There are some supermarkets nearby if you wanted to do a bigger shop. Jumbo in Hilvarenbeek is a popular choice.
We also discovered you can visit Karibu town which is still within the Parc but a short drive or a 20 minute walk away. This is another hub were you will find a restaurant, another play park and pool. These facilities overlook the safari park so I loved enjoying a glass of wine with the camels whilst the children were playing, it had a real African feel. The interior of both the Afrika Club and Karibu Town are very tastefully done. To get there you need to walk left out of the Eurocamp Parc, keep following the path and go through a tunnel where you arrive at Karibu town. All the transport ends around 5pm so it is a lot of walking in the evening – We drove!
Exploring Beekse Bergen
There is so much to see and do in Holland for families and I share my top recommendations on where to take children HERE, but there is still quite a lot to keep you busy on the Beekse Bergen Eurocamp Parc alone starting with the play parks. If you have early risers, you will be glad to know that you are never far from a playground. There are several dotted within the trees and are an easy walk from any of the mobile homes or safari tents you are staying in. Some just have a small slide, whilst others are full play areas. The roads are suitable for bikes and scooters so we took the girls scooters which got them out playing whilst dinner was being made or to get to the play parks.
On the lake there are small areas of sand to relax and play on although whilst these are cleaned daily, you do have to be careful of the goose poop. Personally if you want some beach time, I would pop over to Speelland.
Speelland
Speeland is a fantastic toddler adventure play area set on the beach at the edge of the lake. It did make us laugh as we described it as walking into a 1950's holiday park when you first enter, but it holds many surprises and you will have a really fun filled day here.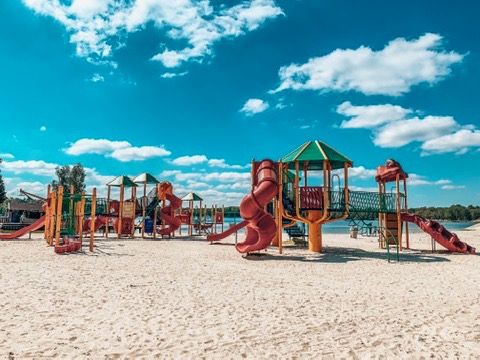 There is a really beautiful beach to play on with climbing equipment and slides for children. You can take you towels and set yourself up for the day there. You could even go for a dip in the lake.
Besides the beach,  there is plenty to do for small people from bouncy castles, trampolines, cars to ride on, a race track as well as pedalos and water slides for the older kids. We had a fun morning relaxing here but could have spent much longer.
Beekse Bergen Safari Park
Wow, what an amazing place this is. I guarantee, no matter how young or old you are, this place is so much fun. Beekse Bergen Safari Park is the largest animal park in the Netherlands and it is one that I can highly recommend visiting, we loved it. Tabitha even got to see a bear which she has longed to see. It is a huge park, one that is hard to do in a day.
You can both walk and drive around the park. Both elements are fun and if you don't have a car, there is the safari bus. Animals are found in large enclosures, similar to their natural surroundings and are very relaxed. There are also plenty of animals, you are never far from them.
As you walk around Beekse Bergen Safari Park, you will also find trim trails dotted around to keep little ones active. They dipped in and out of the trees so were great fun. There were also a number of parks to play on – good luck with keeping your children off of those!
Both Beekse Bergen Safari Park and Speelland are free to enter (as many times as you like) whist staying at Beekse Bergen Eurocamp. You can either drive – but you do have to pay the £5 car park charge in the reception (which we didn't do the first day and only realised when we were holding up 10 cars at the barrier and had to reverse – we didn't do that again!!) The train also goes at regular intervals and takes you to both Speelland and Beekse Bergen Safari Park. I personally think they are too far to walk to.
Other Places to Visit near Eurocamp Beekse Bergen
As well as all of the things you can do around the Beeske Bergen Parc, there is also heaps of child friendly things to do in Holland. I have put together a map of where we went but also a separate post which has more detail. Check it out HERE.
If I had to choose just one though, it has to be Efteling, the fairytale theme park just 20 minutes away which is suitable for all ages with rides for the family as well as those thrill seekers! You just HAVE to book a day or two here and you will not be disappointed.
The Sand Dunes were also Stunning.
Accommodation at Eurocamp
Staying in the Beekse Bergen Eurocamp Parc is perfect if you want to stay on site all week, or equally just as great if you want to go off exploring Holland. We did a bit of both as we feel can never visit a country without finding out a bit about the area!
We stayed in the Azure accommodation in the Beeske Bergen Parc. It is one of their newer style mobile homes and it was very clean and tidy on arrival. Our mobile had 3 bedrooms, a shower room and a toilet. A double bedroom and two twin bedrooms. One bed had been removed in the third bedroom to fit Matilda's cot in. All windows had blackout blinds so there is no need to take your own.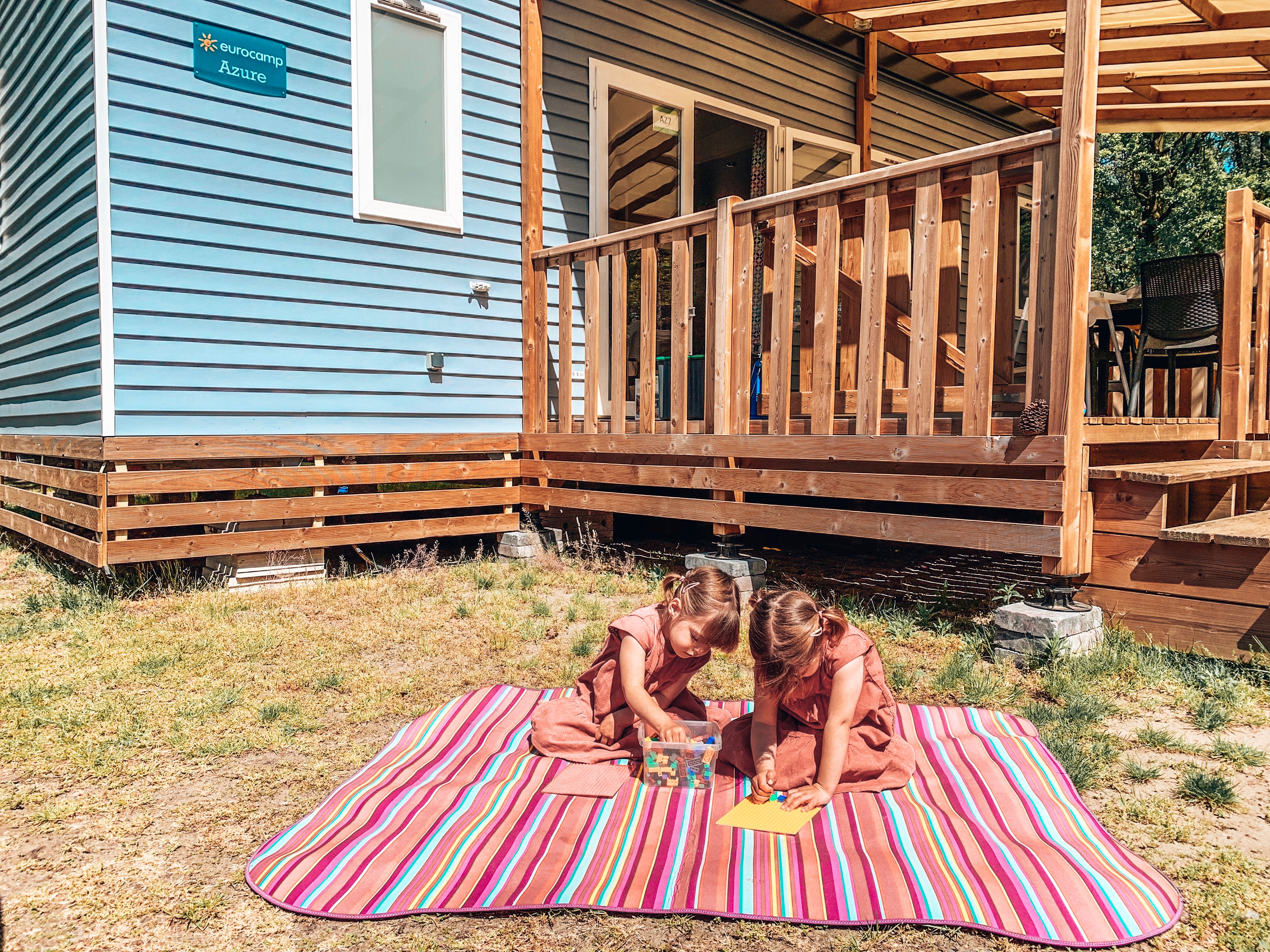 The rooms were comfortable to sleep in and the double bed was huge but this did mean that you wouldn't fit a travel cot in this room in any way – However, I like a big bed and am very happy not to sleep with my children!
The living space was on the cosy side but suited us fine and it was very well equipped. It had a table which seated 6, and a sofa area but then we spent most of our evenings outside – we were so lucky with the weather! Just be warned, there was no dishwasher or TV – shock alert and whilst the dishwasher part was a bit of a pain, I didn't miss the television at all. You could find everything you needed in the kitchen to cook with, and there was a cooker and microwave and with a BBQ outside.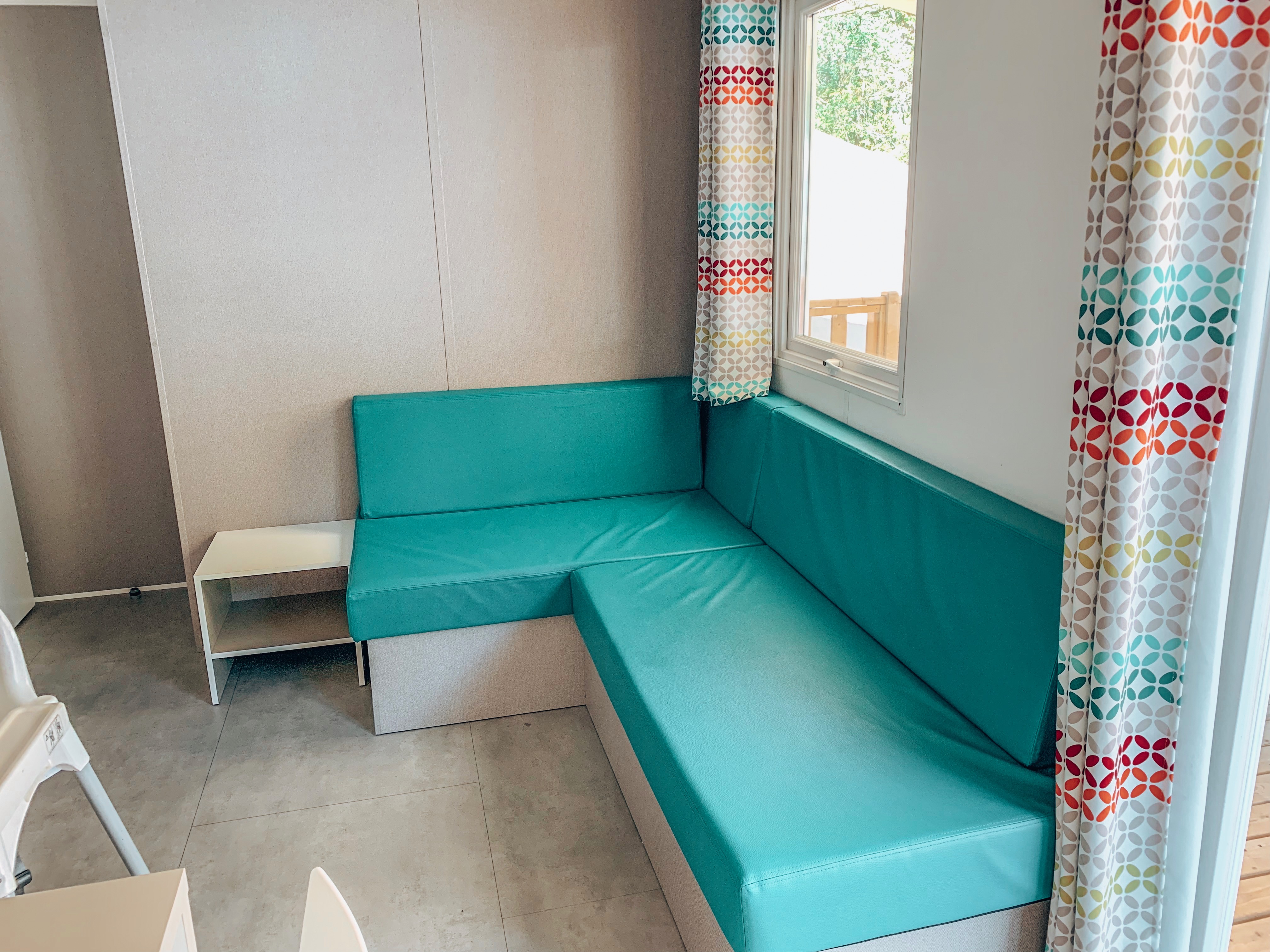 Bedding is NOT included in the price but to save you bringing your own, you can hire bedding (remember to do one or other or you may get a little chilly at night!) but this does come at a cost which can add up if you have a large family.
£23.00 for a double pack (£26.00 in Avant and Azure accommodation)
£17.00 for a single pack.
Extra bath towel (1 per pack) £4.00
Travel cots are free to hire, but the linen is £8.
Other baby items which are also available free of charge are;
Highchairs
Baby baths
Potties
Baby changing mats
Bed rails
Outside, there was a large, gated veranda which was perfect for outdoor dining and playing. The gate meant the baby couldn't escape and be safe. We loved being out here. As I mentioned above, you had free use of the BBQ and two sun loungers – like parents EVER get the opportunity to sit in those. I saw one family use them to pen their toddler in!
You can order welcome packs so you have a few basics on arrival; The Essentials Pack and the Welcome Pack. You will also find toilet rolls is included in all accommodation to start off your holiday, so this is no longer part of any of the packs but you may need to buy more or take some with you.
How to Book
We really loved our week in Holland and I can highly recommend it for families with children of all ages. There is so much to see and do in both the Beekse Bergen Parc and local area.  To book a stay at Eurocamp, all you have to do is CLICK HERE.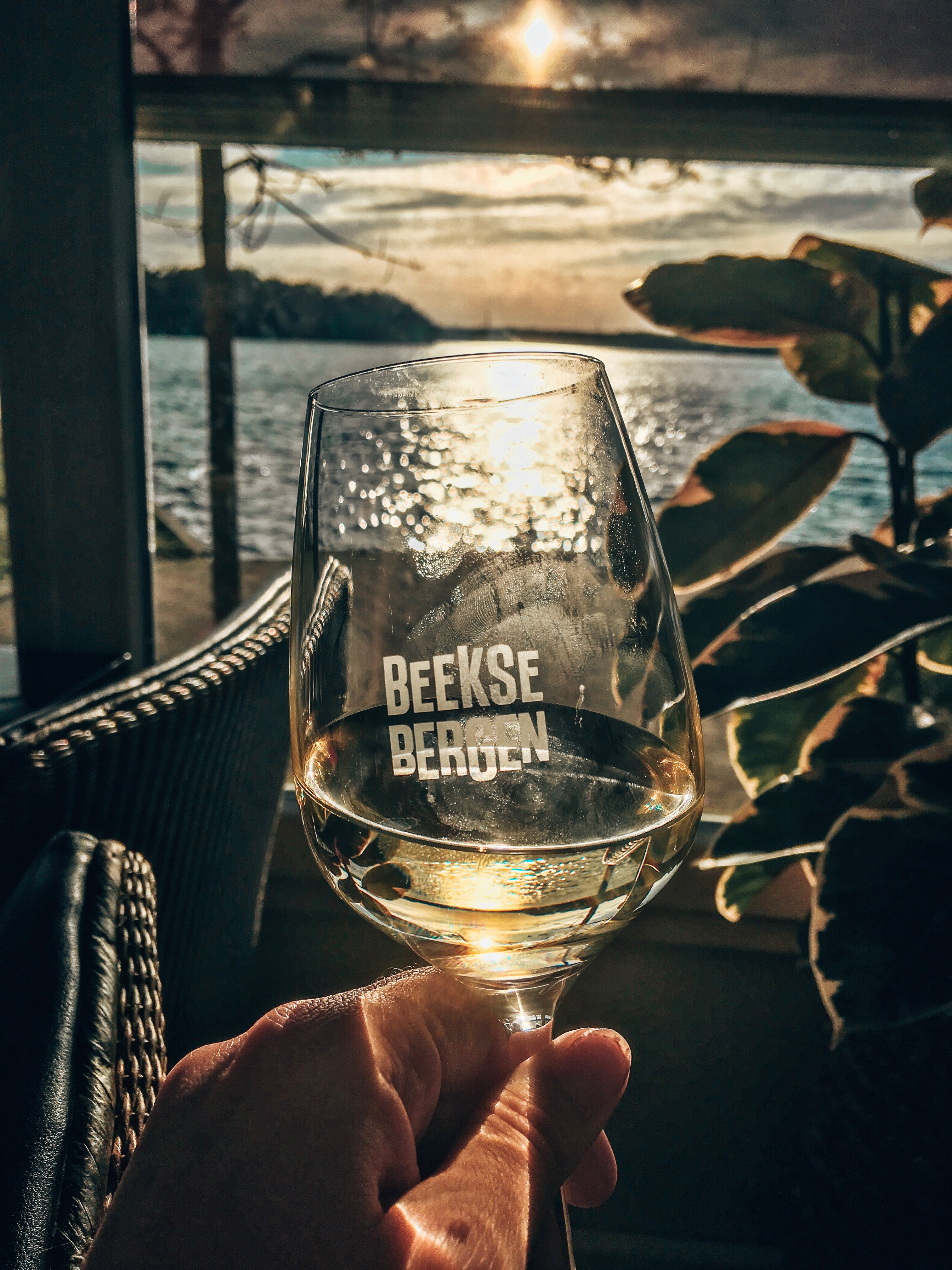 I have other articles in my Holland series. Some have been written, and some are to follow but do take a read and stay with us. We have many wonderful adventures planned to share with you including a family safari trip to Kenya next year!
5 top places to visit with kids in Holland
Driving in Holland – The Facts
GO ON, PIN IT!
** This holiday was gifted to us by Eurocamp in collaboration with Little Clogs Holidays for the purpose of this review. All thoughts and opinions are my own.
** Important Information** Beekse Bergen is host to a number of music events which can be noisy. CHECK OUT THE DATES BEFORE YOU GO!