From the moment we turned up at Bruern Cottages we instantly knew we were going to have the break we really needed.  Do you ever get the feeling where you just needed to get away from everyday life? Everything seems so fast paced and you are just continually just chasing your tail that sometimes some away time with the family to regroup and love life again is all you need, so when we were invited to go and stay at Bruern Cottages for a long weekend, it couldn't have come at a better time.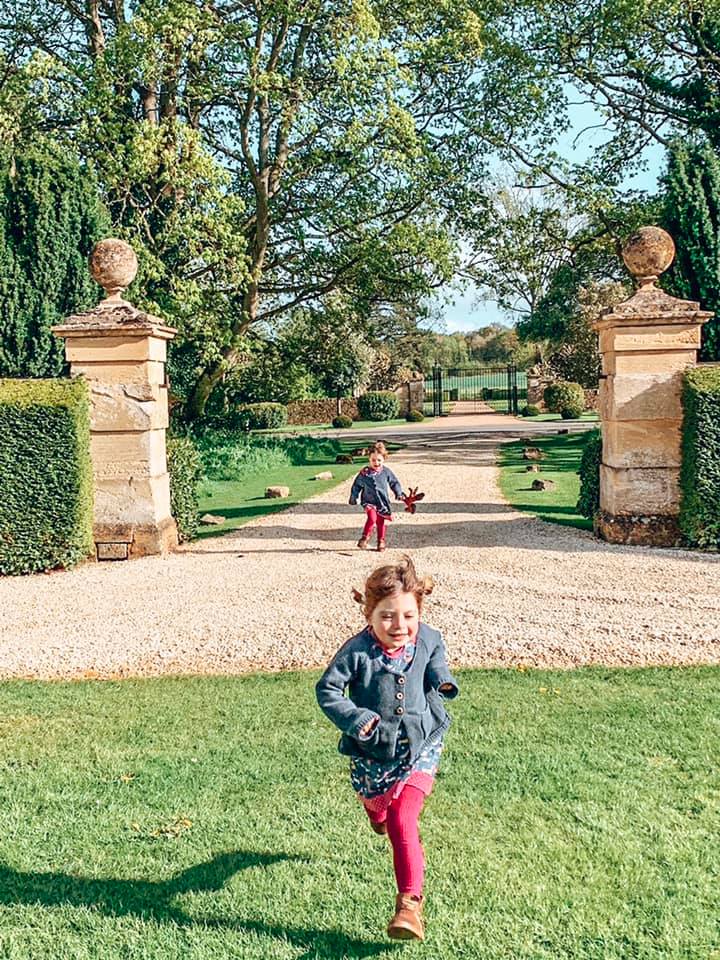 Bruern Cottages are not just holiday cottages suitable for families with children. They are luxury child friendly cottages complete with elegance and ambiance which can be found in the heart of the beautiful Cotswolds surrounded by countryside and country lanes. Once the stables to Bruern Abbey, Bruern Cottages are reeled in history which dates back to 1882.
Bruern has now been transformed into 12 stunning cottages with a style that can only be described as English Country House living and the atmosphere is elegant yet comfortable. All the properties have log fires, and canopied or four poster beds – You really do live like lords and ladies yet children are encouraged to be children.
Despite the elegance and luxury feel of Bruern Cottages, Bruern also work hard on the family friendly aspect for those visitors with younger children. It boasts three outdoor play areas, a play cabin, two storey playhouse, an array of ride-ons and bicycles for all sizes as well as cottages that cater for every small persons needs which also includes a heated indoor swimming pool.
The Cottages
If you are looking for a luxury stay in the Cotswolds, then Bruern Cottages will be perfect place for you to stay and no matter how big your family is, they will have something for you. They have 12 cottages each sleeping between 2 and 10 people plus babies in cots. There is the main courtyard and then three separate ones.  Just great for a small family getaway or an extended break with family or friends.
Epsom Cottage
After a warm welcome, we arrived at our holiday cottage, Epsom; a three-bedroom cottage with sleeping space for 5 people plus baby in cot. As we entered, the first thing I noticed was the kitchen table set up for afternoon tea, and lemon drizzle cake waiting to be eaten, which of course we did! This was part of the welcome pack which everyone receives when staying. As well as the cake, there were so many more lovely things – fresh bread, butter, cheese, bacon, sausages, eggs all from local companies and can you believe it, a bottle of champagne, what a treat! You will also receive self-catering basics like toiletries, washing-up liquid and dishwasher tablets, all of which come as standard.
If you have young children or babies, you can also request a Parents' Peace of Mind Kit, with all the essentials– baby alarms, electrical socket safety covers, door wedges, bed guards, safety locks for cupboards, toilet steps, training toilet seat, a plastic tablecloth, a plastic beaker, bowl, dish and cutlery etc in addition to the cot, cot linen, high chair and stair gates.
Downstairs in our Bruern Cottage
As you open the door to Epsom, you enter a stylish hallway with the stairs straight ahead. To the right is a kitchen with doors leading out to the private garden and to the left is the lounge. You can request a stairgate for the bottom of the stairs.
The Kitchen`
The Kitchen was well equipped with everything you need for your stay. Crockery, cutlery, saucepans, glasses, tin openers, the list goes on. As a child friendly cottage, they are equipped for children and have a collection of plastic plates and bowls but these did take a while to find. They can be found in a drawstring bag in one of the cupboards. In the kitchen you also find a pine kitchen table which is perfect for family meals complete with highchair (on request).
The Lounge
Just like the rest of the house, the lounge is decorated elegantly and to the highest of standards. It is simply a beautiful place to sit and relax. As well as a sofa, and three armchairs, there is also a second dining table and log fire.
We did remove the beautiful antique bowl in the middle of the table knowing that two tiny hands would give the table cloth one tug and it would go flying. Despite the elegance of the living room (and the bowl), it was very child friendly. The fire had a fire guard and the twins loved to help collect the wood each evening from the wood store which was located by the driveway. I do love a log fire in the evening, there is just something special about them isn't there and with a glass of champagne too!!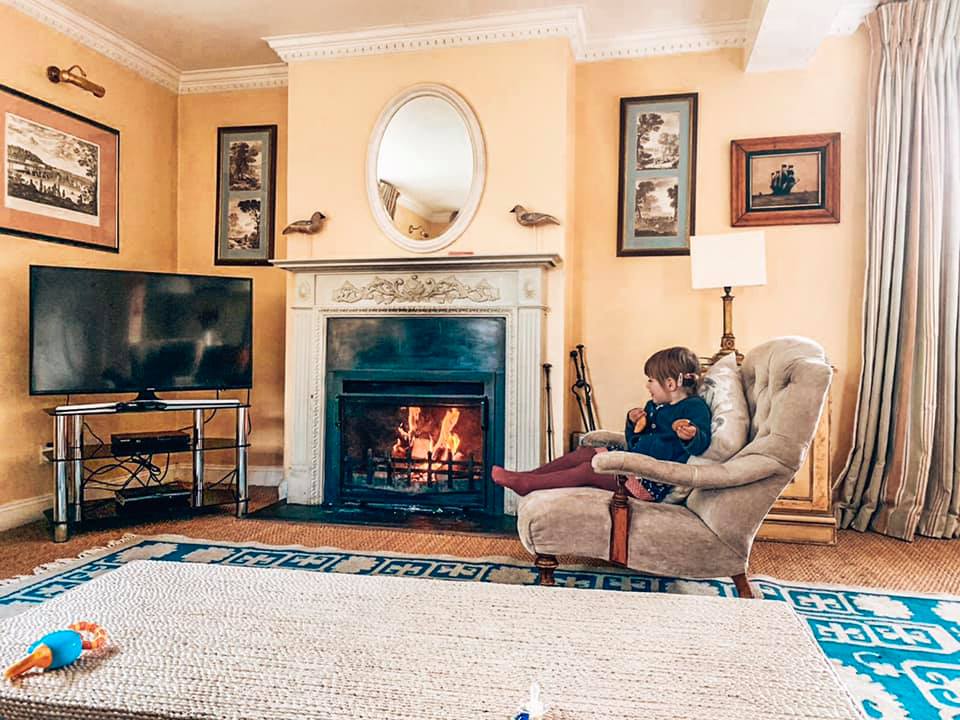 Upstairs in our Bruern Cottage
The upstairs had three bedrooms across a split landing divided by stairs. On one side was the master bedroom and en-suite, single bedroom where we put the cot, and a family bathroom. The single room had a bed, cot and wash basin in.
On the other side there was a twin bedroom. We had a stairgate on this room too in case the twins got up in the night. We also put a potty in there with them so they didn't have to leave the room but this all worked well. This room had two beds which could also act as a double if needed.
All of the bedrooms were extremely comfortable including ours. Our bed was super high and even Tristan had to climb in! We did take our own blackout blinds and use them in Matilda's single room as it was quite light in the mornings – I will do anything for an extra half hour in bed!
Our Private Garden in Bruern Cottages
If acres of grounds weren't enough, we also had our own private garden to enjoy, complete with BBQ and seating area. This was accessed through the kitchen and had a gate to the car park. The garden was a good size and allowed the girls to have a run around knowing they were safe.
Bruern Cottage Grounds Are Made for Exploring
Every little adventurer needs grounds to explore and run about in and at Bruern Cottages there is plenty of space to do just this.  The outdoor space is a real gem, wonderfully looked after and is set up for children with not just one, but three outdoor play areas aimed at different aged children.
The play equipment is just a short walk away from the cottages and there is a trim trail which is great for those who love climbing. I would say this isn't for really young children but for pre-schoolers upwards to enjoy.
The football garden is a great open space for children to run around in although it almost seems too nice for that! You can also play a spot of croquet, and enjoy the cricket sets and tennis racquets here too.
The play are was lovely and in my opinion the play area is aimed at younger children up to the age of 7/8 and is complete with swings, baby swing, slide, ride-ons, giant connect 4, a two storey playhouse, and a play cabin. The girls loved spending time over here.
The play cabin is heated which gives it that added bonus, especially on chillier days. It is full of toys for younger children including a dolls house, Lego table, train track, garages and a dressing up area. There is also a sofa for adults to relax on in the hope they may manage a few pages of a book whilst the children are engaged in play (that's if you don't have a baby too of course!)
The Swimming Pool
When I find a cottage that has a pool, I jump for joy because the girls love their swimming! When I find a pool that is warm, I get in too! We were able to swim every day whilst we were staying in Bruern cottages and every time we were alone in the pool. I am sure over the summer periods it gets busier but we enjoyed the quiet time! They have lots of woggles, floats and water toys your children can enjoy and if you children are that little older, you may get to sample the sun loungers around the edge – I didn't! Towels for swimming can also be found in our wardrobes in the cottages which saves a lot of space in your car!
As well as the pool being lovely and warm, another thing I loved about the pool area was the baby toys that were in there. This made swimming and getting Matilda changed so much easier. At 10 months she is so on the go that it can be very hard to put her down anywhere, food does help mind!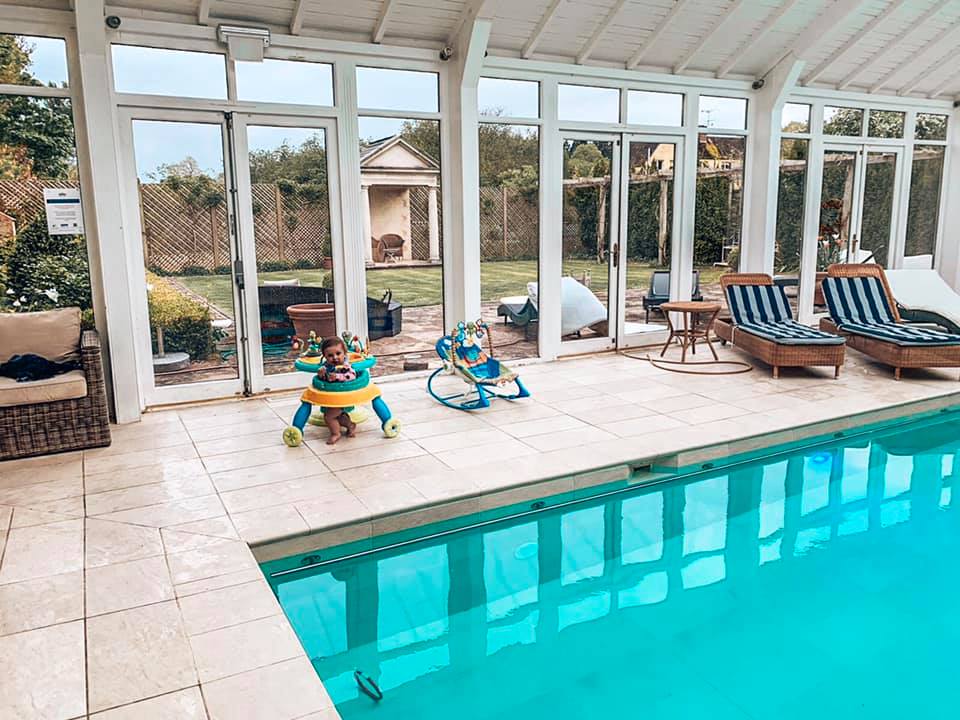 Bruern Cottages also has the facilities to organise massages and spa treatments should you wish to book.
How to Book
We couldn't have enjoyed our time at Bruern Cottages any more than we already did. Apart from being fabulously family friendly, it is just the perfect place to get away and unwind. I honestly could have stayed longer. You can book the cottages online by CLICKING HERE. Prices will depend on the season and how big a property you need.

If you have enjoyed this, then keep your eyes peeled for the lovely days out post that is currently in progress. There are some great child friendly attractions near to Bruern Cottages including Blenheim Palace and Birdland at Bourton on the Water – a stunning Cotswold village worth a visit and Cotswold Farm Park just to name a few.
If you are looking for other places to stay in the south, you might also life Wooley Grange Luxury Family Hotel, also in the Cotswolds, or further down in Dorset is The Cowshed. These are all extremely child friendly with added luxury.
**Our stay at Bruern Cottages was gifted in exchange for this honest review but all thoughts and opinions are my own.