If you have never thought about hiring a campervan or motorhome, then you must. We recently took the leap and hired a campervan to go on a road trip through a great company called Camptoo, which is airbnb equivalent for campervans and motorhome and honestly, we had the most fabulous time. They are one of the best rental companies and it really did surprise us all how much we actually enjoyed it, because as a family, we are not really campers but its a great way to get to really see a large area.
However, we love glamping and have enjoyed many family glamping holidays so we hoped that we kind of hoped that we would enjoy a holiday in a campervan with kids – I can tell you that we 100% did!
As it was our first campervan holiday we learned a lot over the 5 days we were on the road and we wanted to share these with you. I have put together a post with some useful campervanning with kids tips in case you were thinking of going on your first campervan holiday too!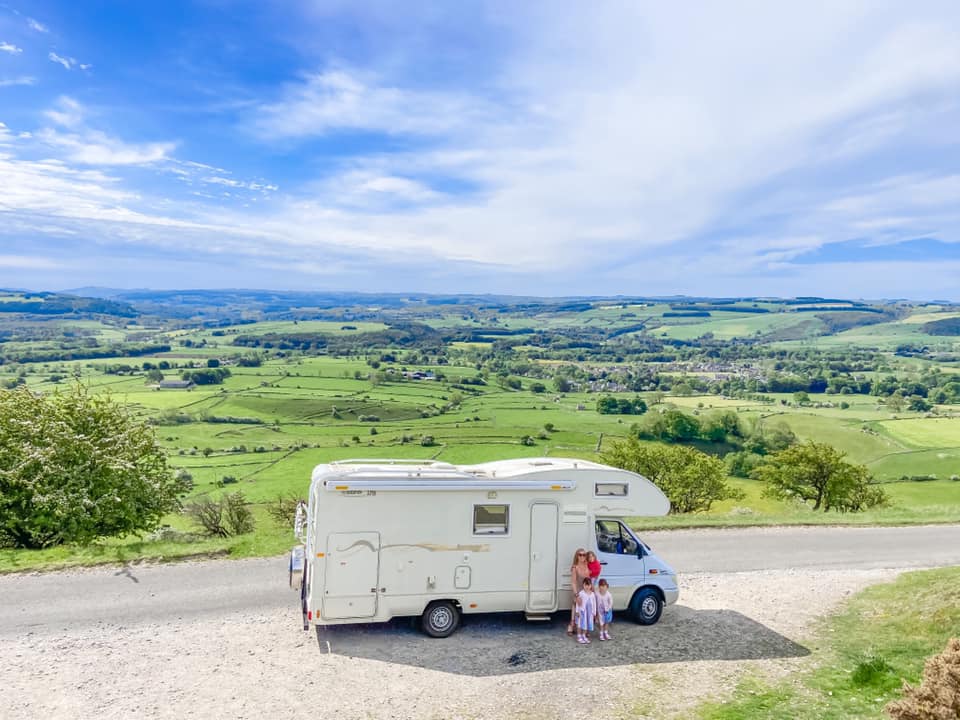 ** Campervan hire was gifted in exchange for this article
Do your Research Before Hiring a Campervan
The key to a successful campervanning with kids holiday is in the planning and preparation. Get this right, and you will have the time of your lives! When planning a trip, research two things well – Your rental company and motorhome and your campsites. Don't book your first Motorhome holiday on a whim, think carefully about the pick-up location, whether it has unlimited mileage, and where you want to go.
Your first campervan holiday will be such a great experience, but so much better if you are in a location that is well researched – we always buy the travel guide! Plan your days out, book your attractions and make sure that the car parks are suitable for motorhomes and campervans! The last thing you need it to have spent a fortune on a day out, to find out on arrival you can't get in the car park! If you are a family, you might want to look for a UK campsite with a playground or be within walking distance of a beach.
Choosing the Right Campervan or Motorhome to Hire
We made a great choice with our campervan rental, but campervans are different so it was a little difficult to know how or where to start searching to begin with. It was really important to us that our campervan had a few key features like 2 permanent double bed so that we didn't have to keep putting them up and down each day, and a loo and shower.
We booked our campervan holiday through Camptoo – It's a great hire companies to choose for motorhome travel because they offer such a variety of campervans and motorhomes with a lot of larger vehicles for larger families. Camptoo are known as the Airbnb of motorhomes. As a company, they advertise other people's campervans and motorhomes hire. So if you owned a campervan or motorhome, you can advertise on their site and make money as a camper rental.
But what this meant to us was that there was heaps of choice on which campervan style we went for. We could narrow down our search by number of people, facilities it had and location – So the hunt for the best family campervan was simple and we chose a fantastic vehicle!
Hire a Luxury Motorhomes or a Basic Cheap Campervan – Workout Your Budget
With regards to budget, every motorhome holidays will be different. It will depend on the size and age of the camper van you decide on so its easy to base a trip around your budget. You can go for a 5* luxury motorhomes, a larger motorhomes, or a basic smaller campers which would suit small families – you will enjoy it whatever you choose.
To give you an idea of the cost, our 5 day, 4 night trip with driving camper vans with passengers, which included a 5-6 birth Motorhome, campsites with electric hook up and insurance cost just under £1000.
Motorhome Hire Near Me or the Location
The next decision we needed to make was did we want a campervan to hire near me, or a campervan in the Peak District (our holiday destination). With Camptoo, there are campervans all over the UK so it's a great company for anyone to use. We chose one close to home because we wanted the full experience. But really, either is just as fun and you can save a bit on fuel is you pick one up closer to your first campsite.
Find the Right Campsite
We would highly recommend that you look for a family campsite when hiring a campervan. Always book in peak season as the parking areas will sell out at peak times. A campsite with a park is ideal or you might want to choose a campsite near the beach, either way it's good to have something for the children to do after you have returned from a day out, a walk or whilst you are cooking dinner. We decided to stay at two campsites in the Peak District so that we saw two different sides of the National Park.
If you are camping with toddlers or kids, it's also worth thinking about whether you want a few walks to do from the campsite. The first campsite we stayed at in, in the Peak District – Hayfield, there were walks we could do up to the reservoir, and in to the village where you could find a few small shops and pubs, but our second campsite – Ashbourne didn't have this option and we did miss it – it's not something we thought of, so do your research! And if you are travelling in high season, it's worth booking well in advance. In Scotland, you can go wild camping but I don't know if I am brave enough for this year!

If You Have Young Children, Check the Rules on Car Seats
Yes, you can travel in a motorhome or campervan with car seats but always check the safety features and safety measures as all motorhomes are different. You can also travel with more than two children; but you just need to know that they cannot be isofix, and make sure than each seat which they are attaching to has a three-point seat belt to fit the car seat in to place. Here is more info on driving camper vans with passengers.
Take Out Campervan Insurance when hiring a campervan
You must take out the right motorhome insurance when you opt for private motorhome hire. Camptoo had excellent customer service and made everything so simple on this front to ensure we were completely covered before we left, so we knew we would be fine if anything accidently happened – and yes it did – a small bedroom window fell out totally by accident! We had a small excess to pay but that was it, and yet again Camptoo dealt with it very efficiently – accidents really do happen!
Campervan Packing Tips – Essential for Rental Holidays & Hiring a Campervan
My number 1 packing tip is to get organised before you gov – it's the easiest way! Campervans are totally liveable and a great size considering, but you do need to know where everything is.
Be organised by putting everything either into plastic boxes and bags and label them if necessary. I had a bag for the girls, a bag for me and a bag for Tristan. These are the bags I use and they are just the best for UK family holidays. They fit in the car well and they are cheap.
We had a box of shoes – walking shoes, wellies and trainers and a bag with our wet weather gear, one small box of toys, and two boxes of food, plus a box of kitchen bits like cleaner etc.
I started by laying everyone's clothes out on the bed. The forecast was sunny and warm, but we thought the mornings could be cold and you never know with the British weather – things can change so quickly so unfortunately you have to pack for every eventuality. (I will add a hire campervan packing list here next week). But this is where packing cubes come in – I had a packing cube for day to day outfits, so I just needed to reach for one packing cube each day and there were 4 summer outfits in it.
I then had a packing cube for jumpers, one for trousers and one with space underwear. It made it so simple. We kept the bag on the passenger chair when we were on site and then just popped it on the bed when we were moving.
Campervan Packing List – What to Pack when Hiring a Campervan
Always chat to the motorhome hire company to see what is included in your package because they all differ. For example ours included kitchen kits but some don't. I would also recommend also taking a few of your own things too, those that may not be on their list. Also check for extra charges for things like beding as you don't want to be caught out.
A washing up bowl – for sickness and washing up outside – sometime you need a little more space or want to keep the grease outside!
An extra table – one for the cooking of you are having a BBQ and one for eating on
Take sleeping bags – no need for sheets and bulky duvets – ours sleeping bags are from Regatta.
Some plastic hooks that hang over doors – these were great for hanging our towels on and morning jumpers if we were chilly
An airer for wet clothes.
A broom – You will need to do a daily sweep!
A plastic box for shoes – keeps all the shoes in one place and easy to pop under the table out of the way!
Your own chairs – whilst most include them, there's nothing quite like your own – our Regatta chairs are super comfy!
Take a dirty washing bag – As soon as something is dirty, pop it in the bag and out of the way. When you get home, all your washing is in one place.
Take a Small Toy Box
Children generally drawn to playing outdoor with nature when they are on holiday, but on that odd day when the kids are tired, or it's raining outside, you just need a few home comforts for them to play with and this is the time I pull out my magic holiday box. It full of colouring and sticker books, playdough, small characters we have collected from Magazines, story books, and Toys in a Tin from Present Mill.
Take a Well-Stocked First Aid Kit
We have two first aid kits – one which looks after day to day bumps, and another for more serious injuries with like bandages in. Our main one really does have everything in from Calpol to plasters, Savlon to hay fever tablets. Cough mixture, a thermometer, tweezers, small scissors – literally a smaller version of my first aid cupboard at home but I highly recommend it!
Motorhome Hire – Storage
Think carefully about your Motorhome storage and unpack , or give everything a home as soon as you get to your first location – that way you know where everything is. We had quite a bit of storage space, I would recommend you check how much boot space your motorhome rental has because we kept our car seats, chairs, and food down there as it was huge.
Plan Your Meals in Advance
We had planned our meals out for the 5 days we were away – it's a great idea to do this and there was enough room in the fridge and freezer to keep all of this – do check the size of these with the person your motorhome hire is from as they can all differ. Whilst there was a cooker in the van, we also took our own gas stove for outdoor cooking and this was a great move. There is more space outside and outdoor dining is a great experience, especially in the warmer months.
Campervan Sleeping Tips
I don't know about you, but my main worry when going on a family camping holiday is whether the girls will ever go to sleep. I think we all worry about this, whether we are camping with toddlers or camping with kids that are a little older, our main priority after a long day is some you time and a glass of chilled wine in peace.
Firstly, our campervan hire had blackout blinds throughout so it meant it was dark as soon as they went to bed, and there was no bright sunlight at 5am to wake them up.
Secondly, I took a little secret weapon, a white noise machine – you remember the ones you used when your kids were babies to get them to sleep – this is an absolute god send.
Whilst I have learnt to be a little more relaxed about bedtimes on holiday, my girls still don't go to bed really late and so I was a little bit worried with how noisy the campsite would be (as I hadn't stayed in one before). And whilst I was really surprised by how quiet it generally was, there were a few older children still out having fun. So I just popped on the white noise machine and it totally drowned everything out.
Go with the Flow and Embrace Campervan Living
We totally loved our first campervan experience and it helped choosing a motorhome from a reputable company. We couldn't believe how chilled and relaxed the holiday was. There was no stressing, no rushing about, it really was a time to switch off and chill with the family – . We can't wait to make more plans for a longer trip soon to maybe Scotland or Wales.
How to Book a Campervan or Motorhome Holiday
It really is simple, follow the link to Camptoo and I can guarantee there will be a campervan of your dreams, ready to be hired by you!!
I hope you found this useful and that you are excited as much about your first motorhome holiday – I really think we have turned our children into 'camper kids!'
You may also be interested to join us on Instagram – Follow our trips and other great travel tips!
NOW IT'S TIME TO PIN IT!