Right now, we're not able to travel as much as we might like to. But when the time comes again when we're able to travel to wherever we want to, you'll want to get more out of every travel experience. There are some tips and tricks in particular that you'll want to know about in order to get more out of each and every travel experience you have going forward. Read on to find out more.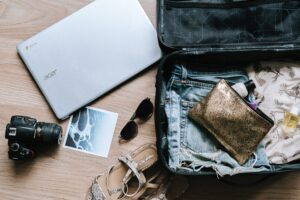 ** This is a collaborative post
Try New Things
If you ask us, travel should be about new experiences and doing things you either wouldn't or couldn't do at home in your day to day life. So if you're going to get the most out of every travel experience, you should enter it with the mindset of wanting to do new things and have experiences you've never had before.
Budget Well So You Can Experience Things You Thought Were Out of Your Reach
Budgeting well will make your life so much easier when you're planning a trip away. Even if you thought you couldn't afford to go to certain places, you're almost certainly wrong. It actually all comes down to how you plan and budget the trip. There's are low budget options for every destination or location.
Don't Stick Too Rigidly to Your Plans
When you put plans in place for your travels, it's tempting to stick to them very rigidly so that you can fit everything in. That's great, but you should also leave some room for adventure and spontaneity because that's when the most interested and exciting things tend to happen. That little extra excitement is often what's needed when traveling and exploring.
Don't be Weighed Down by Your Luggage
If you want to make the most of every hour of your travel experience, you need to plan for the last day. For example, when you're visiting London, you should use the luggage storage Victoria Station rather than spending the final day of your trip being weighed down by your luggage. And speaking of being weighed down by luggage, you should always try to pack light if you possibly can.
Meet New People and Make New Friends
Finally, you should make it your mission to meet new people when you're traveling. That's something that's especially useful when you're traveling by yourself and there aren't other people around to keep you company. In the end, you'll make new friends that might just last a lifetime. You'll then have people to meet up with whenever you return to those locations in the future.
Whenever you visit somewhere for the first time, you want to get the most out of the experience. Of course, that's easier said than done, but the tips outlined above should help you to do it. Be sure to make the most of them next time you take a trip to a new place.