When it comes to the must-eat food when traveling in Japan, what do you usually think of? Is it fried golden tempura, eel rice with delicious sauce, or the most Japanese characteristics of sushi? Get your Japan travel visa ready, let's go.
**This is a paid collaborative post.
If you want to satisfy your taste buds and keep your wallet intact, you have to go to a sushi bar! Which is the best sushi? Today, we're going to introduce you to SUSHIRO, a popular Japanese revolving sushi restaurant that won the "first place" in the JSCI (Japan Customer Satisfaction Index) survey of food chains in 2019!
How do you order at a sushi restaurant? What are the must-try sushi and meals that even the locals order? Today's article will help you understand the 100,000 reasons why sushi is so popular!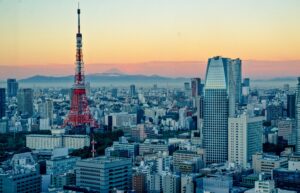 About SUSHIRO
Before we talk about sushi, I would like to talk about the sushi restaurant SUSHIRO that we are promoting today. They have more than 500 stores throughout Japan (including 47 prefectures), and are a regular destination for many Japanese locals, and the "first choice" of many Japanese families when it comes to sushi.
The family first started out as a sushi restaurant in Abeno, Osaka, but the founder wanted to make it easier for more people, especially families, to eat delicious sushi, so he created SUSHIRO, a revolving sushi restaurant.
Compared to high-end sushi restaurants, most of them offer fresh sushi for only 100 yen per plate (2 kan), and in addition to sushi, they also offer a variety of snacks such as ramen and tempura and a selection of delicious desserts. This is probably why they are becoming more and more popular, both in Japan and overseas.
 SUSHIRO Akihabara Ekimae Branch
SUSHIRO has stores all over the country, so you can search for a store near you on the map. But today I'd like to introduce this Akihabara Ekimae store, which I'm familiar with!
When it comes to Akihabara, the impression of the country may still be stuck in the "electrical" and "anime" street, indeed this is the paradise of many "otaku" people, you can find a variety of game hand-me-downs here, but also here you can feel the unique Japanese "maid coffee" and so on.
However, in the past few years, Akihabara has also been "evolving", in addition to the stores and facilities that secondary fans like, family-friendly shopping malls and duty-free stores are also increasing, and the emergence of "2K540" street, which is a niche literary place, has also made this area of Akihabara more famous among fans of "Japanese culture".
After shopping in Akihabara, of course, you have to go to a full meal, and this time I have to crazy to promote the personal feel super delicious and recommended to visit when you come to Akihabara SUSHIRO (SUSHIRO) it!
The right way to open sushi sushi (SUSHIRO)
When it comes to revolving sushi, many of you who are new to Japan may be curious about how to order and check out, and what you need to pay attention to, so let's take SUSHIRO in Akihabara and explain it to you one by one!
How to use the touch screen to order food
Many sushi restaurants in Japan do not offer Chinese or other foreign language support, so foreign tourists are a bit overwhelmed by how to order sushi. But SUSHIRO has a very good service for foreign tourists, so these worries are not here! There! No!
There are menus in Chinese, English, Korean and Japanese in the waiting area, and they explain everything from how to order using the tablet to how to eat in the form of pictures and text, so it's easy to understand and super sweet! (Remember to ask the clerk if you don't find it!
Some precautions when eating rotary sushi
Because of the different cultural habits, here we also want to share with you some precautions when eating sushi in Japan, remember to check in advance when you come to eat sushi Oh: ① No food or cutlery can be left out.
① No food or cutlery can be put back on the conveyor belt
② Don't take the food ordered by other customers at will
③ Do not poke or climb out of the conveyor belt.
④ Smoking is not allowed in SUSHIRO.
⑤ Don't disturb other customers when taking photos or video
How to check out
Checkout at SUSHIRO is also very convenient, you can press the "checkout button" on the conveyor belt or touch screen first, the waiter will come to count the tableware, then read the barcode on the checkout card and give it to you, then take it to the checkout counter to check out.
After reading the above introduction, did you get the surprise of Japanese sushi restaurant? If you want to experience the relaxing atmosphere of a Japanese revolving sushi restaurant, as well as sushi made from fresh ingredients and other delicacies, remember to visit SUSHIRO in Japan!