For those of you who read my blog regularly already know how much we love Glamping, especially when you get to stay on a farm. We love getting back to basics but in a luxurious way. We enjoy the outdoors, nature, getting up close with wildlife and farm animals and taking a big step back from everyday life to slow down a little and Feather Down Farms are the perfect place to do this. In the article, we are exploring glamping in Hampshire!
** We were invited to go glamping in Hampshire and stay at Feather Down Manor Farm in exchange for an honest review – all thoughts and opinions are my own.
After our first successful Feather Down glamping in Essex farm stay last year, we couldn't wait to try go on another Feather Down holiday and this time we decided to try glamping in Hampshire at Manor Farm, which seemed to tick all of our boxes, especially as it was a working farm holiday and there were several lambs to coo over too!
About Feather Down Farms
Feather Down Farms offer farm stays in the UK and across Europe, in luxury safari tents with real beds, fluffy pillows and your very own indoor flushing loo. The tents at each farm are the same but each location has it's own individual charm and attractions. On this occasion we are glamping in Hampshire.
You really are spoilt for choice with 33 Feather Down UK farm stays, and you can stay for either 3, 4 or 7 nights. Feather Down are open from Easter through to October each year. Feather Down Farms are great for family weekend breaks or longer week stays. Many offer luxury glamping with hot tubs and farm activities.

Glamping in Hampshire at Manor Farm
Manor Farm was the original UK Farm Stays for Feather Down which opened its fields back in 2006. It remains a tranquil oasis of calm within the South Downs National Park. Manor Farm is comprised of arable crops, cattle and a large flock of sheep that graze the water meadows.
Anna and Will the hosts, welcome you to stay on a working farm, glamping in Hampshire where you can roam the countryside and be amongst the farm animals. Manor Farm offers gorgeous working farm holidays for families.
Manor Farm will appeal to many of you because it is only an hour from London. In no time at all you can be out of the big city and into the countryside staying on a working farm. Glamping near London is the perfect family weekend away.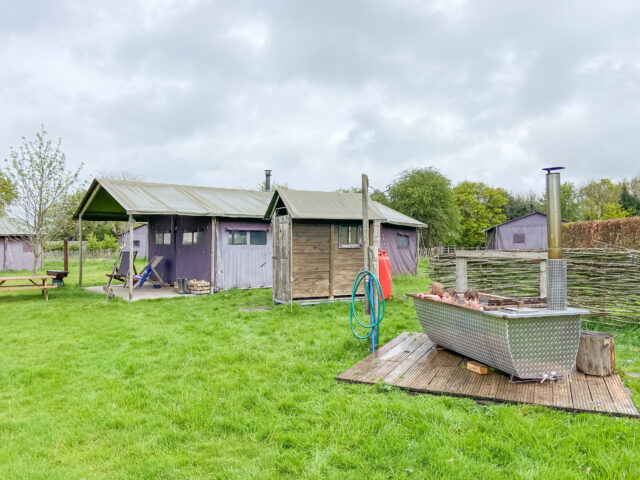 Feather Down Accommodation – Glamping in Hampshire
Manor Farm offers 3 types of accommodation, in 7 lodges. The log cabin which caters for 2 people, or there are 2 canvas lodge/safari tent options which host 6 people – some have an en-suite shower, and others have a private outdoor shower.
The safari tents/canvas lodges are situated either in the old farm orchard, under trees or backed into hedgerows and are perfectly spaced out, each having its own privacy for a quite UK family holiday, whilst also being well placed for group holidays or those looking for larger family holidays.
Our glamping tent was in the perfect position for the girls because it faced into the orchard towards the lamb paddock. As soon as we arrived they spotted Diamond the sheep with her twin lambs who were happily grazing and ran over.  Others lodges also had a magnificent view over Alton and the rolling countryside beyond.
Throughout our family weekend away at Manor Farm in Hampshire, we stayed in the Canvas Lodge with a private outdoor shower and hot tub. I think you will agree that glamping with private hot tub is just a little bit special and the girls certainly loved splashing around in it, especially in the rain!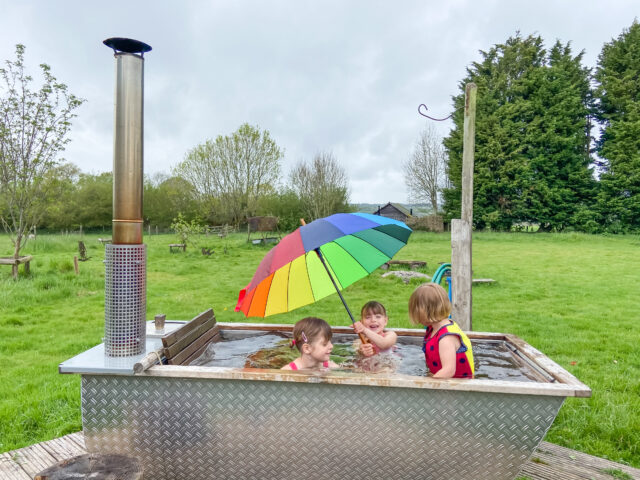 The canvas lodges all have a main living room, with a dining table, and sofa. The kitchen has a sink and running cold water. All of your pots and pans, and cooking utensils are provided, along with crockery and everything needed for meals (other than food) – there really is no need to take the kitchen sink!
All cooking and heating is done via wood-burning stoves and the lights come from candles and lanterns so you really get back to basics. The log burner for perfect for keeping you warm and for cooking on, and there is a second outdoor stove too. You are provided with a box of wood a day and you can buy extra should you need it.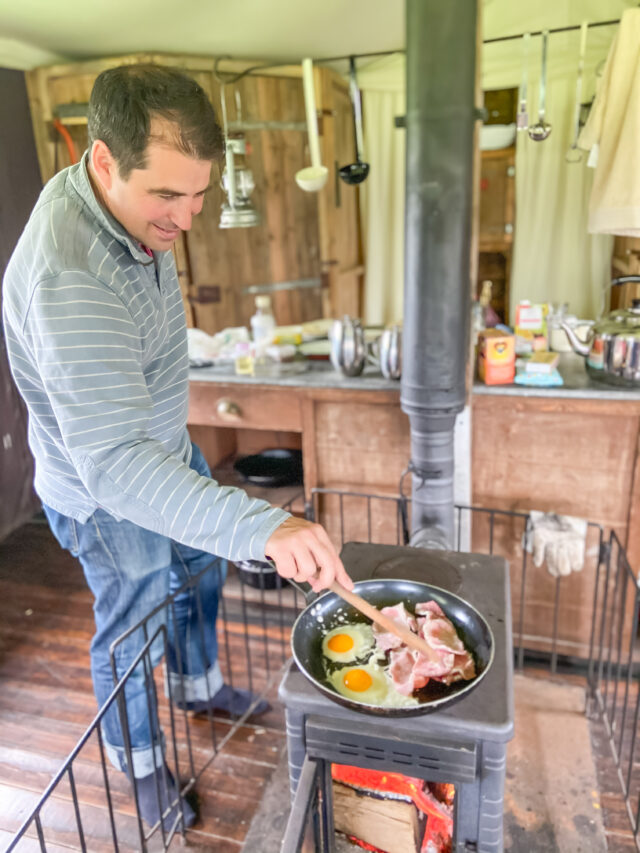 The décor is gorgeous and I love it – rustic and authentic but still cosy and comfortable too. The Feather Down sleeping facilities are quite simply the best around in my opinion. With proper beds which were super cosy and thick duvets with squidgy pillows it really is luxury glamping at its best.
It was wet and chilly when we visited so we took a few extra blankets each and filled our beds with hot water bottles each night. We recommend Slumber Sacs for the children as an extra layer too – these are like baby sleeping bags but with feet and for bigger kids too.
The configuration for the sleeping arrangements is a double room, bunk bed room (this is where we put Matilda in a cot which you can either take your own or hire for an additional fee) and the cupboard bed which the girls JUST LOVE!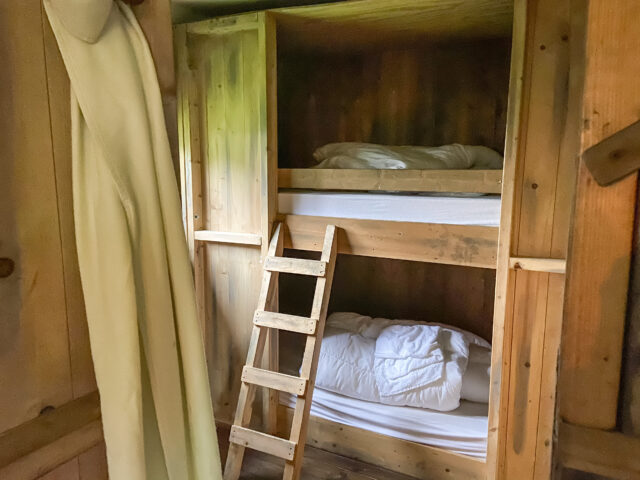 Each canvas lodge has its own en-suite flushing toilet inside so there is no need to be trapesing across fields in the middle of the night with a torch – I know lots of eyes will light up now – this is luxury!
There's tonnes of outdoor space at Manor Farm which you can call your garden! Cars have to stay in the car park so it is totally safe for kids and toddlers. It's the one place I can sit down, enjoy the view with a coffee whilst the children play for hours outside – a total win right!
Activities & Facilities at Manor Farm
As well as the glorious natural outdoor space at Manor Farm, there's also a heap of other things you can do on the farm which make it a lovely holiday for toddlers and the best holidays for kids.
There's eggs to collect daily from the chicken coop, spend time cooing over the new born lambs, and if you catch them before they go out to graze, there cattle to chat to too!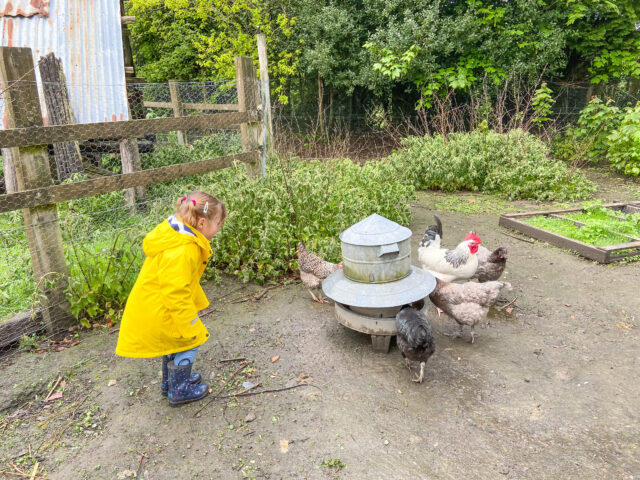 During the evening, when the sun begins to set, it's the perfect time to light your campfire and toast marshmallows – I bet your kids love doing that too?!
Out of COVID times, Will also offers farm tours in the tractor but sadly we missed this, this time.
If you are looking to have a pizza night, you can use the pizza oven which is situated over by the chicken run.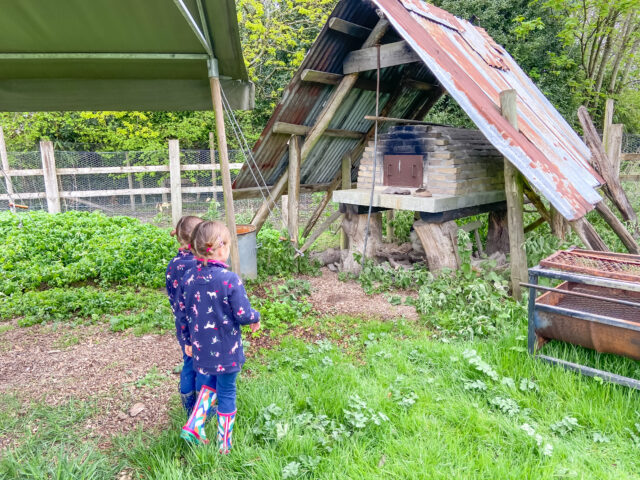 A real treat for us was the breakfast hamper which we pre-ordered – it was huge and lasted us a breakfast and a lunch. There's nothing better than an egg and bacon sandwich when glamping right – yum!  You can also pre-order other home-made meals prior to your visit too.
The honesty shop is well stocked full of local produce, meals, ice-cream and useful products should you forget anything and whilst I would encourage you to enjoy your device free time whilst on holiday, you can pay to charge your phone in the shop should you need to.
Packing for Glamping in Hampshire
If you are wondering what to pack for your glamping trip, take a look at my glamping packing list. I always recommend packing cubes to organise your clothes too.
Feather Down COVID 19 Protocals
Feather Down have taken their role to protect their guests very seriously. Prior to our arrival at Manor Farm, we were sent a welcome video showing us where everything would be and how everything worked – I totally loved this as it meant we had minimal contact on arrival (although it was still lovely to be welcomed by Anna too), but it also meant we could look back over it if we forgot how to work something like the log burner. Social distancing was adhered to at all times. The farm honesty shop was open but only one person was allowed in at any time.
How to Book Glamping in Hampshire
Booking is simple. Pop onto the Feather Down Glamping website and you can see both availability and prices on there.
Days out in Hampshire
Feather Down really are the best UK holidays for families because they give you a chance to switch off and enjoy the simple things in life. We usually stay local when we are on holiday and at Manor Farm there are plenty of good walks right on your doorstep – maps can be found pinned up on the wall and Anna is great at answering any questions on the suitability for kids.
If you are thinking of going for a wander off-site, there are great local pubs within walking distance, including the Three Horseshoes in East Worldham.
Some great days out with kids in Hampshire include;
Alice Holt Forest – walking trails and bike hire for all ages
Go Ape in the Treetops for juniors and adults
Climbing the Zig Zag in Selborne is worth it for the view – just look! It was a really fun walk up and then we came back down through the woods.
Watercress Line with regular visits from Thomas the Tank Engine
A book-based attraction is Jane Austen's charming house in neighbouring Chawton.
The New Forest and Peppa Pig World are also easily accessible.
We had a great stay with Feather Down and cannot recommend the company enough – please do pop me an email if you have any questions about our stay (anna@twinsandtravels.com), check out our other adventures on Instagram, or if you have twins or multiples, then why not join our holiday community page on Facebook!
GO ON, PIN IT!