From the moment we pulled off the main road and onto the farm track for Penlan Lodges, I felt like I was in heaven… The views all around were totally breath taking. Green rolling hills as far as the eye could see with tiny sheep dotted about all over the place. It was time to breathe, and relax on our family holiday.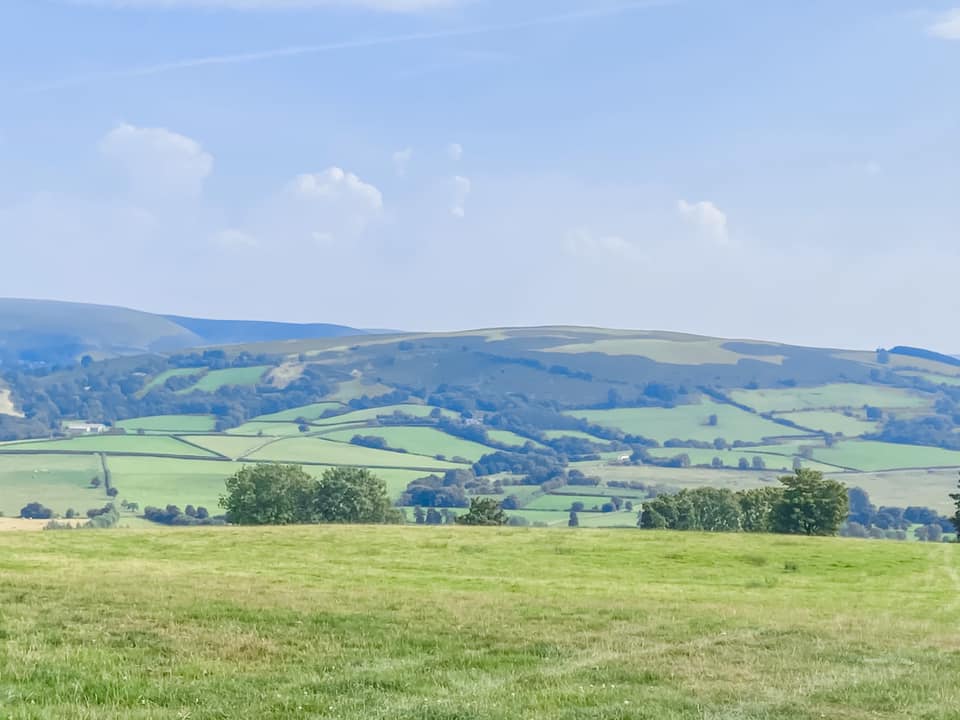 ** This is an honest review. All thoughts and opinions are my own.
About PenLan Lodges
Penlan Lodges are set in 200 acres of picturesque farmland in Llandrindod Wells, Mid-Wales. Hosts Glyn and Anita are organic sheep farmers by trade who have recently diversified by welcoming guests onto their land. They too live on the farm with their dogs and couldn't have been more helpful and welcoming hosts.
Penlan Lodges offer two lodges. Ewe View (2 bedrooms) and Shepherds Hill (1 bedroom). Both are set in their own little piece of tranquillity. They are well away but close enough if you wanted to bring the grandparents too!  Both with spectacular views.
On arrival, Anita met us at Ewe View and showed us around, sharing all the information we would need for a successful stay with them. My first impressions of the lodge was 'wow'… I really didn't know if I should let the children in… it was gorgeous!
Ewe View Accommodation
Ewe View is the perfect size for a family staycation. With two bedrooms, two-bathrooms and an open plan living area, it is the perfect place to unwind and relax even with kids!
The Bedrooms
Both bedrooms were a really good size with plenty of room around the beds and well presented with Orla Kiely bedding in ours, and gorgeous sheep in the girls. You can decide on your own configurations within the bedrooms. You can either have them as twins or doubles. Matilda's cot fitted into the twin's room no trouble and you could easily fit two cots, or a third bed.
The owners are very accommodating, just give them a call and they will do their best to work things out for you. I would suggest taking at least 2 blackout blinds for the children's room if they need darkness to sleep as it really is light in the mornings. There is a small amount of hanging space to hang clothes and a large ottoman at the end of the bed to store bits in too… I do love to unpack on holiday, do you?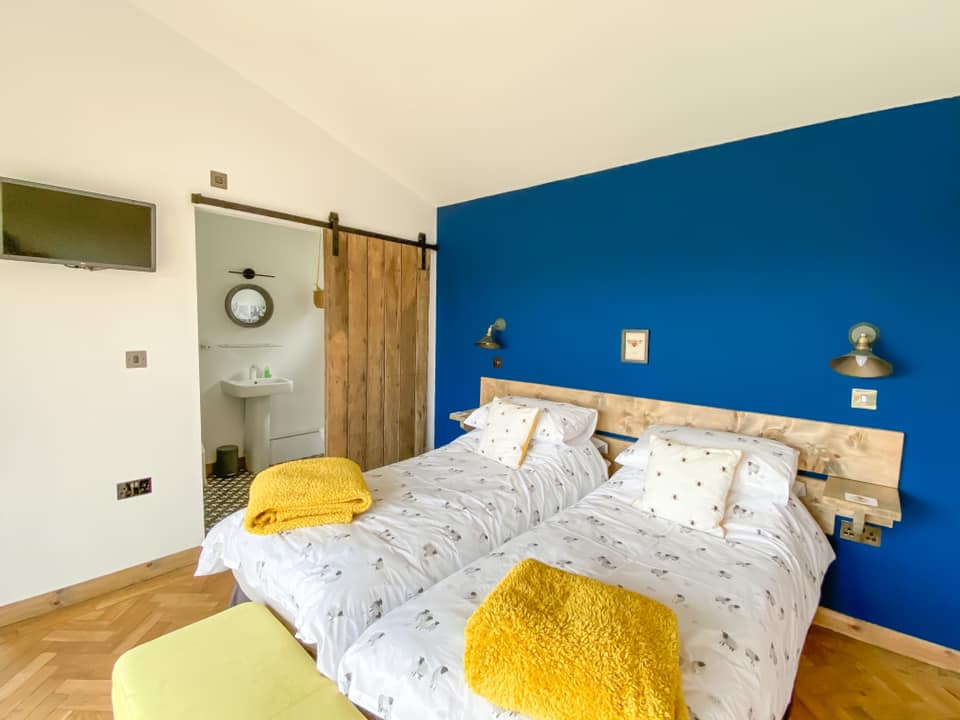 The Bathrooms
Off each bedroom was a bathroom; both with huge showers. If you have a toddler who is too small for a shower, we always suggest taking a small paddling pool to pop in the bottom of the shower to act as a bath!
The Living Area & Kitchen
In the main living area there is a gorgeous blue velvet sofa, with a contempory wooden dining table with a bench one side and gorgeous leather chairs on the other. It easily seats 5. Penlan Lodges provided a highchair for Matilda.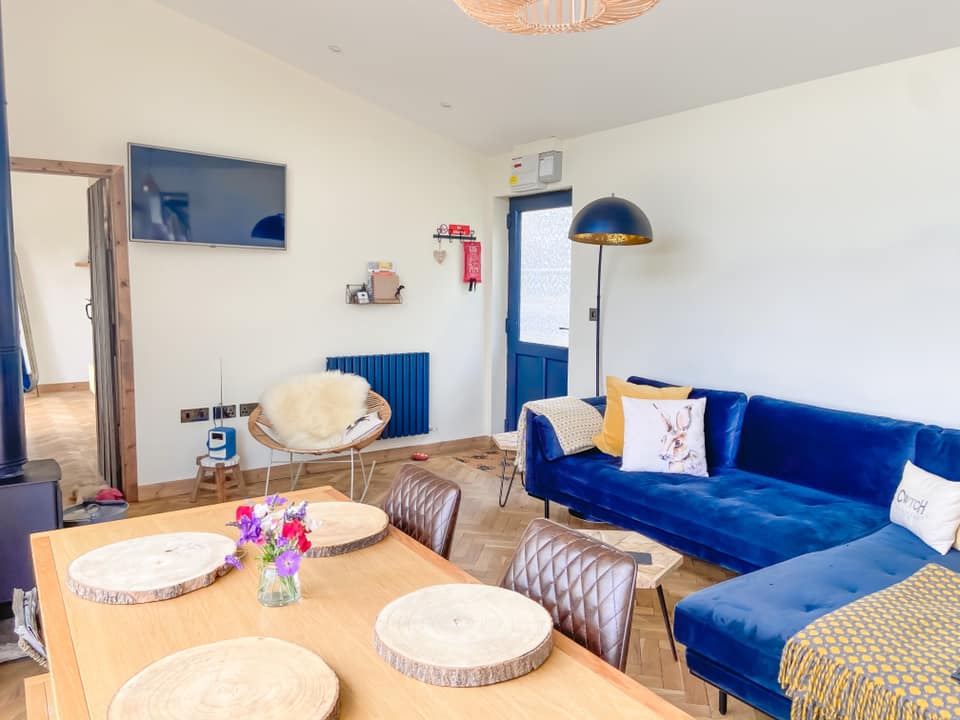 For when the cold Welsh weather hits, there is a modern log burner which is just asking to be lit. We just love snuggling down by a warm fire after a brisk walk.
There is also a small box of children's toys for children to play freely with – my girls loved the bug pots and butterfly nets!
To one end of the main living space was a small well equipped kitchen with a fridge freezer, microwave, dishwasher and washing machine. Everything you need as a parent! There was washing up liquid and a few dishwasher tablets provided but I would pop some washing powder and some fly spray in your bag. Due to the time of year and the sheep, we did have a few flies about – the lodge provides some spray too.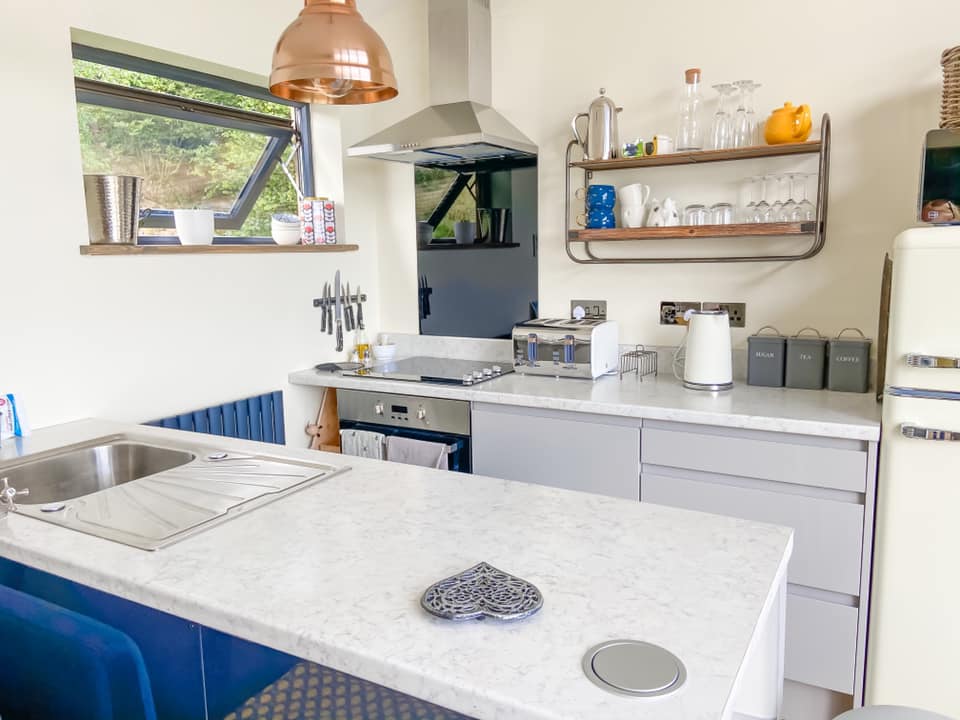 Large double doors open onto the veranda to give the room a real outdoorsy feel – We loved this.
Outside Ewe Lodge
The outside space around Ewe Lodge is absolutely perfect for families and children who love the outdoors. The veranda is the whole length of the lodge. It is enclosed with a small gate to one end to stop toddlers escaping! It looks out over a sheep field and the rolling hills and valley in the distance.
The veranda has comfortable rattan seating and wicker chairs to one end, and a hot tub to the other which is great to relax in after a day running about on the farm or once the children were in bed – yes we did sneak back in!
To the other side of the lodge is every small child's (and parents!) dream… a play area! We had lost the girls to this the moment they stepped outside the car and they spent any free time they could playing on it.
With a small climbing wall, swing, slide, playhouse and mud kitchen, it was the perfect place for children to have some free time playing. It also meant we could sit down for half an hour and enjoy a coffee which is a rareity these days! Just down a small hill is a bug hotel and space for children to go on bug hunts – my girls loved this, especially Poppy!
Things to do at Penlan Lodges
With over 200 acres at your fingertips, there is plenty of space to roam and run free. The rules are… shut all of the gates behind you, don't chase the sheep and the space is yours to play.
Rounding up the Sheep
This was the girl's favourite activity of their stay… Glyn took us all to one of his sheep fields and got the girls to help him move the sheep – it was like all their Christmas' had come all at once!
They ran along with the sheep dog, shouting commands, to get all the sheep moving in the right direction. They managed to get them out of the field, down the lane and into to the barns. You can do this too by prior arrangement. Just ask when booking!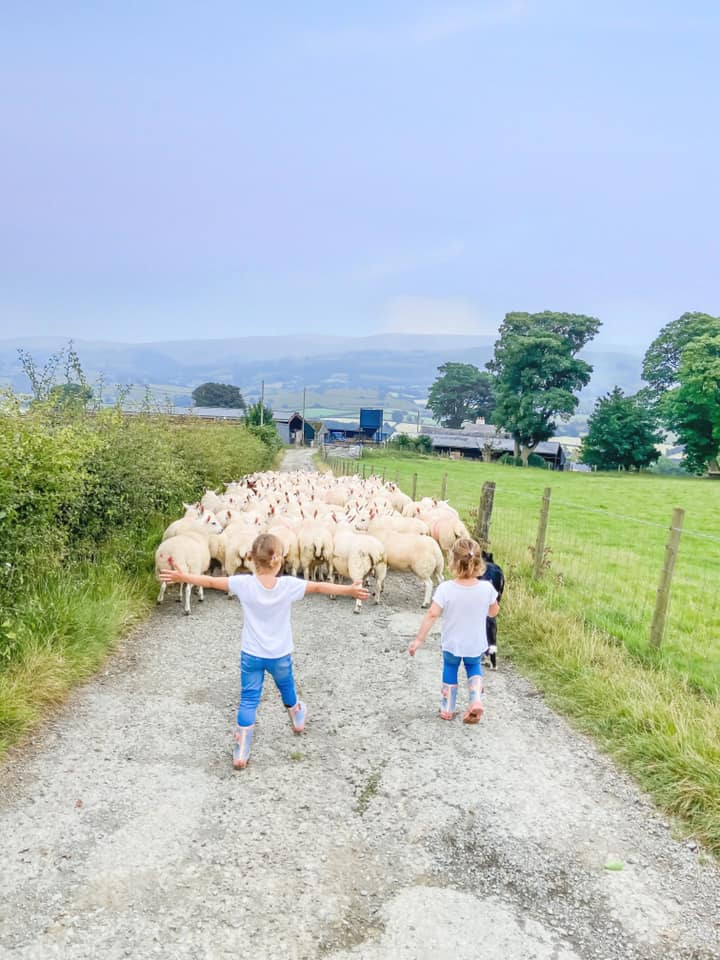 Egg Collecting
On a couple of the mornings, the girls were invited to collect the chicken eggs from the hen house. Poppy now wants chickens (and sheep!!).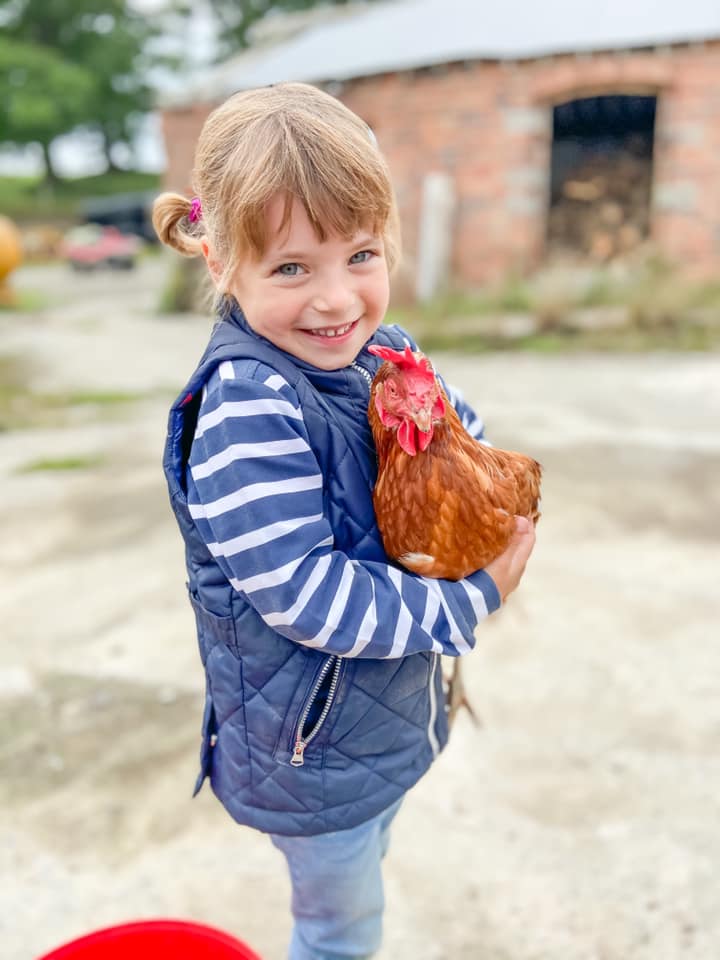 River Picnics
A gorgeous shallow river sits on the edge of the Penlan boundary. A great activity to do with the family is to take the 15 min walk down the hills to the river for a play and picnic.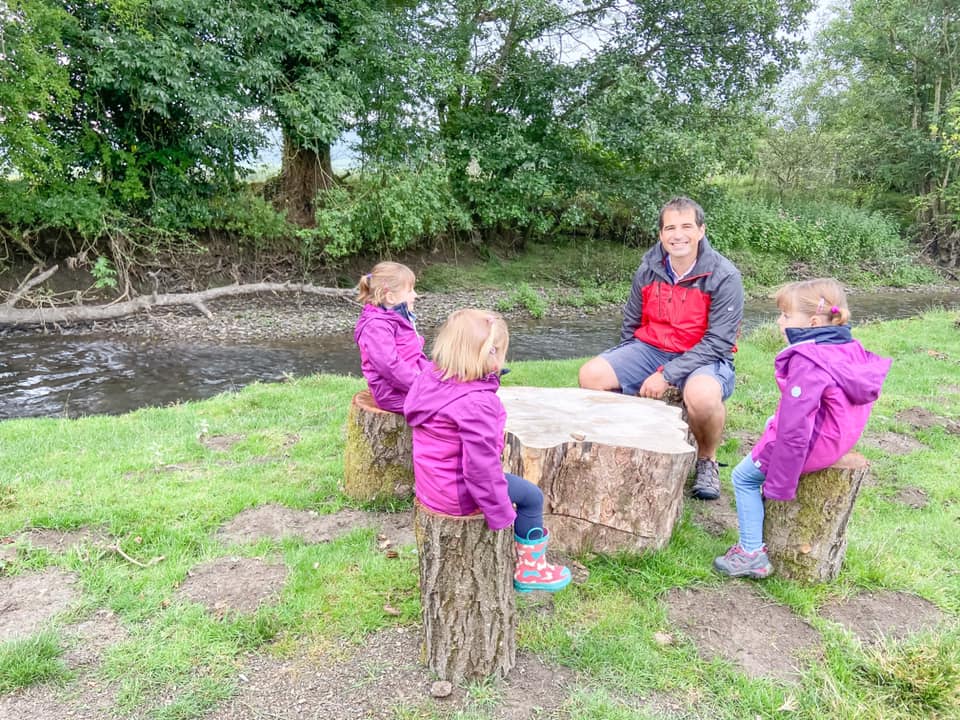 Glyn and Anita have set up a gorgeous little picnic area with a table, log chairs, a bench and some really fun rope swings. The river was shallow enough to go splashing in which was lots of fun. One thing be sure to take is wellies and waterproofs. Muddy Puddles are great for their waterproofs as they allow play to continue no matter what the weather is doing! Just make note that its uphill all the way back – a bit of a killer on the old thighs but totally worth it – we earnt that glass of wine!

Kite Flying
There are so many great spots to fly a kite at Penlan. Within a few minutes walk of the lodge, you can get to  a couple of really great hills, so don't forget to pop one in the car!
Penlan Lodges and COVID Protocols
Anita and Glyn have made sure that Penlan Lodges are 'Good to Go' and are doing all they can to keep everyone safe.
They are following the government guidelines and have placed sanitizer outside both lodges. They adhere to social distancing at all times. The lodge was spotless. They have taken on all the cleaning themselves to ensure everything gets thoroughly cleaned. There are a few toys in the lodge which are cleaned and rotated with others.
Recommended Days Out from Penlan Lodges
3 great days out that we can recommend are…
Alpaca My Boots
What a great morning we had with Alpaca My Boots.  Alpaca My Boots offer alpaca walking experiences in the Brecon Beacons National Park, it is simply stunning.
The experience is approx. 90 mins in total. During this time, you will be given your own alpaca to walk and after, have the time to feed. You will learn some interesting facts about these enchanting and curious animals.
The walk itself is an hour which was perfect for the twins (who were 4) and we popped Matilda in the back pack carrier. It was a fun way to walk and get out and about in the National Park. We walked up to a viewpoint which was stunning even on a cloudy day.
Alpaca My Boots is approx an hour from Penlan.
Cantref Adventure Farm
Cantref is just 3 miles from Brecon and an hour from Penlan. It is a children's farm park, with indoor/outdoor play zones and animals, tractor rides, pig racing, a huge grass slide that was so much fun (for the adults and children), a horse riding centre and a café (with outside seating at present due to covid).
Elan Valley Reservoirs
The Elan Valley Reservoirs are a chain of man-made lakes created from damming the Elan and Claerwen rivers within the Elan Valley in Mid Wales. They are stunning and well worth a visit. There are many walks and trails with a good mixture of lengths to cater for all, including nature trails and scenic walks. They are about 20 mins from Penlan.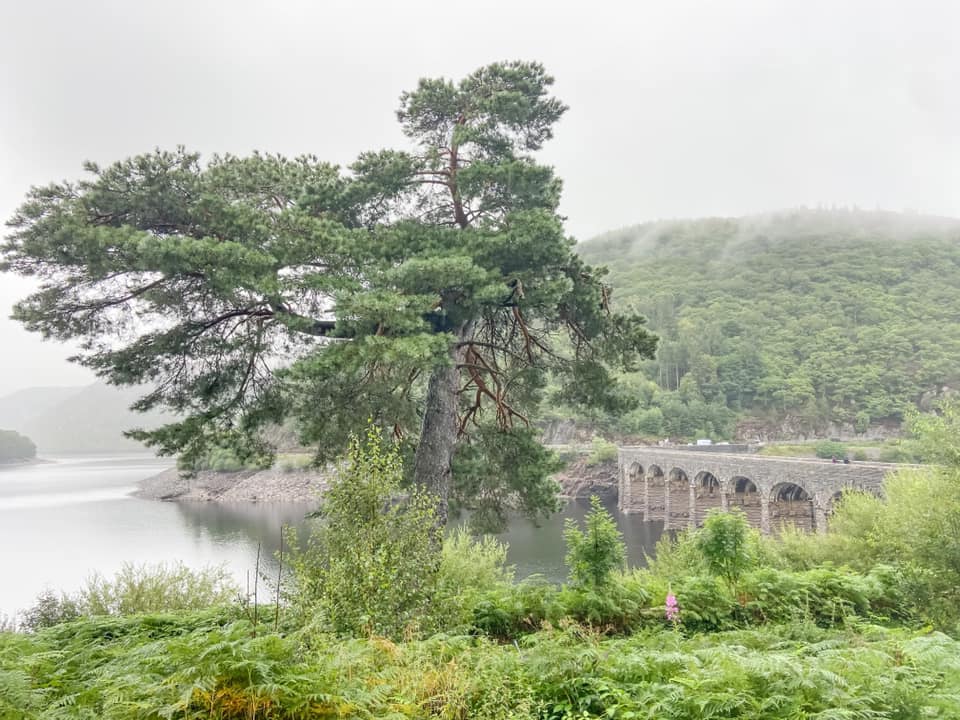 How to Book
Booking is simple… If you are a family of 4, pop over to the Penlan Lodges website to book. If you are a slightly larger family, give them a call on 07805122110 or email to chat to them about bedroom configurations.
We absolutely loved our stay at Penlan Lodges. The open space and child's facilities were what they are all about and this makes holidaying with children so much easier. We would definitely go back and would love to explore the area more!
GO ON, PIN IT