As much as we love our families, sometimes, especially if you've been at home together for such a long time, some types of bonding activities may be needed to spice up the family home life. Instead of the everyday watching something new on TV, a new activity that is enjoyable and mixes things up can be just what your family needs to connect and have some fun together.
**This post is written in collaboration with Emily Jones.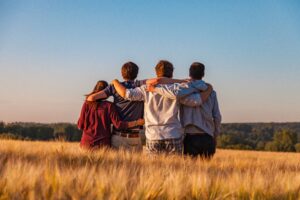 Here are some fun family bonding activities to try:
Learn a language
Learning a language is an educational activity that you can make really fun together as a family. It is a humbling experience, as you stumble through learning a new language and feel like a child again. making it a quick way to get some smiles in!
Pick a language to learn together, whether it is connected to your family heritage, somewhere you want to travel to, or just one that you all want to learn. You can watch shows together, read children's books, make up games, and get creative with your language learning! You can also get competitive and significantly boost your skills with a language app. With downloadable apps such as Babbel for example, you can learn Spanish or another one of the 10 languages available. Spanish in particular is such a great and fun language to learn because it is widely spoken, is a gateway to learning other Romance Languages as well, and it will have you all laughing as you learn to roll your r's.
Go camping
Camping is a way you can (safely) get out of your usual environment together and also reconnect with nature. For many people, camping is a way to relax because it takes away the desire (and ability) to really be on technology and instead gets you excited to sit around campfires, play games, talk, and enjoy the outside. Your family will definitely go home as more of a bonded unit after a camping trip together!
Right now, it is also a good activity that you can do out of your home because generally you are away from others. Of course, check out details of campsites before heading out to make sure it is safely ready for campers and you feel comfortable going there.
Family game night
Family game night is something you can all look forward to doing together during the week. Rather than a passive activity such as watching a television show, it gets you actively doing something that requires your presence. Take turns picking games, and bonus points if you do a phone stack so there are no distractions!
Tend to the family garden or create one
Getting outside and working in a garden is an activity that can be fun, relaxing, and a way to spend time together without feeling the need to have energy and interact the whole time. Simply tending to the garden together or even creating one and learning about gardening together is a fun (and educational) activity that will also give you some fresh ingredients to cook up too! No matter if you got indoor or outdoor space, a garden is a great activity to tend to all together!
Take a look at old photos together
Take a walk down memory lane with your family by flipping through old photos, scrapbooksor watching 'home videos' together. Reminisce on the good times and all that you have experienced together, sharing memories and asking each other what you all remember.
If your photos and memories need a little organization, this is also a great activity to do together because it gets everyone involved and sharing details that they remember to take note of with the memory.
Family Zumba
Family Zumba gets you moving and laughing together! Zumba is an exercise fitness program that you can set up on a screen and have a blast doing together. You get to dance to great music, follow routines, and get a proper workout in!
There are endless activities to do all together that will help reunited you and your family even more, but hopefully these activities will give you some ideas of what to do with yours!