Engaging Children's in Learning with Numberblocks – Learning through Play
Keeping our children engaged in activities isn't always easy, they can get distracted very quickly if things seem a little dull or boring. That's why learning through play is so important. This is something you can continue to do with them throughout the summer before they head to school – it's a great way to prepare your child for school. There are lots of fun activities from messy play to learning basic skills with some of their favourite characters such as the Numberblocks to help keep them learning and entertained.
What is Learning through Play?
Learning through play is something that your children will do a lot in the early years at school. Through playing, children will develop social skills as well as thinking, reasoning and remembering skills. It helps them to gain confidence physically and emotionally as they engage in new activities. It is proven that learning through play has a positive impact on children from primary school right up until high school. Children love to use their senses and explore, this also helps to develop their fine motor control through play and tactile activities.
Why is Learning through Play Important?
Playing not only improves the social and cognitive skills in children and young people but it is also good for their emotional wellbeing too. Through play, children learn about the world and themselves. It teaches them skills to prepare them for working and building relationships with others. Whilst learning through play the children will also be boosting their confidence, learning to adapt to situations and following instructions. These are helpful skills for navigating through life in the future.
The Numberblocks
Children may respond better if they are playing with characters that they recognise, using well-known characters will definitely help to engage children with play based learning. That's where the Numberblocks come in! If you haven't heard of them, Numberblocks is an animated series on CBeebies aimed at children from 3-6  years of age. The production was made in partnership with the National Centre for Excellence in the Teaching of Mathematics to complement the Alphablocks series.
The Numberblocks characters are made of blocks, which makes it easy to see what their number means. Their personalities are based on their numbers. And when One hops on top of Two, they turn into Three. The blocks help to teach the four basic operations of arithmetic to young children using songs, games and puzzles.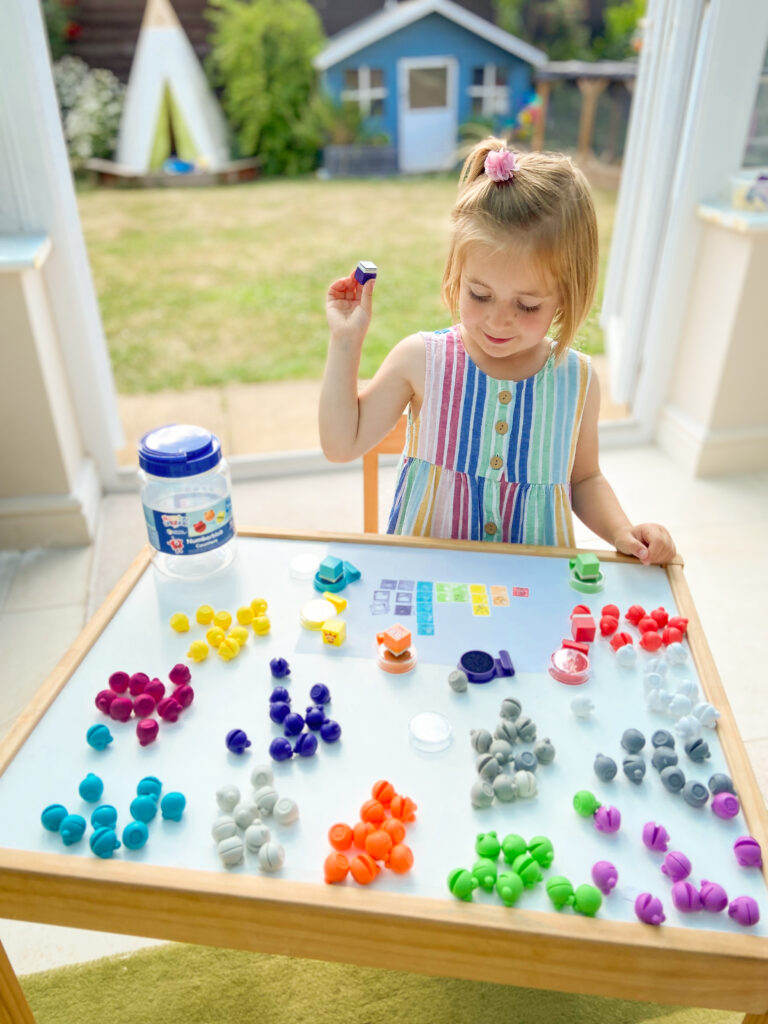 Products to Engage Children in Learning
There are some great Numberblocks toys available that are perfect to get your children engaged in learning through play and spark their imaginations. Here are a few of our favourites:
Numberblock One, Two, Three, Four, and Numberblock Five have all the recognisable features children know and love from the TV series. Their arms move, and they can stand upright on their own – perfect for creating your own Numberblocks display.
The Numberblocks Friends Six to Ten are ready to join their Numberblocks friends (sold separately) on imaginative play adventures in Numberland. These Six to Ten collectible figures have all the details and features children will recognise from the episodes, and their arms move for posing and dynamic play.
There are so many imaginative play adventures in Numberland waiting at the Numberblocks Step Squad Mission Headquarters playset with the Numberblock Three collectible figure included. The walls unfold to open up this deluxe playset and discover its top-secret number features. Send Three up on the ride-on lift and zooming down on the slide. Flip the top of the pentagonal table to discover the spy station or count the squares on the hidden doors and see if you know which Numberblock they match.
Have fun zooming around Numberland on imaginative play adventures with Numberblocks One to Five in their Numberblocks Mini Vehicles. Just like its driver, each of the 5 vehicles has unique maths details. One's vehicle has 1 headlight, count Two's headlights, count the corners on Three's triangular-shaped vehicle, Four's square vehicle has 4 corners, and count the 5-pointed star on the back of Five's pentagonal vehicle.
Made from high quality soft-feel fabric, and with true-to-character features that children know and love, these Numberblocks plush toys are ready for hugs, naptime snuggles, and imaginative play adventures in Numberland. Find the ideal tactile Numberblocks plush toy – perfectly sized for little hands, they're ready for any playtime adventures.
Number 5 is a little bit special because  she SINGS! Get the counting party started with Sing-Along Numberblock Five! She's a real star and the lead singer in the Numberblocks band. Press the 5-pointed star on her High Five Hand and see each finger light up as she counts from 1–5. Then listen as she shares 12 phrases and songs including the Numberblocks theme song.