How to Prepare your Child for Starting School
Starting primary school can seem like an extremely overwhelming experience for both children and their parents. The thought of your little people starting something very new can leave you all feeling a little out of sorts. There are so many ways that you can help prepare your child for this new chapter in their lives and making their first few days reception easier. From playing ABC games to making sure they can dress themselves and reading books together – knowing a few little basic skills will leave you all feeling that little bit more confident.
It is a big step but it doesn't have to be a scary one. Here are some of our top tips for preparing your child for starting school.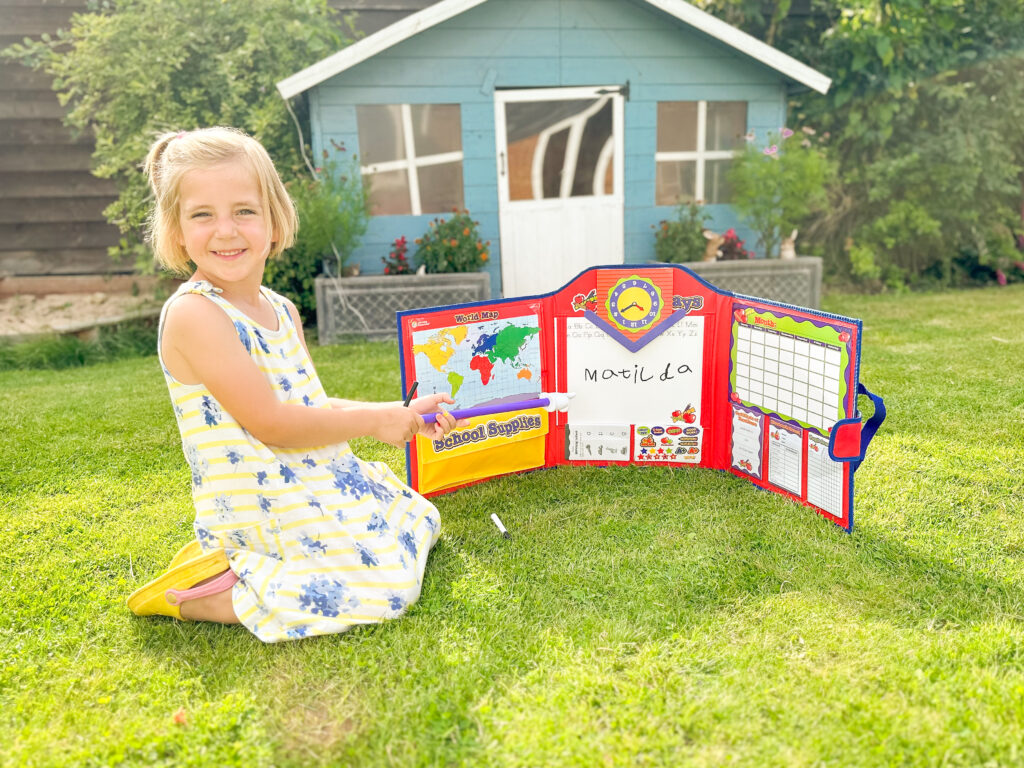 ** This is a sponsored post
Starting School – Getting Dressed
Once you have bought your child's school uniform – do a trial run of putting it on and taking it off. Most uniforms are very similar and will consist of a collared t-shirt, trousers or a skirt and a jumper or cardigan. Doing up the buttons and zips will help to teach them their fine motor skills. And don't worry if your child comes home from school one day with their shoes on the wrong feet and the jumper on backwards – this is usually on a PE day where they are in a hurry to get dressed and have tried their best – they will learn eventually.
Going to the Toilet and Hygiene
At school children will be reminded to go to the toilet but some children can feel a little embarrassed to ask and then accidents happen. This is completely normal and the staff are very used to it. Keep a spare change of clothes in a bag so they have something to change into if needs be.
The children will also be encouraged to wash their hands before lunch and after playtime so just making sure that they understand how to use soap and to dry their hands and wipe themselves after going to the toilet is just something to keep practising before they start school.
Get into a Routine and Practise the School Run
If you live close to your school you may be walking there and back everyday. During the summer practise the school run and see how long it will take you to walk there at a comfortable pace. Get them used to the things you will see along the way and make it fun. You will also want to get used to getting up at a certain time every day that gives you enough time to get everybody ready.
When children start school they may be very tired afterwards for the first few weeks so a good bedtime routine is also a must. Most schools arrange a home visit before children start school so the teacher and teacher assistant will come and meet you at home – keep reminding your child of their teachers names so they become used to saying them.
Eating and Drinking at School
For the first week your child may be doing half days so won't be staying for lunch, but when they do you may opt for the school dinners or you may prefer to give your child a packed lunch. In reception the children will have some snacks in the classroom (usually fruit and vegetables) and usually cartons of milk and your child will have their own water bottle. School dinners might seem a bit daunting especially if there is food on the menu that they are not used to.
Teach your child how to use their cutlery as they will be expected to at least try and cut their food up, although staff are also there to help them. If your child is taking a packed lunch try and teach them to eat their sandwich first rather than going straight in for any sweet stuff.
Starting School – Sharing and Playing
The majority of your child's day will be spent learning through play. There will be role-play areas, outdoor play, construction areas, drawing and colouring as well as learning time on the carpet. Young children can get frustrated with each other if one has a toy that the other one wants – it can lead to tears and arguments. Try and teach your child that it is kind to share and take turns. They will form some amazing friendships in this first term at school.
There are some great toys and resources that can help prepare your child for reception through fun and learning games. We have listed a few of our favourites below.
In this set children can play at being  teachers with this pretend school set that's ideal for helping young children develop language and social skills through fun, school-themed imaginative play activities. This kids role play set has everything kids need to set up their own classroom, including school supplies, a write-and-wipe board, hand pointer and a map.
In this game you will race other players, relay-style, to stack a tower of teacups on your saucer – without tumbling! This fun action game encourages children to follow a sequence, a key foundational maths skill, while also developing gross motor skills, balance, and coordination.
This 14-piece lab set for children ages 4 and up is a fun way to introduce little ones to science, chemistry and working with laboratory equipment through fun, easily repeatable experiments. Do 10 child-safe experiments that encourage curiosity and build skills in observation and problem-solving. Made from durable materials, the equipment is sized for little hands.
This tactile cookie play set includes a cookie cutter, roller, spatula, and 26 letter stamps, each with an image of an object that begins with that letter sound. As children squash and shape their Playfoam Sand they build alphabet recognition skills. Soft, colourful Playfoam Sand behaves like modelling clay and holds its shape when children mould and shape it.
This kids telescope for preschoolers is a realistic working telescope that introduces young children to using scientific equipment. The comfy goggle guides make it easy to use, and the dual eyepieces mean young children can keep both eyes open when viewing. It's ideal for exploring the world around them as young children learn about the Earth and space.
This flower garden toy teaches construction and STEM through hands-on play. Stack a flower, secure it in place with a bolt, and drill it in place. The flower power toy drill looks just like a real power drill and the window lets children see the gears turn as they play.
Our top piece of advice for starting school is to try and make things as fun as possible. There will be a little anxiety and there may be a few tears – all you can do is be as supportive as you can, hug them and let them know that anything they are feeling is normal. Before you know it – they will be in their classrooms, making new friends and learning so many new skills. Don't forget to also look after yourselves too – it is a learning curve for all.