How to help your child in Year 3 – Starting Key Stage 2
Going back to school in September can seem very daunting after a long break away over the summer. Although it is nice for us as parents to get a bit of a routine back in place – the children can often feel anxious, especially if they are transitioning into junior school for the first time. Year 3 can seem like a big change, they may have a new uniform to wear as well as wondering what their learning expectations will be. Hopefully, this article will help ease any worries you and your children may have about moving into Key Stage 2.
** This is a sponsored post between Twins and travels and Learning Resources
Moving from Key Stage 1 to Key Stage 2
It's a big jump – moving up into junior school. Expectations are higher for both children and parents and often parents struggle with the new concepts because skills have changed since they were at school. Trust me, I had no clue what a fronted adverbial was and how some of the maths methods have changed. Your children may be getting homework on top of their reading. These will include learning spellings, often some English homework, times tables and maths and they will usually have a theme lesson each week which may also include homework – this could be science based or may even be history.
Some schools have a separate uniform for the juniors, so they may now have to wear a tie. Lessons will be more focused on learning rather than playing and they will also start to prepare children for taking tests, such as the SATs which they will sit in year 6.
What to do when your child is finding their homework difficult at home
How to help your child in Year 3
I have found that it is important to try and keep to a routine with homework. Nobody wants to come straight home and do homework immediately (well some might) but it is best not to leave it too late in the day! After dinner is often a good time. Try and keep the mood light-hearted so it isn't stressful. Even if they are finding it difficult you can assure them that they are trying their best. There are lots of resources that really help and even for us parents, there are plenty of online videos that can help too. Here are a few ideas that may help your child with their homework.
Take the skill and play games
Using games for teaching helps students learn additional skills and they can be fun too. Your school may already have some accounts set up with online programmes for the children to use such as Times Tables Rockstars. These games might help students become more motivated to learn, pay attention, and it also helps with their computer skills too. There are also plenty of hands-on games that can help with their learning as well.
Keep the learning fun
You can try and keep the learning fun by using a rewards system, you could try and set up a little homework area with some new stationery and some stickers, make them a nice drink and a snack or even invite one of their friends over for a homework play date. You can offer to help them, if they want you to. You could also try doing some quizzes which turns it more into a game rather than seeming like a chore. Getting into good habits at a young age will hopefully get them used to doing their homework on time every week.
Use resources
Useful resources for Key Stage 2 include things like worksheets for comprehension, grammar and spelling.  For maths they will be learning multiplying, dividing, mental maths and solving problems using time, measure or money. I would also suggest investing in a few games and fun resources at home which will help to get their creative juices flowing.
Here are 10 Resources to
Help your Child at Home in Year 3
Ask your children questions before, during and after reading a story with these soft foam cubes. The types of questions on the Reading Comprehension Cubes include: What do the pictures on the cover tell you about the story? What is the main idea of the story?

These are colourful, durable, interlocking cubes which are perfect for exploring and comparing fractions! Children learn by building simple, graphic mathematical models that clearly demonstrate fraction relationships.

This easy-to-play game is perfect for reinforcing what children have been learning during lessons. This double-sided domino game provides two levels of play: Fractions and Percentage equivalents.
Math Whiz is where video games meet learning games in a fast-paced maths game that has 3 modes and 8 skill levels to keep children challenged, engaged, and learning. Kids practise addition, subtraction, multiplication, and division, as they learn to analyse, solve problems, and reason mathematically.
Engage young learners in maths practice with this hand-held, electronic game. Itf reinforces fact recall. They can play untimed or in 60 second rounds to encourage quick thinking and mental arithmetic.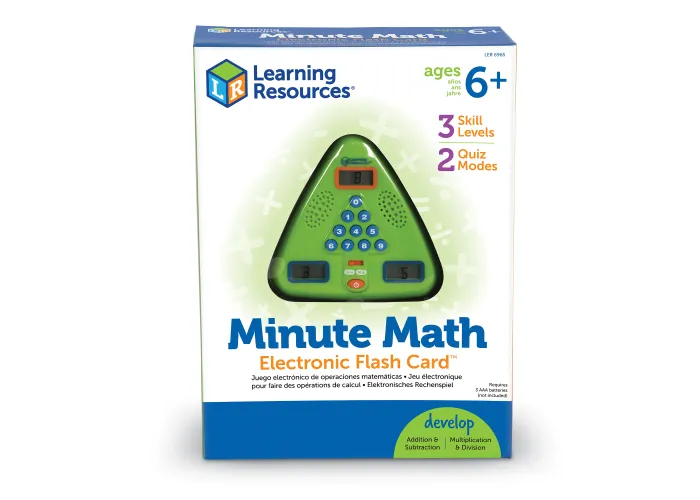 Swat when you see the right answer and grab your fly – the player with the most flies wins! Times Tables Swat! There are 132 colourful flies that are colour-coded to the 2-12 times tables which makes it simple to sort the times tables according to the National Curriculum.

This kinaesthetic way to reinforce basic fraction concepts teaches students how fractional parts make up a whole and about equivalencies, common denominators and multiples. Select a card, place the starting pieces, then complete the circles with the remaining fraction pie pieces.
Dig into some serious fun with this fascinating rock, fossil collection kit! Features handpicked specimens and identification charts.

Young scientists dissect real owl pellets in this science kit for kids that's great for children curious about animal science and biology. Young biologists use real lab tools to examine the owl pellets and discover more about what owls eat based on the skeletons they find.

Artie 3000 the Coding Robot for kids programming is the award-winning coding robot that introduces children to real programming languages. You design the code and Artie 3000 draws the lines.