Landmar Costa Los Gigantes
If what you're looking for is an easy, fun and relaxed family holiday then Landmar Costa Los Gigantes is no exception. Matilda and I spent 4 nights here with a friend and her 4 year old back in May (2023) and had such a lovely break. It's an easy place to take the family as there is so much to do with young children and it's only 4 hours from the UK. Pack a few travel toys for the flight and they will have the time of their lives. The children will love the entertainment programme, and the two huge pools, splash parks and high rope, honestly we didn't want to leave!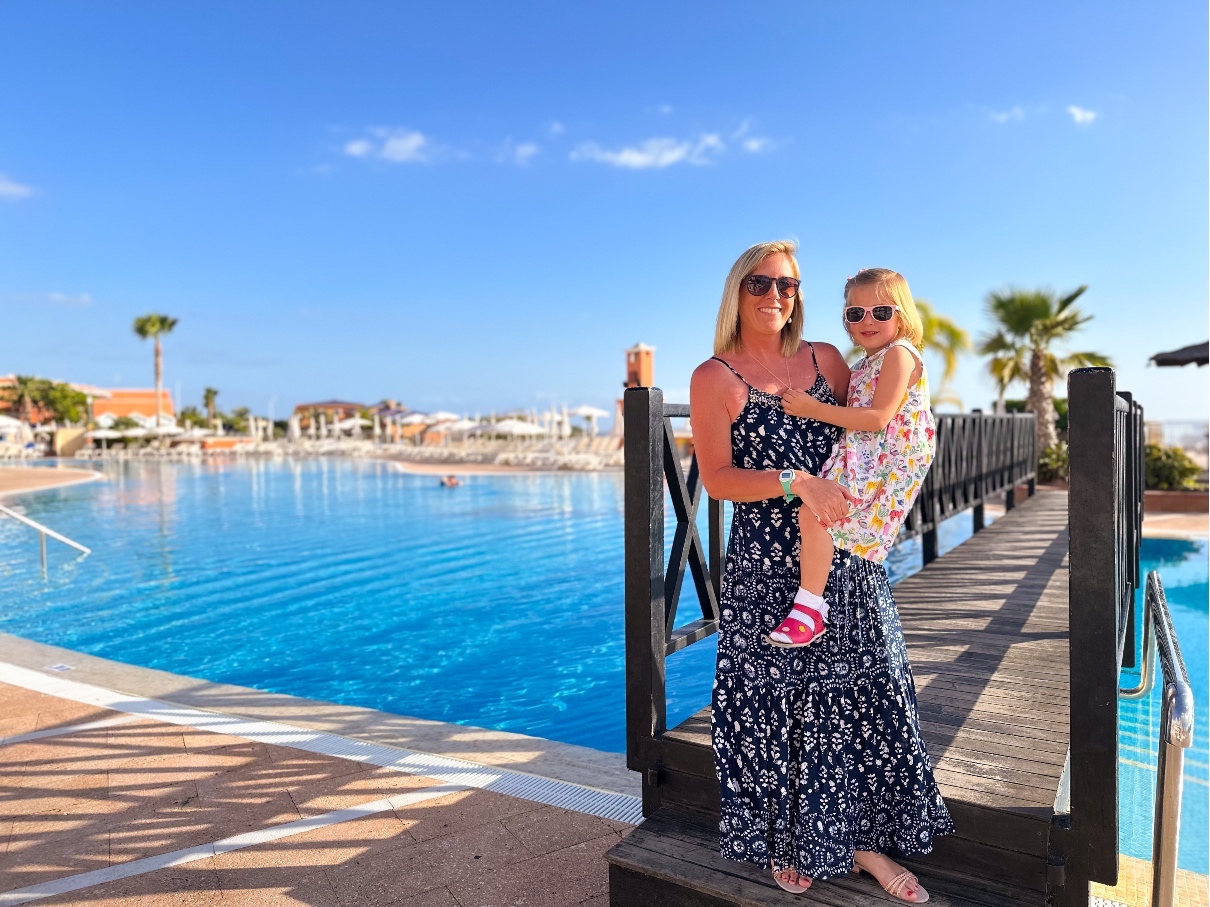 Holidays with Kids – What's Important in a Family Resort?
We all look forward to a family holiday, a bit of escapism, creating lifelong memories, a break from the norm, sunshine, trying new activities and delicious food. It is definitely good for the soul. One thing we are always first to seek out when booking a holiday with kids is a family-friendly resort. These are so important as they often have play areas, facilities especially for kids including kids clubs and those all important bigger rooms – and yes the Lamdmar Costa Los Gigantes has just this!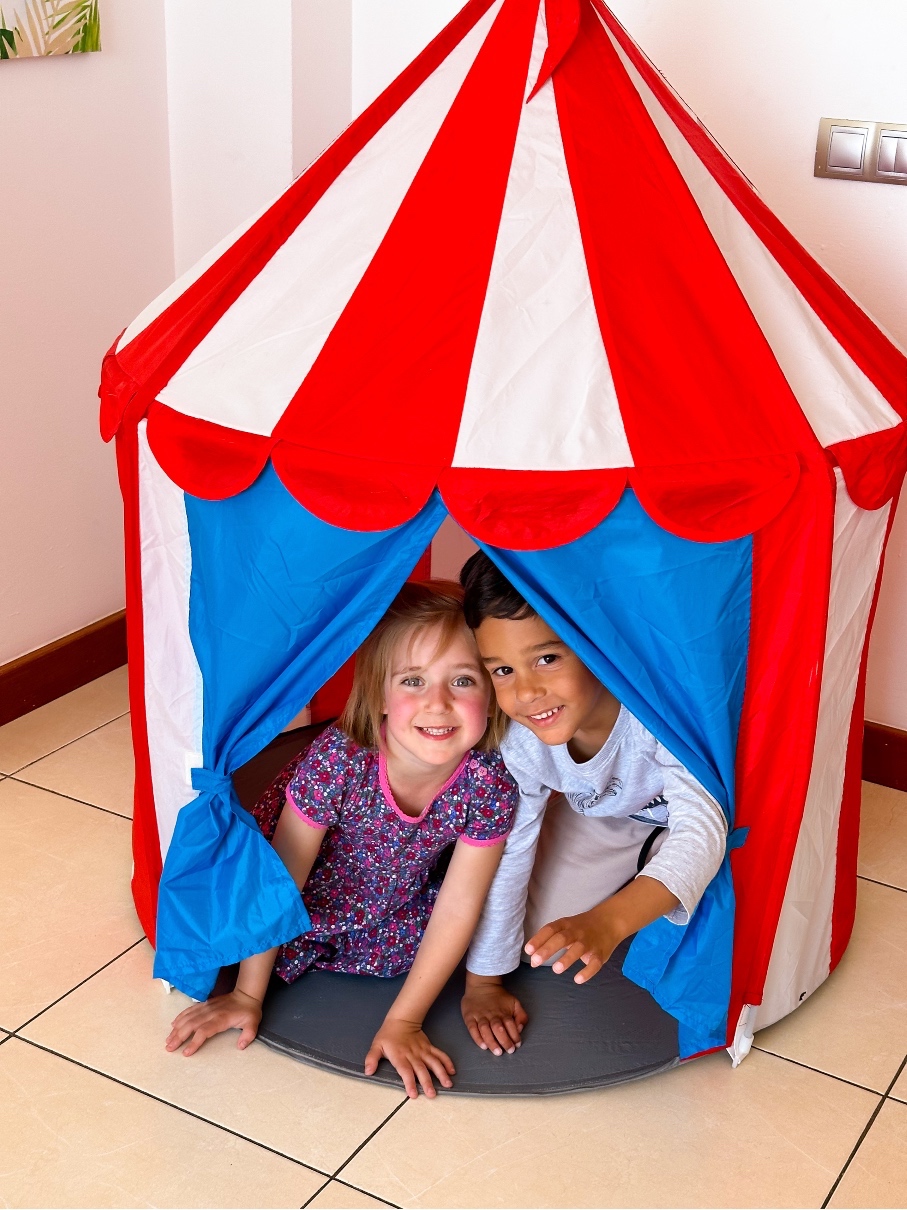 Who are Landmar?
Landmar Hotels are a holiday company with two hotels located in the South of Tenerife. Both of these hotels are located close to the sea front and offer plenty to do for families. Landmar Hotels are located in Puerto de Santiago, near Playa de la Arena, a small cove of volcanic black sand and the Mirador de los Gigantes cliffs, which are  impressive basalt walls between 300 and 600 metres high. We stayed at Landmar Costa Los Gigantes.
Landmar Costa Los Gigantes
The Landmar Costa Los Gigantes is one of the all-inclusive family hotels in Tenerife. Their suites and facilities are spacious and there is so much on offer for the whole family – especially the children! The hotel has a mascot called Landi who is a turtle and there are numerous swimming pools, play areas and a kids club – so the children will never be bored.
Landmar Costa Los Gigantesis 500m from Playa De La Arena resort centre, 650m from the beach and approximately 1 hour 15 minutes from the airport.
Landmar Hotel Playa la Arena
Landmar hotel Playa la Arena offers a unique atmosphere, it has an infinity pool and jacuzzi in the Platinum space, with a permanent service of food, drinks and the best views of the Atlantic Ocean. From a gorgeous pool area and sports facilities to a children's club and entertainment programme, the wide-range of facilities make this Tenerife hotel ideal for both couples and families.
Accommodation & Rooms at Landmar Costa Los Gigantes
The Hotel Landmar Costa Los Gigantes has different types of rooms that are adapted to the needs of families. All rooms have satellite TV, air conditioning, free Wi-Fi internet, bathrooms with a bathtub and shower, hairdryer and much more. As a family of 5, finding a family room can often be a challenge. But the Landmar can accommodate a family of 5 in their Landi Village rooms.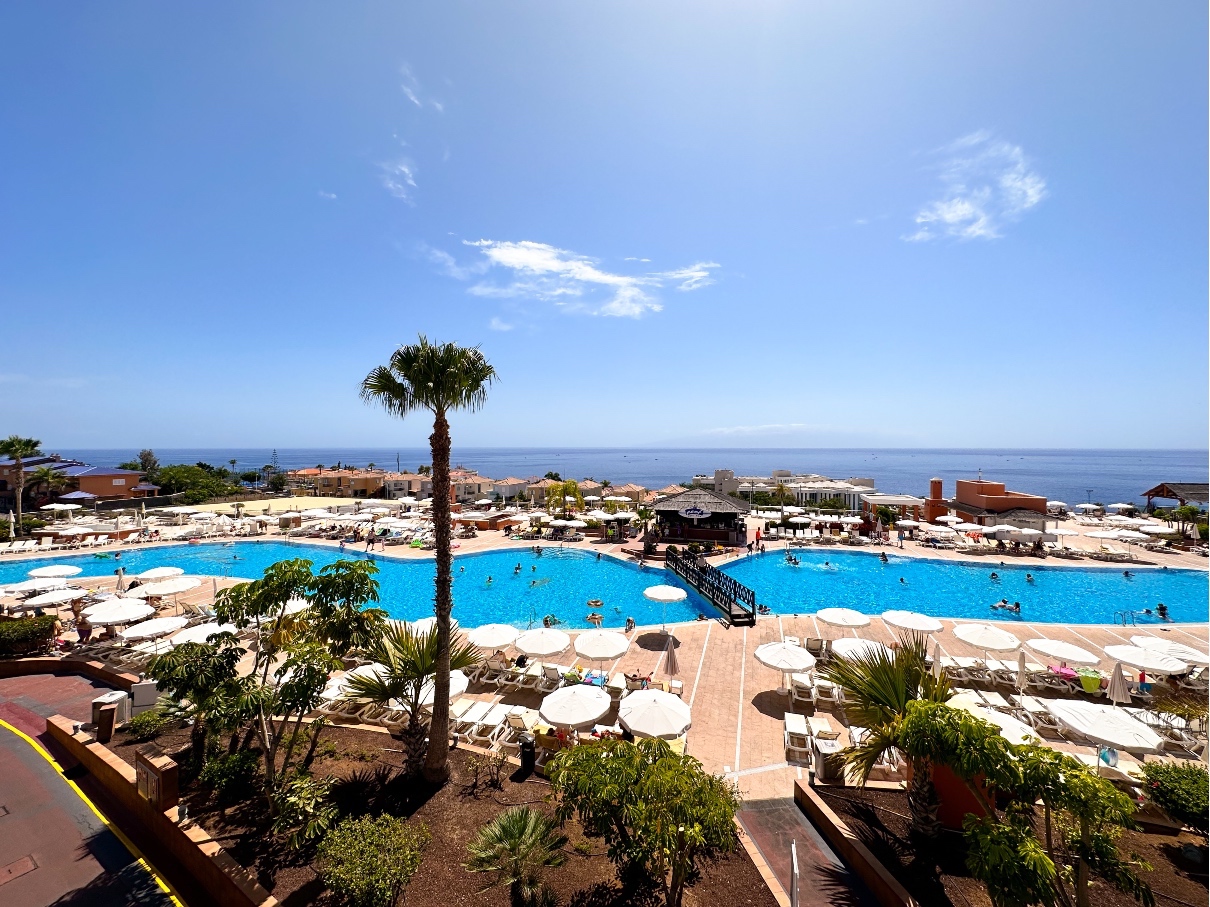 Landi Village Room at Landmar Costa Los Gigantes
The little ones are definitely in charge here and the suite is designed to make the holiday a unique and unforgettable experience for the whole family. There are surprise gifts and exclusive snacks for the kids. Special features include:
Snacks with Landi 2 times a week
Minibar with a welcome package
Reserved hammocks in the swimming pool front line
Surprise gift for the children on arrival
Accessories for children on request
Landi children's toiletries
Bathrobes and slippers for the whole family
We loved our room for 5, if felt like such a treat that a hotel could actually cater for us. We over looked the pool and sea which was perfect for early mornings and late evenings. The room even had a blackboard and a fun pop-up tent as I'm sure you can imagine were a huge hit with the children, and a massive help whilst we were all trying to get ready to go out!
Kids Facilities at Landmar Costa Los Gigantes
Landi the mascot takes care of the little ones to make sure they have the best holiday – our two little ones adored him and were so excited every time he saw him about. Landi joins in with games, sports, leisure and endless activities to make their holiday truly unforgettable.
As well as the two huge swimming pools, there are also two toddler pools, a fun water park, and a slide making it the perfect hotel for toddlers too. In addition to this, there's a multi adventure circuit, mini golf, a children's playground, multi sports court and a kids club – all children are welcome to the Landi Kids Club, but only children 4+ can be left unattended.
Facilities at Landmar Costa Los Gigantes
This Costa Los Gigantes hotel offers plenty of facilities for the whole family including the parents! Whilst the children were at the kids club, we visited the on site spa which was amazing and the massage was just what I needed! It also offers family hours allowing the children (aged 6 and over) to enjoy the facilities as well.
The hotel has a number of swimming pools, one has a slide, there are two baby pools and three family pools. The BodyUP Gym offers a spinning room, pilates, yoga, aquagym, dance classes and a wide variety of equipment that will allow you to stay in shape – if you wish to work out on your holiday – we personally chose the Balinese bed area which is by one of the pools and has views of the sea and you can just relax the day away with a good book – this is usually very rare in our house!
Entertainment at Landmar Costa Los Gigantes
Music Hall Broadway
For the kids there is an awesome Children's Mini disco every day, with performances and shows designed for the whole family. Of course Landi makes an appearance overnight which is the highlight of the show! After the mini disco there is more family entertainment which is more of a show – a different one every night. Enjoy with the little ones in the house and unwind on our large terrace with sea views.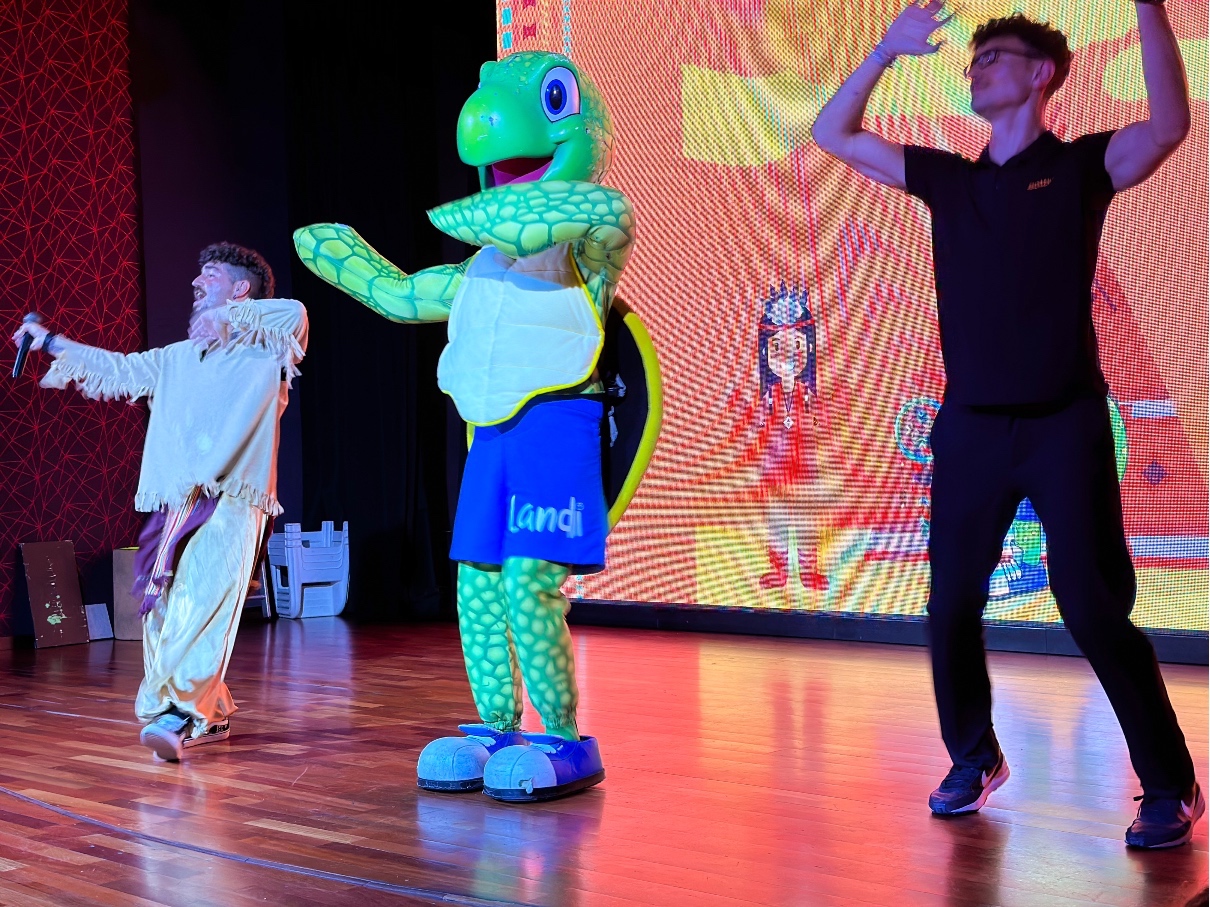 Landi Bar
Located in the hotel's sports area, the Food Truck offers refreshing and energising drinks.
Festival Night
Every Wednesday is festival night at Landmar Costa Los Gigantes. Aimed at the younger children, there music and entertainment from 7.30-10, bouncy castles, games, face painting, magic, ballon sculpting, pancakes and candy floss!
Restaurants at Landmar Costa Los Gigantes
The hotel has several dining options and bars for you to enjoy a wide range of dishes from buffet style to à la carte restaurants.
Teide Restaurant
Teide Restaurant was the main restaurant we ate in and it offers a wide variety of international dishes three times a day. Every day is slightly different and there is always something for everyone.
La Palmera Restaurant
La Palmera Restaurant offers a buffet and cookery demonstrations at lunchtime. At night, it becomes an à la carte restaurant, combining between two different themes: grill and trattoria.
Nautilus Bar Restaurant
Located next to one of the hotel's swimming pools, and our favourite place to lunch. Nautilus Bar Restaurant offers lunches daily, with barbecue and paella as star dishes. You can also enjoy snacks, ice creams, refreshing drinks and even breakfast for those who don't want to get up early.
The Reef Pool Bar
This bar  next to the main pool offers a varied drinks selection.
Central Bar
Central Bar has live music and a fantastic terrace with sea views, it is the ideal space for you to enjoy good music and a good atmosphere.
Location of Landmar Costa Los Gigantes and How to Get There
C/ Juan Manuel Capdevielle, 8 38683 Santiago del Teide, Santa Cruz de Tenerife
The hotel has magnificent views of the Island of La Gomera. It is located next to the well-known beach of volcanic sand, Playa La Arena in Santa Cruz. You can fly directly from the UK and the closest airport is Tenerife Sur Apt Airport (TFS) and Los Gigantes is a 34 km drive away.
Tenerife for Families
Tenerife is known as one of Europe's most kid-friendly islands. Firstly there is no time difference, they have year-round good weather, long sandy beaches, lots of places to visit and a great selection of family friendly hotels too. Tenerife is an island in the Canary Islands in Spain. It is located in the Atlantic Ocean opposite the northwestern coast of Africa. It is the largest of the Canary Islands and has a unique blend of Spanish culture and African sun. You are looking at a flight time of just over four hours from the UK. We stayed at the Landmar Costa Los Gigantes.
Attractions near Landmar Costa Los Gigantes
The hotel can take all the stress of booking days out away for you at their reservation desk. Nothing is too much trouble.
Siam Park
Siam Park is a water park in Costa Adeje in Tenerife. Siam Park features a Siamese theme. You don't have to be a swimmer to enjoy the water rides and other attractions at the kingdom of Siam Park.
Loro Parque
https://www.loroparque.com/en/
Loro Parque is a zoo on the outskirts of Puerto de la Cruz on Tenerife where it houses an extensive and diverse reserve of animal and plant species. You can watch live great apes, orcas, big cats, birds, and many, many more species.
Whale and Dolphin Watching
Tenerife is the place for spotting dolphins. You could book a whale-watching experience on an eco-friendly catamaran boat trip. Choose from a 2-hour or 5-hour adventure, with food, drinks, and swimming time available on both.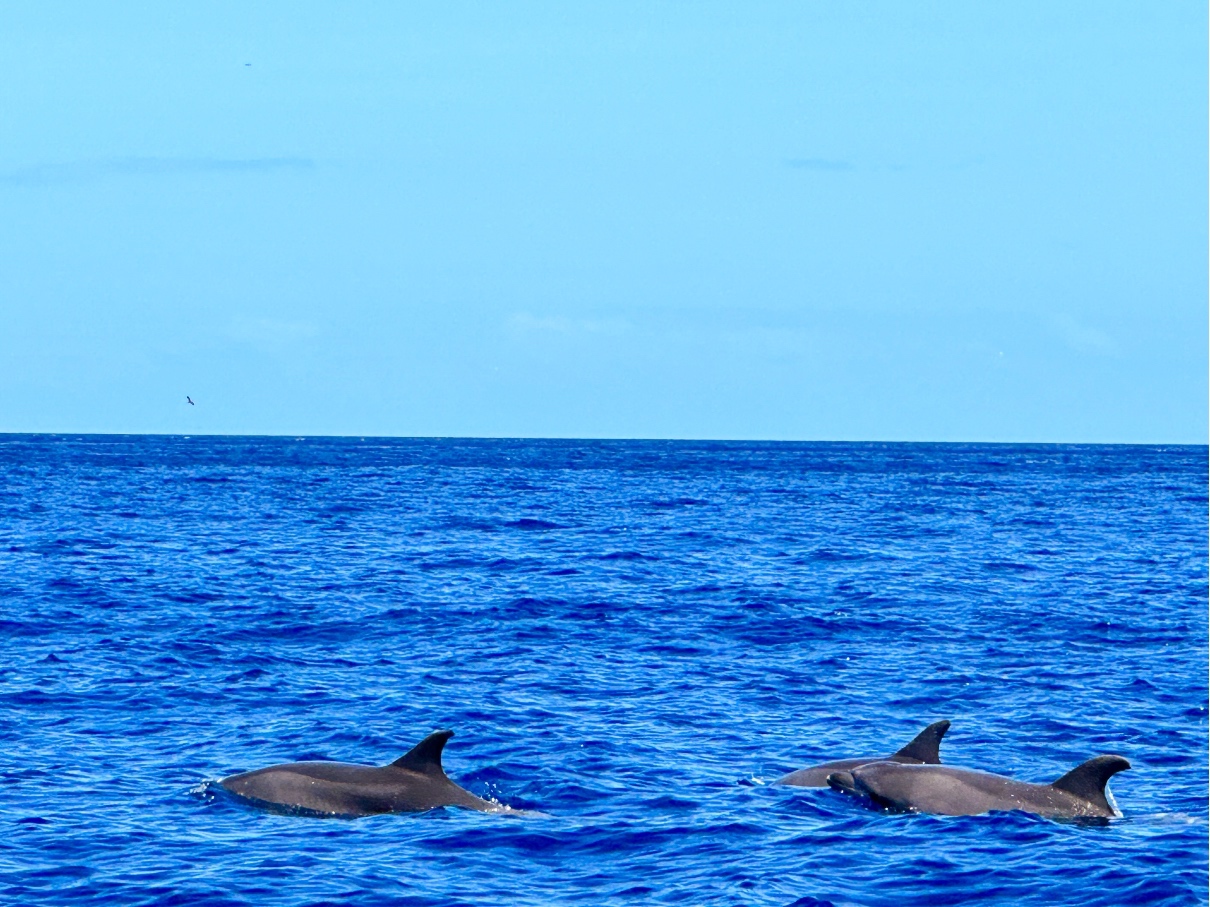 Teide National Park
Teide National Park is named after Mount Teide, a towering volcano and the highest peak in Spain. Trails and the Teide Cable Car lead to the summit. You can travel into the surrounding parkland to enjoy views of the volcano and admire the varied landscapes. Visiting Mount Teide is a great experience and well worth a trip.
Playa de Los Guíos – Los Gigantes
This small sandy beach is located at the end of Los Gigantes Resorts and directly by the high cliffs. The beach is fairly small but has very calm waters and lifeguards on site.