There are so many gorgeous places to visit in the Cotswolds with kids. It is an area of outstanding beautiful with rolling hills and stone built villages. It is a wonderful place to holiday with or without children but there is plenty to do for all generations. We have recently made a couple of family visits staying at Bruern Cottages and the Luxury Family Hotel chain, Wooley Grange, both of which I can highly recommend and are super child friendly. There are also some wonderful places for glamping in the Cotswolds if you fancy a little family adventure without pitching your own tent.
We love to plan our days out before we go on holiday and whilst in the Cotswolds, we had some lovely days out. The girls loved ambling through the picturesque villages of the Cotswolds, just as much as they did visiting Birdland. So if you are visiting the Cotswolds, here are 7 wonderful suggestions to encourage you to explore the area.
Bourton-on-the-Water
Bourton-on-the-Water is a lovely place to visit when you are in the Cotswolds with kids. You could easily spend all day there  for a fun family day out. There's a stream that runs through the village where you can paddle. People often picnic by the stream too. There's a model village, transport museum, Birdland, maze – all are chargeable, but plenty for all ages to enjoy really. It's a quaint little village with lots of places to eat and grab an ice cream and always feels very family friendly. There's a large chargeable car park in the village itself and in peak times a field is turned into a car park too.
Mary Proctor from Over 40 and a Mum to One 
Birdland and Jurassic Journey
Birdland is in Bourton on the Water, right next to the car park. It is the perfect place to visit when you are in the Cotswolds with kids, the twins loved it. Discover exotic and rare birds as you explore the Park and Gardens. Flamingos, pelicans, cranes, storks, cassowary and waterfowl as well as parrots, owls, pheasants, hornbills, touracos and many more inhabiting over 50 aviaries. There is also the Jurassic Journey to venture into and here you are able to immerse yourself in the prehistoric landscape. Go on the lookout for hidden dinosaurs lurking the bushes before heading to the Dino-Dig to uncover some buried fossils. There is also a great little café serving hot and cold food and a playground for little ones to fun around in.
Blenheim Palace
Blenheim Palace is a fantastic full day out for the whole family. The house fascinates small people and there is so much to show and talk to them about.  The pleasure gardens are full to the brim with adventure parks, a huge maze and even a butterfly house. A little train runs to the main house which has the most stunning gardens and cascades to explore. You can even visit on their jousting events which is free with your annual pass along with other events throughout the year. You can convert your day pass into a full year for a very small fee.
Lisa Hoad from The Family Ticket

Cotswold Wildlife Park
Cotswold Wildlife Park is a great full day out when you are in the Cotswolds with kids and one you could visit each summer. The grounds are beautiful and there are so many different animals to see, plus plenty of grassy spots for picnics – A favourite is just in front of the rhinos! There's a cafe and ice-cream shops if needed, a fun train ride around the park for 50p each and a big adventure playground for the kids to run around. My favourite part is being able to be at head height with the giraffes in their enclosure.
From Victoria Sully and Lydia Rose
Bibury
Bibury is one of those instagram diamonds that had been on my dream list for some time and I'm pretty proud I got to check this out together with my new family!
On first glance, that's all there is: the famous Arlington Row of traditional picture perfect, quintessentially British stone cottages, with lovely gardens right on the water's edge. On closer look, there's actually a pretty nice round-way to walk, perfect for strollers, where you can take a pictures, observe the beautiful houses and unwind. Families might also find the trout farm interesting, other than really really pretty. But you can also walk all the way up to the church and explore the actual Bibury village, too.
Not so many food and drink options here, but those available are unique. Apart from the trout farm restaurant, there's also two hotels' pubs/restaurants and a tea room!
Anna Paparizou Fatsi is a twin mum from Dreamista.gr . You can also find her on Facebook and  Instagram.
Westernbirt Arboretum
Westernbirt Arboretum is a great family friendly outdoors day out where you can find the Gruffulo trail, a dog route, playpark, child friendly cafe and amazing Christmas lights in the trees at Christmas!
Lisa Gunn from Mama Be Kind.
Cotswold Country Park and Beach
Cotswold Country Park and Beach is absolutely amazing on a hot day! They have a man made beach for swimming/paddling in with life guards on duty during the summer. There are also a few parks dotted around, a café and you can hire out swan pedalos, rowing boats etc. They have picnic areas and you can even hire out one of their BBQ's onsite which is perfect if you are travelling with lots of friends or family! On the other side of the lake they also have a huge "Aquaventure" area with a huge inflatable course as well as lots of other water based activities on offer. You pay per car to get in (it's about £12 off peak and £16 peak times). The aquaventure, water activities and pedalos etc are charged separately.
Jess Howliston from Tantrums to Smiles.
If you fancy visiting the Cotswolds, and I can highly recommend you do then we have stayed in two child friendly places; the beautiful Bruern Cottages or Woolley Grange Hotel. Both cater for children and babies with toys galore. As an added bonus, they both have swimming pools too.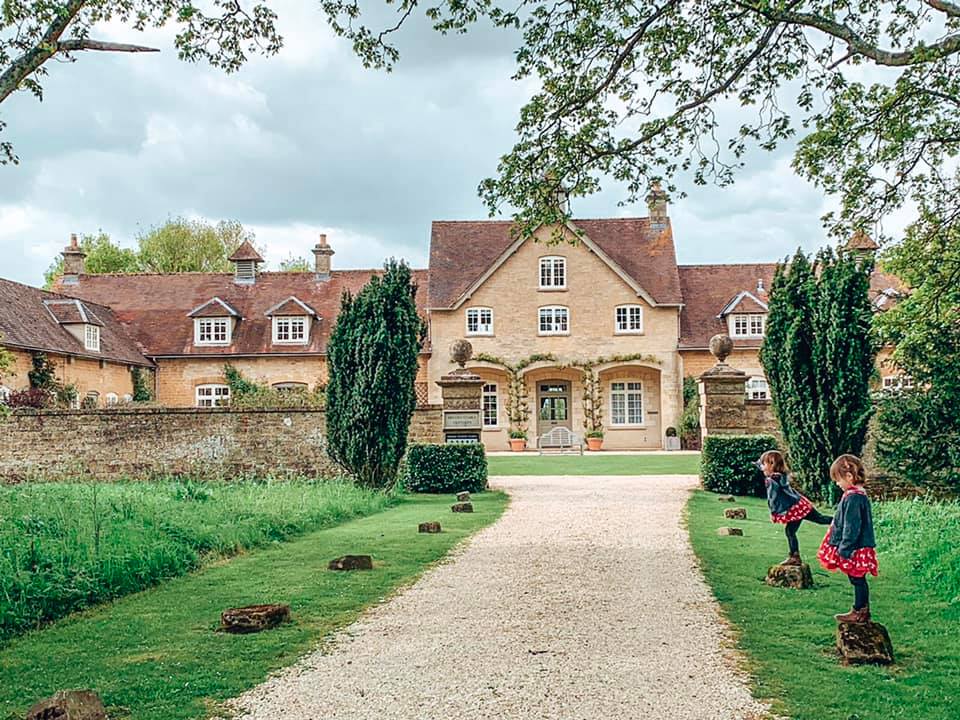 GO ON, PIN IT