Travelling with 2 and 3 year old toddlers can be challenging, even for the most patient of parents. Toddlers often need a few extra stimulants to keep them entertained on a journey, we all want to have the most stress-free travels possible, right?!  Bringing along some travel toys for 2 year olds  and 3 year olds designed for this age group will help to keep the little ones occupied on your journey and spare your sanity too.
Whether it's a long car journey or even a flight, you'll want to have a look at some of the options of what to pack in your carry-on bag and  our list will help you all have a peaceful journey. Here are some  for you to consider…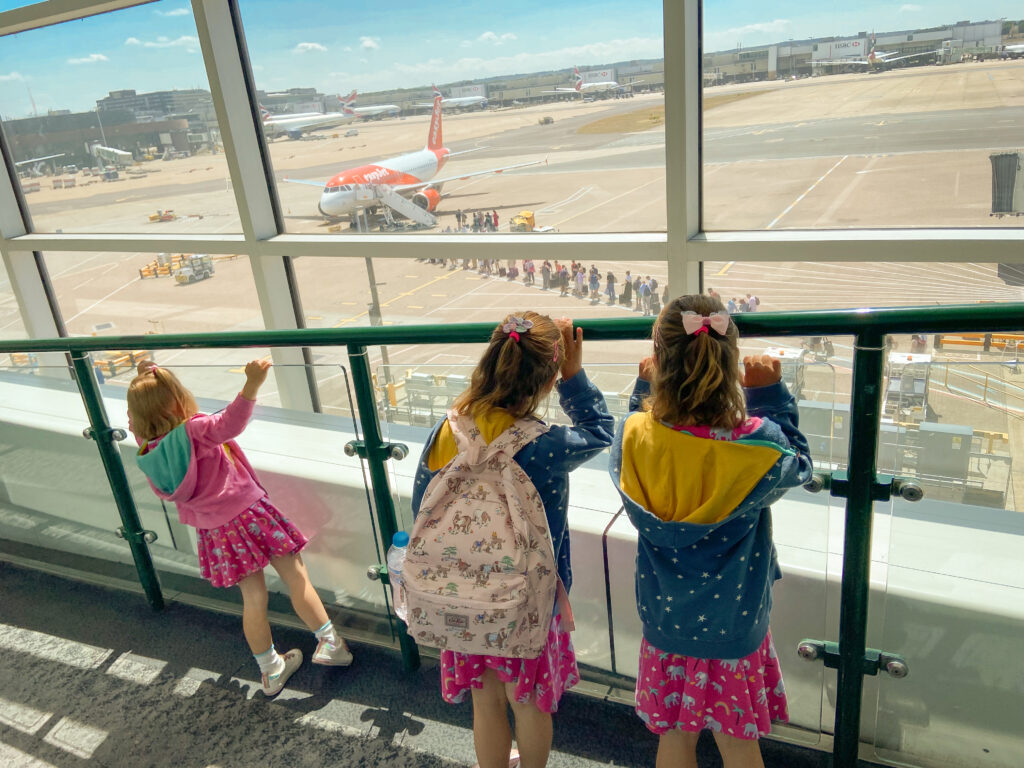 Travel Toys for 2 Year Olds
Sort & Seek Polar Animals
The Sort & Seek Polar Animals  match game is a fun educational travel toy and also helps your children build fine motor skills. Children learn counting, colours, matching, imagination and more. Each igloo also pops open to reveal 5 different polar animal finger puppets. Children will meet a walrus, a penguin, an arctic fox, a polar bear, and a narwhal.
Dottie The Fine Motor Cow
Dottie the Fine Motor Cow is a colourful fidget popper toy with 5 colourful, tactile, push-in, pull-out dots that will keep little hands busy on the plane. The all-on-one construction means there are no pieces to lose, and Dottie is easy to wipe clean and store after playtime is done, making Dottie a great choice for travel toys for 2 year olds.
Spike the Fine Motor Hedgehog Fidget Friend
Spike the Fine Motor Hedgehog Fidget Friend will help your 2 year old with their fine motor and sensory skills. Spike measures 16cm by 9.5cm and comes with 6 ways to fidget – spin the wheel, turn the crank, press the button, twist the knob, push the plunger, and move the switch. Spike is the perfect travel toy for toddlers.
Pawz The Calming Pup
Pawz, The Calming Pup is another great travel toy for 2 year olds and 3 year olds, which gives guided breathing exercises for kids, inhaling as Pawz glows, and exhaling as the light dims. Squeeze Pawz's foot to turn on the light, and inhale as he glows, and exhale the light dims. This would also make a great travel toy for 2 year olds.
Playfoam Sparkle Starter 4-Pack
This Playfoam Sparkle Starter Pack is geared for ages 3 plus but with supervision it would be a great travel toys for 2 year olds. The bead-like structure can be sculpted and squeezed into shape. Playfoam can be used straight from the packaging, only sticks to itself and never dries out. This set includes four pods in vibrant sparkly colours and will provide a lot of fun entertainment in the car.
My Feelings Rainbow Fidget
This colourful Rainbow Sensory Fidget Toy helps toddlers to identify their emotions, and then watch the soothing motion to calm down. The double-sided sensory rainbow fidget tool features a smooth flow of colours that flow from the happy cloud, and choppy drips of colour that flow from the sad cloud. This is a great travel toy for 2 and 3 year olds to help calm them down if they're feeling overwhelmed.
Twisty Droppers
The Twisty Droppers are super colourful and a good thing to take a long on your travels as they can then be used on holiday by the pool or at the beach. Each pipette features a soft, durable bulb and translucent tube and comes with a handy storage bucket.
Travel Toys for 3 Year Olds
Paper Craft Fashion Parade
An ideal travel toy for 3 year olds, is this Paper Dolls Craft Kit with fashion stickers is ready for hours of creative fun. The large easy-to-colour dolls and colour in outfit stickers stick and unstick for frustration-free design and display. The set includes 24 dolls and 160 outfit stickers in a spiral-bound book that's perfect for keeping kids busy on the go.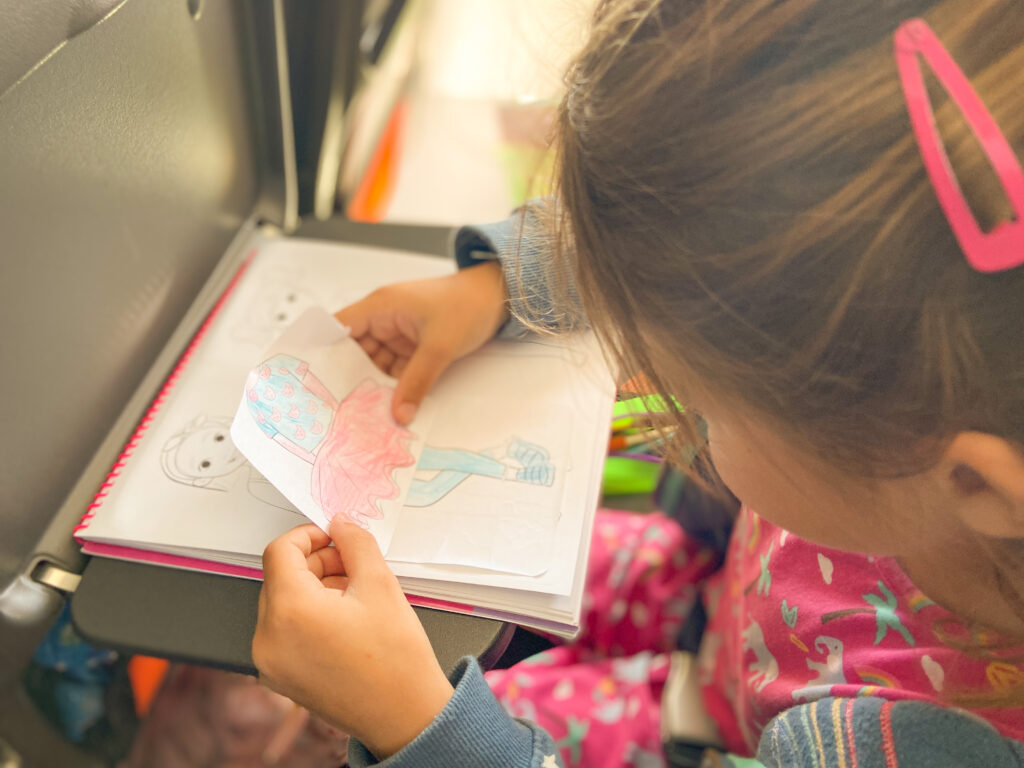 3-Letter Word Puzzle Cards
This fun 3 Letter Word Puzzle card game will introduce spelling skills through fun puzzle play. Each of the 20 puzzles features a colourful illustration and a corresponding three-letter word. Each fits together in a unique way so there's only one right answer. This lets young children experiment and self-correct as they play and learn.
Counting Puzzle Cards
Another fun travel game for 3 year olds are these Counting Puzzle Cards will help with recognition skills. Each two-piece puzzle features colourful illustrations and the corresponding numeral that need to be matched and joined. After the learning fun has ended, store the pieces in the storage box ready for next time.
Hot Dots Let's Learn! Jolly Phonics Set
These interactive Jolly Phonics sets support your 3 year olds phonics learning. Children use the interactive Hot Dots pen to select the answers to multiple choice questions in the set's three activity books. Each book has 64 activities on 32-double-sided pages. The books are made from durable cardboard and are spiral bound which makes them easy for children to use. (Requires 2 AAA batteries). It's a great way to start reading with kids.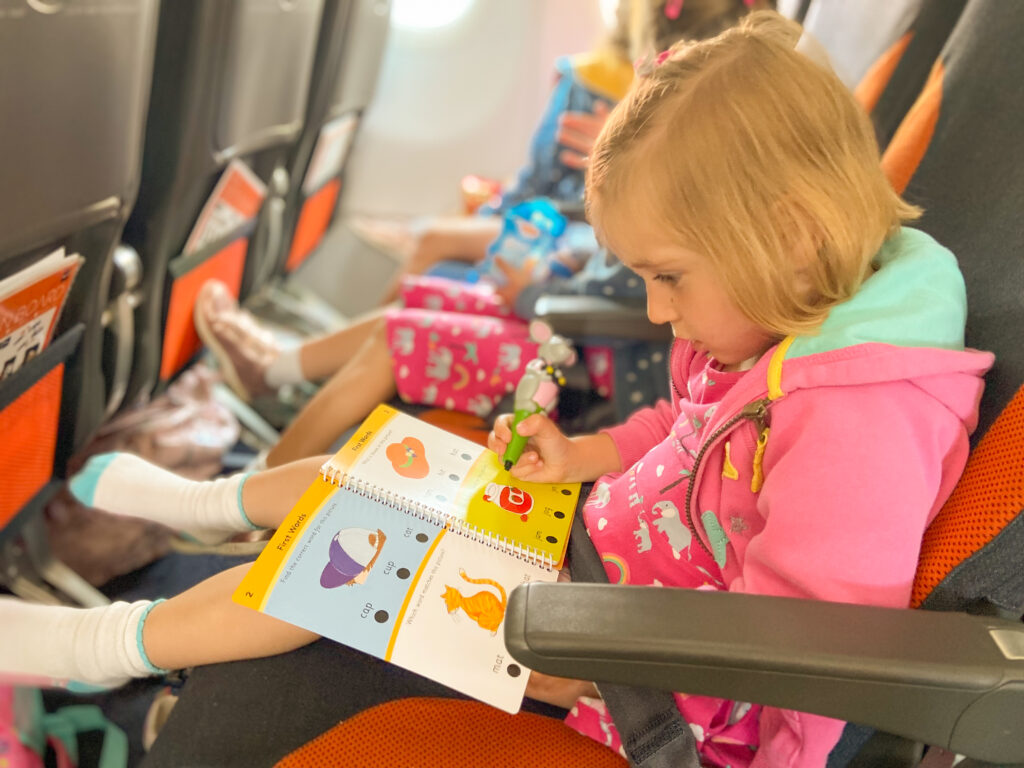 Sensory Fidget Tubes
These Sensory Fidget toy range offers children a soothing way to focus and calm down. The set contains four tubes each with a mesmerising motion: soothing gravity spinner, fantastic fidget tube, calming glitter tube, and magical reverse hourglass. These durable, child-friendly tubes are permanently sealed. This would also be a suitable travel toy for 2 year olds as they will love the calming motion of the tubes.
Magnetic Paint Can Colour Sorting Set
This Magnetic Paint Can Colour Sorting travel game is educational and perfect for 3 year olds. It will help develop colour recognition, vocabulary and early maths skills.This set included 8 – 25cm colour frames, 40 sorting magnets and an activity guide. As this is a magnetic set, it is the perfect travel toy for the car.
Trace & Learn Writing Activity Set
The children can develop early skills with this portable Trace & Learn Activity Set  for drawing and writing. Simply slide an activity card into the board and encourage children to trace what they see on the wipe-clean pocket. This portable activity set includes: an activity board, 10 double-sided cards, a dry-erase marker and a carry handle for easy transportation.
Learning Laces Skill Boards
Kids get a hands-on introduction to letters, shapes, and numbers with the Learning Laces Skill Boards. Each of the set's three durable lacing cards is packed with toddler lacing activities – practice lacing shapes in a colourful street scene, travel towards new letter skills in an airplane, boat, or car, and head to the farm to count up the one barn, two hay bales, and three smiling ducks.
Travelling with Toddlers
Best Travel Toys for Toddlers in the Car
Some of the best travel toys to keep toddlers entertained in the car include things like: Lacing cards, magnetic board play sets, wooden sorting toys, colouring books with crayons or easy reading or lift-the-flap style books. These are perfect for the car as they are fairly compact and can be used with little help.
Best Travel Toys for 18 month Olds
When you are looking for ideas for travel toys for 18 month olds, the best options are simple story books, finger puppets, colouring books and reusable sticker books and maybe a teddy bear. You don't want to overcomplicate things, bearing in mind that your 18 month old may spend a lot of your journey asleep.
Best Bag for Travel Toys
Ideally the best bag for travel toys would be a bag with wheels that you can also use as a backpack – a convertible carry-on is a great option. You won't want it to take up too much space as it is something you will want to keep close to you rather than keeping it in the boot of the car or in an overhead locker.
What you Should Pack in Your Travel Bag
If you are travelling with young children it is a good idea to pack a spare change of clothes in case of any accidents, a pack of wet wipes, a water bottle, a blanket and of course, you won't want to forget those all important snacks alongside a few travel toys.