Going on safari with kids is not something that always crosses your mind, and especially not with young kids (ours are 4 and 20 months).  A lot of people thought we were mad going to Kenya with children, but even more followed our journey and loved it as much as we did watching in awe. To see the girls faces' whilst we sat, watching a pride of lions chomping on an impala, only raised questions from my following such as "how do I book a family safari to Kenya" and comments such as "this can actually be a holiday option for us" and "If they can do it with three young children, so can we" came flooding in. 
Where to stay with kids in Kenya?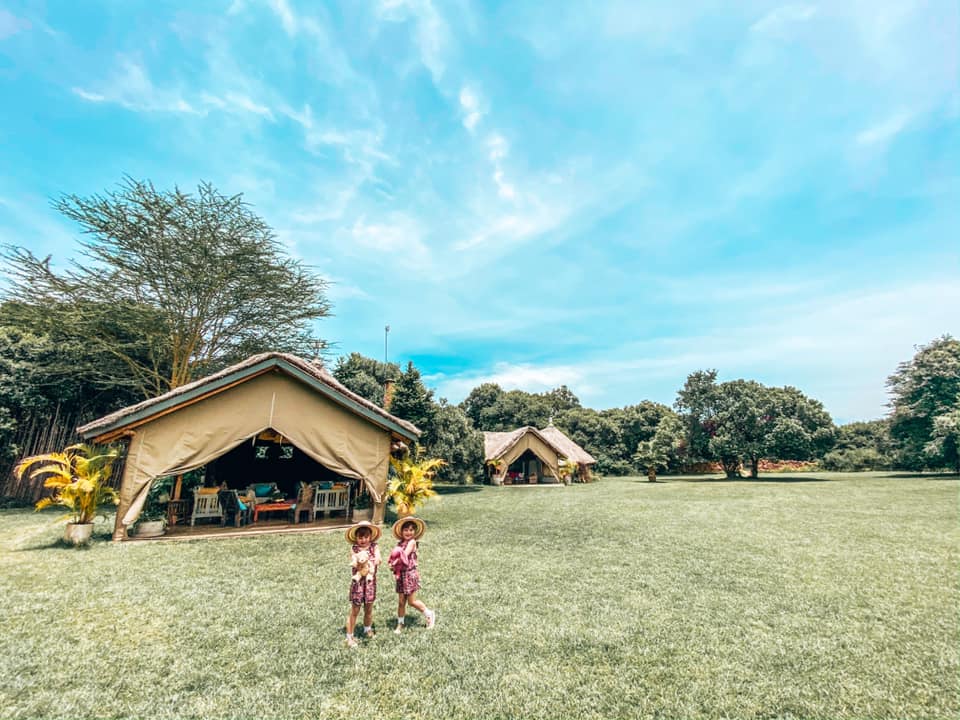 **We were invited to stay at House in the Wild in exchange for an honest review. All thoughts and opinions are my own.
Where is the House In The Wild?
Our home for the week was House in the Wild, which is situated in the Naretoi Estate, Enonkishu Conservancy in the Maasai Mara. A child friendly luxury camp, easy to reach by road, (a 4 hour drive from Nairobi), or a 30 minute flight to Ngerende airstrip. On this occasion we flew with Air Kenya but it was the expensive option. In the past I have had a driver and would do it again this way with the children in the future. 
The House in the Wild Team
House in the Wild is owed and run by Lippa and Tarquin Wood, their three children and amazing team. It was originally a family getaway on the Wood's commercial farm but has been restored into Boutique Safari lodges. Lippa and Tarquin make sure that the luxury is sustainable at House in the Wild. They run 95% on solar energy, recycle water through eco-wetlands and source firewood from their own sustainable plantation. They also grow homegrown vegetables in their Wild Shamba for the daily menus.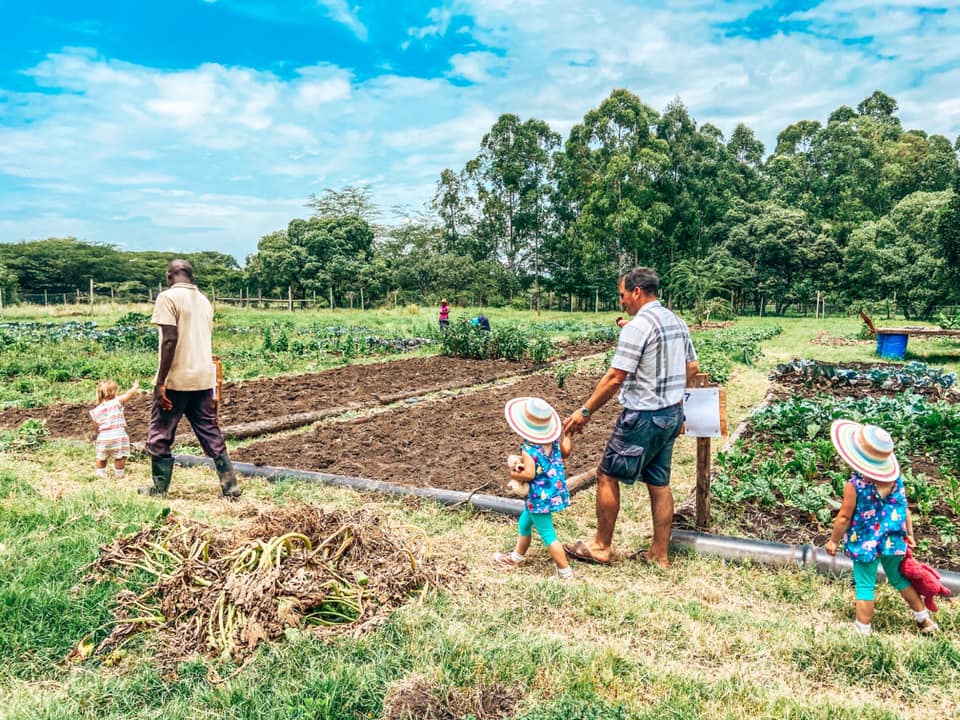 They give back to the Maasai community as much as they can by employing locals and supporting the local schools.
From the moment we arrived at House in the Wild, we were made to feel at home. On arrival, Mary (the manager) and Jackie were both standing at the entrance waving at us with the biggest smiles (the staff were always so happy). Mary offered us all a welcome drink and ran through everything Tristan and I needed to know about staying at House in the Wild, whilst Jackie helped with the children. 
The entire staff team at House in the Wild couldn't do enough for us and did everything they could for the children. Nothing was too much trouble for them – they were wonderful. As were were in the Maasai Mara, it is so important to us that our safari guide was child friendly too, and this was exactly what Joseph was. Words cannot describe our time on safari with House in the Wild and all I can say is if you get the opportunity to go to Kenya with young children, then do it. My girls jumped out of bed every morning at 6am, threw on their clothes and ran into the arms of Joseph  and said 'let's go Joseph, let's go find some animals….'. They never got bored.
Accommodation style at House In The Wild
There are three main accommodation options when staying 'In the Wild'. You have a choice of 4 cottages at House in the Wild, a luxury Villa in the Wild for large family gatherings, or Bandas in the Wild offer more budget accommodation. 
We spent the majority of our stay at House in the Wild which sits on the banks of the Mara River; host to hippo and crocodile. With 4 cottages, two en-suite doubles and two family lodges, each with two bedroom rooms, there is plenty of accommodation for small and large families which include multigenerational stays. Each beautifully presented to the highest of standards with an authentic African feel.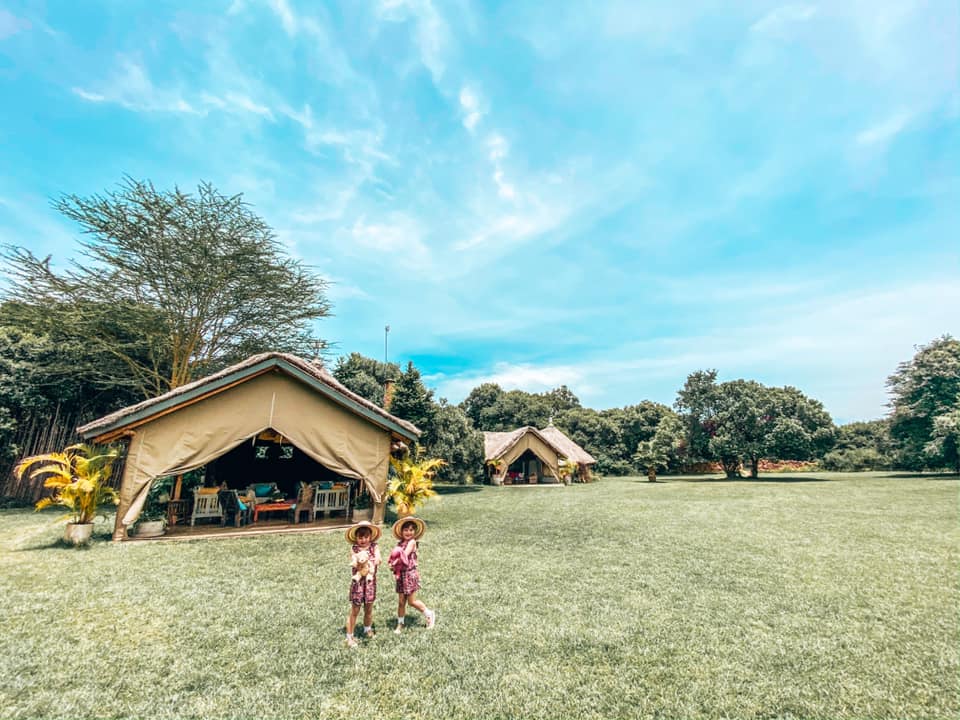 We stayed in Marula Cottage which was gorgeous and situated away a short walk from the main camp. It  boasted its own large lounge with log fire, outdoor living space with dining table, loungers and sofa area plus a large outdoor lawn with swinging beds overlooking the Mara River. The swinging beds were a great place to relax. You do need to watch young children on the edge of the plot as it drops down to the river.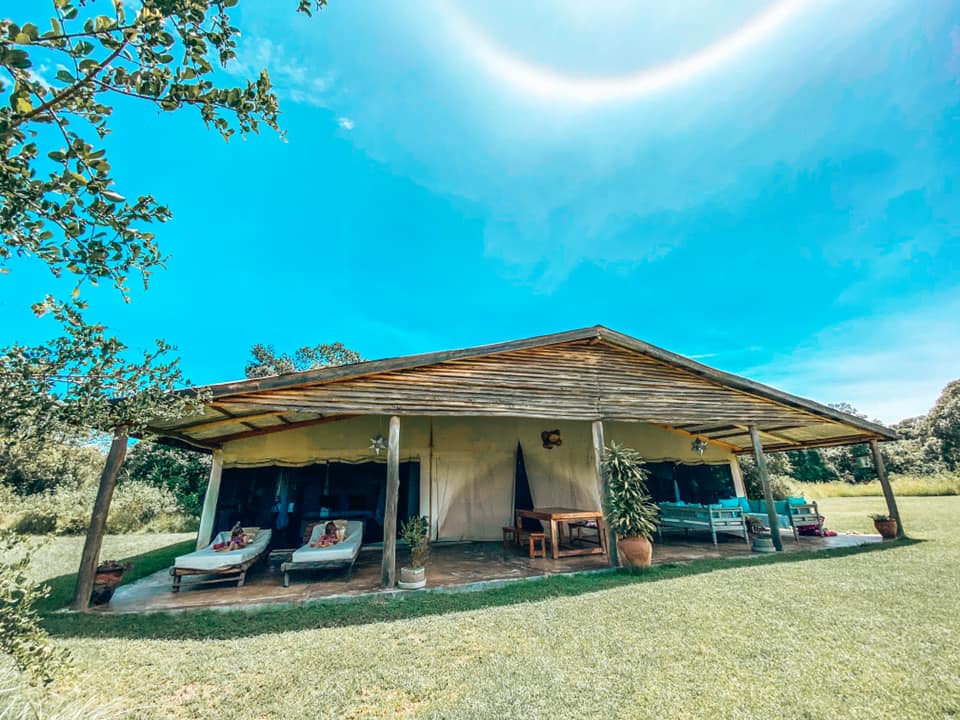 The main bedroom consisted of a huge, comfortable double bed, bath and an amazing outdoor shower, whilst the second bedroom mirrored the main bedroom but with two single mattresses and a shower. A cot was provided for Matilda.
The lounge area was a great size with a large 'L' shaped sofa, coffee table, log fire and dining table. We mainly used this room in the evenings once the girls were in bed as we would use the outside living space during the day.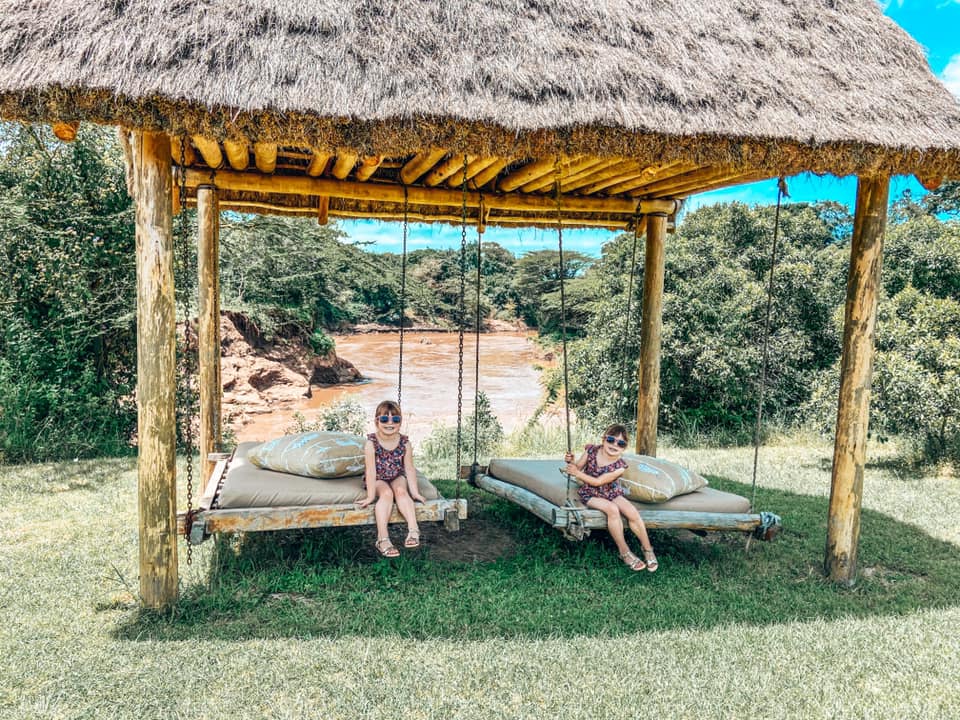 The bedrooms were either end of the cottage with the lounge in the middle. Each room was accessed via a zipped tent style front. Whilst the mornings were fresh, you never felt cold. 
The Original Cottage had a different set up. Another 2 bedroom cottage, with all rooms coming off a smaller lounge area. A lovely set up and next to the main dining area.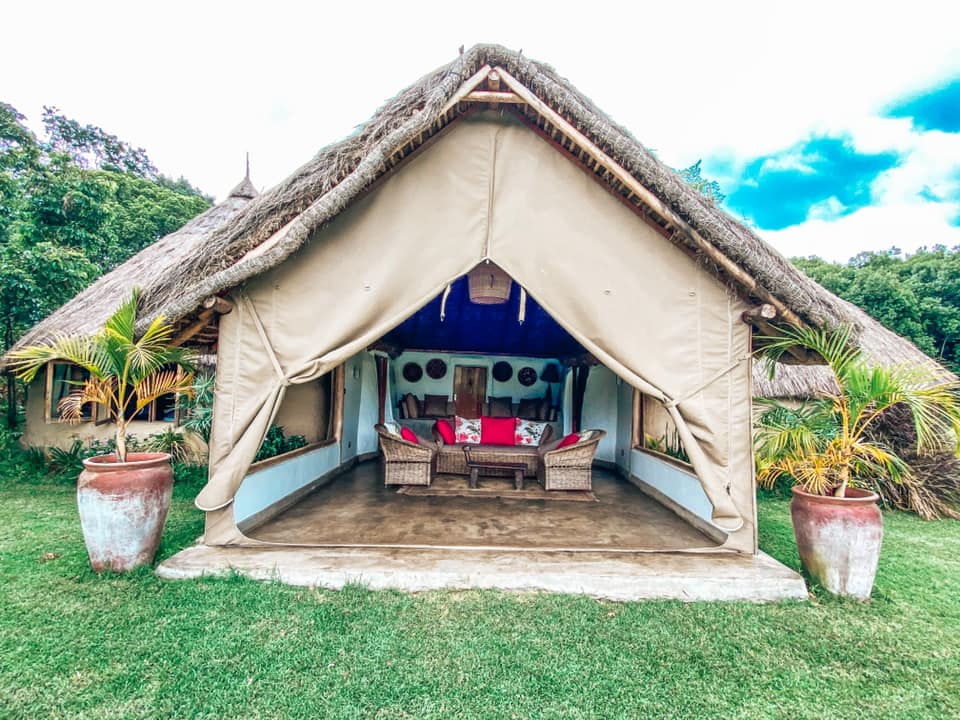 Villa in the Wild
Villa in the Wild is stunning. A private setting on the banks of the Mara River and the Wood's main family home but it is also available for large family gatherings. 
We spent two nights at the villa and it was stunning. Villa in the Wild has five bedrooms, two ensuite double rooms downstairs, with a connected room with 4 beds for overflow of children with a TV and chill out area. There are also two ensuite double rooms upstairs.
The house has a spacious lounge with fireplace and an open plan dining area with a veranda that extends across the front of the house to the pool area.
The house has a total capacity of 12 people and can only be booked on an exclusive basis.
Bandas in the Wild
The Bandas are a more affordable option of staying in the Maasai Mara and you get to experience a whole new way of living in the wild. Unfortunately, we didn't get to experience this first hand, but it would be one for families that enjoy getting stuck in and giving something back to communities – I would love to try this one day.
At the Bandas in the Wild, not only do you have comfortable accommodation in a beautiful setting on the Mara River, but you also have a unique opportunity to experience real life in Africa while working on innovative ways to improve livelihoods and conserve wildlife.
Dining at House in the Wild
There were so many ways for us to dine at House in the Wild and each and every option is special. We could either eat as a family in our cottage, eat at one of the outside picnic tables overlooking the Mara River or we could join other guests in the main dining area. 
However, we often went for the forth option: after an early morning cup of tea, breakfast in the bush is the only way to do it in the Mara!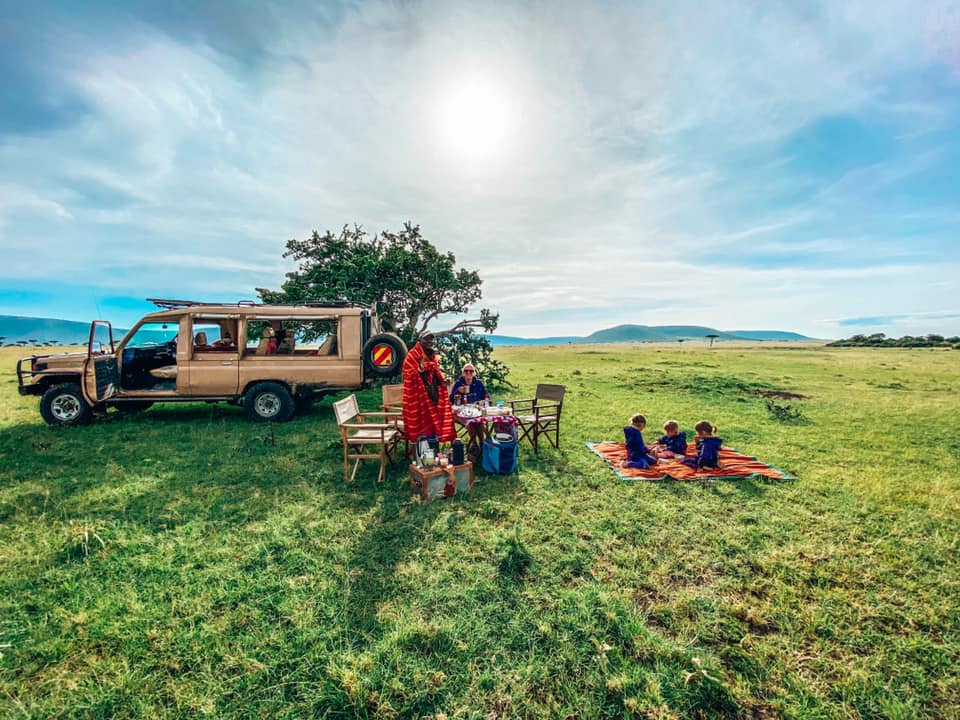 The children were always well catered for and you can discuss menu choices with Mary. Sausages were a favourite but the spaghetti bolognese and pizza were big hits too!
Most evenings, the girls had an early picnic supper whilst we were out on a game drive so we didn't have to rush back to feed them and Tristan and I ate once the girls were in bed. We often joined the other guests for dinner in the main dining room whilst Jackie sat with the children as they slept. There was such a buzz from eating with the other guests and hearing the excitement in their voices as we all shared stories about our incredible day on safari. Some nights we stayed in our cottage for a romantic candle lit meal with a log fire. It was nice to have some us time too.
The food at House in the Wild was amazing. It was 5 star, we were totally spoilt and you could not fault it one bit. The chefs are trained by Peardrop London, a top UK chef and this really does show. The menu was varied and delicious. 
House in the Wild work on an all inclusive basis and everything including drinks are included in the price. 
There were no high chairs at House in the Wild which made meal times a little challanging for us with Matilda so if you are travelling with a toddler, it is advisable to take your own. 
The Facilities and Things To Do
There is a central lounge for all guest to use with gorgeous fireplace, well stocked bar and dining area. This was a wonderful space to relax and grab a coffee or glass of wine – everything is included at House in the Wild.
The grounds at House in the Wild are stunning with well kept mown lawns and plenty of space to run about. There is a grass badminton court and table tennis table plus a gorgeous swimming pool. Around the pool area you will find both sun loungers and a covered seating area. Perfect for that leisurely lunch, or some quiet time with a book. 
Childcare facilities
Jackie is always on hand to help with the children when you are back at House in the Wild. The twins spent a few hours most days with Jackie playing in the gardens whilst Matilda slept which gave Tristan and I some 'us' time. You could always hear them all giggling and laughing away together. 
On Safari with House in the Wild
Going on safari with kids is one of the best things you will ever do in your life and it is what House in the Wild is all about.  Lippa and Tarquin believe in giving children these opportunities no matter how young or old they are and that it is all about: "enriching experiences and creating a sanctuary for adventure for the whole family to make lifelong memories together".
I will be honest and say I wasn't sure how the girls would cope with long game drives at their ages – 4, 4 & 20 months, but they amazed me and loved every second of it. 
Looking for wildlife was something they looked forward to every day. They would tell Joseph our driver what they wanted to find, and he always delivered (well all except for the penguins!). 
Their eyes lit up every time they saw an animal. Joseph was so good with the girls. He kept them interested and told them facts about the animals and asking them what they remembered from the day before. He made the experience fun and so memorable for them and they will never forget him asking if they wanted to drive – what a treat!
As we sat there, watching a family of lions laze about in the sun, the girls couldn't snap away quick enough at the lion cubs playing in the grasses, jumping over and bundling one another. They loved using my camera and were actually quite good at taking photos with it!
There are lots of tips and advice for going on safari with kids in a separate article which you may like to read.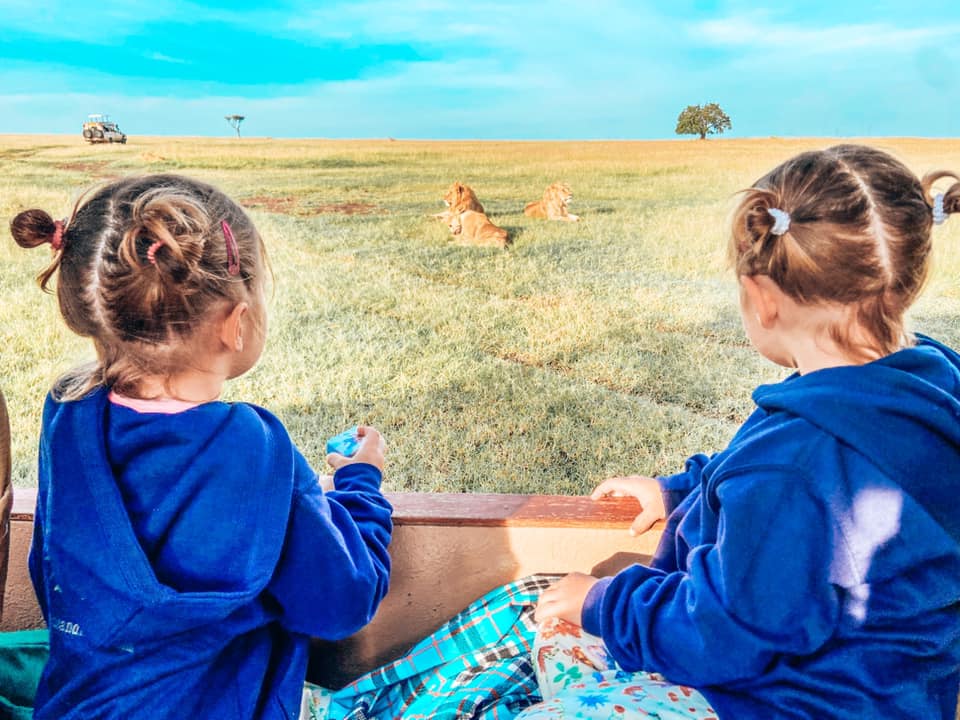 Activities & Excursions from House in the Wild
When on safari with kids, it is important to keep the days varied. Whilst we went looking for wildlife everyday, we were also offered a number of other excursions, some of which were free, and others had a small fee. Under 5's are generally free. Everything we experienced, we loved and I would highly recommend you do them too. Take a look.
Visit the local school
House in the Wild work with the neighbouring schools, providing quality education for the local communities. We packed some pencils and books and visited the local school to House in the Wild in Emarti Village; one which they support as a business. It was great for the girls to experience this and for them to meet other children. 
Maasai Village
We loved visiting the Maasai village to get an insight into what life really was like living in the Maasai Mara and it is unbelievable to see that they still live like that today. Small round mud huts with beds made out of sticks and a fire in the middle to stay warm was the extent of these buildings. To visit the Maasai village, it cost us $20 per adult and $10 per child over 5.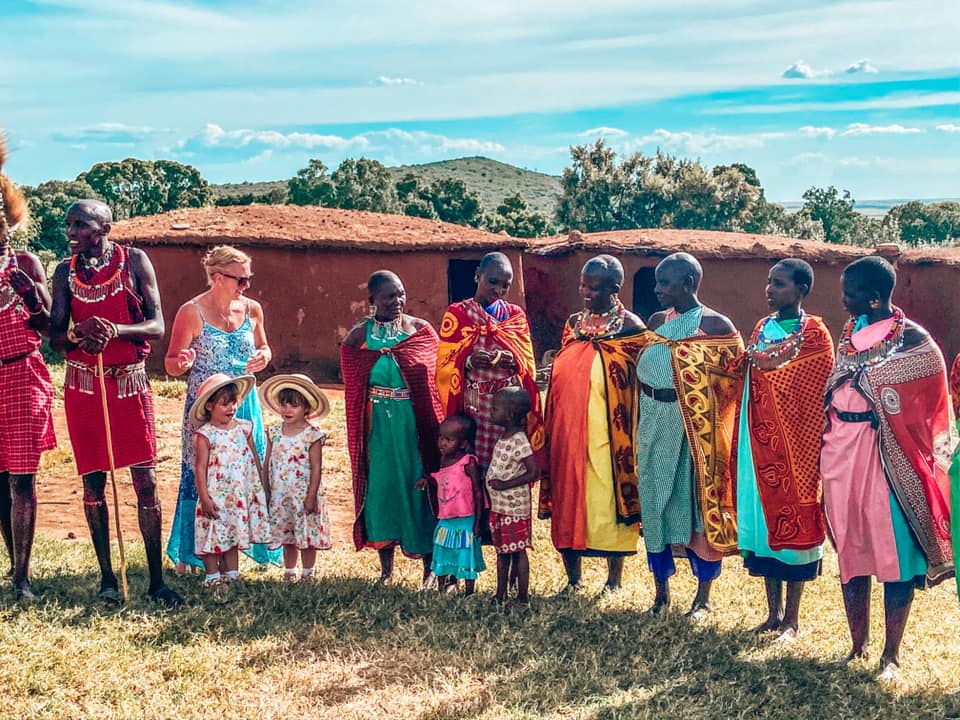 We loved watching the Maasai perform the tribe dances and singing and we eventually all joined with big smiles on our faces – the girls confidence came on so much on this holiday. We were taught how to start a fire with sticks, and shown round the manyettas (their houses) which were made from mud, sticks and cow dung. 
Rhino Sanctuary
Rhino are so rare in the Maasai Mara, so popping over to the rhino sanctuary is definitely worth a trip. The rhinos graze in a small part of the reserve with their rangers to keep them safe. To be so close to these huge, amazing animals is such an experience. 
Other Activities – INCLUDED in the Price
Sundowners watching the sun set over the plains, with a glass of wine or beer in hand.
Bush Breakfasts after a morning game drive.
Guided Walks for children over 7.
Tennis – there is a tennis court with balls and rackets provided.
Farm activities/ visits to the local cattle market.
Fishing in the Mara River
Garden games – croquet, garden boules, rugby balls, board games.
Visit to the Mara Training Centre and gardens (www.maratrainingcentre.com)
Other Activities – ADDITIONAL fees
Visits to the Rhino Sanctuary guests are able to walk with the rhino, while being protected by armed rangers. [Recommended donation of minimum $10]
Maasai Homestay – for those wanting a real cultural immersion experience, one of the families in the Enonkishu conservancy welcome guests to join them putting the cows to bed, sitting around the fire and then spending the night in their guest mud hut!
Scenic flights in a light aircraft over the Mara Plains
Balloon Safari's 
What to Pack
Despite having travelled to Kenya several times, I still had to think carefully about what I packed, especially for the girls. The weather is chilly in the early mornings, and then hot from mid morning. You may also be caught in a shower so you really do have to pack for all eventualities.  I have put together a safari list of what we took, but can I never travel light!
Prices and How to Book
To book at stay, contact Lippa and Tarquin through the House in the Wild website. 
The prices are as follows;
House in the Wild – Low Season 
(6th January to 30th June; and 1st October to 19th December) 
Adults – US$ 450 per person sharing, plus Conservancy fees extra at US$ 85 per person per night. 
Children ages 5 to 15 years – US$ 225 per child sharing with parents, plus Conservancy fees extra at US$ 45.
House in the Wild – High Peak 
(July, August, September and December 20th to January 5th)
Adults – US$ 550 per person sharing plus Conservancy fees extra at US$ 85, per person per night.
Children ages 5 to 15 years – US$ 275 per child sharing with parents, plus Conservancy fees extra at US$ 45
For prices to stay in the villa or banda's then check out the House in the Wild website.
If you would like to read more about our trip to Kenya, then why not take a look at these articles;
Turtle Bay Beach Resort, Watamu, Mombasa – to follow
Ole Sereni Hotel, Nairobi – to follow
Spurwing Guest House, Nairobi – to follow
Safari Packing List – to follow