Taking a Lapland holiday was something we only dreamt of. I honestly never thought we would actually do it.  Looking out of the window of the plane at the snow covered land, the girls couldn't believe it. And neither could I – it was such a beautiful landscape. We were all so excited to be going to see Father Christmas!
We travelled to Lapland with Santa's Lapland in December 2021 and as first timers to this magical winter wonderland, I really can't recommend them enough. Powder white snow covers every surface as far as the eye can see and this trip was everything we could have wished for – It was a dream come true.
(DISCLOSURE: We were invited to stay in Lapland by Santa's Lapland but all thoughts and opinions are my own).
Lapland is the most wonderful places to take a Santa breaks with family, especially little ones. As someone who hates the cold and refused to ever go on a snow holiday I am now totally hooked. I feel I need to plan in a snow holiday every year – It took my breath away and was the most magical experience ever. The girls (who are 6 & 3 at the time of writing this article), were so excited to see where all the Christmas magic happens and to meet Santa himself.
In this article I have covered a day by day itinerary into our magical Lapland holidays, as well as some helpful hints and tips about clothing and things to do in Saariselkä, Lapland.
Santa's Lapland Review – The Best Lapland Holiday
Lapland
We all want to make Christmas as magical as possible whilst the children are small. We decorate our homes, bake, visit grottos but the ultimate Christmas experience to remember would be a Lapland holiday to visit Santa in person. We were lucky enough to head off on our own adventure with the girls with Santa's Lapland in December 2021.
Lapland is located at the northernmost tip of Finland, deep within the Arctic Circle. It is the most magical, snow-filled Christmas wonderland and we had the most amazing winter holiday that none of us will ever forget.
Who are Santa's Lapland?
Every Christmas dream or fairy tale starts in the North Pole. It is one of the most magical places any family could visit and take a short break. Santa's Lapland is the perfect choice.  We spent 4 days in Lapland, Finland with Santa's Lapland. Santa's Lapland are a tour operator based in the UK who organise amazing trips to Finnish Lapland. These unforgettable trips aim to be as easy as possible with everything packaged up and provide families with a festive, magical holiday including reindeers, husky-sleds; snowmobile and skidoo rides as well of visiting Santa Claus in his log-cabin.
Santa's Lapland will arrange everything for you to make sure you have the best time, which makes everything so easy – just what us parents need when we have young children.  Flights, transfers, accommodation and all of the activities are included in the package so you literally just have to turn up at the airport.
Santa's Lapland offer two packages, Santa's Magic and Santa's Aurora. You can either choose from a 3 day, or 4 day Lapland holiday. Pop over to the Santa's Lapland website to see both packages. Both also fly from a number of UK airports, so there is one to suit most family's locations.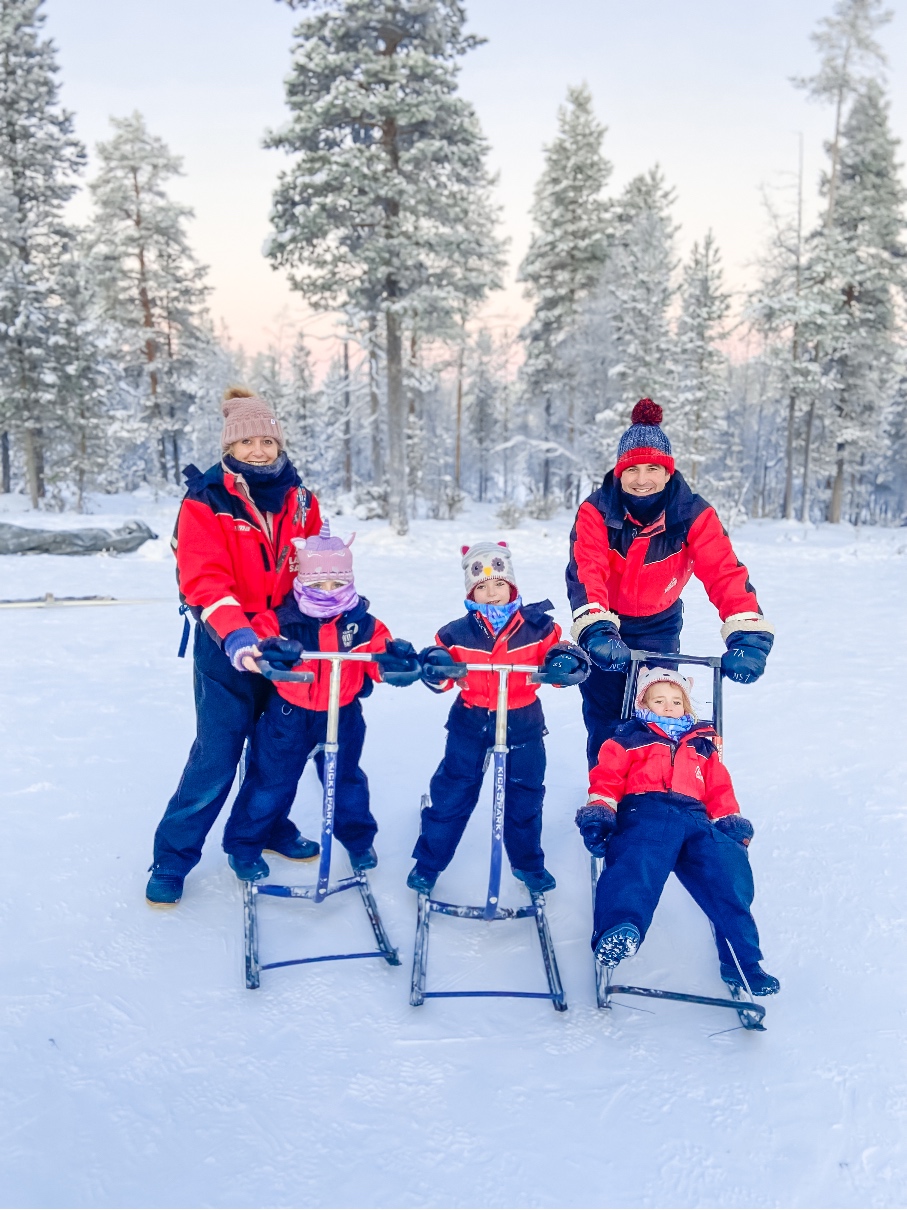 Santa's Lapland Location
Santa's Lapland is located in Saariselkä, in Finnish Lapland, which is way up north in the Arctic Circle. It actually overlaps the borders of four different countries and the native Sami people of Lapland always roamed freely across all four countries. Saariselkä is a little Finnish village – the official home of Santa Claus
Our Lapland Holiday with Santa's Lapland
We spent 4 days in Saariselkä Lapland, Finland and chose the Santa's Magic package. We would highly recommend the 4 days so that you can really enjoy everything about Lapland. My girls just loved the snow and the 4 day package gives you the chance to do all the things kids really love when you are on a snow holiday – play in the snow!
Day 1
A large part of day one of your Santa's Lapland holiday is spent travelling and getting prepared for your few days in the snow.
We took a direct flights- non-stop to Ivalo airport in Saariselkä – you can fly in from 13 regional airports and the flight takes approximately 3.5 hours. The flight itself was one that I have never experienced before with Christmas singing and games the whole way. It really got all the children and adults in the festive spirit ahead of visiting Santa in Lapland!
When you arrive in Lapland you will be welcomed by Santa's Elves in the airport, followed by a 25 minute transfer by coach with lots of snowy scenery to the accommodation. You are assigned a coach for your stay – We were Snowberry – and you stay in this group throughout your stay.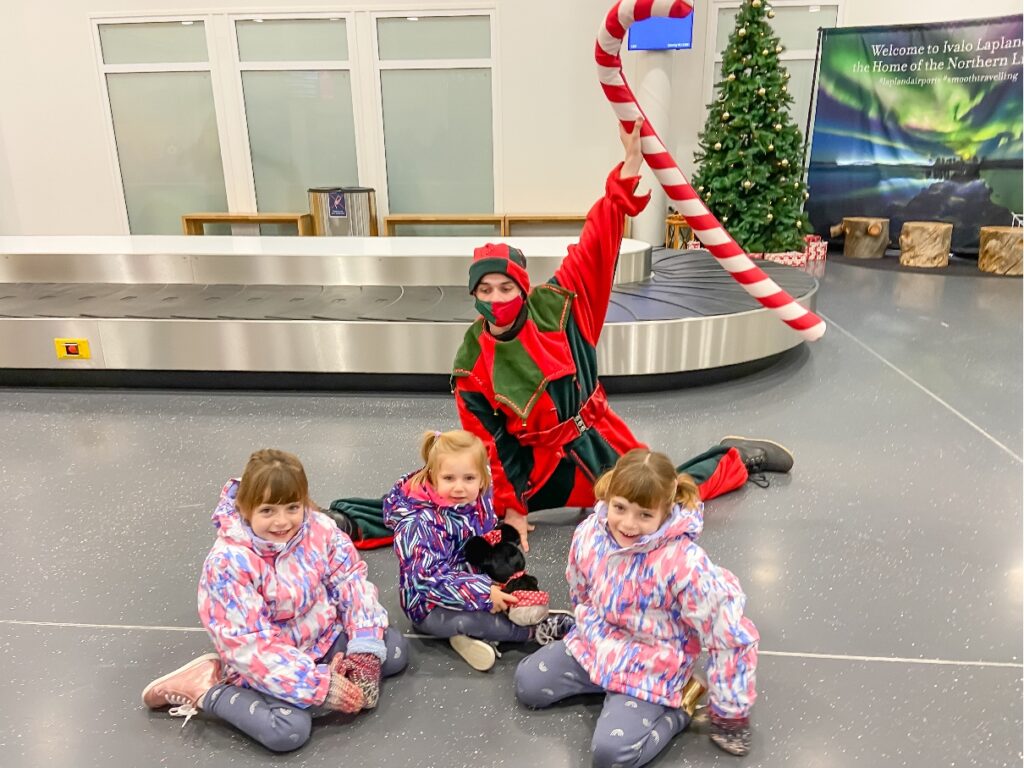 Before you reach your Lapland hotel, you get taken to the Lapland Safari Center to collect all of your snow gear. As part of our package, you are given a snow suit, snow boots, gloves and woolen socks so there really is no need to bring your own snow gear, just plenty of layers depnding on the temperature when you stay. It was -36 on one of our days so we needed plenty – but we didn't get too cold despite it being freezing outside (more on what to wear later)! From there, we headed around the corner to our hotel.
Hotels in Lapland
Santa's Lapland really do get the accommodation options right. I am forever looking for family holidays that cater for larger families with large hotel rooms with more than one bedroom.
There are a number of Lapland hotels to choose from that are all centrally located to Saariselka, these all vary in size and facilities. The largest accommodation caters for up to 13 people so friends and family can all stay together.
Our Accommodation at Santa's Lapland
We stayed at Santa's Hotel Tunturi in a four room apartment (Type F on the website). It couldn't have suited us better. The hotel is set in a wooded area close to the cross-country ski trails and a 2 min walk from the main building when the main bar and restaurant is located.
Our suite was over 2 floors with stair gates on the stairs. The 3 bedrooms were perfect for us with one on the ground floor and 2 on the second. The main bathroom had a shower, toilet and sauna, and there was another toilet on the second. It was great to also have a small kitchen with a small cooker and microwave for snacks, and it came complete with tea, coffee and sugar. The suites all have free WiFi.
By the time you arrive to your hotel and get yourself organized, there is just enough time for a play in the snow (because that's what everyone wants to do right!) before heading to dinner.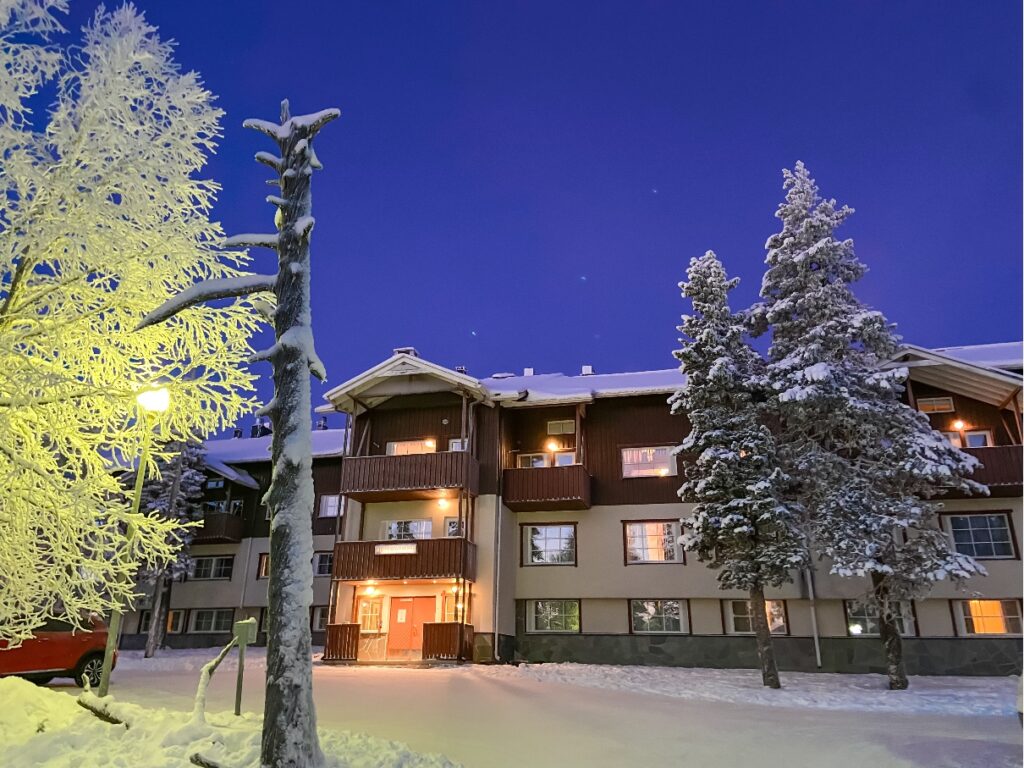 Meals in Lapland
You dine on a half board basis in Lapland, but we really only need to buy one lunch meal whilst at the hotel so additional costs are kept at a minimum. There is a choice of buffet food for breakfast and dinner, and on the last night you'll get to enjoy a special Gala Buffet Dinner. All of which is located in the main Saariselkä building.
The food was fairly basic which of course the kids loved – chicken nuggets, pizza, burgers and chips, with chicken, fish and salad options for the adults.
Day 2 – Snow Day
Lapland at Christmas is one of the most magical things you will ever do in your lifetime – the snow actually sparkles like millions of tiny diamonds, it's just incredible.
One of the strangest parts of our Lapland trip was the light. I hadn't quite prepared myself for how dark it would be. Whilst we were there, the sun rose at 10.30am, and set at 2.30pm, which meant a lot of the day is spent playing in the dark which, in our opinion added to the fun and the magic – it was a real Christmas winter wonderland.
If you are taking the 4 day Santa's Lapland holiday, day 2 is a free day for you to have fun in the snow. And honestly, this is all the girls wanted to do and I really recommend you having this extra day to enjoy Lapland.
We kept this day rather relaxed and spent most of our time playing in the snow and tobogganing, but there are a few extra things you may also like to do too.  Things you can do during your snow day…
·      Toboggan down the toboggan run – it's a 5 min walk. Come out of the hotel and turn left. Follow the road around the corner and up the hill until you reach the T-junction (the Lapland Safari shop is opposite you). Turn right here and follow the path down the hill and the slope is just over the road ahead of you.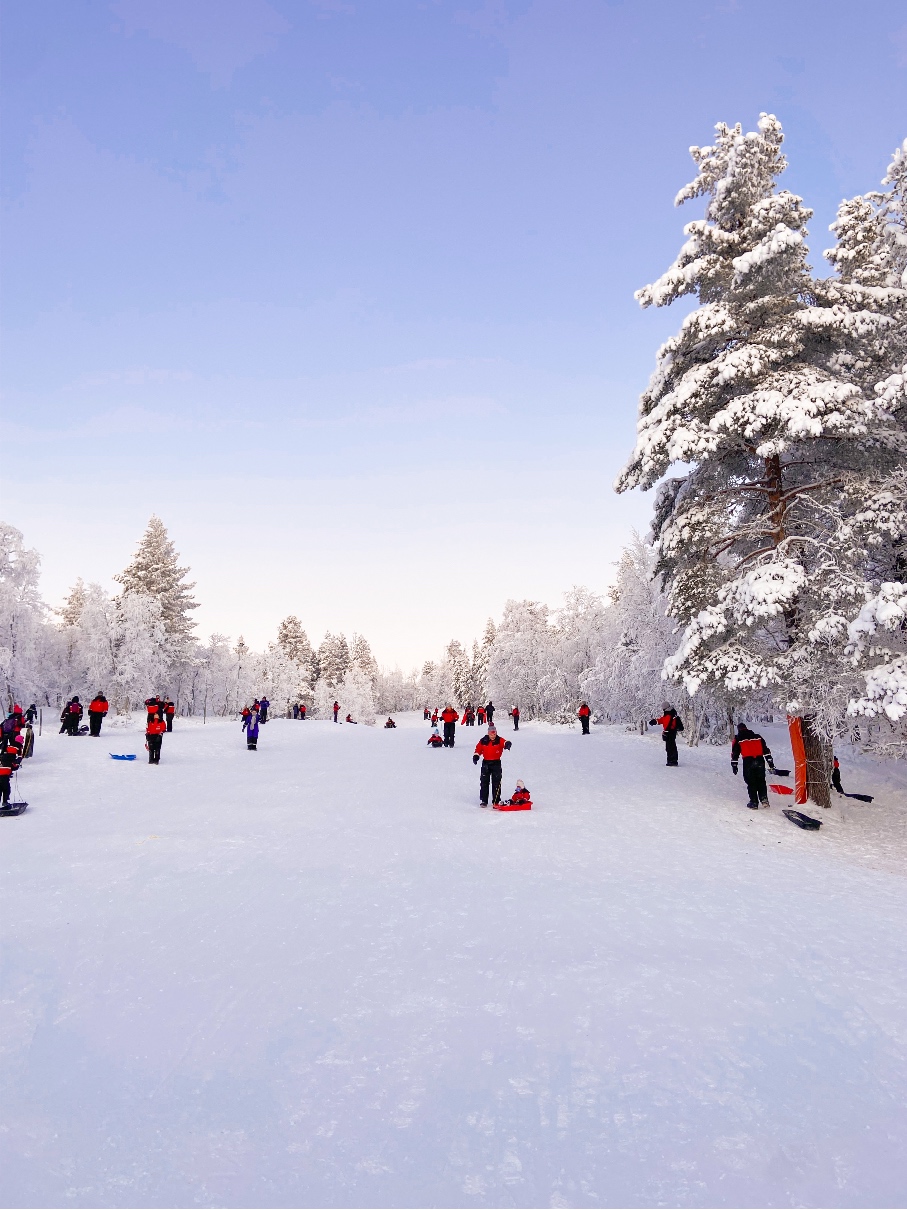 ·      Take a walk through the trees on the toboggans – if you come out of the main restaurant and head across the road and down the small slope, you can take a lovely quiet walk through the trees on the ski tracks.
·      Just play in the snow. There is heaps of snow everywhere and the girls just loved climbing in it and jumping where ever possible. They had never experienced a winter snow holiday before so this was so special to be able to do this!
·      Visit the aurora hut –If there is a good chance of seeing the Northern Lights, then the aurora hut is a must. If you walk to the big map board with the temperature display just down from and before the Tunturi hotel, then facing it, walked towards the right just a very short way onto the ski tracks but rather than following the tracks (big mistake!) turn quite quickly left into the trees where it's lit, follow the path on and up, and you pretty much can't go wrong from there … it's about a 10-15 min walk.
·      Book one of Santa's Lapland 'extra' activities such as Rudolph's Reindeer run, the northern lights tours, or the snowmobile safaris.
Day 3 – Visiting Santa in Lapland
Wow, what a day – the one we had all been waiting for. It was our chance to meet Santa in Lapland – his home!
Day 3 is all about the magic of Santa. We were picked up by coach from the hotel and taken on a 25 min coach ride through the snow covered countryside.
Once we arrived, one parent is asked to stay on the coach, whilst the other gets off to play a few games led the Santa's Lapland staff. This is so that you can be filled in with all the 'secret' info for your day and then the magic begins!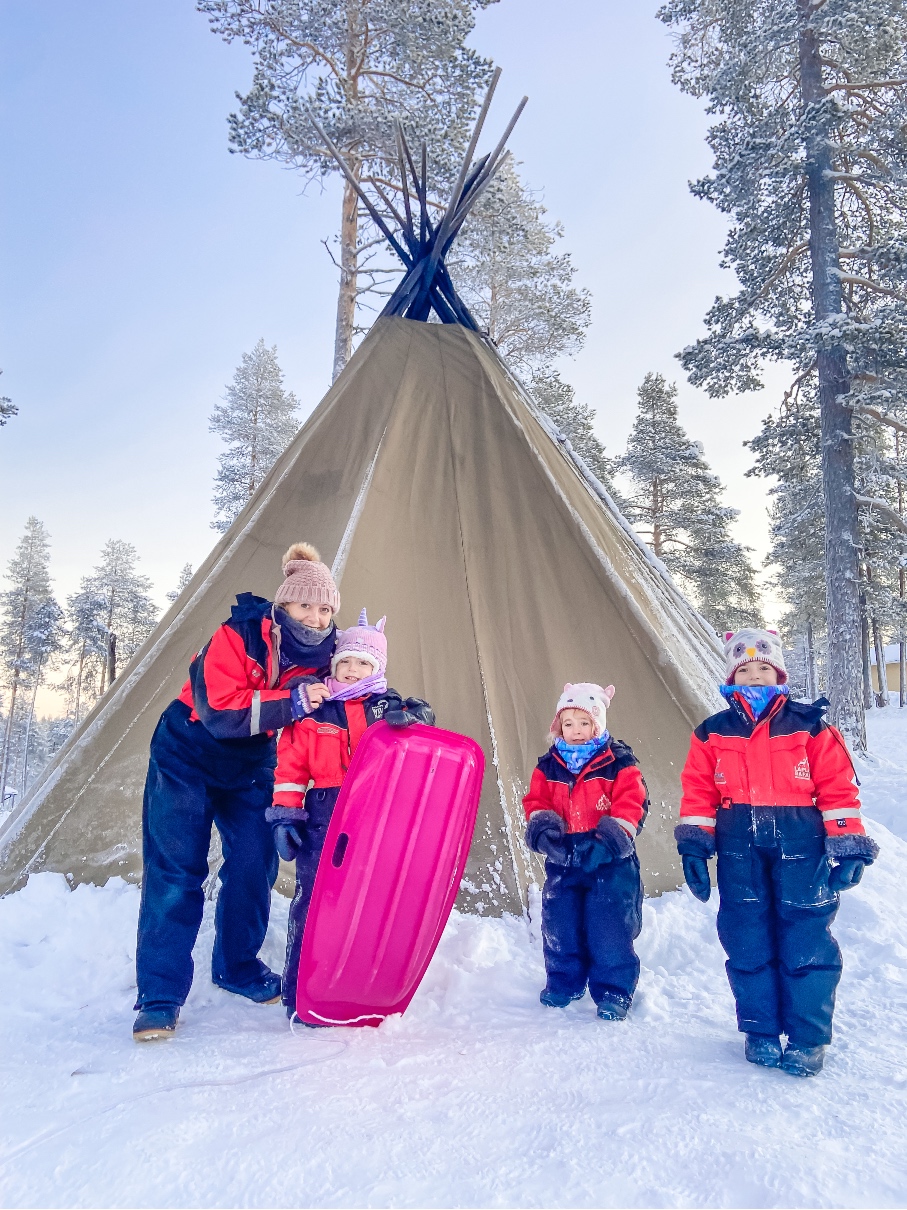 What's Included in Santa's Magic Package
There are two activity areas to your Santa's day adventure, both offering different activities; The Husky side and the Reindeer side.
With 5 main activities, and heaps of smaller ones, there is plenty to keep the fun going all day long and they are all suitable for children of all ages.
The Main winter activities on Santa Day are;
Husky Sledding
The husky rides were our favourite part of the day (apart from meeting Santa of course). Adults get to drive 5 huskies, whilst pulling the rest of their family in the sleigh through the winter wonderland. The ride lasts around 5 mins which was just perfect for little people. After your ride, you get to meet your huskies which the twins were so excited about as they are massive animal lovers!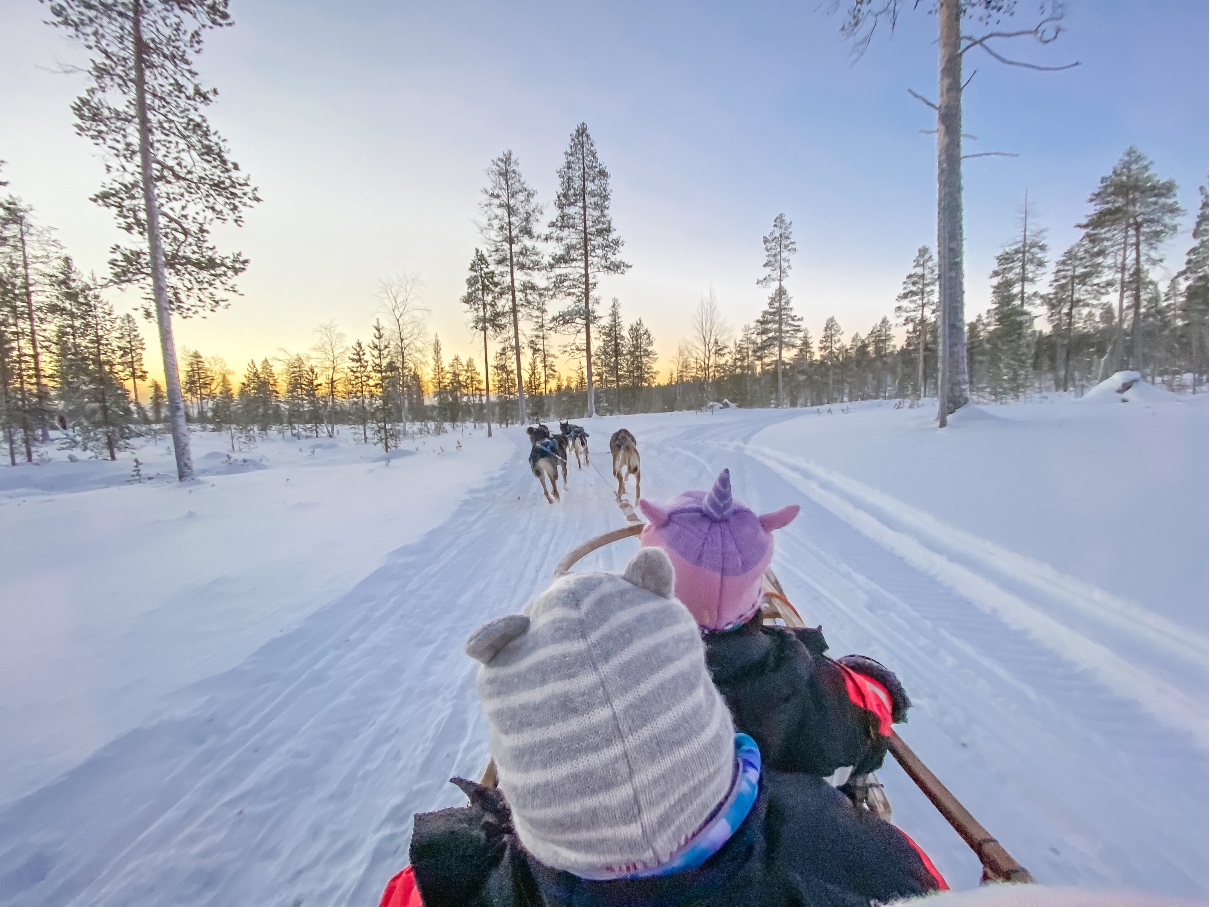 Reindeer Sleigh Rides
Sit back and relax and enjoy the enchanting Lapland whilst being pulled by one of Santa's reindeer – the reindeer rides were an incredible journey whilst the sun was beginning to set. The reindeer behind often popped their head over your shoulder whilst they were walking which the girls thought was hilarious!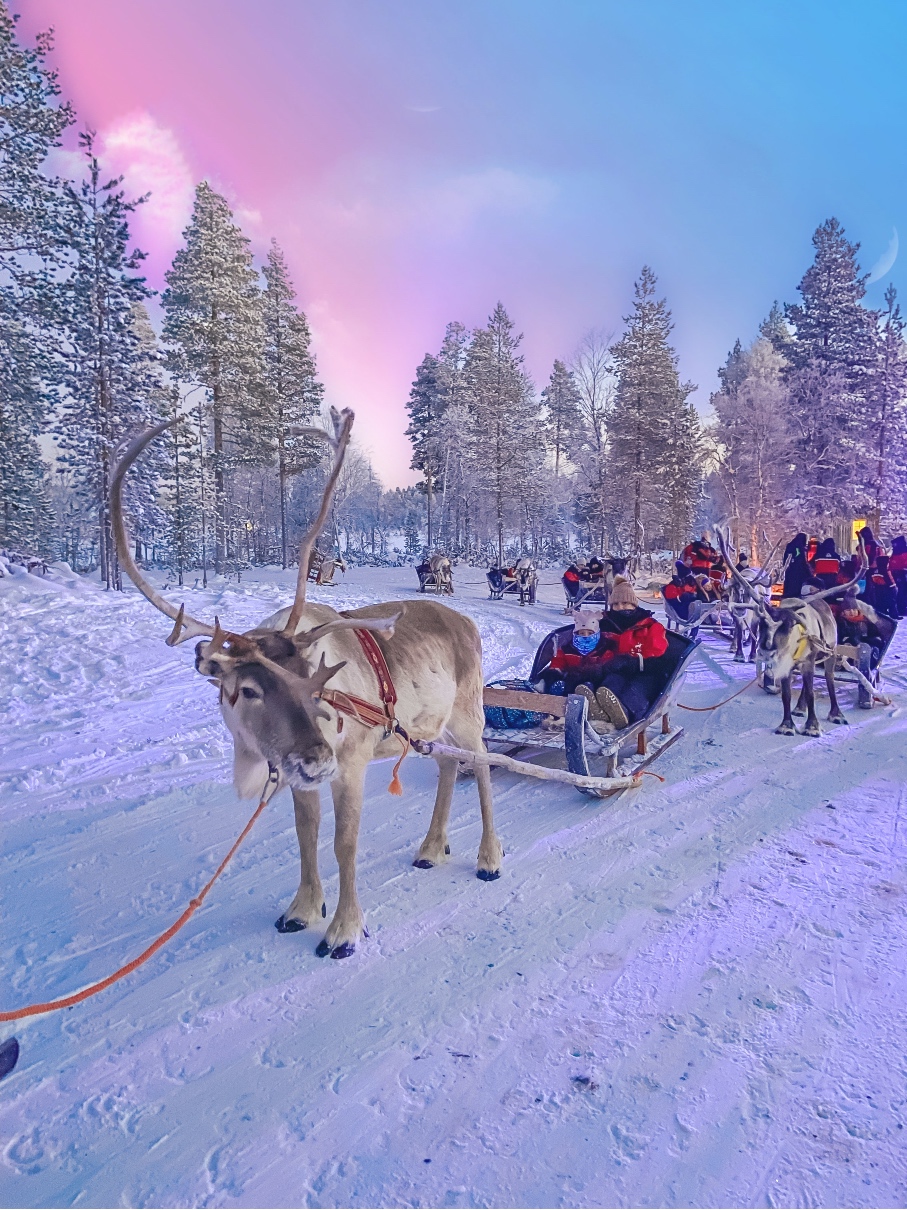 Elf Theatre Show
Before the Elf show began, we were invited into the ice bar for a drink… yes there really was a whole bar, with tables and sculptures made of ice. There was an extra charge for these but how could I resist a glass of baileys in Lapland!
The Elf theatre was inside a huge igloo – it was incredible and such a treat which the girls loved.
Visiting Santa in Lapland
This was what we had come to Lapland for and it was one of the most special things for the girls to experience in their lives. We left meeting Santa to the end of the day because we wanted to end on a high and that we certainly did. It is a private family meeting and you do this with just your family.
When our time came to meet the big man himself, we were escorted by snowmobile and sleigh, through the woods to a hideaway log-cabin for an exclusive play with the elves, and private meeting with Santa Claus himself – it totally blew us all away how magical and special this was. It will stay with us forever.
Other Outdoor Activities
Matilda's absolute favorite was the skidoos – a child's size snowmobile attached to a tree and they are able to drive it on their own. She absolutely loved it! Besides from the skidoos, there was also ice fishing, ice hockey, toboggan runs where I think the twins fell of every time but loved it, and tandem skiing. You can do any of these activities as many times as you like.
If the children start to get chilly at any point during the day, there are kotas dotted around with open fires in to warm you up, as well as warm drinks and traditional ginger bread biscuits – yum.
Lunch is included in the day. They served either vegetables with rice, or spaghetti Bolognese, both with bread and a jug of berry juice.
Once we had squeezed in as much as we possibly could, we got back on the coach and headed to the hotel. It's a rolling service on the way home and you can leave anytime between 3pm and 5pm. They left every 20 mins or so.
Gala Dinner
Santa's Lapland invites all of its guests to a gala dinner on the last night. Whilst it was busy, it was such a lovely evening with tables decorated with crackers and decorations and a Christmas dinner with children's options too.
The evening finished with games and dancing for the kids, whilst the adults enjoyed a glass of wine with our new friends we had made! What a great way to end a fabulous trip to Lapland.
Day 4 – It's Time to Head Home
Under usual circumstances, you may have an hour or two to play in the snow before it's time to pack up to go home, but as we were travelling during the pandemic, and just as the rules had changed to us requiring more tests before we flew, time was needed to get these done at the airport so it meant an early departure for us – do pack plenty of snacks for your return journey, as well as your outbound flight in case of delays as the food is limited at the airport.
Santa's Lapland FAQ
What do I wear in Lapland?
As well as the complimentary thermal snowsuits, boots, socks, gloves and hats – my answer is layers. And how many you need to wear, depends on how cold it is – check the weather before you go but it is better to take too much than not enough.
The climate in Lapland is classed as sub-arctic with the first snow falling in September and staying on the ground until early May. In December, Lapland is freezing cold and temperatures reached -36 whist we were there so had to make sure the children stayed warm. We were wearing 5 layers a day.
For this reason, you should bring many layers of warm, comfortable inner wear such as long johns, long sleeved shirts, jumpers and thermal trousers.
Warm fleece jumper
 Thermal underwear and base layers
Scarf or snood and hat
Thin thermal gloves (ideal as a base layer under snow gloves)
Take a small backpack or rucksack to pop an extra layer
Whilst the best snow wear was provided, I advice you travel in a warm coat and sensible shoes.
Did you get cold?
On one occasion the girls got chilly, but we did layer everyone up well – it got up to -36 on this particular day. We just popped on an extra layer which we carried with us and then carried on play – you just have. to go prepared. We also found heat pads were great for keeping small hands and feet warm.
Is there a supermarket?
Yes, it's about an 8 min walk from the hotel. We didn't really buy much other than milk for hot drinks.
What camera did I use?
I used my iphone and didn't have any problems with it – just keep it warm in your pocket when you are not using it. Also pop it onto airplane mode and it didn't zap our battery either!
Did you need to take much spending money?
The only extras we bought was lunch one day at the resort, and evening drinks. Lunch was roughly £15 per adult and £10 per child. Wine was £35 a bottle.
You could buy a few souvenirs in the shops and we thought these were reasonably priced.
How much did it cost?
So much impacts how much a trip to Lapland costs. When you go, the hotel and the size of your room or apartment but to give you an idea, our stay in a 3 star, 3 bedroom apartment for the 5 of us cost just under £6500.

Trips to Lapland and Covid – What are the Rules?
Always check the government website before travelling as rules are changing regularly.
How to Book a Trip to Lapland
Lapland is popular destination in the winter season so make sure you book well in advice. But booking is simple, just pop on to the Santa's Lapland website to see availability, accommodation options and up to date pricing. Dates for Santa's Lapland 2023 have just been released!
I hope you have found this Lapland guide helpful and inspiring to book your family trip to Lapland – Santa's Lapland is the best choice in our opinion because you receive such a personal service and it really does bring the magic of Christmas alive – I am already thinking about our next trip!
If you would like any further information or advice regarding Finnish Lapland holidays and a Lapland break, please don't hesitate to send me an email on anna@twinsandtravels.com