Kenya with kids was my dream destination. I have been visiting Kenya for over 20 years and I just couldn't wait to get back.  It is somewhere that feels like home to me. It is somewhere I feel really happy and comfortable which is why I couldn't wait to take the children on safari – my dream came true, and yours can too. It has been, by far, the best holiday we have taken as a young family and definitely one to add to your family travel bucket list.
Kenya Holiday With Children
I hadn't taken them until now partly because of the long haul flight with young twins – I didn't know if I would cope and also because all the jabs and malaria were a little frightening. Looking back, I wish I hadn't worried and headed to Kenya with the children earlier. It was such an easy holiday and all three kids were amazing. At the time of going, the twins were 4 and a half, and Matilda was 20 months.
** The holiday accommodations mentioned were gifted stays in exchange for reviews. All thoughts and opinions are my own.
We recently spent two amazing weeks in Kenya with kids (2020). It was honestly the best holiday we have had with them and the whole trip went so smoothly. I spent a lot of time preparing for the trip and on this occasion had planned and organised everything myself, but there are plenty of child friendly travel agents out there who are used to organising holidays for families such as Acacia Safaris.  Male sure you read this post on safari tips too.
I made sure we had international and internal flights booked to leave and arrive at the correct times that suited us as a family, drivers ready to collect us from the airports that had vehicles that were big enough to take us all including the kids in car seats and with room for all our luggage (as hard as I try, I never manage to travel light!) and accommodation that was in the right location, child friendly, and ones that provided travel cots. It took a lot of planning and I knew I wouldn't relax until I got there. 
How to get to Kenya
From the UK, I would advise getting a direct flight if you are travelling with young children. Britsih Airways and Kenya Airways are the main airlines that go direct. I have always travelled with Kenya Airways which is a night flight on the way out, and a daytime flight on the way back. Britsh Airways gets into Nairobi late at night and I have always preferred not to drive around after dark if I can help it. 
Although Matilda was under 2, we did buy her a seat to give us all a little extra space and room and it only added £250 to the total. Our return flights to Nairobi Kenya cost us £2000, and we spend around £1500 on internal flights.
How to Travel about in Kenya with kids
There are two main ways to get about in Kenya, by car, or by plane. Often it is a fair distance between your destinations if you are moving around and the roads are not quite as good as they are in the UK. Saying that, you get a real feel for Africa if you drive about. I love it.
On this trip, we flew between our destinations as it was an easier way to travel with small children, but I would now happily have a driver, drive us about too. Flying is a much more expensive option too.
We flew from Wilson Airport whilst in Nairobi with Air Kenya to the Maasai Mara, and Kenya Airways on our trip to the coast. There are other smaller airlines you may wish to investigate too. 
Whilst we were in Nairobi, we hired a driver for our whole time we were there. We were picked up at Nairobi airport and taken straight to accommodation, After a short nap, he drove us to all of the attractions we wanted to visit and waited whilst we were inside. Our driver was brilliant and had a large vehicle to cope with all our baggage and looked after us well. We can recommend Acacia Safaris for both trip planning and drivers who will look after you. We have now used them for a longer 2 week trip in 2023 and we couldn't fault them. 
When is the Best Time to Visit Kenya?
Kenya is a great all year round destination if you are wanting to go on safari. If you specifically want to experience the great migration in the Maasai Mara, then the best time to visit is from July to October, but otherwise you still get to see game all year round. They do have rainy seasons; with the long rains occurring between March and May (I'd probably refrain from booking around this time), the short rains in October and November. Always take a rain jacket as you don't want to get caught out!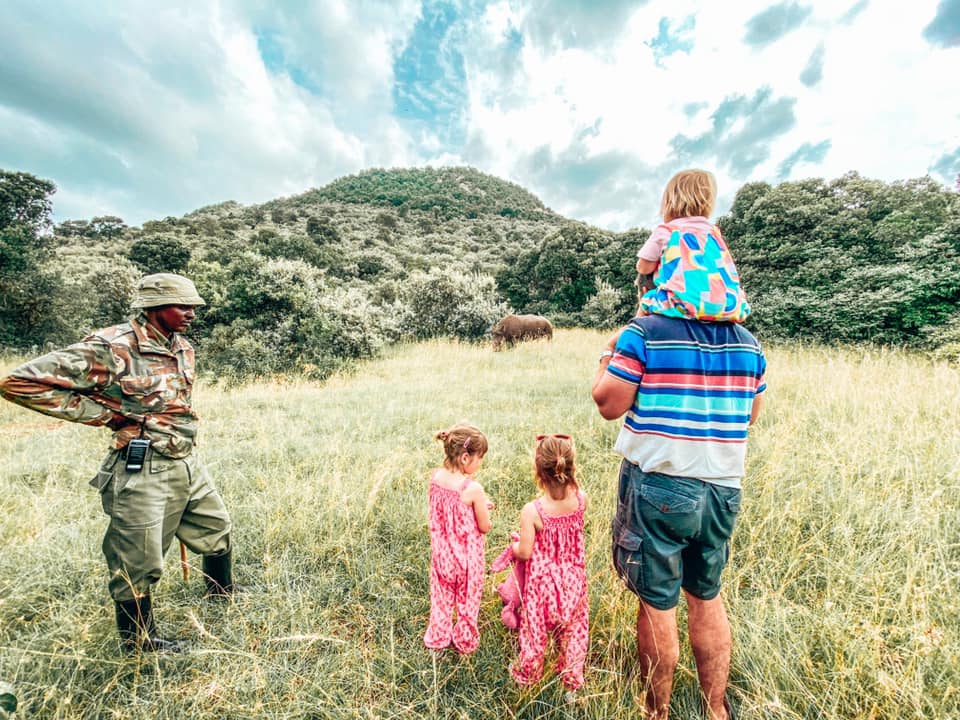 Medication and Injections when Travelling to Africa
We needed a number of injections and Malaria tablets for our trip and we had took everything that was advised including Yellow Fever, Diphtheria; Hepatitis A; Poliomyelitis; Tetanus, Typhoid. Some were free, but most you had to pay for so don't forget to factor this into you budget as they can work out quite expensive. For the best advice visit the 'Fit for Travel' website. We needed a number of injections including Yellow Fever. Make sure you take the certificate with you as we were asked to show them at the airport. 
We did visit malaria zones so all of us took tablets including the children – Tristan and I took Doxycycline and the girls took Malarone. The girls were great at taking theirs. I crushed the correct dosage up between 2 spoons, mixed it with chocolate spread or peanut butter, and it disappeared pretty quickly!
What to Pack
You may not think it but it took some time for me to work out what we really needed to pack for our family holiday in Kenya. We really needed a little bit of everything. Summer dresses were perfect for the sunny days in Nairobi, joggers and hoodies were needed for the early mornings on safari, and shorts and t-shirts for the hot afternoons. Raincoats were needed for the short, sharp downpours, and swimwear for the coast. To see our full list, then take a look at our African Packing List.
Safari with Kids
If you are in Kenya, then a safari is a must. Some people were worried about us taking children so young as the assumed they would get bored of sitting in a safari vehicle all day, but how wrong could they be! All three girls had the most amazing time and totally loved it. Like all adventures, we kept it varied and as you will see in my article 'Safari with kids', Safaris with Kids.mp4  we kept the days varied by visiting the local schools and Maasai villages too. 
Our top tips for visiting Kenya with Kids
If travelling on an overnight flight, look into whether your airline allows you to take inflatable travel foot rests. This helps children get comfortable on an airplane and sleep for longer – ours definitely did! (Koala Kloud)
If travelling with toddlers or a baby, take a small fold up travel buggy. We used this more than we thought and found it useful through the airport, at the coast for naps and walking around attractions in Nairobi. A sling is also useful for babies.

 

If travelling with a toddler, take their car seat. They will be safe and secure whilst travelling about plus we couldn't have coped without it on safari. Matilda was far happier when she was in her car seat looking at the animals than when she was jumping all over the safari vehicle not really knowing what to do.
If you have older children, invest in some travel car seats. We used the XXX which were small, light and easy to pack and whilst we didn't use them on safari, we used them to travel around Nairobi and Mombasa.
Pack some small lightweight rain coats and always keep them in your vehicle. Luckily we did as we got caught out a few times!
Travel with a full first aid kit as when you are on safari, you are not close to medical supplies and having a funny tummy whilst out in the bus is not fun!
Make sure you drink plenty of water (always used bottled, not tap water) and wear sunscreen. The Kenyan sun is hot and you can burn and become dehydrated quickly.

 

Take a thin long sleeved top for going on safari to cover your arms and stop burning.

 

The mornings are cold on safari and it is advisable to take a jumper.

 

When planning your holiday to Kenya with kids, be sure to plan in both adventure and relaxation time in each day. Keep your days varied and plan excursions. For example, you may have booked a safari, but be sure to also visit a Maasai Village or local school. Children also need daily time to play with toys or in the pool. You will also find you need to plan in a few days down time into your holiday otherwise you will be exhausted!
Allow staff to help you. It is normal for families in Kenya to have help with the children and will often have designated staff to play with them for you whilst you do a bit of relaxation yourself. Even if it's just for an hour.

 

You can buy nappies in Nairobi, Mombasa and larger supermarkets easily so you can stop by on arrival. Shops are called 'Dukas' in Swahili. But there are no shops on safari so make sure you have enough.

 

Take snacks from home if travelling in the car a lot or on safari. We all know how much children want to eat when travelling and there is nothing like having your favourite snacks with you (these were a lifesaver!)
Check baggage allowances if using internal flight. For our international flights, we could take 46kg of baggage each, but our internal flights only allowed 15kg including hand luggage. Pack wisely!
When travelling long haul with a toddler, I would recommend buying them a seat if you can. It just means you have a little more space for that wriggler and you can all get some sleep.

 
Kenya with Kids Itinerary
**Please note I have adapted this itinerary slightly as we stayed with friends for part of our trip which I haven't included. I have written it with my experience in mind. 
Day 1 – Night flight
Having survived the airport, we travelled with Kenya Airways on a night flight, arriving in Nairobi at 5am on day 2. The children slept well and flying with a toddler wasn't too bad. I packed plenty of travel toys for all the girls which made things run fairly smoothly. I made sure that they had eaten a full lunch as I knew that they would only pick on the plane – pack snacks!
Day 2 – 4: Nairobi, Sprurwing Guest House (B&B)
From the moment we landed, my smile appeared and stayed for the next two weeks. We made our way through the airport to meet our driver, Daniel who we had pre booked. We used the same driver each day whilst we were were in Nairobi which worked really well – get in touch if you would like his details. He was very reasonable and looked after us well. He took us to Spurwing Guest House in Karen which is on the outskirts of the city and close to all of the attractions. We were to spend 2 nights here. 
Nairobi is a very busy city and when I was planning our trip I knew I wanted to be based in the suburbs on the outskirts of Nairobi close to all the attractions and where it is quieter. Karen and Langata are two areas which are great for tourists to base themselves as it only takes about 20 minutes to get anywhere and there are plenty of places to visit and eat at.
When we arrived at the guest house at 7am, we had breakfast and then all went straight to bed for a few hours. Whilst everyone slept on the plane, it wasn't nearly enough and with the 3 hour time difference, I knew we would all be grumpy if we didn't sleep. You can find out more about Surwing Guest House in our review article.
Our driver came back later and picked us up at 1pm and we headed to MatBronze for lunch. Matbronze has one of the largest display of wildlife bronzes in Africa. Over six hundred pieces, ranging from cuff-links to life size crocodiles. It's a lovely place to look around with a beautiful garden and café with great food. We managed to spend a few hours here relaxing before heading to a small curio shop full of African goodies for a little look around. 
The main attraction today was a visit to the Sheldrake Elephant Orphanage. For the girls Christmas present, their Uncle adopted an elephant from the orphanage for them which meant they could go to see their elephant at a different time (5pm to 6pm) to the public viewing –  something I would highly recommend doing. 
We spent a good hour at the orphanage watching the baby elephants return from their time in Nairobi Game Park and we were able to touch and play with them as they fed. 
On our second day in Nairobi, we visited the Giraffe Centre mid-morning.  We were all allowed to feed the giraffes and get super close them. Matilda especially loved this experience.
From here we took a 10 minute car ride to Nairobi Park Rehabilitation Centre where we spent 2 hours handling and feeding African animals before heading to the Bomas of Kenya which is a cultural centre with African dance shows, traditional Kenyan villages and a small curio market. 
For a more detailed itinerary, please visit Nairobi with Kids.
Day 5 – 9 – Maasai Mara (All Inclusive)
After a quick breakfast, we took the earliest early morning flight with Air Kenya from Wilson Airport to the Mara North airstrip in the Maasai Mara – We were going on safari with the kids!!! We were staying at House in the Wild. The flight took 30 minutes. This really was the highlight of our trip – safari with Kids. 
Whilst we decided to fly, driving to the Mara is also possible and very easy. I would possibly do this next time due to the cost. It takes 4 ½ hours from Nairobi to House in the Wild where we were staying with some scenic stop off points along the way. You really get to see Africa this way!
I would recommend at least 3-4 full days in the Mara at one camp, but if I was to do it again, I would try to spend 4 nights at two different camps to experience two different locations and camps within the Maasai Mara.  This gives you time to settle in and appreciate bush life, go on several safaris, enjoy sundowners, bush breakfasts, visit Maasai villages, local schools and the rhino sanctuary just to name a few things on offer at House in the Wild. 
Safari with kids was so much fun though, even with children as young as ours (4, 4 & 1). If you are even half considering doing it, just do, you will not regret it!
It is, however, expensive but one thing I love about House in the Wild, is that they have three different accommodation options. To find out the full details, check out our House in the Wild article. 
Day 10 – 14 – Turtle Bay Beach Resort (All Inclusive)
From the Maasai Mara, we took a Kenya Airways flight back to Nairobi, and then to Mombasa. However, the closest airport to the hotel is actually about 20 minutes away at Malindi and there are flights from Nairobi to Malindi with carriers such as Jambojet. 
Once we had arrived in Mombasa, we were met by a driver from the hotel and took the 2 hour drive to Turtle Bay Beach Resort which is super family friendly.  The drive was really easy and water was provided in the vehicle. I let the hotel know in advance how much luggage we had so a suitable car was there to meet us. 
Turtle Bay is all inclusive, offers inter connecting rooms for larger families and is right on the beach, with 2 swimming pools and a kid's club. A highlight of our stay at Turtle Beach was our Dolphin Safari. It was the perfect child friendly place to relax with kids after our busy adventures on safari. 
To take a look at our Turtle Bay Beach Resort for more details on our stay. 
Day 15 / 16 – Ole Sereni, Nairobi (B&B) – Home
After a relaxing stay at the coast, it was time to start making our way home. Whilst we could have flown from Mombasa to Nairobi, and then straight on to the UK in one day, we decided to break it up as I am not sure I would cope with such a long day flying with a toddler! So we stopped in Nairobi for the night at the Ole Sereni Hotel which is the only hotel with views over a game park. I thought this would be the perfect end to our holiday and it was! Do check out the Ole Sereni.
Keeping the Memories
Since returning to the UK, we have put a photo book together to hold on to our memories – we all love looking at it. It is something we are trying to do with our trips as time fly's by so fast and this is something you can hold onto forever. 
How much does a family holiday to Kenya cost?
A trip to Kenya is never going to be cheap and it's so hard to put a figure on it because there is so much to consider; Time of year, type of accommodation, how you travel around and how long you stay. 
A game drive on safari costs around $250 per day and you will have conservancy fees to pay on top of that which in the Maasai Mara are $90 per adult, per day, and children over 3 are $55 per day.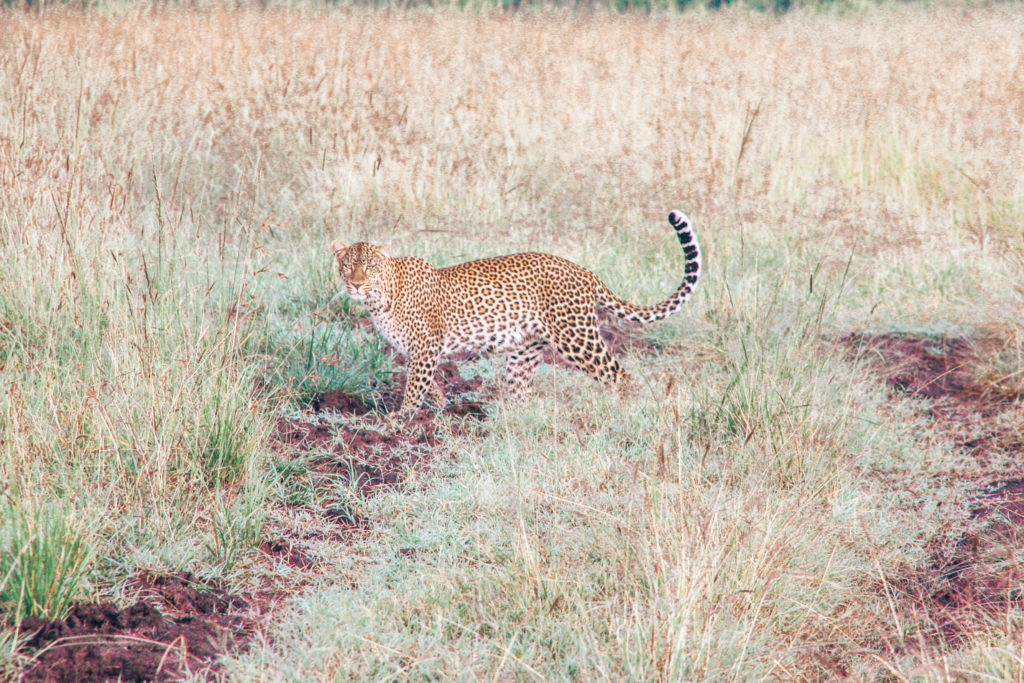 If you have any questions about travelling to Kenya with Kids, please do pop me an email or leave me a message below, I will be more than happy to help plan your trip!
If you would like to read more articles in my Kenya with kids series, then these may be of interest…
House in the Wild Review, Maasai Mara
Turtle Bay Beach Resort, Watamu, Mombasa 
GO ON, PIN IT