I am sure many will agree that flying with twins and toddlers is a big decision to make. Flying with two toddlers, or several children is an even bigger one! But I never wanted to make the choice between having children and travelling, and I don't. We all love travelling together and even manage to survive the airport chaos too!
*** Some of the products on this page were gifted to us for the purpose of this article. However, all thoughts and opinions are our own.
We started by taking road trips and  travelling the UK when the twins were weeks old. Yes, we took the kitchen sink, but who cares, we were off on our adventures!  By the age of 1, when the smog from having two newborns started to lift, I started to get itchy feet and wanted to get on a plane again. A few people thought I was mad, and some said 'they won't remember it, why bother'. I was a little saddened with this remark because why shouldn't my husband and I continue to make memories. We soon forgot these comments and started planning our first family holiday.
At 18 months old, the twins took their first flight. Like a lot of you reading this, the one thing I was terrified about was flying with twins and toddlers but with the right travel toys in our carry on bags, we managed it with two under two, and to my surprise, it was easier than I thought. Ok, so it wasn't really my idea of fun but we soon got over it and it didn't put us off travelling again!
So what do you need to think about when flying with twins and toddlers?
Plan Your Flight Times when flying with twins and toddlers
Now unfortunately we don't always get a choice with this as times can be fairly restricted (like ours were). We had a 9.30am flight on the way out, and 2.30pm on the way back.
I was given advice by some other mummies and they said if the flight is over 2 hours to try and plan them around nap times. Having travelled both morning and afternoon this time, I totally agree. If you have the choice, take it. On the way out we had to do far more entertaining than on the way back because they slept for 2 hours – I even read my book!
Plan The Airport
I have written a guide on how to survive the airport HERE but leave plenty of time. I recommend 3 hours from parking your car as it is surprising how quickly time goes! It is also worth thinking carefully about parking, passport control, and then what you will do airside. Check out the airports websites to see where they have children's changing facilities and if they have a play area, as it's great if they do!
Plan your Meals
My girls are fussy eaters, pains in the back side to be exact, so I knew they wouldn't really eat anything on the plane. I researched which restaurants were at the airports to make sure we all had a good breakfast so I knew they wouldn't be hungry (and daddy would be happy too!). On the way home, I took bits from the hotel restaurant buffet and we got some chips at the airport too.
Plan the Flight
I was worried whether the twins were going to be able to manage the whole flight in their seats. I was also worried whether I would manage flying with twins and toddlers!! But with the help of plenty of travel toys and the CAREs Safety Harness it actually went ok. I decided to do some research in to this as I was concerned about the girls safety and them sitting still on the plane with just a single strap across them. The safety harness replicates a car seat harness and it meant that they felt secure and they were there to stay. There were great. They wrapped behind their seat and clipped into place incorporating the normal seat belt. It is the ONLY CAA & FAA Approved Inflight Harness for Children. It keeps children safe during take-off, landing, taxi-ing and turbulence. It is perfect for children weighing between 22lbs – 44lbs / 9kg – 20kg (typically 2-4 years old). Check out the CARES Safety System HERE.
My second worry flying with twins and toddlers – were they going to have a tantrum and what would everyone think? Yep, they had a few of those, and yes people rolled their eyes but I couldn't do much about it. I apologised and they had to deal with it – remember, you will never see them again!
How will I keep them entertained for 5 hours – Carry on Bags
To start with I packed two carry on bags, one for each of the girls (we took Trunki's) with their toys, and an adult bag each with food supplies. My first piece of advice is to tell your husband/partner that the bag you have packed for him and the child they are responsible for is to keep them amused and it is not to be placed in the overhead locker as that bag will save his ass – Gone are the days when you get room around your feet daddy! It is likely you won't be sat next to your partner unless you are in a super big plane, more likely across the aisle or behind each other.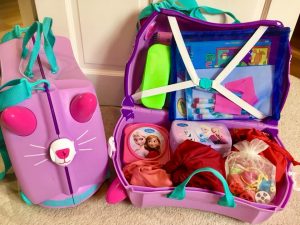 This is what I packed in each adult bag…
Nappies, wet wipes, and a changing mat.
Typical, just aboard the plane and about to take off, then this happened… Tabitha's nappy leaks. Their nappies have never leaked, why now. Just wee thankfully but we were both soaked. I was so thankful for the spare clothes!
Snacks and meals – Pack a few goodies that maybe you wouldn't usually allow, this is about survival!
Lollypops – During take off and landing or getting through passport control!
Calpol – Useful to have to hand
Bottle of Milk – For during take off or landing
The children's bags…
Duplicate some activities, but also put some different ones  in each bag so they can be swapped for the journey home.
An iPad or Tablet  – both forms. One each for the toddler loaded with their favourite TV shows and two to be taken with water for the adult!
Toys – These were our main source of entertainment! I bought several mini drawstring bags from eBay and filled them with all sorts of toys. Not whole sets but a token selection. Some toys were new from the pound shop and some favourites from home that I hid for a few weeks before so they were excited to see them. The bags made them easy to contain and control on the plane. You could pull one activity out at a time, and then change it.  Some people suggest to wrap new toys up but we ran out of time!
Here is just an example but you can see the full list here –  'Travel Toys for Toddlers'.
Hot Dots phonics and number cards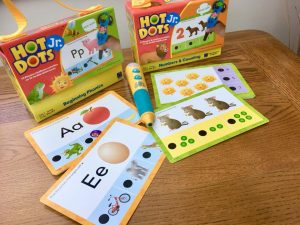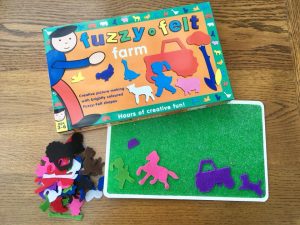 Favourite TV characters – ours were Frozen
Aqua Doodles – Mini ones from eBay £2.99
Playdough – playdough was the biggest hit and no problems through customs.
Triangular crayons – so they don't roll off the table!
What buggy do you take when flying with twins and toddlers?
This is obviously a must, whether you have one toddler or three. The question with more than one is do you take 2 singles, or a double. In my own experience, I'd 100% say go for a double. It means that only one of you has to push it, and the other has both hands for bags or reins. We bought a cheap second hand umbrella style buggy the first time and hated it, so this time we took our Out and About which worked really well as we love it.
Enjoy flying with twins and toddlers!
Don't let the possibilities of a few difficult hours on a plane stop you from taking the opportunity to get away on the well-deserved holiday. Just do your best to keep them happy, smile loads at scowling passengers, and treat yourself to a big-ass glass of champagne. It'll all be over in a few hours.
If you have any must haves for the flight, please do share them with us! Also do follow us on Facebook as I am always adding tips on there!
Now we have survived two holidays with the twins, I want to get adventurous and go long haul next year….. but where shall we go? Do you have any suggestions; I am always looking for inspiration? You will have to keep your eyes peeled to see where we decide!
** GIRSLS DRESSES SUPPLIED BY FRUGI CLOTHING
*** Some of the products on this page were gifted to us for the purpose of this article. However, all thoughts and opinions are our own.
GO ON, PIN IT!