Having a themed pirate week at home can be so much fun. The list of pirate crafts and activities is endless. You can make anything from parrots using handprints, to telescopes using toilet rolls and treasure chests from egg boxes. Whether your kids love pirates or not, they are going to love these pirate activities, toys and crafts I have put together, there is something here for everyone!
 ** This is a paid sponsored post but all ideas were created by us.
Pirate Story Time
Stories often inspire my craft ideas and my children inspire the story choice. We all love reading in our house and dedicate some time to it every day. Craft activities bring stories alive for them. It encourages them to think about the story, enabling them to role play in more detail building on key vocabulary and learning.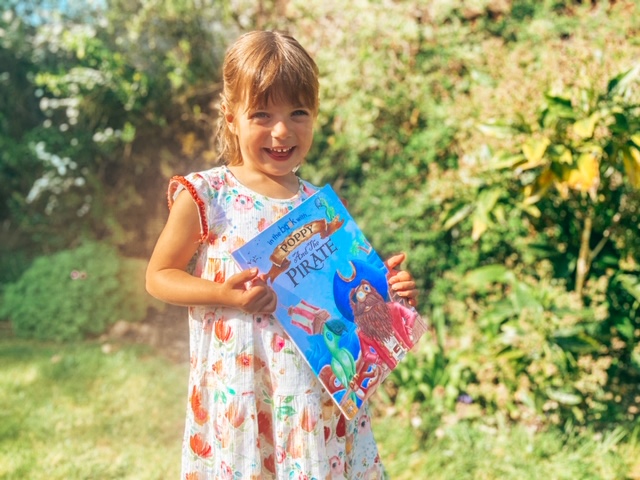 A book that inspired our themed pirate crafts week was Poppy and the Pirate by In The Book. Poppy and the Pirate is a personalised book (for Poppy!) and she features as the parrot throughout. To see Poppy's excitement every time we read the story is so lovely. Honestly, she won't put it down.
Throughout the book, hidden in the illustrations, your child will spot their name. Watch your child's face as their eyes light up and believe that it is really them in the book heading off on magical adventures to the land of make believe and worlds that belong to them!
In the book create the most amazing, magical books for children. There are over 100 titles to choose from, famous Disney titles, to family favourites, there is something for everyone. Even the most reluctant reader will love these books
Pirate Crafts and Play
A lot of the crafts in here are simple and made out of things that you will find around the house so they are really easy to put together, and as I always say… If I can do it, anyone can as I really am not an arty person at all – Let's get going!
Paper Plate Pirates
You will need: Paper plates, Paint, black and red card, scissors, glue, black marker, googly eyes.
If you are having a pirate themed week, then you need some simple pirate crafts for children. Paint your paper plate a flesh colour. If you don't have this colour, mix it up using orange and white. Put it aside to dry. Using the black card, cut out the shape of a pirate's hat and a black eye patch. If you don't have coloured card, paint white card the required colour.
Using the red card, cut out a mouth and two thin strips the width of the paper plate. Cut one of those in half. Once all the paint is dry, stick the pirates hat onto the top of the paper plate. Just below the hat, place the red strips of paper as shown in the photo. Below this, to the right, stick the eye patch and draw the elastic on using a black marker. On the other side, stick a googly eye. Stick on a red mouth.
Paper Plate Parrots
You will need: Paper plates, Paint, scissors, glue, googly eye
Take 2 paper plates and paint them both rainbow colours. The brighter, the better. Let them dry. Once dry, cut a tail and a head out of one. Leave the other whole. Stick the head and tail to the main plate using glue. Add a beak and the googly eye.
Pirate Telescopes
You will need: Toilet rolls, paper cups, gold paper, scissors, glue, sticky tape
Paint your toilet roll and cup black and leave to dry. Using the gold paper, cut two strips out, one wider than the other. An adult will need to cut a cross in the base of the cup so that you can slide the toilet roll through. Stick in place with sticky tape. Cover the sticky tape with the wide piece of gold paper. Wrap it all the way around. Add the second piece of gold paper to the top of the cup and stick down.
Pirate ship in a jar
Jenny from
Peak District Kids
made this amazing pirate ship in a jar.  You will need: a large jar, rice, blue food colouring, quick dry modelling clay, toothpick (or thin garden twig), paper, paint
Mould your modelling clay into a boat shape, add in your pole (toothpick) into the middle using a little extra clay to hold in place, and ensure your boat fits through the opening of the jar. Then put to the side to dry.
Take your rice (as much as you need to cover the base of the jar) and mix in some blue food colouring. Add the rice in to your jar with it tipped on its side. Next, paint your ship, and add a flag by cutting out and sticking on a triangle. Add a skull and crossbones for a true pirate ship!
Once your ship is dry, place it in to your jar and close the lid. As it's in a glass jar and waterproof, it makes for a fun garden decoration!
Treasure Boxes
You will need: Egg box, Paint, gold sticky paper, jewels, scissors, glue
Cover your egg box inside and out in brown paint and leave to dry. We used sticky gold paper from Home Bargins, cut strips and a lock and stuck these on to the box as shown in the photo.
Treasure Box Math
You will need: Treasure chest , tweasers, selection of gems
Rainy Day Mum has a lovely treasure box math sorting activity by simply adding jewels to you treasure box. And let's face it, no treasure box is complete without jewels and all little people love a bit of sparkle. It is very easy to put together and develops colour awareness, fine motor skills and sorting.
Treasure maps by Ladybirds Adventures
You will need: Paper, paint
This is a really simple craft but my kids loved it. I gave them a large sheet of paper each (we buy rolls of wallpaper lining paper for large art projects) and some paints. I asked them to design their own pirate treasure map.
They needed no further instructions and this is the beautiful map my 6 year old designed. We took it outside and pretended we were following the map to find treasure in our garden. Find more ideas for outdoor activities for children here. This is a really simple craft but my kids loved it. I gave them a large sheet of paper each (we buy rolls of wallpaper lining paper for large art projects) and some paints. I asked them to design their own pirate treasure map. Find more ideas for outdoor activities for children here.
Hand Print Parrots
You will need: Paper, Paint, Card, scissors, glue, googly eye
Your children will love getting messy with this one! Using a missed selection of coloured paint colours, let your children do 6-8 handprints onto paper and allow to dry. Cut out a parrot shape from a piece of coloured card. Only the head will be showing so don't worry too much about what the body looks like!
Cut out the hand prints. I did this for my girls but older children will be able to have a go themselves. Put glue on just the wrist part of the hand, and stick downwards onto the parrots body, overlapping the hands. Stick on a googly eye and a coloured beak.
Pirate toys
Playmobil Skull Pirate Ship
As well as making crafts, my girls love toys to play with so they can recreate scenes from books and this Skull Pirate Ship from Playmobil is just amazing for this.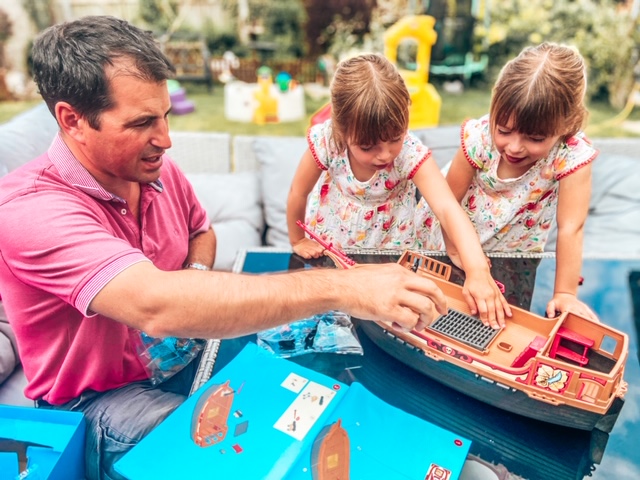 There is more than just the fun of playing with Playmobil toys, there is also putting them together. Playmobil has a very easy, comprehensive instructions booklet that comes with every toy. Simple illustrations accompany each instruction making it easy to follow. Whilst the twins weren't able to put it together on their own, they really enjoyed helping daddy and they followed the instructions he gave them. It took about an hour to put together.
Skull Pirate Ship comes with 2 pirates, 1 female pirate Animals: 1 parrot, 1 monkey, 2 rats. The Pirate ship itself includes; 2 cannons, 4 bullets, 1 shelf, 1 treasure map, 1 sextant, 1 compass, 1 bucket, 1 ladle, 1 table, 1 shelf, 2 jugs, 1 glass, 2 daggers, 2 pistols, 1 saber, 1 treasure chest, 1 sack, 1 liquid container, 1 trough, 2 pirate hats, 1 headband, 1 telescope, 1 grappling hook, 2 lanterns so there is a lot to play with and keep play imaginative and creative.
If your little ones found these pirate activities lots of fun, then why not take a look at 100 stay at home activities, there is something in there for everyone!
GO ON, PIN IT