The Baby Annabell range of dolls and accessories, are the perfect toys for children who love realistic dolls and using their imagination.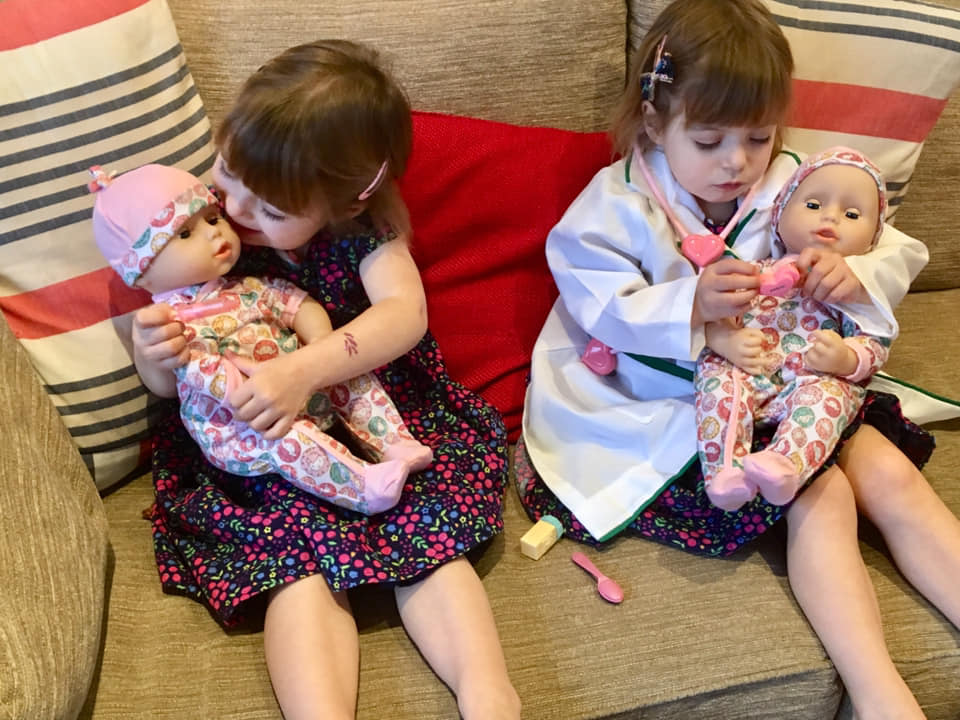 Baby Annabell Milly Feels Better
Last month, we were gifted this lovely Baby Annabell Milly Feels Better Doll. With the Twins pre-school jabs due, I was looking for some way of explaining to the twins what was going to happen and role play is always great in these situations as you can bring discussions to life.
Milly comes with her own little doctors' kit, complete with jab, I thought this was perfect.  Milly makes many different sounds and when she becomes poorly, she starts to cry and her cheeks turn red. The twins were a little upset by the baby crying to start with but this makes it so real. So it's time to check her temperature with the thermometer and listen to her heartbeat with the stethoscope. With a little bit of medicine from the spoon which is included, she's is sure to feel better again in no time.  But maybe she needs an injection too to make her feel well enough to play again. Milly also closes her eyes to go to sleep when your little one lies her down and she laughs when she's tickled.
Baby Annabell Walker and Changing Bag
This month, we were offered two new products to the Baby Annabell range, their products really are endless; The Baby Annabell Walker and Baby Annabell Changing bag. Both of these work brilliantly with and Baby Annabell dolls.
The twins were so excited when they opened the walker and changing bag, having just had a new baby myself, this was perfect to join in with baby antics around the house and off they went straight away to get nappies, and wipes 'just like mummy'.
The Changing Bag
The Baby Annabell changing bag is a practical and chic changing bag with all necessary accessories when Baby Annabell goes out and about. Includes changing mat, nappy, teething ring and a bottle. There is a zip to make sure all the contents stay secure and it includes carry handles and shoulder strap for on the go too.
The girls loved getting all the bits ready to change Baby Annabell's nappy. They were able to lay out the changing mat, place Baby Annabell on it, undress her, pop some nappy cream on before putting the baby's nappy on using the reusable nappy provided. I had to show them how to do this the first few times but they soon got the hang of it.
The Walker
Baby Annabell Walker, is the perfect accessory to help Baby Annabell learn to walk. The walker is easy to put together and the girls could help me do this. You will need batteries on both the walker and the remote control for it to work; 4 x AA and 2 x AAA which are not included and the Baby Annabell doll is sold separately too.
Your Baby Annabell fits snugly into the colourful fabric seat and she can hold onto the bars in front of her. There are also little beads at the front on the walker for Baby Annabell to play with. It was super cute watching the twins tell Baby Annabell what to do. The walker comes with a remote control which the twins found so much fun (I was almost jealous; why can't real ones have a remote control!!).
Once Baby Annabel is in place, she is ready to go. You just have to make sure that the switches on the remote and walker are switched to 'ON' and off she goes.
The Baby Annabell walker remote was easy to use by two three year olds. There were three buttons on the remote, two for directions; forwards, backwards and side to side, and the middle button even features different funny horn sounds, so Baby Annabell can let people know she is coming.The walker does operate better on wooden floors.

The Baby Annabell range has a lot of accessories you can purchase to build up your collection. From little outfits, a pram, a bed, a baby carrier, even an entire mini bedroom. There is nothing that Baby Annabel can want for. The range is great for independent play, or to help engage in role play.
It is just like having your own baby, and both of my girls loved caring for her, cuddling her, and feeding her. They mimicked me a lot of the time whilst I was with baby Matilda. This is especially great when a new baby is on the scene so they don't feel left out and learn how to cope with the new arrival.
If you have enjoyed this, or maybe you are looking for some children gift ideas, then why not take a look at these gift guides;
Gift Guide for Three Year Olds
**These products were gifted for the purpose of this review. All thoughts and opinions are my own.
There are also some affiliate links in here which means I may earn a small amount, but it is no cost to yourselves.
GO ON, PIN IT!