Cameras have come a long way since I was a child. Gone are the days of taking your film to the developers and selecting your best shots for your photo albums. These days we have everything instantly available and it is marvellous. As a child I enjoyed taking photographs and I think it is equally as important now to let children learn to use an actual camera. Not only is it great for them to learn a new skill but it will also help them to boost their creativity and their self esteem too. I mean, who doesn't love a challenge?
Choosing the Right Camera for Children
Choosing the best camera for your kids can be the perfect way to get them engaging in something new and head out exploring the local area, photography is also a brilliant hobby. When picking a camera for a child you will want to consider aspects such as is it sturdy? How easy will it be to use? Is it lightweight and small enough for tiny hands to operate? You may also want to consider choosing an attractive coloured camera. The Fujifilm Instax Mini 11 Instant Camera is a wonderful choice for children as it is instant and completely automatic.
How to Teach Photography to Children
Practice, practice, practice is the key to teaching photography to children. You will want to make it engaging and fun and they will be snapping away in no time. Give them mini projects to focus on and go out and take photos for that project – it is a good idea to get them involved in agreeing on the projects too. If the camera has certain modes and settings then let them explore and try them out. Encourage kids to take pictures of things that interest them – pets, toys etc – this will help them with portrait skills. The fun of having instant prints available is also a bonus because they get to see what they have taken straight away and can improve on it!
Project Ideas to Help Kids Improve Their Photography
 Start a Holiday Diary
If you are on your holiday you could set the task of starting a holiday picture diary. They could take pictures at the airport or on your journey there. Then pictures of the place that you are staying in, the local area, activities that you do, the beach. The list is endless when you are on your travels. These can then be placed attractively into a scrapbook or a photo album.
Go on a Nature Walk – Take Photos of What You See
Nature walks are the best for inspiring photographers. As well as landscapes, woodlands and ponds – the children can search for interesting things to capture pictures of too. Look for wildflowers and take close-ups, search for wildlife, whether that's insects or birds or butterflies. If it has rained encourage them to try and take pictures of rain drops on leaves or reflections in puddles. There are so may possibilities that will inspire them.
Take Family photos
This is always a great project for children. They can practise their portrait skills and how to frame a shot. They can take individual pictures of parents, grandparents and siblings. Then of course they can practise doing some family group photographs and not forgetting the pets too. They could have serious poses and some with silly faces too.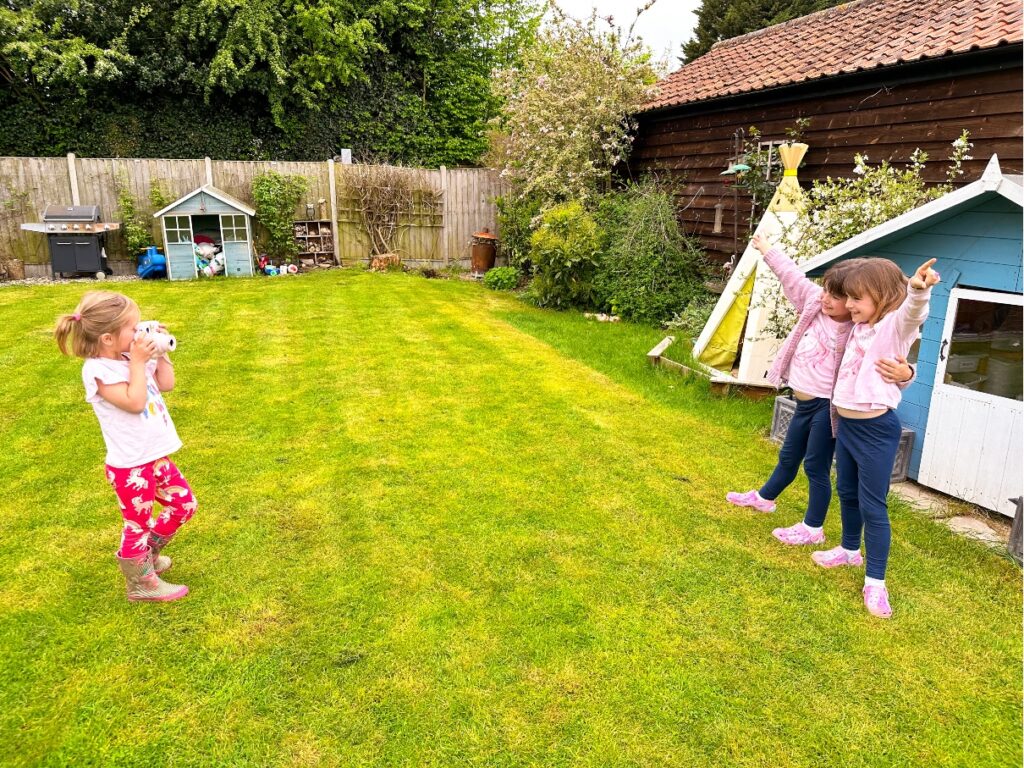 Review of the INSTAX MINI 11
The girls loved trying out the Fujifilm Instax Mini 11 Instant Camera, as it is super cute in its design. We found it very easy to use, with the cleverly hidden pop-out lens that is the same colour as the camera and appears when pulled out. We particularly love the selfie mirror, that was fun to use, and there are two customisable shutter buttons.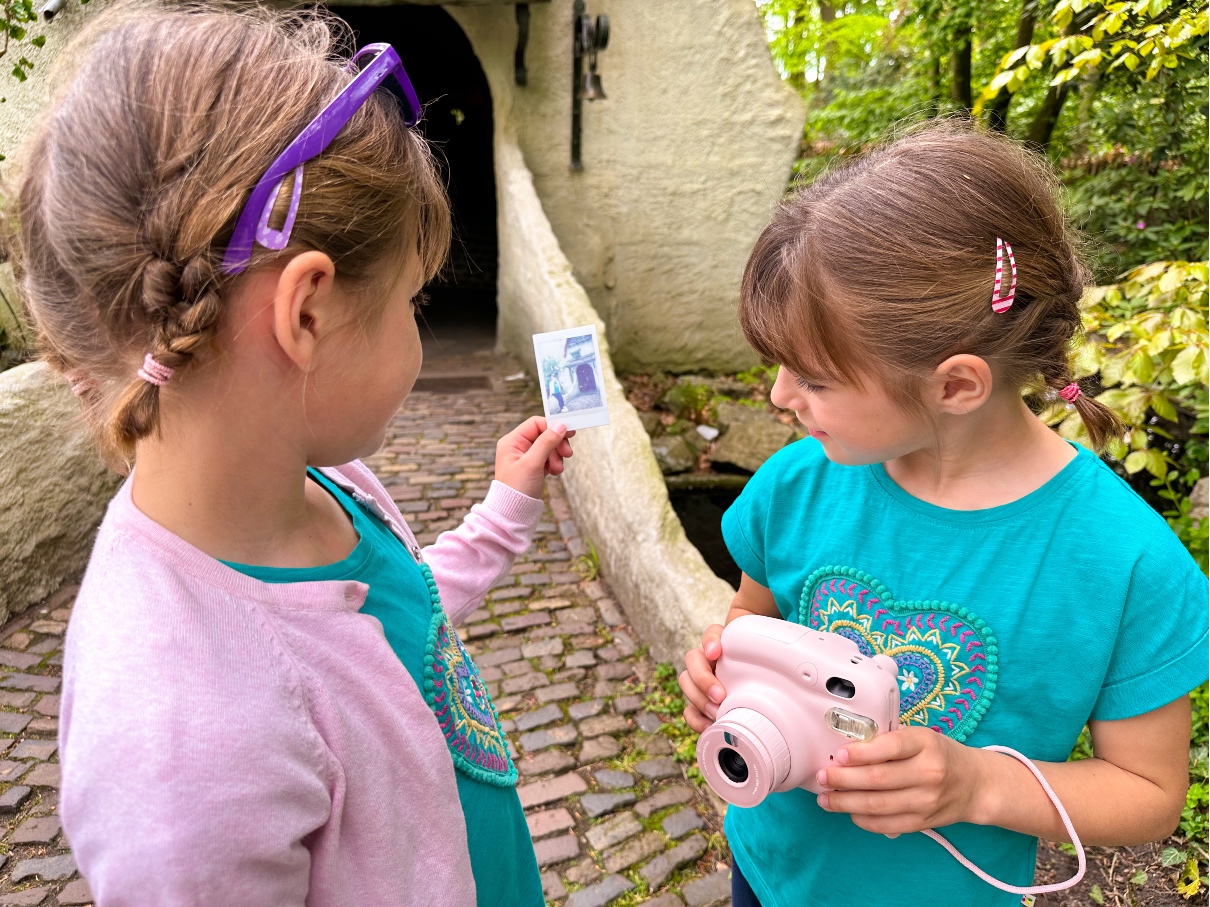 The camera comes in five subtle pastel like tones which include: charcoal grey, sky blue, blush pink, lilac purple and ice white. This camera is great to hold for smaller hands and also looks fabtoo. We all definitely had a lot of fun using it.
Below are the main dimensions and features:
Depth: 67 MM
Instant Camera
Print on Fujifilm Instant Color Film
Credit card-sized prints perfect for sharing
Built-in automatic exposure
Built-in selfie lens and selfie mirror
Two customisable shutter buttons
Delightfully small and beautifully designed
Height: 121 MM
Width: 107 MM

Main Features and Why it's Great for Kids
This instant camera is perfect for kids as it features automatic exposure which helps so much if you are in an area that is a little dark or too bright. This works by calculating the brightness of your environment, and automatically adjusting the shutter speed accordingly. The instant prints that it produces are credit card-sized and high-quality, just as you'd expect from Fujifilm. The camera is available in a range of six different colours and has round-edges that are perfect for smaller hands. The camera is also completely automatic, with the only user control being the ability to engage in the optional selfie mode. Overall, we rate this as being an excellent choice for children of all ages.