Here we are with Christmas fast approaching, children are jittering at the bit to get their Christmas lists written (if they haven't already!), and parents are wondering what the hell to buy their children,  So, if you have children under the age of 5, take a look right here – this is a really good one for present ideas this year!
I am always looking for presents  that will last the girls and not just toys that will  be played with for a few days. In fact, sometimes, I like some presents to be a little different and maybe not what they expect so I have tried to include a few unusual buys. I also try to include a compete mixture of toys, so some that are crafty, some that are educational, some that encourage children to play outside. So I have tried to bring you as much variety as possible. If you can't see anything that takes your fancy here, do take a look on the company website links as there are plenty more ideas on these!
Untamed Fingerling
The untamed dinosaur has been voted one of the top 12 toys for this Christmas! With 4 different colours to choose from, you have to beware of each ones snapping jaws and gripping claws from the Fingerlings Untamed Velociraptors. Your ferocious friend will interact with you and will show you affection but only once you've earned its trust. They're fiercely loyal, and will happily roar, hiss and chomp to scare off your enemies. Tame them all and take them on your next adventure, if you dare. Each one reacts to sound, motion, and touch – a great present for all those dino mad children.
Fingerlings
Friends at your fingertips. These are the complete opposite to the above! Cute little monkeys will be your child new best friend. With over 50 animations they will charm their way into everyone's home. Fingerlings are interactive toys that swing from your fingers and tell you how they feel. Each Fingerling responds to sounds, motions and touch with sweet gestures and cute noises, reacting to their surroundings like real pets.
My Fairy Light Garden
This lovely set allows your child to create a fairy garden of their very own. They will love showing fairies Heather and Evie their new home along with friends the baby unicorn and hedgehog. All they have to do is sow the grass seeds provided or you could plant your own flowers to grow a lovely garden!  There is also a mini bridge so you could connect to other fairy gardens as well.
Included is an enchanted fairy mushroom home that doubles as a night-light. All you have to do is blow on the magic candle through the window to make it light up, accompanied by gentle harp music!
Fairy Picnic Basket & Fairy Watering Can
Every fairy mad child needs one of these picnic baskets to accompany them on summer picnics, on recreate one in the lounge in chillier months. The basket opens up to allow the fairies to hop inside for lots of fairy fun. The set includes a folding picnic blanket, fairy figure, bunny figure, a tea set with cups and teapot, plates and a cake stand with two delicious fairy cupcakes for Blossom and her bunny friend.
A cute Fairy Watering Can from the My Fairy Garden collection. Not only is this a gorgeous fairy house for those magical little fairies, but it is a functioning watering can too. It encourages your child to take care of the plants and flowers around them.
My Mermaid Lagoon
Another fabulous crafty toy for your child to make and enjoy. I'm loving that the girls are now starting to sit and want to make things for short periods of time. Here they have to sculpt and play with the glittery sand to create an enchanting 'under the sea' scene – anything with glitter gets their vote!
You can then take your mermaid anywhere in their clamshell homes as they fit in your pocket! 1 supplied but 3 to collect.
The Puppet Company Tree House Hide-Aways
This is a fabulous gift that encompasses 6 finger puppets all in a tree trunk. Each animal has a home of its own which it peeps out of and a small door at the front. It really is a versatile set, in bright colours providing hours of interactive play either on their own, or with others.
Wilberry Flamingo
These delightful soft toys are part of a new collection from Wilberry and they are just waiting to be played with. They have the most appealing expressions and personalities. Made from wonderfully soft fabrics, they are great for all children over a year.  These make great stocking filler presents. CLICK HERE TO BUY
Wilberry Mouse Dancer
This is one for all the budding little dancers out – the adorable Mouse wearing a beautiful tutu! With limbs small enough for babies to hold onto but large enough for children to dance and be merry with. This collection, captures the grace and beauty of dancers. CLICK HERE TO BUY
BABY Born Little Sister Mermaid
One thing I have noticed with the girls getting older is the lack of bath toys about. There are plenty for babies and toddlers but they are now passed this stage, so when I came across the BABY Born Little Sister Mermaid, I was literally jumping for joy, they are just the perfect toy for the twins.
BABY Born Little Sister Mermaid has an appealing turquoise tail and is totally water safe. She loves nothing more than swimming through water, bringing even more fun to bath or swimming time.With a halter neck and tiara, BABY born also has gorgeous long blonde hair with purple streaks to brush and style with the comb included. Length: 46cm
Baby Annabell – Milly Feels Better
If your little one loves dolls, then they will adore Milly. Milly Feels Better is an interactive, responsive Baby Annabell. One minute she is a happy baby and playing like all babies do, and the next she has red cheeks and is crying uncontrollably. What could possibly be the matter? It is your child's job to find out. Children can take her temperature, check her heartbeat, feed her medicine with the doctor's spoon and give her an injection. Little Milly will be sure to feel better in no time!
Like all Baby Annabell dolls, this encourages role play, language development and the development of responsibility and empathy. Milly feels better also lends herself to discussion about going to the doctors, taking medicine and having injections. The doll is 43cm and comes with a romper outfit and doctor's accessories. This is also a good present if children are having to experience something new at the doctors because you can model it  and explain it with Milly first.
Learning Resources Design & Drill
I love this child-friendly power drill set. It teaches STEM learning – science, technology, engineering and mathematics by arranging and drilling the designer plates and bolts into gorgeous, garden-worthy patterns and designs. It even comes with its very own fabulously vibrant case to pack everything away in.
This activity builds on kids' hand-eye coordination, patterning, and problem-solving skills whilst inspiring creativity and imagination. This set includes a fold-up flower board (doubles as a portable carrying case), power drill, 60 bolts in 5 fun colours, 6 designer plates, butterfly clasp, Phillips bit, flower bit, and guide with 12 patterns.
Smart Scoops
This brightly coloured educational toy makes mathematical learning fun. It teaches many different skills including colour and number recognition through sorting activities whilst the scooping builds fine motor skills. All children love anything to do with ice cream so I know they will have so much fun with this one.  It includes 53 pieces that all store securely in the ice cream tub with lid and an activity Guide includes 7 fun and engaging activities.
WOW Robin's Medical Rescue
WOW toys are super safe and built to last and with young children in mind. Open Robin's sliding door or push the secret button to release her backdoor ramp. The boy fits snuggly into the wheel chair or stretcher. You can place him onto the x-ray machine and push down to see if he needs an operation! This includes: 1 motorised Push & Go ambulance, 1 injured boy Play Friend, 1 paramedic Play Friend, 1 stretcher and 1 wheelchair accessories. CLICK HERE TO BUY
WOW Ernie Fire Engine
Place the fireman friend on top of Ernie and twist him round to rotate the ladder into position. Push the WOW button to open his backdoor. This clever robust design will last forever and never needs batteries! Includes: 1 motorised Push & Go fire engine with rotating ladder and 1 fireman Play Friend figure. CLICK HERE TO BUY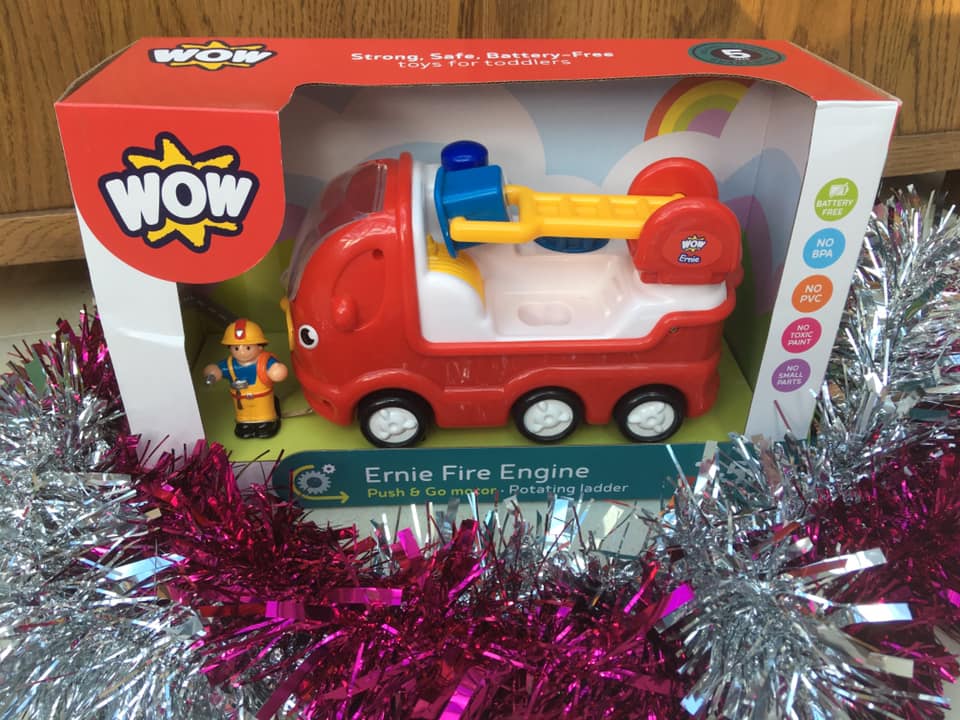 WOW Bath Toys – Pip the Pirate Ship
Children will love these toys and have a lot of fun at bath time.  Pip the Pirate ship has a naughty pump and water squirting action out of the cannon. The pirate boy Play Friend steers the ship's wheel and the sail doubles up as a water scoop!  Includes: 1 floating pirate boat with water squirting cannon, 1 removable scoop and pour sail, 1 water pump and 1 pirate Play Friend figure.
WOW Suzie Speedboat
Susie speedboat flips open to reveal her cabin and table set. Her friendly floating dolphin Animal Friend is always close by and joining in all the fun. Includes: 1 boy Play Friend, 1 girl Play Friend and 1 floating dolphin Animal Friend.
Little Brian Paint Sticks
For all those craft loving parents who hate mess – yes that's me!! Well look no further. Little Brian Paint Sticks are fun, clean, simple and very convenient way to paint. Little Brian Paint Sticks can even be popped into a travel bag to keep the children entertained on holiday too!
Little Brian Paint Sticks are water soluble and child friendly. All you need to do it twist up and down, exactly like a glue stick! So, there is no need for water or brushes. Available in packs of either 6 or 12 different colours, these super silky paints use strong vibrant colours and can be used on all sorts of surfaces including paper, card, canvas and wood and Little Brian has a little secret – they can even be used on windows!

Scoota Friends
Does your child have a scooter or bike that they love whizzing around on? Or are they still a little nervous and need a little encouragement? One thing that helped the girls to get going was to take their teddy with them in their Scoota Seatz. This little seat sits on the front on the scooter and has an adjustable seatbelt to make sure teddy stays firmly in place. They love it as a present!
Or invite your Scoota Headz to come too. Again, this fits on the t-bar at the front of your scooter (and some bikes) and makes it look super funky – your child will love it! They come in three designs, ponies, dinosaurs and unicorns!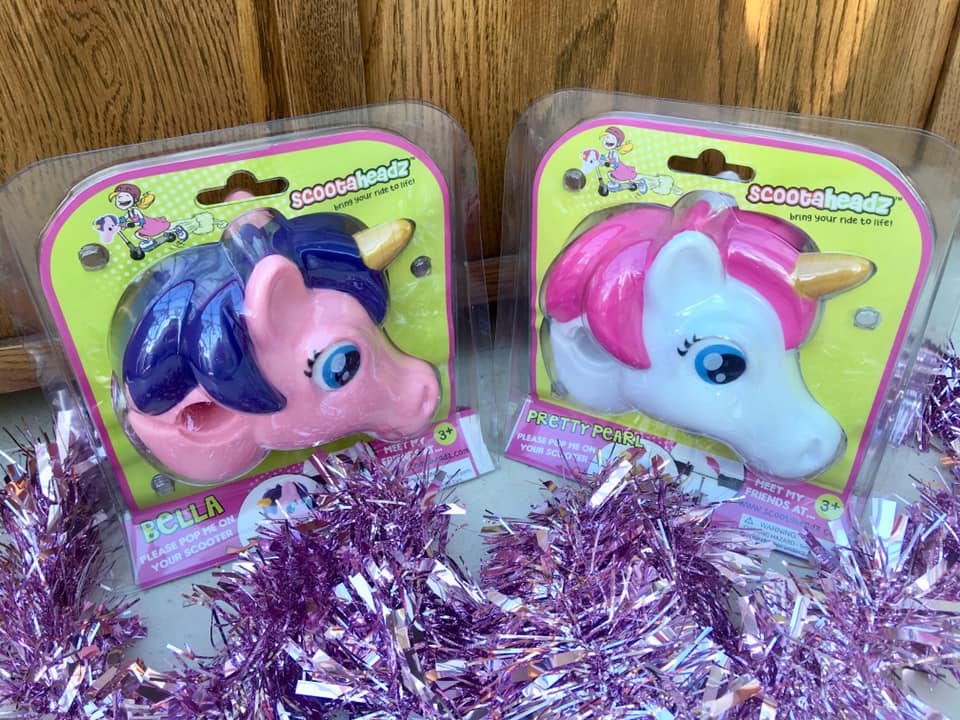 Magical Little World Cherry Red Magic Door & Christmas Decorations
This year, on the 1stof December, the twins will have one little present that will come early. Their Christmas fairy and elf! A bright red door will appear, decorated ready for Christmas along with a note introducing themselves. Christmas is such a magical time of year so why not make it last the whole month!
You can buy so many other colour doors, that you can have a whole fairy empire living round your home all year. They really inspire the children's imagination and it encourages they to write them notes and draw them picture. As well as the doors, there are also lots of accessories that can be bought in addition. CLICK HERE TO BUY
Frilly Lily Fairy Post Office Activity Set
These gorgeous products from Frilly Lily are great for your child to write and post messages to their fairy friends. What better way to let the imagination running wild and encourage writing skills. Each set comes packed in its own special case and post box. The fabulous Fairy Post Office Activity Set contains a tin post box, fairy stamps, stickers, note pad and a pencil. Fairy village order cards, fairy note cards, fairy envelopes, fairy flying certificates and want licences. CLICK HERE TO BUY
Frilly Lily Fairy Village Activity Set
The fairy village activity set is presented in a delightful A4 sized storage tin with handle . This set is packed with imaginative stationery items designed to keep little minds occupied for hours! Contents include fairy stamps, fairy stickers, mini cards and envelopes, notebook and pencil, fairy account cards, fairy note cards, village store orders, fairy envelopes, wand licences, flying certificates, acorn bakery forms, twinkletoes dance academy cards and firefly party supplies order cards. They really have thought of everything!
TonieBox
The Toniebox has only just arrived in the UK and it is here to introduce new ways to listen to stories. The Toniebox acts as the speaker, and the Tonie figurines tell the stories or sing the rhymes. Available in six stylish colours, the eye-catching cube allows children to take control of how and where they listen to things – place a chosen Tonie on top of the Toniebox and the audio content will start playing; remove the Tonie and it will stop. Playful ears on top of the Toniebox can be used to turn the volume up and down – how amazing is that! CLICK HERE TO BUY
There are two types of Tonie; pre-recorded, which play classics like The Gruffalo and The Snowman, or nursery rhymes, and other Tonies allow you to record your own stories on so your child can listen to you, or a grandparent reading them! Tonieboxes are great because once set up, they are easy enough that children can operate them, all on their own. CLICK HERE TO BUY
Fantasy Hatch Eggs
The Fantasy Hatching Egg comes in pink or purple and hides either a fairy or a unicorn in every egg! Place the egg in water and watch your egg hatch and grow! It will expand for up to 2 weeks and shrink when removed from water! They are 15cm.
Goula Animal Foam Stickers
Children will have lots of fun with this Goula Farm Animal Stickers set. It is a great activity for children to develop their fine motor and maths skills, particularly colour and shape recognition.
The aim of the game is to fill the spaces with the correct foam shapes that match with the colours on the design. This activity includes six different picture cards that feature different animals such as a chicken, elephant, starfish, cat, fish and tortoise. As well as over 170 stickers.
Goula Stamp Activities
This is a great activity for children to develop their expressive arts and design skills whilst exploring their imagination. Children will love using the coloured stamps to make your own creations! The sheets include pictures of a giraffe, the sky, the ocean, a car, butterfly. The activity includes 60 activities, 6 wooden stamps and 4 coloured ink pads.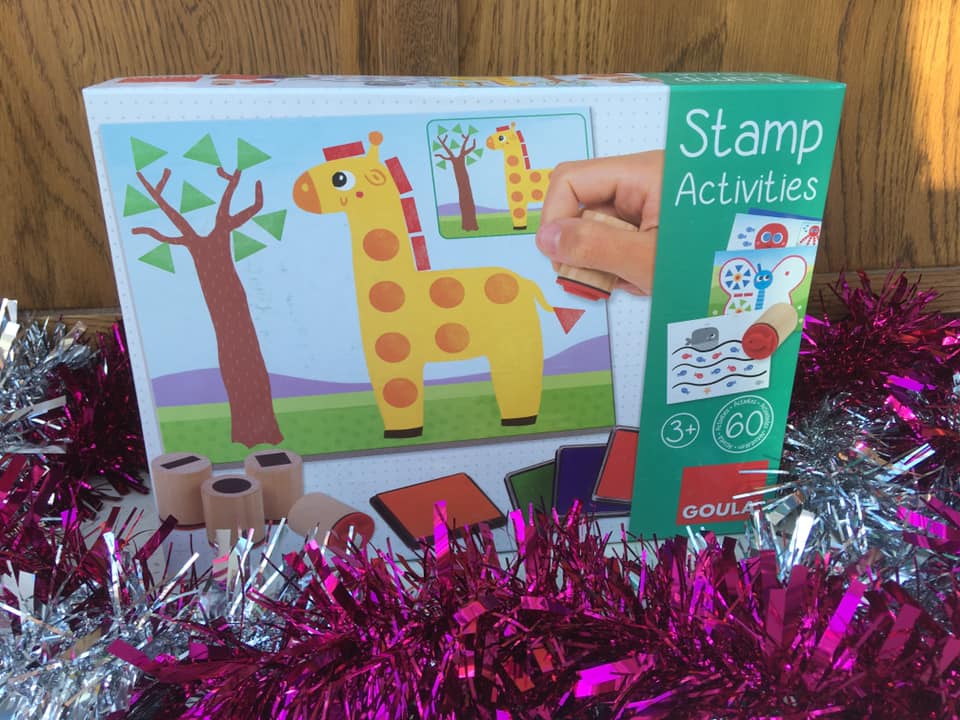 Sylvanian Families Ballet Theatre
Do we have any budding ballerina's out there? Sylvanian family fans? Well you are going to love this one! This ballet theatre comes complete witha practice barre, chairs and entry tickets, everything you need for your Sylvanians to add a little magic to their evening. And not only that but it also plays music from Swan Lake and The Nutcracker through the built-in speakers or you can connect your own music using an audio cable.Includes ballet theatre, stairs, practice barre, coat hanger, chair, backdrop sheet, floor sheet, tiara, Chocolate Rabbit girl (ballerina design), figurine stand (for ballerina figurine only), tickets x 3 (total 13 parts). Includes Story Book.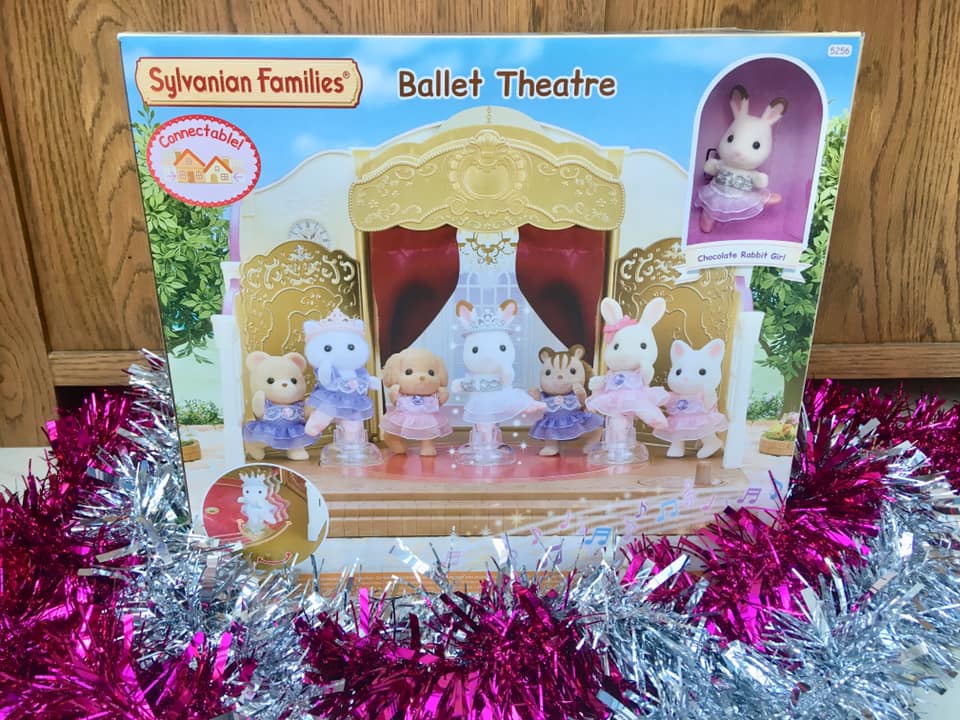 Sylvanian Families Friends Set
Rebecca Periwinkle and Nora Teak are dressed in their beautiful tutus, with matching tiaras ready to wow their audience at their ballet show. Watch them twirl on the stage of the Ballet Theatre (sold separately), their smiles and talent shining.
Zoo in a Tin
Zoo in a Tin is just as it says! It is the perfect toy to be played with anywhere, at home or on holiday. This tin comes with animals, zoo keeper and enclosures, ensuring hours of play time. The chunky pieces can be packed carefully back into the tin.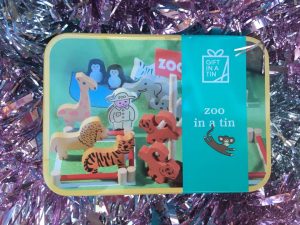 Tea Party in a Tin
Children love mini toys, so what better way to spend a rainy day than to have a tea party with your your favourite teddies and dolls. Who could resist this delightful spotty tin, which is packed to the brim with a charming tea set that youngsters will love playing with. Items include a dinky ceramic teapot, 4 cups, saucers, spoons and mini picnic blanket.
Playmobil Country Horse Show
I still remember playing with my Playmobil as a child. I had all sorts of sets and since then their range has just grown and grown. There really is something for every child's interests. This set is great for imaginative play where children can either play alone or with friends.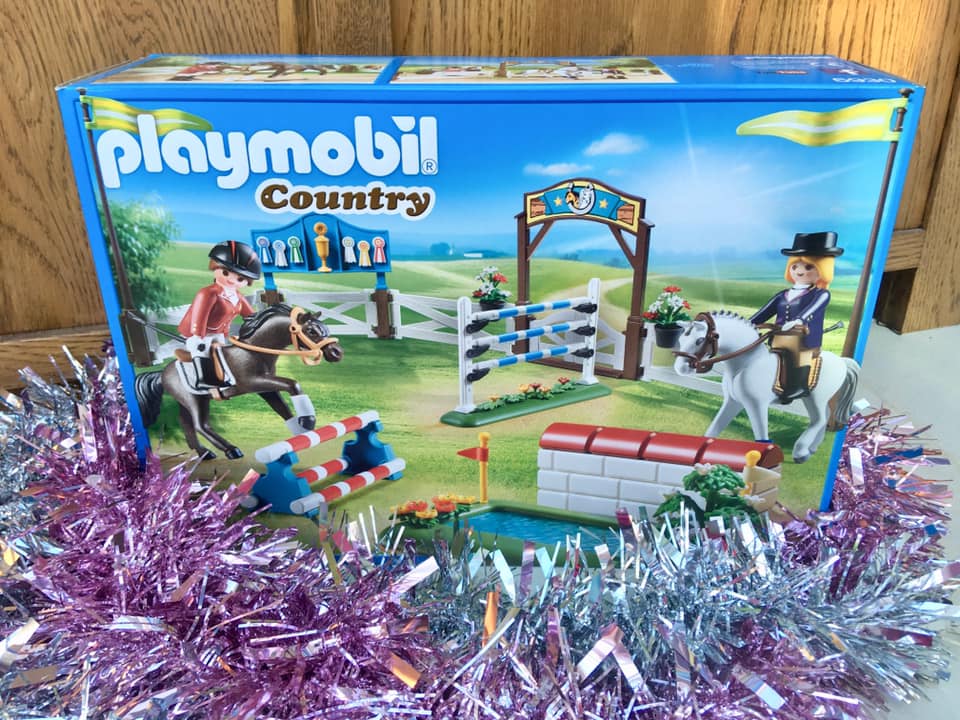 The Playmobil Horse Show is the perfect show jumping set for horse or animal mad children. Set up the show jumps and compete against one another, or have a lesson in the arena. The set includes 2 horses and riders, a selection of jumps and lots of accessories including rosettes and championship cup.
Baker Ross Creative Crafts
Baker Ross is always my go to company for arts and crafts. I love choosing so many of the exciting mini projects they offer which are so suitable for the twins. They have everyday craft packs where children are able to use their own imaginations and skills, or for those less creative, or parents who enjoy mess free creativity like me, they do ready-made crafts with pre-cut shapes for children to complete. They sell craft accessories such a glue, paper and card and seasonal projects too. We have loved making our Christmas decorations this year!
DISCOUNT CODE: Until the end of the year, use the code PTWINS20, and you will receive 20% off ALL orders!
TY Flippables
Flippables are the biggest hit in our house, sequins and a teddy all in one – how amazing is that! These fabulous plush toys are simply impossible to resist it! Reversible sequins change the colour as soon as you like. The Flippable soft toys are available in 2 sizes 15cm and 23cm and there are 10 designs to collect from cats and dogs, to owls, unicorns and dinosaurs. The purple owl is at the top of Tabitha's list!! But there is more, you can now also get bags, purses and even shoes so lots of presents for everyone!
Robo Alive Spider from Zuru
Creepy, crawly, and super scary – Crawls like a real spider! Zuru's new Robo Alive Crawling Spider is the spookiest pet ever! Pick it up if you dare- then let it loose to frighten your friends with real, skin-crawling super-fast movement – and a furry spider body! Comes with 2 spiders. Size H3.2cm.
Gingerbread Man Hand Puppet
This is the perfect present for all those book loving children. This is a beautifully designed hand puppet lets children retell a well known story. Not only is this puppet great for individual play, but it also encourages role playing, language and literacy  with others improving their confidence and communication skills. The finger puppets are stored in pockets on the hand puppet making it easy to keep the whole set together in one place. CLICK HERE TO BUY 
STAX Hybrid – Snapping Crocodile Set
STAX Hybrid combines classic toy bricks with light and sound bricks. The snapping Crocodile Stax Hybrid fits the famous lego building blocks with the Stax Hybrid you build new light sensations that are activated by movement. Product Dimensions 21 x 21 x 4 cm.
Choose from one of six STAX animals. Watch their eyes light up and hear sounds from the swamps to the savannah! STAX Hybrid animal sets range from a Snapping Crocodile and Trumpeting Elephant, to a Growling Dinosaur, Droning Giraffe, Roaring Lion, and Meowing Cat.

It's not all about toys!
As I mentioned in at the beginning, sometimes children love gifts other than toys, or they have sooo many toys that other ideas are needed, so here are a few goodies for you!
The Oak and Rope Company – Personalised Pin Boards
I always look for a few gifts that are a little different. Now I know children love toys at Christmas, but I know the girls are going to love these. They are their very own personalised artist boards. A space for the girls to put their own special pieces of artwork that they create (the ones I don't bin!!) and it will now  take pride of place on these boards. CLICK HERE TO BUY
The boards are made beautifully of solid oak and measure approximately 59 x 44 x 2 cm, 68 x 54 x 2 cm with the 4cm frame. This is a present that will stay with them forever and can be bough for any age young or old. You can also choose between a cork/pin board or a chalk board insert. The Oak and Rope Company sell several other wonderful oak products to suit all budgets and many which are suitable for the whole family so it might be worth taking a look at their whole range HERE.
This is nessy Personalised Christmas Story Book
This is Nessy's first illustrated children's story. Your child, children or family are the stars of this heart-warming tale of a little robin's quest to find his way back to his nest.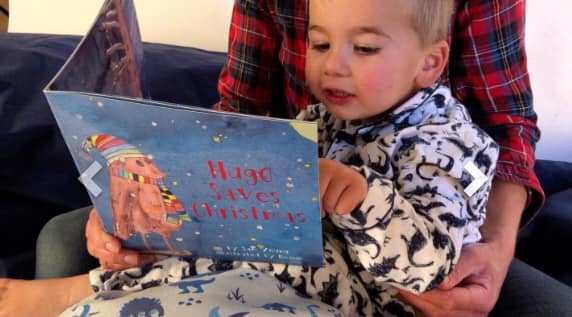 Set on a snowy Christmas eve, the first hint of trouble is when a little noise is heard outside the front door. There on the doorstep is a robin, well wrapped up against the chill but crying as he has fallen out of the nest and is fearful that Santa won't come. This story is simply magical. You can choose to include, one or two children, or the whole family – how lovely is that. Aimed at children 0-6, but some older children will just love it too! CLICK HERE TO BUY
This is nessy The Classic Welly Boot Print
The original welly boot family print looks fabulous on your child's bedroom wall. There are wellies in every colour and some awesome patterns. Choose from a range of accessorised wellies, add bunting or festoon lights and then personalise your print. Create a unique and personalised print that will be treasured forever. CLICK HERE TO BUY
Available in 3 standard sizes, a panoramic print, a family tree print and 3 choices of frames.
This is nessy Thank You Cards
Nessy's personalised Christmas thank you cards won't write themselves (oh if only!!), but they do make thanking Auntie Mavis for a pair of socks a lot more fun. Perfect as a gift for children and adults alike. They make the perfect stocking fillers too.
Little Zoo Keepers Zoo
Hands up if you have far too many teddies – we certainly do!! Iona, the lady who stands in front of these bars thought just that and this was the reason for her coming up with this wonderful idea. "Those furry friends have had it their own way for too long. They've been free to roam as they please and set up camp wherever they fancy. It has got to stop." And that's when little Zoo Keepers was born. CLICK HERE TO BUY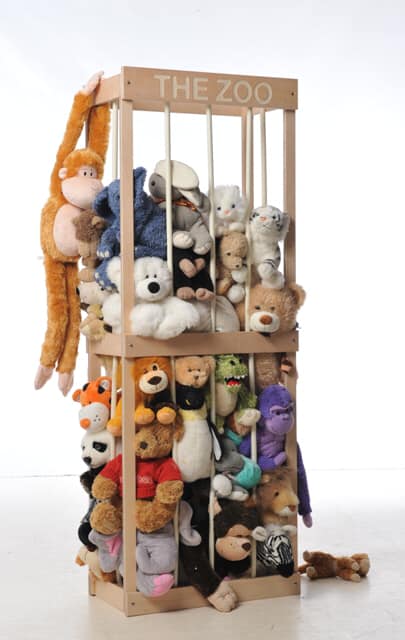 This is a genius way to store teddies and keep them out of the way. Children can remove and replace their toys easily and for safety, it can also be screwed to the wall. It does come flat packed, but it is fairly easy to put together!!
Colour Chronicles – The book for you: A record of childhood
You may already have a baby book from when your little one was born, but it really only records that first year, well Colour Chronicles has this; A really beautiful book for children and their grown up to record all the wonderful moments and memories from age one to sixteen. A series of fun questions to be filled out every year which promote delightful answers and builds into a lasting memento to be treasured for years to come. I can just imagine sitting down with the twins in years to come going through these – It will be such a giggle! CLICK HERE TO BUY
Dream Box, Toy Boxes
Every child needs a secret place to store all of their special toys in, and Dream Box, Toy Boxes are just perfect for this. You can choose the colour and design of your toy box, as well as having it personalised with your child's or children's names.
Available in three sizes.
Standard = 600l x 400d x 510h in mm
Medium = 700l x 400d x 510h in mm
Large = 800l x 400d x 510h in mm
Snuggle Sac
Children adore Snuggle Sacs. They are just the cosiest thing to snuggle into on a cold winters night in front of the TV, or to take to bed. The Snuggle Sac is a 5.2 tog a specialist sleeping bag designed to replace conventional bedding and can be used every night whether at home or away. Perfect for camping, glamping, and holidays. There is a great selection of colours and sizes for all ages, from 1 year olds to 99 year olds! CLICK HERE TO BUY
** These products were gifted to me for the purpose of this article.
** This post also contains affiliate links which if you chose to purchase from them will earn me a small commission at no cost to yourself.
If you have enjoyed this and found it useful, then why not take a look at these;
Gift Ideas for Babies by Twins, Tantrums and Cold Coffee
The Ultimate Children's Gift Guide  Stressed Mum
Christmas Stocking Fillers for Children by  Just Average Jen
The Twindividuals Christmas Gift Guide by Mummy2twindividuals
Go on, pin it!