Sleep… boy do I need sleep, and if you are reading this, then you probably need sleep too. When I found out I was pregnant with baby number three, it made me remember how incredibly lucky I was that the twins were very good sleepers from day one. They had to be because as sad as it sounds, there were two of them and I didn't have the time to rock them to sleep as there was always the other one to feed or change!
I didn't use a Sleepyhead with the twins, being a new parent, I didn't really know what was available on the market. The twins slept in the moses baskets both during the day and night, but since having seen a couple of our friends use the Sleepyhead and hearing them rave about it, I started looking into one just before we had Matilda. I needed to do all I could to encourage good sleeping as we are so full on with the twins, I knew I needed as much sleep as I could get and anything that could help a new baby settle, I was up for trying! So when we were offered the opportunity to review one, I jumped at the chance.
What is the Sleepyhead Deluxe?
The sleepyhead gives babies a sense of security.  It makes them feel like they are being snuggled in your arms and feels safe for them. It is like a sleeping pod. The Sleepyhead is made up of a mattress at the bottom, which is made from 100% polyester, and then a tube like padding around the sides. It is made from breathable and hypoallergenic material that is also washable.  So far it has washed really well!
Can my baby sleep in the sleepyhead overnight?
This question seems to arise a lot when it comes to the Sleepyhead and it is a very good question. I therefore asked Sleepyhead what they advised and this is what they said:
"Sleepyhead is safe to use for overnight sleep as long as it is used in a child safe and supervised environment.
Numerous happy parents use our products every day. Our products are designed with safety in mind and have undergone extensive testing and even comply with voluntary standards. Sleepyhead is a multi-functional baby and child product. Our product also passes the British Standard for air flow through infant pillows, BS 4578, that was published in 1970 and confirmed in 2013. Used in accordance with its instructions—which include using the product on a flat, firm and stable surface, and placing a baby on his or her back to rest, with no loose items present —Sleepyhead may be used for overnight sleep. However, children may have urgent needs and every child – no matter the environment – needs to be checked on. No product replaces a caregiver's supervision, and our products must be used in a child-safe and supervised environment. Supervision can be constant or intermittent, depending on the specific child's health, physical ability and current development stage in combination with outside factors such as the overall sleep setup and the combination of potential products and gear used."
Is the Sleepyhead portable?
I love love love the fact that the Sleepyhead can go anywhere with you. It is perfect to move sleeping baby from one room to the next whilst doing jobs, or to be put to bed in downstairs but then carried upstairs before the last feed. It is great for taking on holiday, or onto film sets and you can buy a super travel bag to put it in.
Does the sleepyhead fit into a moses basket or similar?
We don't have a moses basket so we borrowed a friends to try this and no it didn't fit. It was very squashed and unsafe. We have a Chicco next to me crib and it does fit in that. We use it in there during the day but we also have movement monitors which we switch on.
Does the sleepyhead fit into a cot?
Yes! And it is great to use when transitioning to the cot as baby would be familiar with it and help to settle in a new environment quicker.
How long will my baby fit in a Sleepyhead Deluxe?
The Sleepyhead Deluxe is recommended for babies 0-8 months, you can then move onto the Grand which is suitable for 8-36 months. And yes, I will be looking at the Grand when the time comes!
Does the Sleepyhead come with a cover?
It does come with one cover but there are lots of different fun designs to choose from. We have these two, but you can also see all the other designs if you click HERE.
Would I recommend the Sleepyhead?
Absolutely yes. I use the Sleepyhead daily. It is great when just at home to both sleep in and move baby from one room to the next, but also perfect for travel. We all know it takes children longer to settle when they are away from their home environment so by taking the sleepyhead, it means they are used to it.
So far we have taken ours for weekends away, and on days out when Matilda has been filming, so that she has somewhere to sleep in between scenes. As mentioned above, you can buy this travel bag as an extra and I would highly recommend getting one if you intend to use it on the go!
Once Matilda grows out of her Sleepyhead Deluxe, I will be looking in to getting her a Sleepyhead Grand. These are for babies 8 months – 36 months.
Popitha's final thoughts
Sleep deprivation is a real killer when you are a parent and I will do all I can to help me get through those early days of sleepless nights. Matilda very quickly settled in to her sleepyhead and often falls asleep instantly. She has been a bit of a roller, being able to roll onto her side the day after she was born so this is great for keeping her on her back. We love the different cover designs you can buy for the sleepyhead and we will probably end up having more than we really need, just because I love them!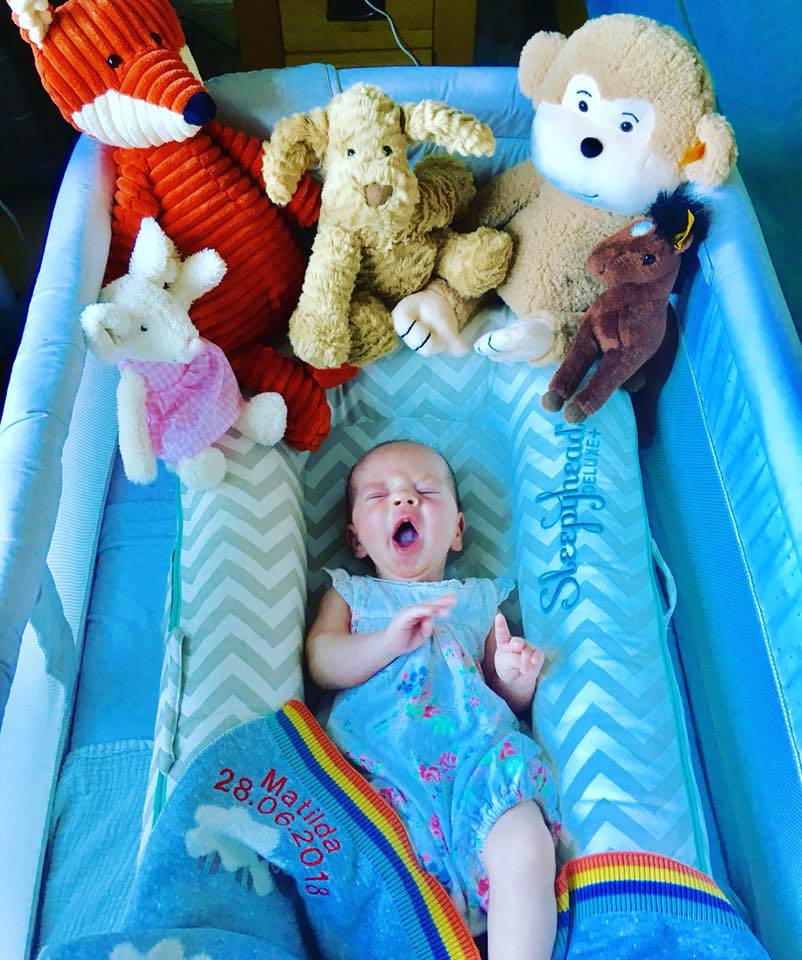 Soft toys from The Bear Garden – Jellycat & Steiff
Where can I buy a Sleepyhead?
To buy your very own Sleepyhead CLICK HERE
** The Sleepyhead was gifted to us in exchange for this review but all thoughts and opinions are Popitha's.
If you enjoyed reading this, you may also like to join us on Facebook, and read these.
GO ON, PIN IT