Going to the beach is something that I and my husband love especially with the girls. But travelling with them is never an easy task.   A great holiday requires planning and packing. It is quite stressful when you are worrying about the things you need to bring as if you forget something, especially the snacks, it can be game over!  So I would love to share with you my Ultimate Guide of Beach Bag Essentials For Family With Kids which includes a free printable to help you remember everything. Don't forget you phone or camera and small camera accessories too so you get to capture some beautiful moments.
(**The article contains affiliate links.  I may get a small commission from these but there is no extra charge to you)
Essentials
This is for the whole family, not only for our kids. Everyone should remember to bring these as they are very important and help you to enjoy your time at the beach.
Beach Shoes
Aside from sun protection, one of the most important things to bring on a beach holiday is foot protection. The sand can get so hot and it is better to have the right beach shoes. Choose those flexible ones and make sure that it is comfortable and has drainage points which can help to try dry fast. These ones from Mountain Warehouse have been just great and I can't fault them. The girls say they are comfortable and they are easy to get on.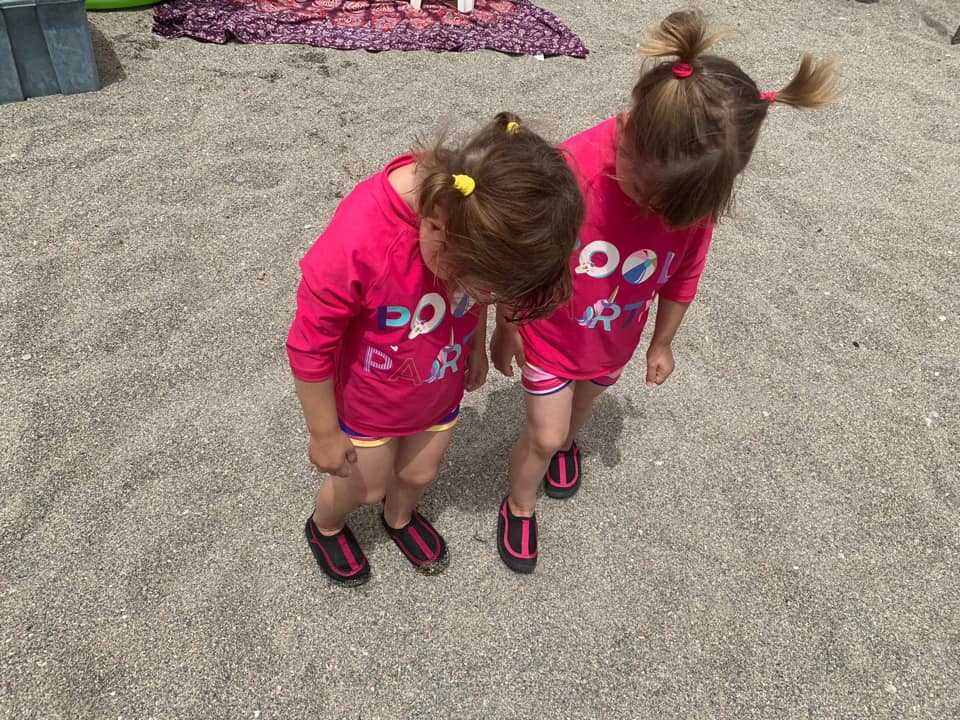 Muslins
Use a Muslin for a cover-up, blankets, and even towels to get the sand off  tiny feet.
Talc
This use when we need to remove sand to our kid's body. It helps to soak all the moisture.
Sun Hats
Sun hats are a must to protect our kids' head from extreme sun heat. Make sure to choose hats that are wide enough to cover up their faces and protect them from UV ray down to the neck.
Sun Cream
Sun Cream is one of the essentials that we need to bring all the time. This could help our kids protect their skin from extreme heat. Choose broad-spectrum with the highest SPF. I prefer to choose Sun Cream with SPF 30-50.
Travel Towels
I have recently investing in a family set of travel towels. Need something to dry your kids after swimming? I always try to bring two or more towels with me and I like the over-sized ones.
Beach Throw
Forget your typical beach blanket and go for something larger. This is one of my favourite summer accessories as it makes for a great play space on the sand for little ones. I love the bohemian style.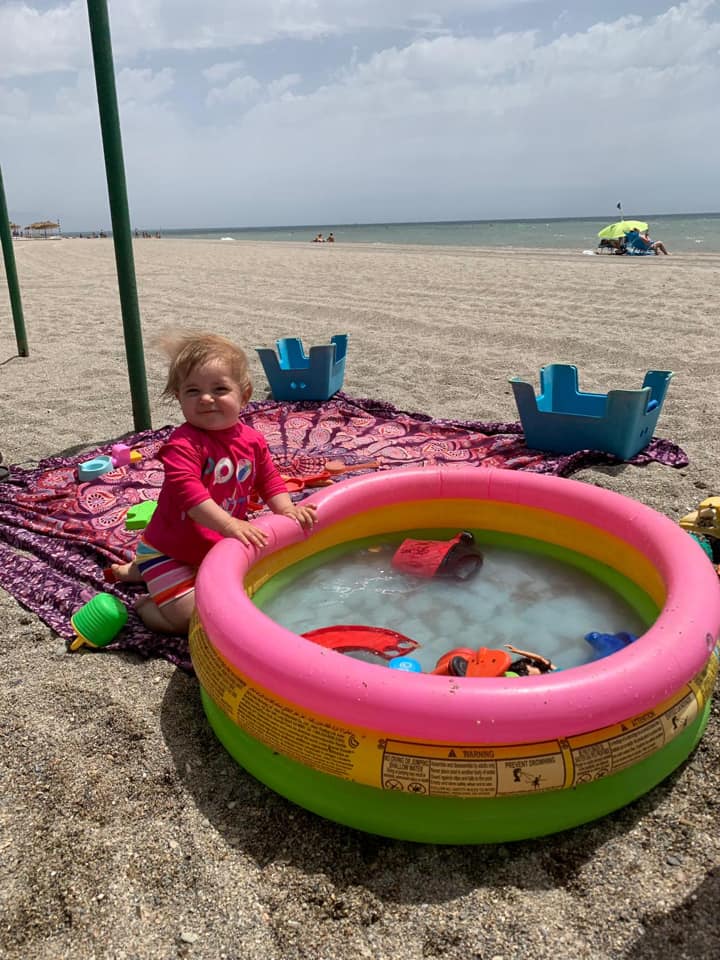 Food
Even though there are often lots of restaurant within the area, you need to consider in bring something to eat for your kids, you know what they are like if they don't have food! While in the car, while at the beach and for an emergency if you always need food!
Drinks
You must stay hydrated while on holiday. Let your kids drink lots of water to reduce the risk of dehydration. Remember to buy bottled water.
Snacks
Off course, don't forget snacks for your kids! Make sure to bring a healthy one and choose to bring food that packs easily and lasts in the heat.
Rubbish Bag
You need several of these for food waste. Isn't it great that after swimming we stay clean and help our environment too by keeping leftover foods in a proper waste bag. They are also good for wet swimwear.
Food Bag
It is best that you keep food separate from the main bag to try and keep the sand out if possible. I always pack a small kids rucksack to put this in as it will have multiple uses on holiday such as putting toys in when you go out for dinner in the evenings. This Mountain Warehouse one is only 6L and the perfect size for kids or adults to carry. It comes in a variety of colours and styles.
For the kids
Spare UV Swimwear
Every kid needs proper UV swimming clothes but once they are wet and sandy, they whip them off. Be prepared by taking a second set for them to pop on whilst the others dry. I am glad that there is available UV swimwear that protects your kids from UV rays.
Swimming Nappies
This is important. These nappies are designed especially for swimming. These are not a substitute to a regular one but can prevent wee and poo from leaking into the water for a short period. Just make sure to check it time by time.
Wet Wipes
After a long, sweaty day in the sun, you will need to have some wet wipes on hand. They're good for everything and one of the best travel essentials for kids.
Sun Tent
We have a sun hat and sun cream to protect our skin from UV rays but a sun tent or portable travel bed is great for little ones to give them time out of the sun. This can be used on the beach or even in the garden.
Sun Hat
Not because of being stylish but for our kid's protection as they are prone to sunburn.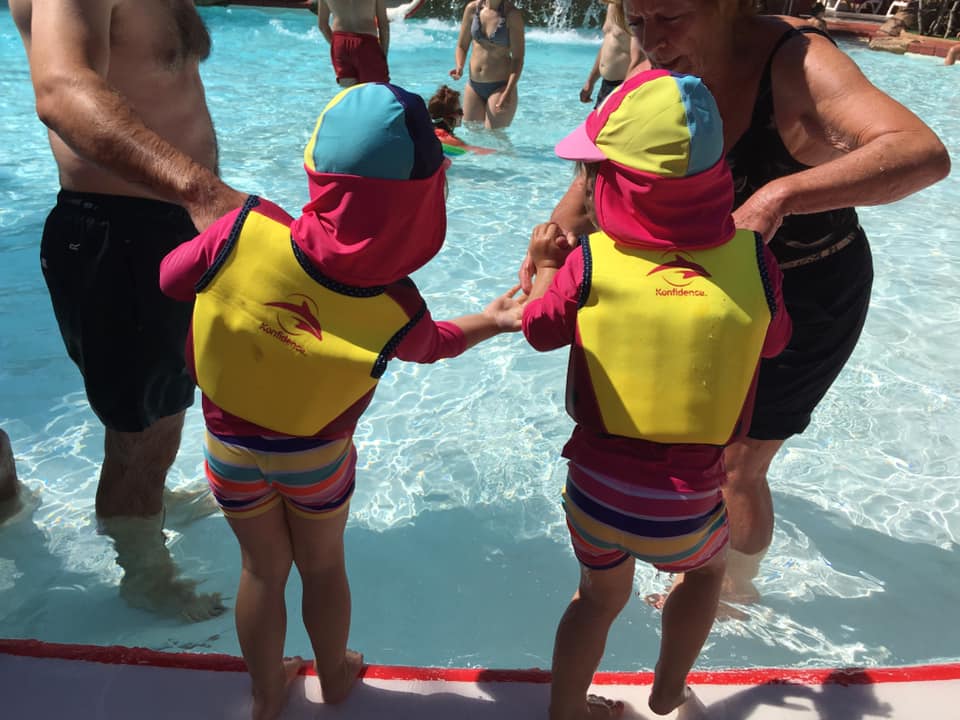 For Playtime
Floats
Oh! Who loves doughnut floaters – make sure to bring the cutest and most colourful one!
Armbands/Life Jackets
Every non swimmer needs armbands or a swimming jacket for their safety and also for support. Don't forget to make sure they are with an adult at all times.
Buckets/Spades
Beach is not complete with these two amazing toys that even adults can play and enjoy. These are an ideal toy for every kid while on the shore.
Paddling Pool
A small paddling pool is just  the best idea for those going on a beach holiday with babies. It allows them to play in the water safely and keeps them close to you. To fill it up, take a few carrier bags with you so you can fill them with water and carry them back and forth easily.
So it's  now time for you to print and start packing that bag – check out this printable beach bag check list!
Beach Bag Essentials PDF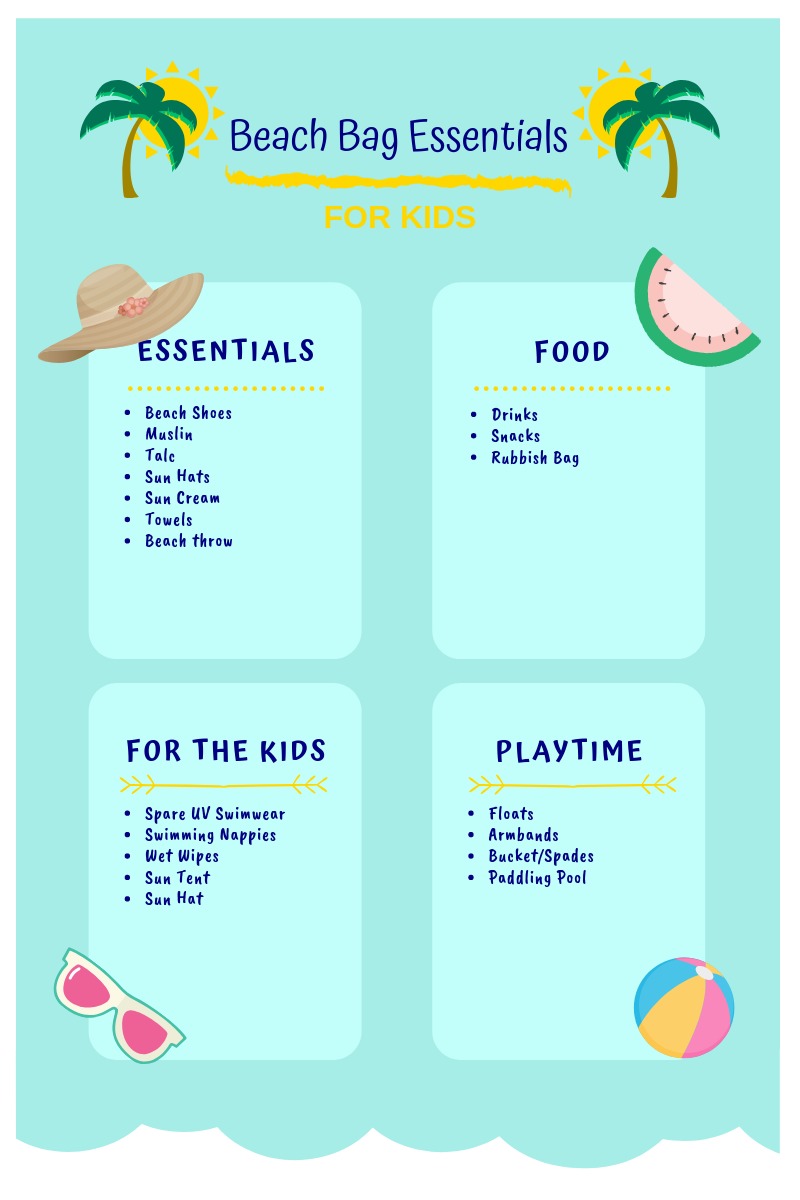 Have I missed anything? What do you find super helpful to have in your beach bag? Write your comments below!