If I can recommend one country that you never thought of going to with children and could guarantee you will love, then it is Holland with kids. Bet you didn't think I would say that! There are so many places to visit in Holland, you will be shocked. Before we visited, Holland was somewhere that never crossed my mind to take a family holiday with young children but now I am already itching to go back to explore some more as there was just so much to do. Take a look at our map!
** Some of these attractions were gifted for the purpose of this post but all thoughts and opinions are my own.
We took the ferry from Dover to Calais and drove to Holland which we found it so much easier than flying. There are a few different rules compared to the UK so make sure you check out the regulations which I have provided for you – DRIVING IN HOLLAND. Also take a look at this one-week itinerary in the Netherlands.

The twins were 3 and a half, and the baby was 10 months and these were our 5 favourite places we visited in Holland!
Visit Efteling in Holland
Efteling is the most amazing place to go when in Holland with kids. A magical fairy-tale theme park that will have your children mesmerised. Saying that, even I was taken a back and I believe that this day out is on par with Disney, I totally recommend you visit and it really has something for everyone. The whole park was themed from beginning to end and there was something for everyone. Divided into 6 different themes, there is just so much to see. We didn't even touch on the areas with the larger, thriller rides.
As our girls are still preschool age, we visited as many attractions as we could hat were aimed at them. We spent a long time walking around the most enchanting largest living picture book; the Fairy-tale Forest. Oh it was amazing.
We went on the family rides which again just took your breath away. The attention to detail was out of this world. The cues were no longer than 15 mins and this was perfect for small people.
The park itself is huge and I don't think anyone would manage the whole thing in a day. If you can spare two days, I would definitely say do it. I would also recommend taking a pushchair. We didn't and wished we had because even though the girls are almost 4, by the end of the day, they were really tired.
To Book tickets to Efteling, CLICK HERE.
Keukonhof in Holland with Kids
If you are in Holland during April or May, then Keukonhof must go on your list, it is stunning. Keukonhof is the largest flower gardens in the world with more than 7 million tulips and other flowers showering the grounds. The colour alone will blow you away.  It is a full day visit and has plenty to keep everyone happy. Don't underestimate how much children will enjoy this beautiful place; it really is full of family fun.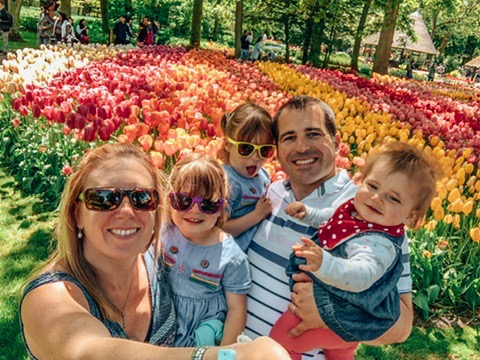 The girls enjoyed running about the gardens and embraced the beauty of the day. They really enjoyed the themed gardens and finding the clogs! I was completely surprised when we turned a corner and found a small farm and playground which they girls loved.
We were lucky to have visited during the week of the Woodstock Festival where everyone got up dancing whilst enjoying ice-creams in the sun but there was something different on every week during the 60 days of opening so always check their website.
To book tickets to Keukonhof, CLICK HERE. 
Dunes of Loon and Drunen National Park in Holland
A little piece of desert in the heart of Holland. This is one of Hollands largest natural areas and can be found right in the centre of province of Noord-Brabant. We visited two different locations of the dunes. Both had car parks and were only a 5 minute walk before we reached the dunes. We took some snacks with us and the girls loved playing in the sands for almost 2 hours.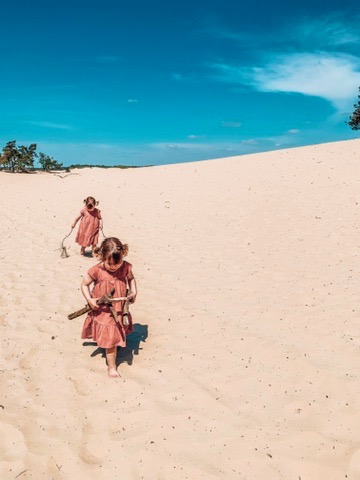 The first location is in Schoorstraat. There is a pub/restaurant called Landgoed Bosch En Duin with a small park for children across the road from the car park. We popped in here after our walk.
The second location is the Recreatiepark and Brasserie in Kaatsheuvel. I can highly recommend going here when you are in Holland with kids. We met some friends for lunch before going to see the dunes. As well as the restaurant, there is also a large park with a water play area and inflatable bouncer. There is lots of seating both inside and out. This is not a trip suitable for a buggy buy totally do able if you have a sling or baby carrier. I can highly recommend the Little Life Traveller S4.
Visit Beekse Bergen Safari Park in Holland
Beekse Bergen Safari Park is a stand-alone attraction, but if you are staying on the Eurocamp site, or in Beekse Bergen accommodation, then you get free unlimited passes to both the safari park and Speelland attraction which is listed below. You can easily spend longer than a day here.
Again, highly recommended and one of the best safari parks/zoos I have been to. You can travel around Beekse Bergen in three ways. On foot, by boat and by car. I would recommend at giving all three a go although you would be pushed to do it all in a day, the park is large!
The park is very tastefully designed with an African theme (with a few bears and tigers thrown in!!). The enclosures are large and natural and there are so many animals which is great to see.
Around the part there is lots to keep the children active with trim trails around every corner taking you off the path, small playgrounds dotted around and the resident DJ does his rounds too to get everyone in the jungle mood. It is a really fun day out.
To book Beekse Bergen, CLICK HERE.
Visit Speelland in Holland with Kids
Speelland is another great attraction to visit when you are in Holland. It is linked with Beekse Bergen Safari Park and again, if you are staying at Beekse Bergen on holiday, passess are free and you will have unlimited use. If the sun is shining, bring a picnic, kick back and relax. With a clean beach and cooling lake, you really could be anywhere. This entertainment park is perfect for small children with parks galore. There is also a go cart track, jeeps to ride, bouncy castles, small boats and for the bigger kids pedalos and water slides. You can also get the boat from the Beekse Bergen Parc across to Speelland which is fun.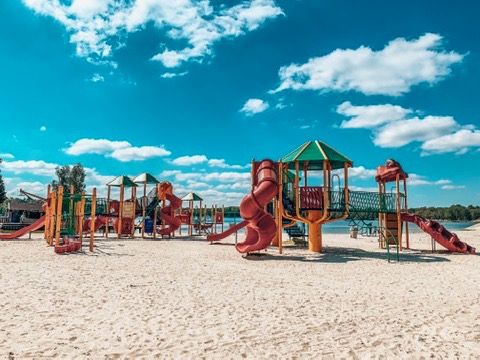 These attractions were suggested to us by Little Clogs Holidays when we were invited to go to Holland with kids on our family holiday. They also suggested a few other places which we were unable to go to but they can highly recommend and they are highlighted on the map at the top. These are the Hansel and Gretel Pancake House which looks amazing, and the Miffy Museum, called the Nijntje Museum in Holland.
We stayed at Beekse Bergen which was a perfect place to stay with the family. All of these trips are doable from there, although some further than others so do remember to build in travel time. Little Clogs Holidays are a trusted resource and highly knowledgeable on the area so do ask them as many questions as you like when booking a holiday through them.
If you are interested in staying close to these attractions with your family, then why not take a look at my review of Beekse Bergen HERE or you could look into some other amazing child friendly stays in Holland, all of which are perfect for young children and don't forget if you are driving in Holland, the rules are different to the UK.
GO ON, PIN IT
** Some of these days out were gifted in exchange for this write up but all thoughts and opinions are my own.
**We were also invited to stay at Beekse Bergen as guests of Little Clogs Holidays.