Safari with Kids
Going on safari with kids is the most magical thing in the world, and even more so if it's the famous Maasai Mara in Kenya. I had wanted to take my children to Kenya for so long and couldn't believe it was actually happening.  Whether you are 4, or 84, a visit to the Maasai Mara will stay in your hearts for ever. It certainly will for us after our first family safari with young children who were 4, 4 & 1 at the time of visiting. I will never forget their faces when they saw their first lion, the girls just sat silently with huge grins on their faces until one said… 'is that the REAL Lion King Mummy?'
"You cannot leave Africa, Africa said. It is always with you, there inside your head. Our rivers run in currents in the swirl of your thumbprints; our drumbeats counting out your pulse; our coastline the silhouette of your soul."
Famous for the great wildebeest migration and some of the fastest animals, the Maasai Mara is easily one of the most breath taking places on Earth. With its dreamy sunsets, diverse landscapes and African plains full of wildlife, what is there not to fall in love with? You will be amazed that even the younger children will agree with this too – my 4 year olds are just as in love with Africa as I am and it goes to show that going on safari with kids really is possible.  
Safari with Kids in the Maasai Mara 
Many people thought we were crazy going on safari with kids. They didn't think they would enjoy it, they certainly didn't think they would be happy in a safari jeep for hours on end and why on earth would we want to make memories that they wouldn't remember! This however, couldn't have been further from the truth, the key here is variety.  
On our first full day on safari, we came across a female cheetah with her 6 one year old cubs. It is quite an achievement for a mother to keep 6 cubs alive and away from predators, but she has. We ended up seeing this family every day we were on safari. Some days they were playing, some days they were eating a kill, and on another day, they found shade under our jeep which was hilarious… they were so close to us – it was incredible!
During another of our game drives, we came across a huge heard of elephants walking in a line together. We followed them for at least 20 minutes before they stopped and naturally spread out around us. Being surrounded by a heard of elephants will take your breath way. It was such an amazing sight. 
We were so proud of the girls as to how well they coped and how much they enjoyed their first safari and time in Kenya. We took Matilda's car seat which I would highly recommend if taking a baby or toddler on safari, and also pack plenty of snacks from home. Our children always seem to be starving the minute they get in a vehicle so I was glad we took them.
Safari with Kids – The Best Time to Visit the Maasai Mara
You can visit the Maasai Mara all year round and are guaranteed to see amazing wildlife. However, for those looking for an opportunity to watch the great wildebeest migration, then the best time to visit the Mara is from July to October but these are busy months.
There are two "rainy seasons" in Maasai Mara. The first, the "long rains" which lasts from March to May. The second, the "short rains", which takes place from October to December. Animals will still be easily-spotted and the rain doesn't last for long.
We visited in February/March and experienced a few showers in the afternoon but otherwise it was perfect.
An Example Safari with Kids Itinerary 
Every day on safari will be slightly different. Whilst it is always an early start, each day will include game drives, and possibly some of the excursions such as visiting the local school, a Maasai village and a rhino sanctuary. These timings are typical of safari camps but are based on our stay at House in the Wild. 
Every day is flexible and you the guest have a say in how each day works out, the main structure looks something like this;
6am up and out to meet your guide – it's when you find the best game. 
Most mornings, after a bit of a drive we managed to find our lions. We saw ourselves sitting watching the big cats groom each other whilst the cubs played before they headed off to laze about in the African sun – they were so hard to find after that! 
We were very fortunate one morning to spot a leopard – just wow… an animal even Joseph hadn't seen in a long time but she was gone in a flash. How we found her I will never know. We didn't see her again.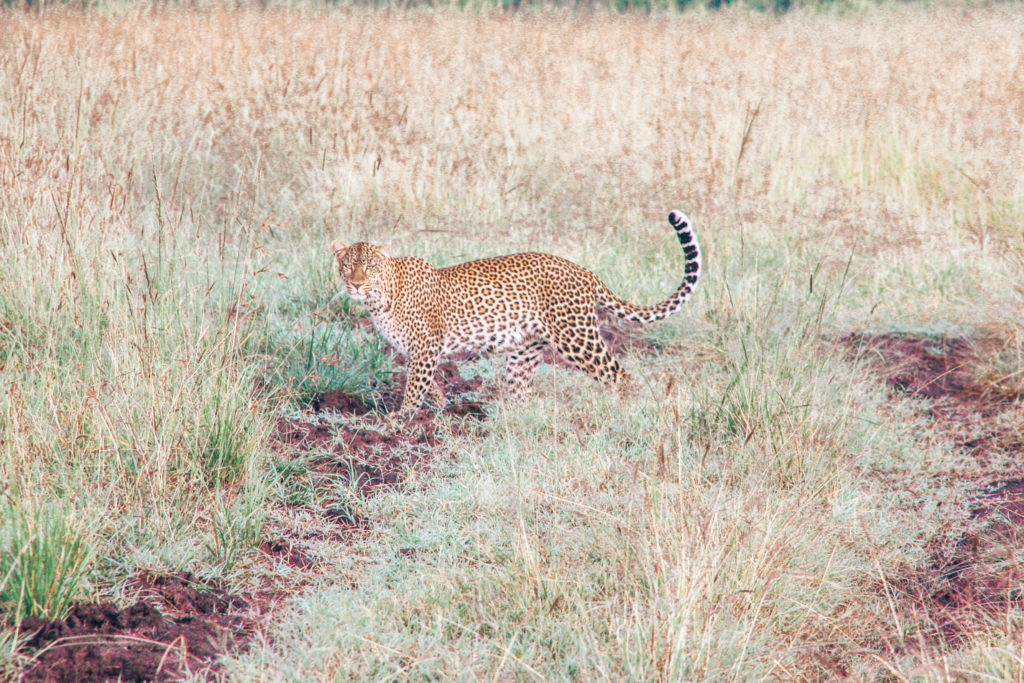 8.30 stop for a bush breakfast – The guides are experts at finding safe spots to stop with breath taking views and space for little legs to run around. They know the plains like the back of their hand and they know exactly where to take you. 
11.30 Back to camp. Time for naps and downtime around the pool. 
1.30 Lunch which is usually back at camp
4pm  Time to get back in the safari jeep and head off for either a full game drive or you may visit a Maasai village, followed by a shorter game drive.  
6pm Sundowners and a picnic tea for the children.  Nothing beats watching the sun go down over a chilled drink.
7pm return to camp for supper (and to put young children to bed.)
Experiences in the Maasai Mara with Kids
There are so many more experiences you can be part of in the Maasai Mara and if you are on safari with kids, you should keep your days varied and plan in some other experiences.  Your camp or lodge is likely to have a list of what they are and will be more than happy to arrange these for you, ours did at House in the Wild. Children really enjoy doing something a little different each day, it stops them getting bored of doing the same thing and gives them a taste for some real cultural experience and see how other people live. 
Visiting a Maasai Village
As you drive around on safari, you will often spot Maasai villages hidden up on the hill  sides, behind a fence made out of sticks. The fences are there to protect them from the wildlife. Inside are many round mud huts where the Maasai families live. 
The Maasai culture is truly fascinating and they live life so differently to us. To start with, they are allowed more than one wife – one of our guides had 26 brothers!! Each family sleeps in the tiny mud hut together which has a small fire in the middle. They drink blood and eat goat as their staple diet and their cattle are their wealth.
Visiting a Massai village is one I would recommend experiencing. You are welcomed with open arms into their community. The people will greet you in traditional dress, dance for you and show you how high they can jump. This is something that the Maasai do as a part of their dances and in their tribes. We had a go too. I was amazed that my two shy girls who hide behind me most of the time, were gaining so much from this Kenyan experience.  
Visiting a Local School in the Maasai Mara
As we drove into the local school, we felt like Royalty. Children came from nowhere chasing our vehicle, shouting 'Jambo, Jambo' meaning hello in Swahili. We were greeted by the head teacher and offered him some gifts we had brought from the UK. I took some pencils and rubbers for the children. We also gave a small donation.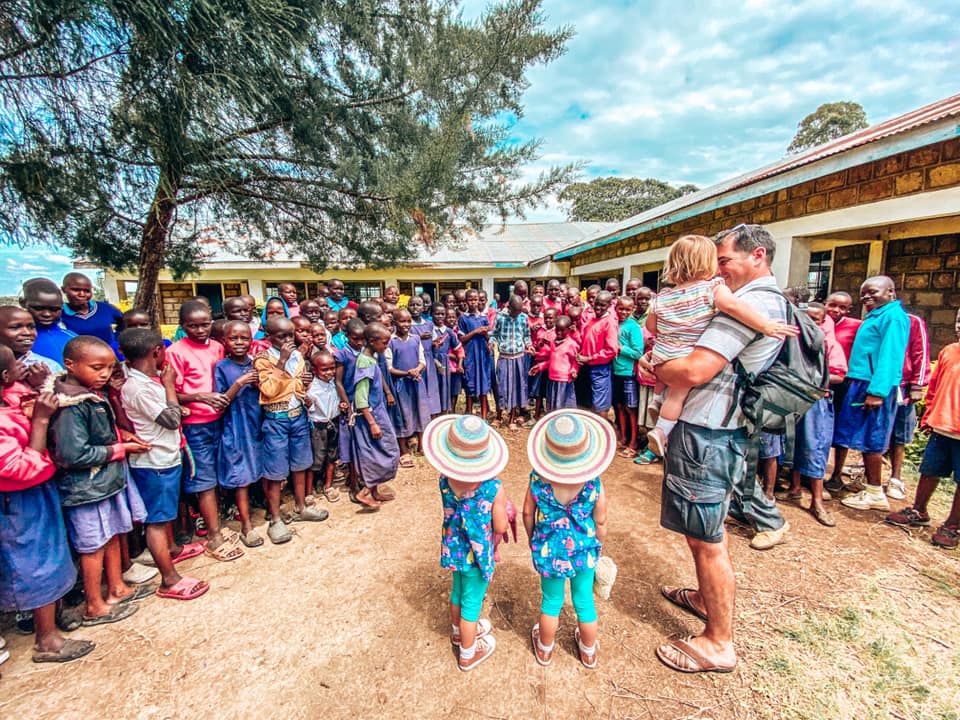 The children sang for us before we said goodbye. 
12 Tips for Going on Safari with Kids
Take snacks from home that your children like – Children are always hungry when travelling!

 

Take plenty of bottled water. Your camp will provide this. Don't drink the tap water.
Take sun cream in your safari vehicle. Despite the cold mornings, the Kenyan sun is hot and you will burn quickly.
Make sure you always have your travel medical bag with you. Children can become ill quickly that it is good to have a few medicines to hand just in case.

 

Take a warm jumper and a waterproof for the early mornings, it is chilly.
Take a camera the kids can use. The twins loved using mine and really got quite good at taking photos!
Talk to your children about going on safari before you go. Explain to them that it could take a while to find the animals and that they are not automatically there to see. Read books and watch YouTube clips so that they know what to expect.

 

You know your own children and how long they will last on a game drive. If they are starting to get irritable after a few hours, ask to head back to the camp for a play and run about and head out again in the afternoon.

 

Take things easy. There is no need to rush. If you are on safari for more than 4 days with young children, take a day off and just enjoy the pool and relax. Tired children make really bad safari companions.
Do your research when booking your safari that the camp you are looking at welcomes young children as some will only take children over 6.

 

Build excursions into your safari day such as visiting local villages, schools, and sanctuaries.
Prepare your children for seeing a kill. This may not happen but there is no hiding them if it does. Whilst we didn't see a kill taking place, we did see lions and cheetah eating another animal.

 

We were very honest with the girls and told them what had happened and why they kill which they accepted.

 

Take a car seat for babies/toddlers. Our toddler was happy for ages in her car seat. N.B. Whilst our vehicle did have seat belts, be aware that not all do. It could be worth checking.

 

We decided to take some strong cord to tie the car seat to the seat if we had to – vehicles are only moving slowly.

 
Location of Maasai Mara
From Nairobi, there are two main ways to get to the Mara for tourists; have a driver drive you which takes around 4 hours depending on where you are staying, or flying. Flying takes approx 30 mins from Nairobi from Wilson Airport. On this occasion we flew but I actually love driving as you get to see the stunning landscape over the Rift Valley and, what I call, real Kenya – mama's carrying water on their head, fruit being sold from the side of the road and young school children walking to school.
Where to Stay on Safari with Kids?
There are many lodges and camps that offer safaris with kids but when you are doing your research, be sure to check the ages the camps accommodate. Some will only accommodate children over 6. This is why we loved staying at House in the Wild as all my children were welcomed with open arms and we were a prime example that you really can go on safari with young children. 
Having arrived by plane from Nairobi, the girls were very excited to be on their first safari. Before we had even left the airstrip, they had spotted their first giraffe in the distance and insisted we got going and off we went to find it. We hit the gravel track and within minutes we had come across herds of impala and Zebra. Some with tiny babies. My goodness it was good to be back. 
We decided to head straight to our accommodation, House in the Wild, to get settled in and have some breakfast. 
House in the Wild is set on the edge of the Mara River, where hippo bathe in the sun, and crocodiles stalk prey.  A family friendly luxury camp that welcomes children of all ages. There are 4 cottages in total catering for two to six people. There is a main lounge and dining area to relax and dine in.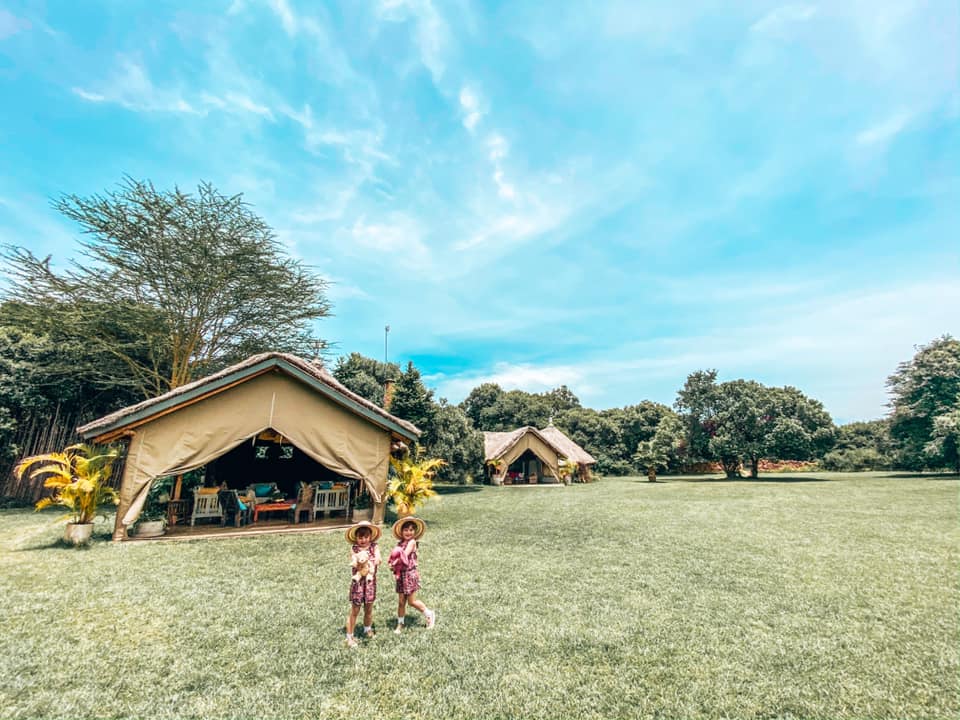 At House in the Wild, they offer a pool, badminton court and table tennis table, so there is plenty to keep children happy whilst not on safari. 
More Information on Kenya
If you are interested in reading more about our Kenya trip, then why not take a look at these articles below;
House in the Wild Review, Maasai Mara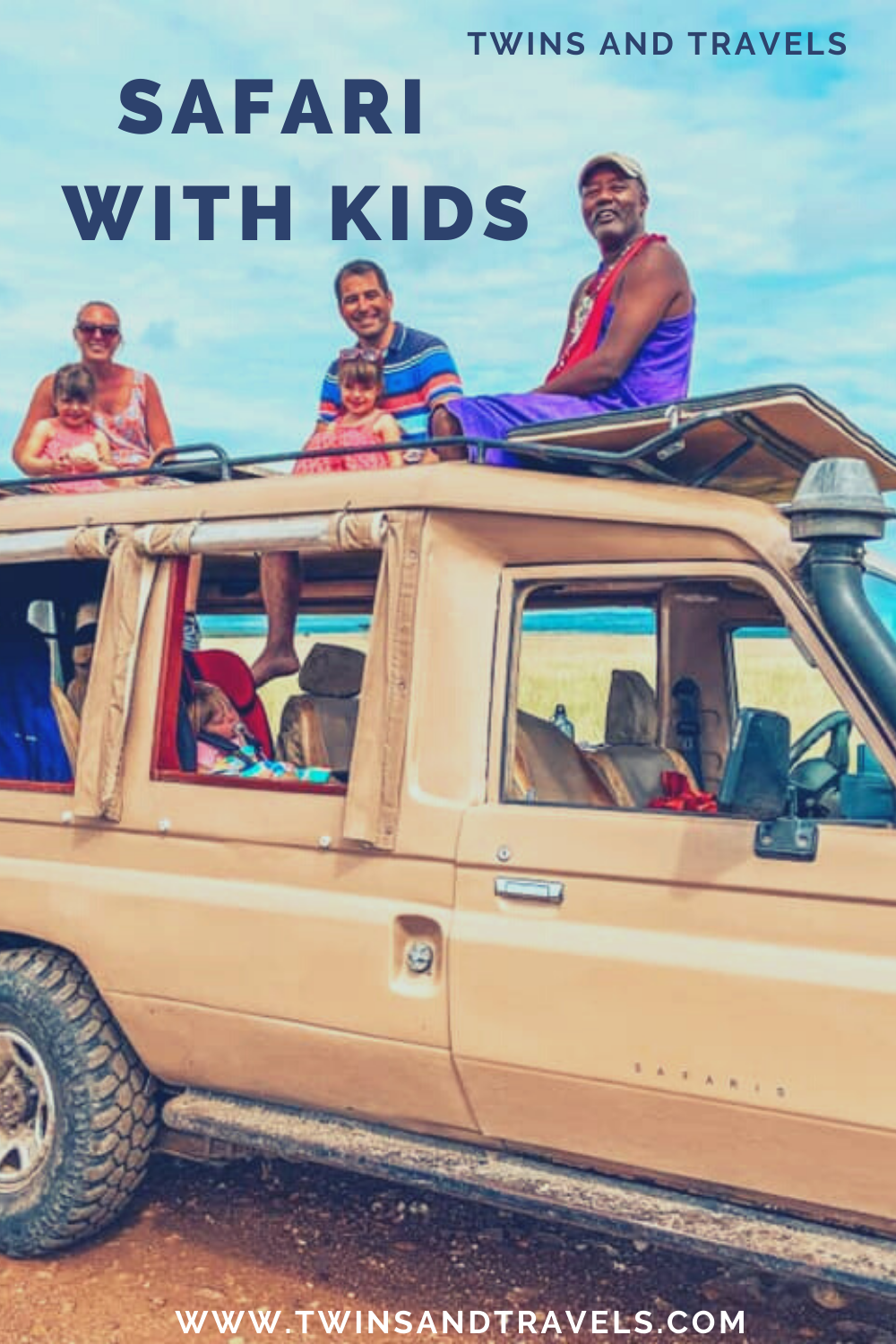 More Information on Kenya
If you are interested in reading more about our Kenya trip, then why not take a look at these articles below;
House in the Wild Review, Maasai Mara