Disclosure: We were invited to stay at Darwin Forest for the purpose of this post however all opinions are my own.
Darwin Forest is set in 47 acres of beautiful woodlands and host to over 120 luxury lodges but to be honest, it really doesn't feel like that many. Each lodge has its own tranquil little spot surrounded by trees and you never feel over looked which is perfect for when you are sitting in your hot tub! Lodges can cater for up to 8 people so it is great to see that they cater for larger families.
Darwin Forest Luxury Holiday Lodges have been awarded 5 stars by Visit England and the Park was a finalist in the Visit England Awards for Excellence. The park is surrounded by woods in the heart of the Peak District, with Bakewell, Matlock and Castleton just a short drive away and plenty of Peak District family days out such as Heights of Abrahams, Alton Towers and one of my all-time favourites, Chatsworth House just around the corner.
As a travel writer, I am always being asked about alternative places to stay to Centre Parcs and this is definitely the one to visit, and whilst Darwin Forest isn't as big, it really is just as peaceful and tranquil (and cheaper!) but unlike Centre Parcs where you generally stay on site your entire holiday, you want to get out and explore the area more which I love – why would you come to the beautiful Peak District and not explore it! However, if you did just want to kick back and relax, there is still plenty to keep to as active as you like. There are plenty of self catering lodges in Peak District and we loved ours.
Darwin Forest Lodges
We stayed in a Classic Vogue Spa lodge (202 to be precise!) which was a three-bedroom lodge complete with hot tub. Each lodge has parking for two cars right outside and there is space for more back in the car park. Our lodge was a walkable distance to the main hub and the girls enjoyed scooting back and forth.
The Living Area
I was very pleasantly surprised when I first entered our lodge. It was much more spacious than I imagined it to be (in fact it was huge and all of the rooms a great size) and very clean and tidy. The main living and kitchen area was open plan with two large comfy sofas at one end around a TV and electric fire, and a dining table for 6 at the other. We also had a high chair for Matilda which was requested at an extra charge.
The Kitchen was well equipped with everything you would need to cook a meal including pots, pans, microwave, etc. It had a few basics like tea, coffee and sugar but these wouldn't last your stay so I'd recommend you bring extras. You are given a milk voucher on arrival so you could make yourself a cup of tea straight away which is always very welcomed after a long drive. You can also find a pack containing a few dishwasher tables, washing up liquid, 2 tea towels. Irons and hairdryers are also provided.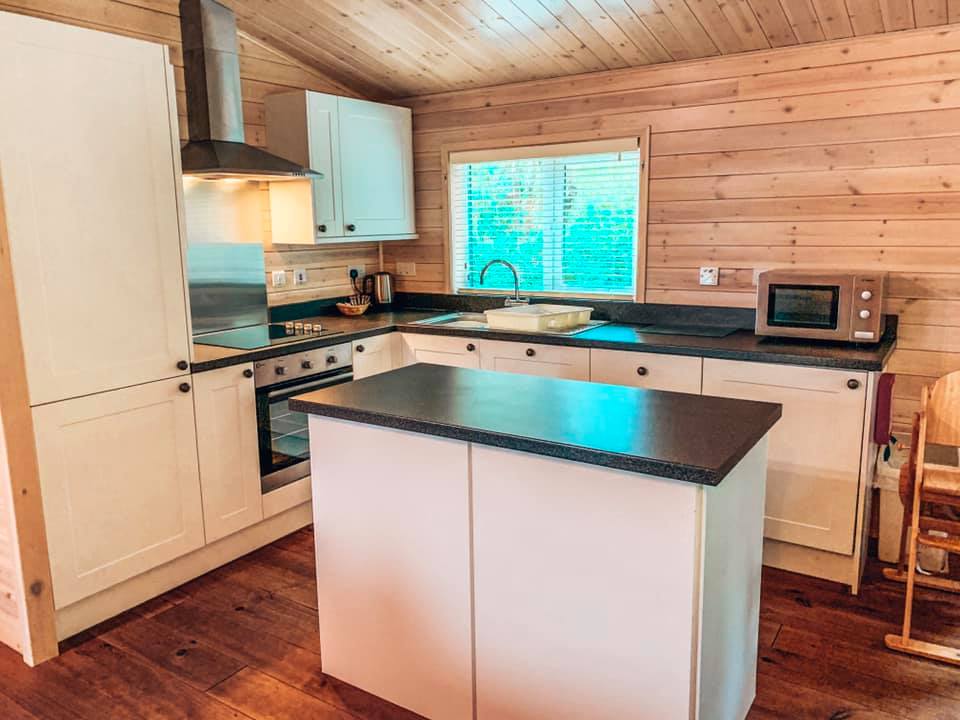 The Bedrooms
We went for the three-bedroom lodge at Darwin Forest. This had a double bed with an en-suite and two twin rooms. The twins had one room, and baby the other. You wouldn't have fitted the cot easily in the double room so it this is something you are considering, I would recommend that you go for the extra room (and I always get a better night's sleep without the baby in my room!).
The rooms came complete with bed linen and towels but you do need to take your own towels to go swimming with. If you need a cot, you will also need bed linen and blankets for this too. As well as the en-suite off the main bedroom which has a shower, the family bathroom has a bath with a shower.
Outside the Lodge at Darwin Forest
We were very lucky to have a lovely large deck area with seating for 6, a hot tub and space for the girls to play to the back of our lodge. We backed on to trees so the girls enjoyed sitting watching for birds and squirrels whilst they ate dinner.
To the front of our lodge was the two parking spaces. As cars are allowed right up to your lodge, families are driving around the park so you do need to be vigilant with small people they don't go off playing in the road.
Outdoor Family Fun at Darwin Forest
I love the outdoors and there is so much to do to keep yourselves busy for a few days on-site at Darwin Forest. Just a few minute's walk from our lodge was the trim trail through the woods. Technically it was the end, but we decided to do it backwards! We spent a good few hours running in and out of the trees, discovering fairy doors and playing the wooden games we came across! The twins thought this was great and Matilda thought it was the perfect time for a nap!
There are several walks you can do around the park and these are clearly marked out on the map you will be given. We took the girls scooters with us and the roads were great for a scoot but the tracks weren't really suitable. However, if you have bikes you will be well away and there are plenty of routes for you to follow! They also have a tennis court, mini-golf on site too.
The outdoor adventure park is located down in the main hub, next to the Foresters Bar and was a hit with the girls especially when they got a visit from Bollo the Darwin Forest Mascot!
For the older children, there are also bookable activities that children can take part in. For example, archery, bodyzorbing and waterwalkerz.
Fun in all Weathers at Darwin Forest
Darwin Forest has an impressive range of facilities should you want to stay on-site some days. Besides the outdoor space, there is a lovely swimming pool and spa, which is perfect to come to all the weather. Little Monkeys Soft Play and the Activity Den which includes a free soft play area for under 5s.Older children will enjoy the Activity Den with pool tables, table tennis, air hockey, and arcade games.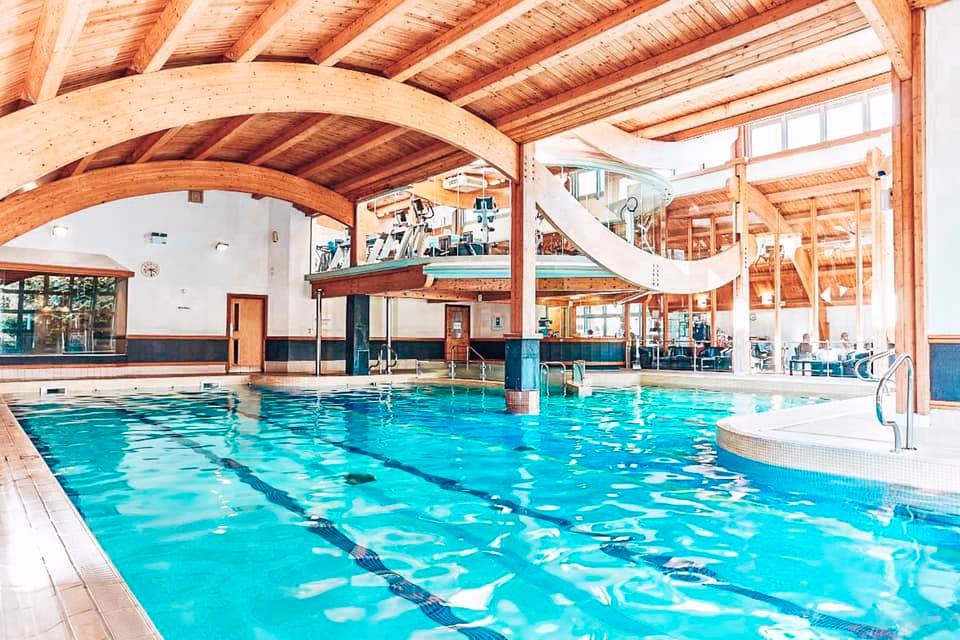 It was lovely to have a swimming pool on-site and great to be able to pop there whenever we wanted. This was free of charge. There was a smaller toddler pool for small children to splash about in too. The swimming pool had communal changing rooms which I always find helpful when taking my three swimming. It means my husband can help a little more and we can manage the girls between us. There are lockers where you can put all of your belongings which you will need a pound for.
Cheeky Monkey's Soft Play was a great area for little ones to let off steam in a safe environment. It was well organised and split into different sections depending on the age of your children. You can also get a good lunch here. The menu was varied for both adults and children and was very reasonably priced.
Places to Eat
Since we are talking of eating at Little Monkey's,  I thought I would tell you little more about another place to eat in Darwin Forest and that is The Foresters Bar! The Foresters Bar is a lovely bar to either grab a drink in or book lunch or dinner. We did both! A few early evenings, we popped in here after a day out and ordered the children some dinner (and us a glass of wine) before heading back to our lodge. The children's menu serves pizza, sausage and mash, fish and chips and pasta. The portions were fairly large so pleased hungry tummy's. We also all sat and had dinner together one evening and the adult's meals were delicious. They served a good selection of typical pub food and was all reasonably priced.
Also in the reception area are several folders. One folder was designated to take aways. We always like to treat ourselves on holiday so it was very easy to find a tasty Chinese to deliver and they deliver direct to your lodge which is fabulous!
Extra Charges in Darwin Forest
It is always a bonus when your accommodation can provide all the baby and toddler basics, let's face it, it saves us lugging everything half way across the county! Some things do hold an extra charge Darwin Forest so if you have young twins and multiples, it may be worth considering taking your own as two or three of everything could get costly.
Cots and high chairs can be hired for £9 per short break and £12 per week. You are required to bring your own cot bedding.
Bed guards require a £10 deposit which is refundable
BBQs are available to hire from Reception for a £10 refundable deposit.
Use of the swimming pool and the small soft play area in the Activity Den are complimentary, but additional charges are made for other facilities as follows:
Little Monkeys Play Centre £3.50 for guests staying on the park
Spa/sauna/steam £3.75 per session
Gymnasium £3.75 per session (or £6 for gym and spa)
Mini-golf £2 adults & £1.50 children,
Tennis court £4 per hour
Short tennis £2/hour
Bikes £7 half day and £12 all day
Attractions Close to Darwin Forest
There is so much to do near to Darwin Forest and everyone is super helpful at the reception should you want some suggestions or more ideas. We varied our days between being on site and out and about the local areas and you will be able to read what we planned in my 5 things to do in the Peak District with Kids shortly but one of my favourite days out was to the Heights of Abrahams where we took a cable car up to the Cavens. This was only 15 minutes from Darwin Forest.
You are able to buy discounted tickets at reception if you want o visit Chatsworth House, Heights of Abrahams, Haddon Hall, Crich Tramway Museum, Alton Towers, Gulliver's Kingdom and Matlock Farm Park.

How to Book
To book a stay at Darwin Forest in the Peak District is simple, all you have to do is CLICK HERE.
Keep your eyes peeled for the 'Days Out in the Peak District' post. This will really help plan a fabulous stay at Darwin Forest!
If you have enjoyed reading this, then why not join us on Facebook or Instagram or you might be interested in making some healthy snacks for your long journey!
GO ON, PIN IT!