Are you thinking that hotels are a thing of the past? A luxury that you indulged in before children but are now longing for some you time? Well, with the Luxury Family Hotel chain, you are still able to do this with children AND enjoy it – we did and this has to be the best child friendly hotel!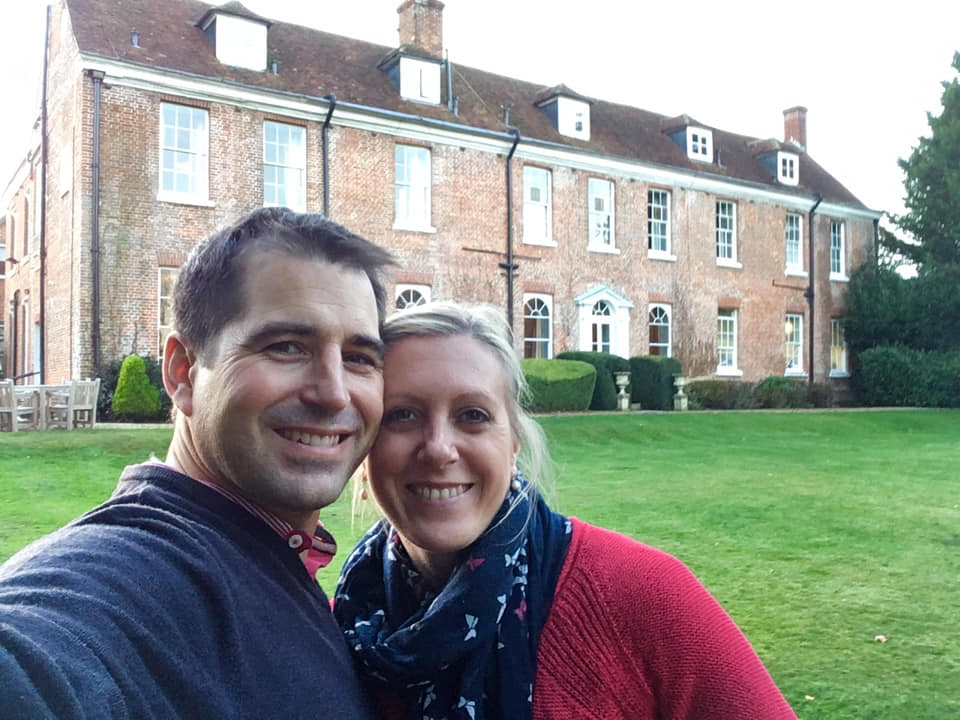 Having three children aged three and under is blooming hard work at times, most of the time in fact. As a family we love to go on holiday but let's face it, it has never been the same since the day the twins arrived. We used to get away to relax, unwind, take some us time, but with three little monkeys now in tow, holidays are fun, they are all about making memories now, but boy are they full on!
So a few months ago we were asked by Baby Friendly Boltholes if we would try something new. A hotel stay. I must admit, I was a little hesitant to agree to this at first because as lovely as it sounded, the thought of taking three noisy children in to a posh hotel sent shivers down my spine. Don't get me wrong, my girls aren't terrors, but they are children who don't want to sit down in a nice lounge and act like adults…. they are after all children, and children are noisy, they have tantrums, they cry and they need entertaining.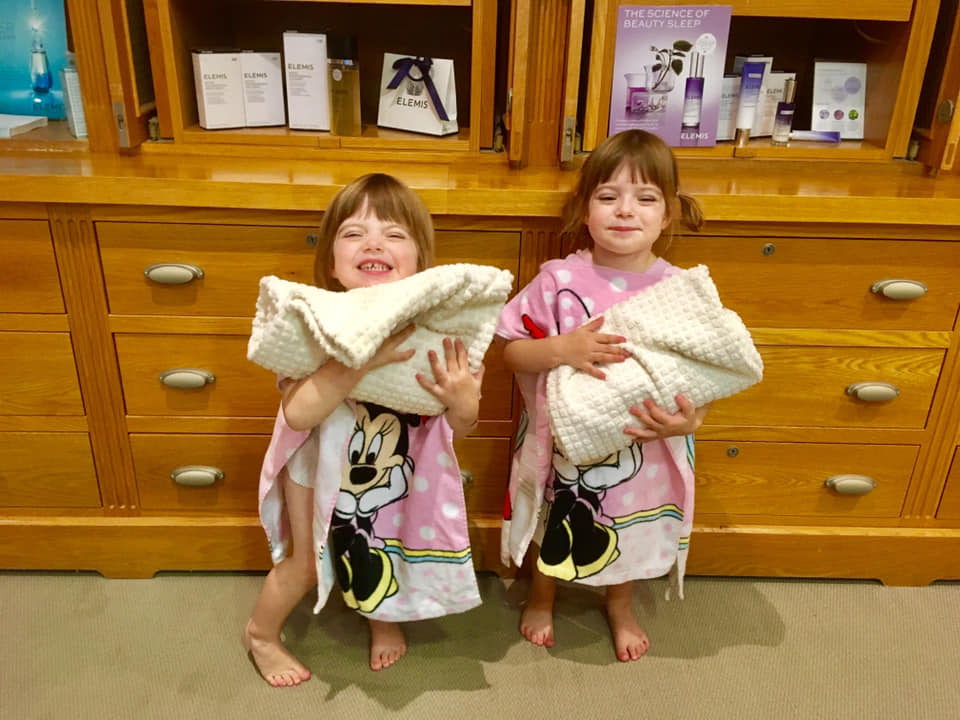 I was reassured that all of this was fine. It was a child friendly hotel after all, children were allowed to be children and the staff were used to it. I agreed to give it a go!
New Park Manor
The New Forest is one of my favourite places to visit. It is a place of natural beauty, with wildlife roaming around every corner and for this reason, we decided to take te scenic route for the last part of the journey. The DVD players had held their own for most of the trip but the girls were starting to get a little restless so we were off to spot some ponies!
New Park Manor is just 2.5 hours from home in Essex, so nearer 2 hours if your London based which is ideal if you are looking for a child friendly short weekend away. It is nestled in the heart of the New Forest, surrounded by grassland and home to many deer (which we saw whilst relaxing in the outdoor hot tub!). Once a Royal hunting lodge and a favourite spot of King Charles II and I can totally see why!
We arrived at New Park Manor at 2pm, ready for a 3pm check in. As the girls were booked the girls in to the crèche at 3pm, we wanted to arrive early to allow the girls to settle in their new surroundings first. Upon arrival, we walked in to the reception area, passing a row of brightly coloured children's yellow wellies, we knew we were in the right place!  The staff were extremely welcoming and they surprised us by saying our room was ready and personally showed us straight to it!
Being an old hunting lodge, there are stairs everywhere so we weren't able to take the buggy further than the reception, however, they were very happy for us to leave it there for our stay. There were three main rooms in the hotel; the conservatory, the dining room and the lounge. There is also the cinema room and The Den aka The Creche.
New Park Manor is all about the Children
Yes, it really is all about the children at New Park Manor, 100%, this is a child friendly hotel. It feels just like home. At New Park Manor they understand that happy children, make happy parents and they go above and beyond to ensure your stay with them is a good one. They honestly couldn't do enough to help – Let's take a look at how!
Toys – It is just like being at home
I have never been in a hotel before where there are toy boxes in practically every room, and every hall way. There is always something, somewhere to keep the little ones entertained and if you can't find what you are looking for then you are welcome to borrow it from The Den. There are toys and games to suit all ages, not just babies and toddlers.
The Crèche aka The Den
You have all heard me mention about how excited I was about the free crèche at New Park Manor – yes you did hear that right, FREE! You get two hours in the crèche, for every night you stay included! The crèche which is also known as 'The Den' is open 2-3 times a day depending on the season and is open for children from 3 months – 8 Years old. There were two main sessions on whilst we were there 10-12 and 3-5. You are also invited to play from 12.30-2.30 with an adult. On Sundays you can also join the Breakfast club as one of your sessions. This runs from 8-9.30am. Someone from the team will come to your door, pick your children up and take them off to breakfast to give you a lie in if you wish!
The staff in The Den were fabulous, I spent a little time chatting with them the first day getting to know them and going through Matilda's routine and the girls personalities but it was as if they had known my children for months. After a few tears on the first day (which lasted until my back was turned!), they ran into each session super excited and happy. The staff were nurturing and kind. Smiley and not worried by tears although if after 10 mins your little one is still crying, they will come and find you!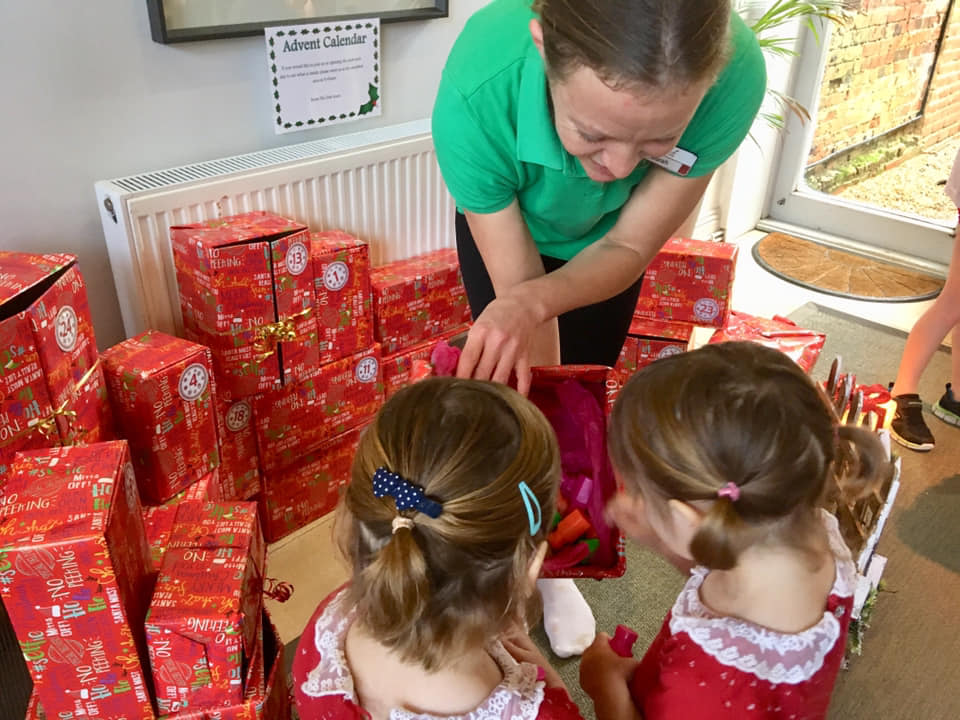 Activities are set up according to the age groups attending and there is always plenty to do. For babies there is a small area with blankets, sit me ups, jumperoos, high chairs and a cot. They will happily put your baby down for a nap and give them a bottle when required. For the preschool age, role play, arts and crafts, games and puzzles. And if you have older children, they will arrange to take them on walks around the Manor and go Den building in the woods. Just make sure you book these in advance, as they do become full quickly.
The twins loved the art and craft table, as well as listening to stories and playing in the role play area. Whilst Matilda enjoyed bouncing in the jumperoo, playing with the musical instruments after her bottle and a snooze in the cot provided! Just look at the fun they are having, and that is what it is all about right!
The Cinema Room
The cinema room has two showings a day and it is a great place to hang out after the children have had dinner. There is one film as 5.45 which was child friendly, and another at 7.45, which was for the adults. However, if a rainy day leaves you wondering what to do, you can always pop in there and put one of their DVD's on at any time. As always, there are also toys and a football table in the room too.
Swimming
Children are welcome in the pool throughout the day. It is a great pool for children to swim in although there is no shallow end but the twins were happy swimming about in their arm bands. The pool looks across the estate to the herds of deer and horses – the twins were super excited by this.
Free Listening Service
Another child friendly service thatNew Park Manor offer, is a free Child Listening Service so that you can put your children to bed and then enjoy a glass of wine and dinner downstairs in peace. I don't know why but I imagined I was going to be handed an old style pager type gadget and when the baby cried, it would notify me. This worried me a little because how would I know if the twins got up, I wouldn't. But when I went to reception to pick it up, I was pleasantly surprised to find that I no longer had to live in the past, an was indeed handed a video baby monitor (or two in our case) that worked through a private internet system and throughout the whole hotel and spa.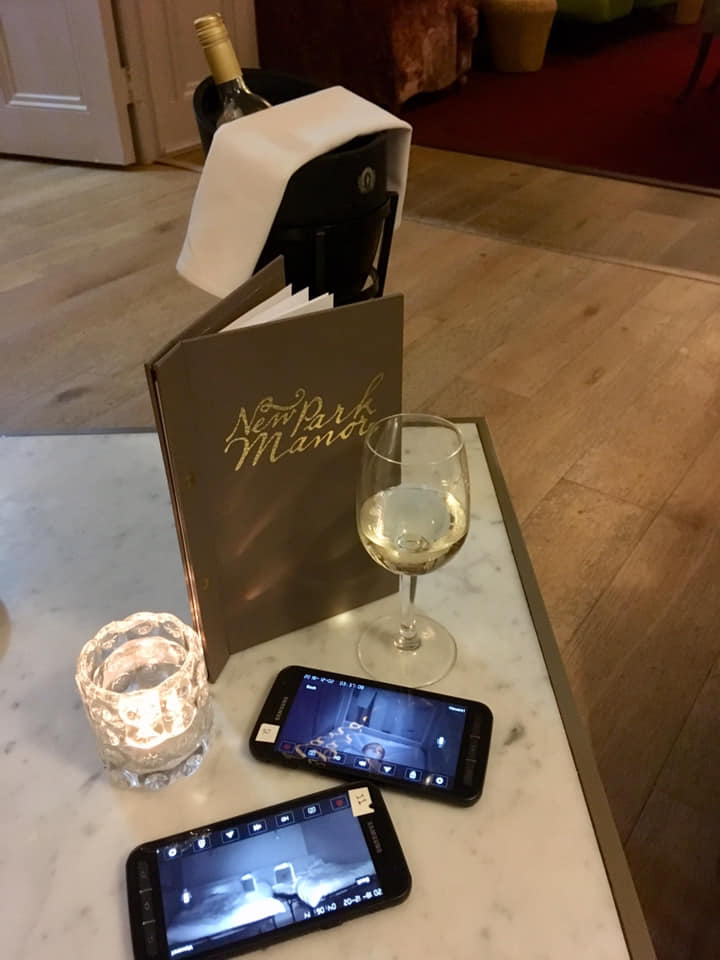 This meant three things, one we could see what was going on in the room, two hear crying or if chattering was going on for too long and three talk back to them and tell them to go to sleep!! It also allowed us to put Matilda down for a nap one afternoon and take the girls swimming as the monitor worked in the pool and as the hotel itself isn't that big, it wasn't far away if she cried. I'd already nominated Tristan to make the dash from the pool if she did!
Exploring the Outside
Children love the outdoors and they really don't care about the weather like we do. They just want to get outside and explore! At New Park Manor, it is super child friendly, just like it is inside.
There are wooden climbing frames, swings for twins, a trampoline, footballs and goals, toddler slides, the list goes on! In the entrance hall, there are also buckets, binoculars and magnify glasses to take exploring with you. Take a look on New Park Manor's website, they have a children's welcome pack which includes fun activities to do outside and when you arrive, you will find another booklet in your room with lots more ideas and information in, just for children.
Forgotten your wellies? Don't worry, they have these too of course!
For the adults
I know I have already mentioned this, but this has honestly been the first actual 'holiday' I have had. I felt so relaxed throughout our weekend, I totally loved it. With their being so much there for the children, it immediately ticks all of the adult boxes too.
Whilst the children are having fun in The Den, adults are able to roam the hotel childfree, relax with a latte and a book, on any sofa they come across, which there are plenty of around the hotel and if it is late afternoon, then why not order a cheeky glass of wine!
But let's not forget the spa. I saw many parents dropping their children off in The Den in their robes and head for a sunbed or dip in the hot Jacuzzi. My, was that Jacuzzi good! Just to sit, and look out of the window in peace was AMAZING.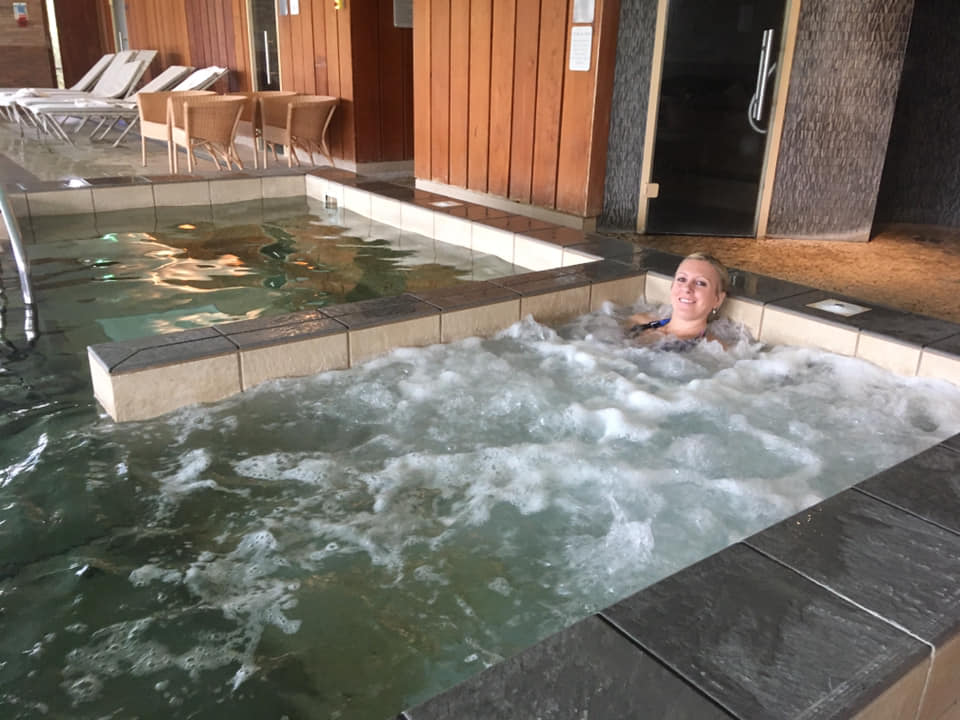 I had also booked an hour's full body massage. This was one of the best massages I had ever had. AND a WHOLE hour! I wasn't surprised when she said my shoulders were tight but she really worked to get those knots out! It was the perfect way to start my weekend. Now get this, if you book a stay here through Baby Friendly Boltholes, use the code BFBPOPITHA, and you will receive a free massage. The spa offers many other treatments and there really is something for everyone's taste. Just pop onto their website to take a look.
The Hotel – The Lounge
The lounge was the perfect space to relax. We used this room a lot. For lunch times and after the children's dinner with the girls. It was always empty prior to children's bedtimes, although it filled up after 7pm!
It was beautifully decorated and had plenty of sofas and comfy chairs to chill on. We had brought the girls kindles and rucksacks with us which we used when in here. We take the girls rucksacks wherever we go as they are filled with colouring in, stickers, crayons to keep them amused. Although they didn't have to be silent, it meant the girls would relax quietly too. Saying that, it really didn't matter as it was a child friendly hotel, anything went and staff were just happy to see the girls having fun. They enjoyed dancing here just as much. They thought they were staying in Anna and Elsa's house!!
Dining
The child friendly conservatory is used for breakfast and children's dinner times, and the dining room for adults only evening meals. We could not fault the food throughout one bit, it was all utterly delicious!
For breakfast there is a selection of fresh fruit, cereals, pastries and a choice from the hot menu. We certainly weren't going to go hungry. The girls ate more than they ever have; melon, followed by a dippy egg and toast, followed by yoghurt!
Lunchtimes are a little more relaxed and you can dine in the lounge with a sandwich and a juice. The girls loved their jam sandwich treat whilst I tucked into smoked salmon and cream cheese – yummy!
Dinner time was organised brilliantly and worked perfectly for us. Children's dining was from 5-7.30, or family dining from 6 in the conservatory. Adults could of course eat with their children if they wished but it was adults only dining was from 7.30 in the dining room. It meant everyone could enjoy their meals.
Just outside the conservatory were some clipboards. On these clipboards were chhildren's dinner menus and order forms so that you could select your child's meal, pop the time on you will arrive and then as you sit down, dinner is ready and no waiting needed. But as always, there is colouring to be done if you don't get round to pre booking!
The children's menu was great as you could build up a meal for your child rather than it being a set menu! The girls had the fish one evening, and sausages another. You could choose either a toddler portion or a child portion. The toddler portion was plenty big enough for the girls.
The adult menu was divine and you could choose from, a three course meal, or just one, whichever took your fancy! The evening meals were beautifully presented and delicious with plenty of choice for all tastes. Set in a romantic, dimly lit dining room (that's my bit of romance for the year!) it was a lovely treat. Most tables saw baby monitors on them so every now and then there was a little cry to which all the parents briefly looked down, and the picked up their wine glass when they realised it wasn't their child that time!
All sample menus can be found on the New Park Manor website.
Our Room
There are 24 rooms at New Park Manor, we stayed in Henry which was on the first floor. Henry was a Manor Deluxe Suite which was suitable for 5 people in two rooms which were classically presented.  In the master bedroom there was a King Size Bed and space for a travel cot, and in the first room that you walk into, there were twin beds which also doubled as a lounge area if you didn't have children as the beds folded up into the seats.
Both rooms had a TV (which was great when the girls woke at 6.20am – a hotel stay treat!), and our room had tea and coffee facilities and a mini fridge for Matilda's milk.
The bathroom was child friendly too. There was also a good sized bathroom with a bath and overhead shower.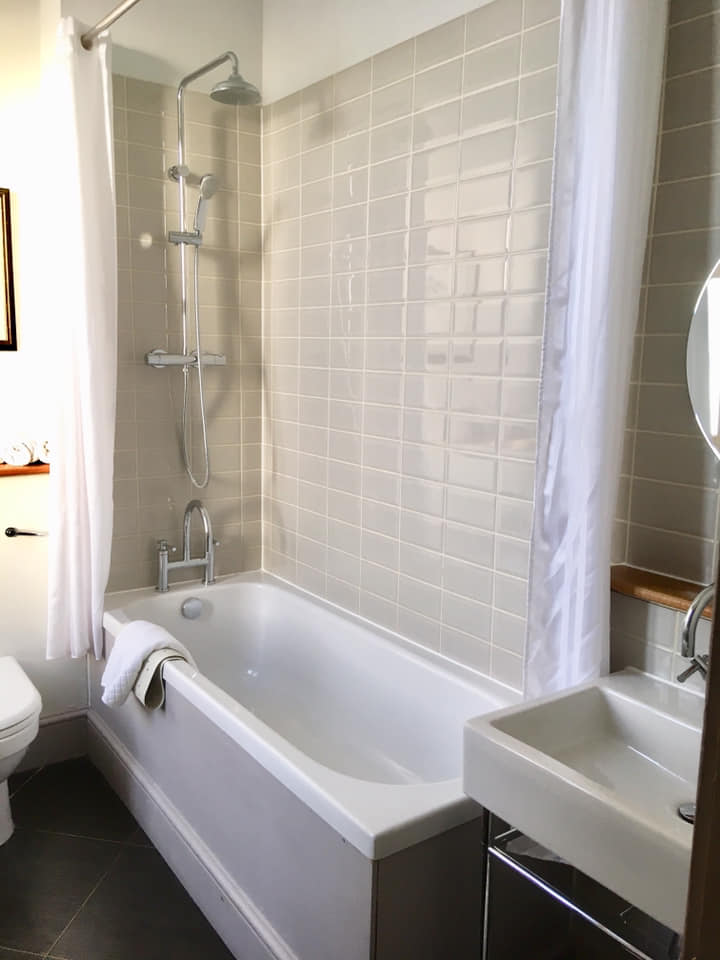 What to Pack
To take the stress out of packing, and to give you a little extra room in the car, New Park Manor do their best to provide everything you need for your baby and children. They have things such as a cot, changing mat and nappy bin. If your toddlers are potty training, then they can provide potties, or if you need bed guards, these can be supplied too. All you need to do is ask and they will be ready in your room.
Also in the Baby Kitchen which is just off the lounge/bar area, you will find a steam steriliser and bottle warmer, as well as a microwave and changing facilities – with toys!
The staff very kindly deliver morning and evening milk to your room if requested, and free of charge, and if you are weaning, the chef can provide pureed baby food too.
Some of you may know, that I hate cleaning the bottles! So I was super excited to find out that in the reception area there are two baskets – you place you dirty bottles in one, and they come back clean and sterilised. Just a shame I couldn't bring my washing too!
Now for the Price
The price as always differs on the season and size room you have, but to give you a rough idea;
A weekend for a family of 4*, prices start from £558 to include Bed & Breakfast each day and dinner on one evening. A midweek stay would start from £179 Bed & Breakfast per night or £239.00 Dinner, Bed & Breakfast* per night for a family of 4.*based on a Forest Room.Children under 12yrs are accommodated for free on a bed & breakfast basis, with all other meals charged as taken when aged over 2yrs.
This would be a real treat for us to do something like this as it can work out quite costly but you are paying for the luxury after all and I believe it is worth every penny. It would be a great hotel for a family get together or special family weekend away making memorie.  I don't know any other hotels in the UK that are able to offer this level of child friendly hospitality but I would 100% return… next week if I could.
Other Information
Take a look at New Park Manor's special tots and baby weeks as well as their Peppa Pig offer which includes tickets to Paultons Park aka Peppa Pig World.
Booking and Discount Codes
If you would like to book at stay at New Park Manor then please click HERE. When you book through Baby Friendly Boltholes, you will receive a FREE 30-minute massage in the spa. Just use the code BFBPOPITHA. (School holidays not included)
This code will also work if you book a stay at their partner hotels in the Luxury Family Hotel chain; Moonfleet Manor in Dorset and The Ickworth in Suffolk.
More discount codes!
If you wish to book any other holiday that Baby Friendly Boltholes offer, you can also receive a £25 discount by using the code BFBPOPITHATWINS.
** We were invited to stay at New Park Manor for the purpose of this article. However, all thoughts and opinions are my own.
If you have enjoyed reading this review, then why not take a look at some of my other reviews from Baby Friendly Boltholes.
How to enjoy a hotel stay with Children
And remember, you can always join us on Facebook.
GO ON, PIN IT FOR LATER!