I love nothing more than sneaking off on a family holiday to a country cottage in the UK for a long weekend, closing the front door, lighting the fire and enjoying a nice cold glass of Sauvignon once the children are in bed and this is exactly what we did a few weeks ago. We packed up the car and headed off for a hosted stay, courtesy of Baby Friendly Boltholes to Spindle Cottage, in the heart of the New Forest.
Spindle Cottage is a delightful family friendly cottage overlooking the moor where wild ponies roam and you can sit and watch them pass the window from the comfort of the lounge. It is a cottage with indulgent interiors, sumptuous beds and cosy log fires to make it a perfect romantic retreat, whilst the long list of baby gear, playhouse and outdoor play fort make it just as attractive to mini guests too!
We have visited the New Forest on many occasions so are very fond of the area. However, Spindle Cottage sits slightly further South than where we have stayed before at New Park Manor Hotel so we still had lots of exploring to do and you can see our itinerary below.
Spindle Cottage
Spindle Cottage is just the most beautiful three bedroom cottage to stay in and owner Jane is just as lovely. She really couldn't have done any more to make us feel welcome and all the little extras in the cottage were just divine. It's these little things make such a big difference when you are on a family holiday. From the chocolate brownie in a jar which the girls loved making…
The welcome breakfast pack which honestly would have fed the 5000 and was delicious…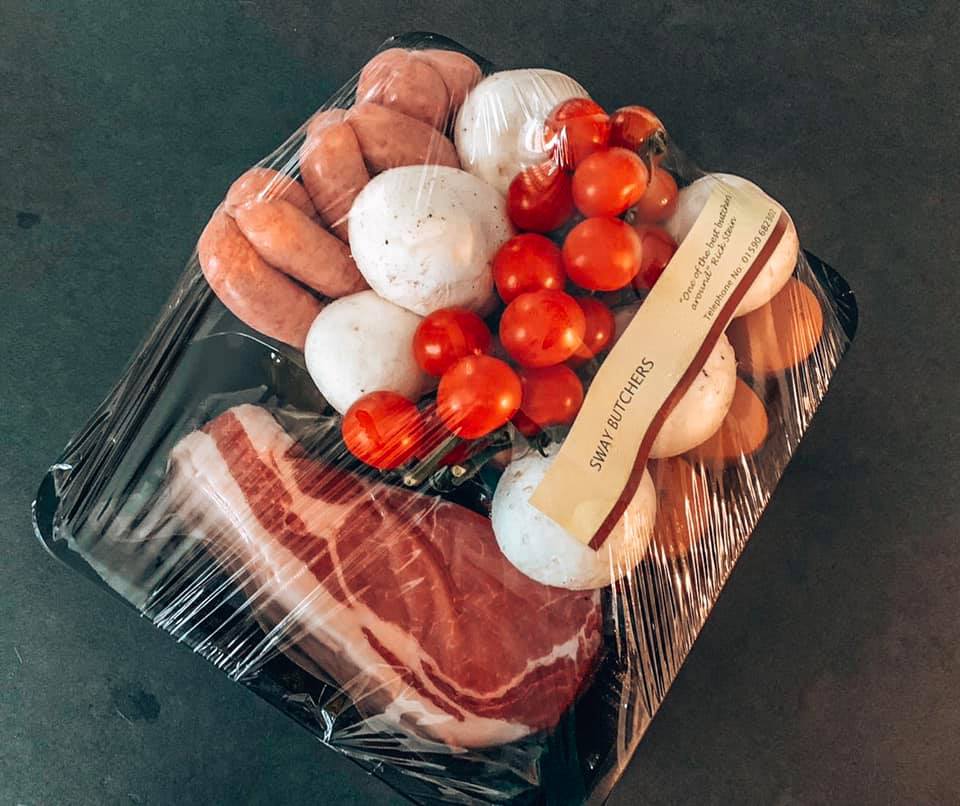 To the children's own playroom and outdoor area and the fire ready to be lit.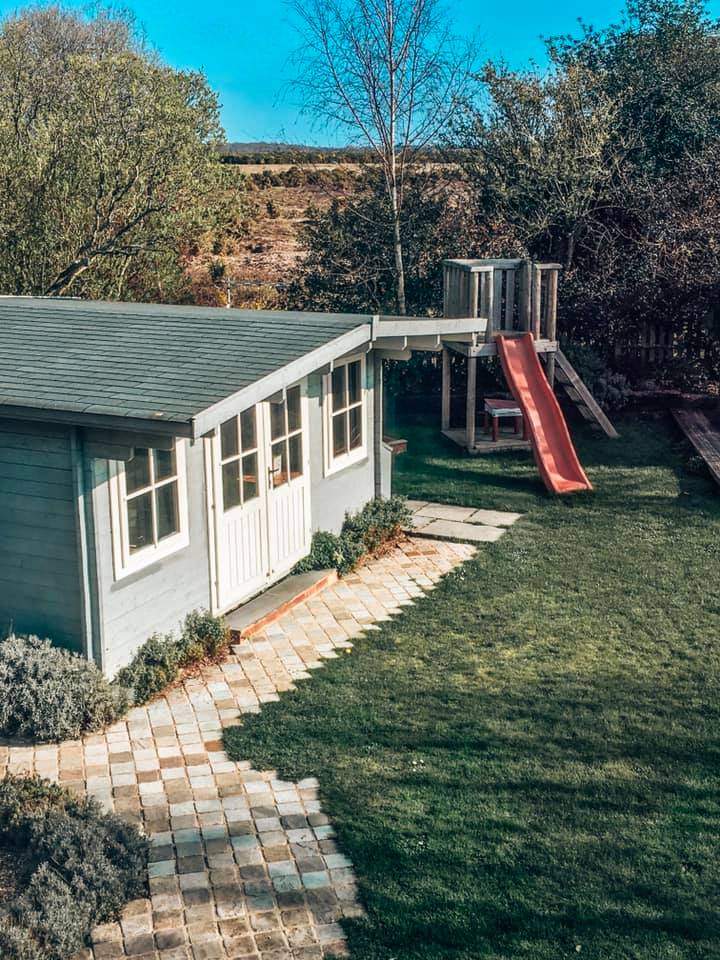 Jane and I also exchanged a number of emails prior to our stay where she helped plan an itinerary for the 4 days in the New Forest. There is nothing quite like recommendations from a local.
The Cottage
Spindle Cottage is utterly charming. Whether you are staying with your family, friends or even as a couple, you will adore it. It is a real home from home.
Downstairs at Spindle Cottage
Downstairs, you will find a large dining hall, lounge with a period working fireplace (logs provided) and a beautiful cottage kitchen complete with breakfast bar, Nespresso machine, large Rangemaster fridge freezer, traditional walk in pantry and Rayburn oven and hob and it comes fully equipped with essentials such as microwave and dishwasher and laundry facilities.
You don't need to worry about packing too many extras as all the essentials are right there, including tea, coffee, sugar, milk, and even breakfast for a morning or two depending how many you are feeding – the welcome pack includes a full English breakfast which is totally amazing! Tea towels, washing up liquid, dishwasher tablets, bin bags, and a whole draw of plastic child friendly plates, bowls, cups are available to use.
The large dining area can seat up to 6 people and highchairs can be provided for 2 babies.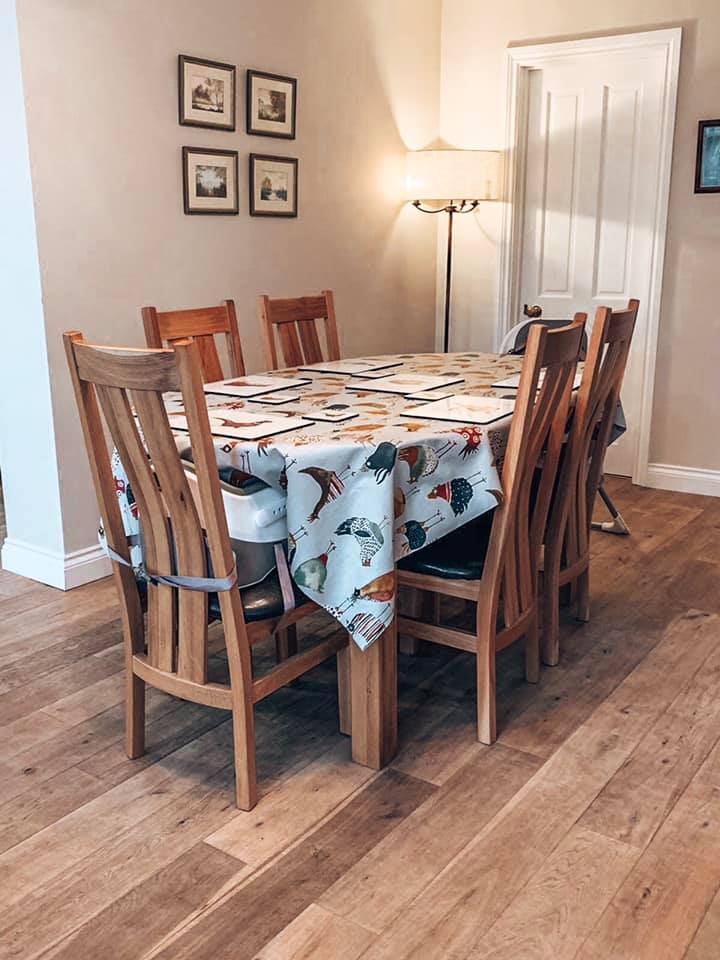 The lounge area has a beautifully stylish sofa and arm chair which are the perfect places to collapse in, in the evenings. The working fireplace was lit every night once the girls were in bed and made the house even more snug.
Just off the dining area, you will also find a small toilet room and utility cupboard.
Upstairs at Spindle Cottage
The upstairs sleeps up to 6 adults plus 2 cots over three bedrooms, each with stunning views of the New Forest. There is a master with a superking bed, the second bedroom has a kingsize double or twin beds (convertible), and the third bedroom a spacious single bedroom that can adapt to a double or a second pull out single for two children and a cot. There is a stairgate at the top of the stairs.
All three bedrooms are a good size and tastefully decorated. Each bedroom also has bath towels and soft bath robes, even mini ones for the children – Matilda's was extra cute!
The twins stayed in the twin room which was fitted with bed guards and to make it even more child friendly, the twins were welcomed to bed with a bunny each and some bedtime story books and in Matilda's room there was a mobile over her cot, blankets and changing mats.
There is also a family bathroom upstairs with a claw, roll top bath and rain head shower complete with bath toys, children's toilet seat and step.
The Playroom at Spindle Cottage
Every child's dream is to have a playroom of their very own and Spindle Cottage has just that! In the garden, there is a large summer playhouse full of wonderful toys and boasts a large TV with Sky, Bluetooth connections and WiFi! The toys were very age appropriate with their being a selection of baby for Matilda, she loved the walker and much to the twins annoyance she became a pro at scooting around the room! For the girls there was a dolls house, ponies to play with, workers bench, a drawing easel with colouring equipment, games, books and DVDs.
The playroom was also fully heated so no matter what time you go in there, it is warm.
The Garden
The cottage garden is a secure, large private garden with an organic herb patch and two seating areas. One for lounging with an outdoor sofa and another for outdoor dining, complete with BBQ and a sink and food prep area.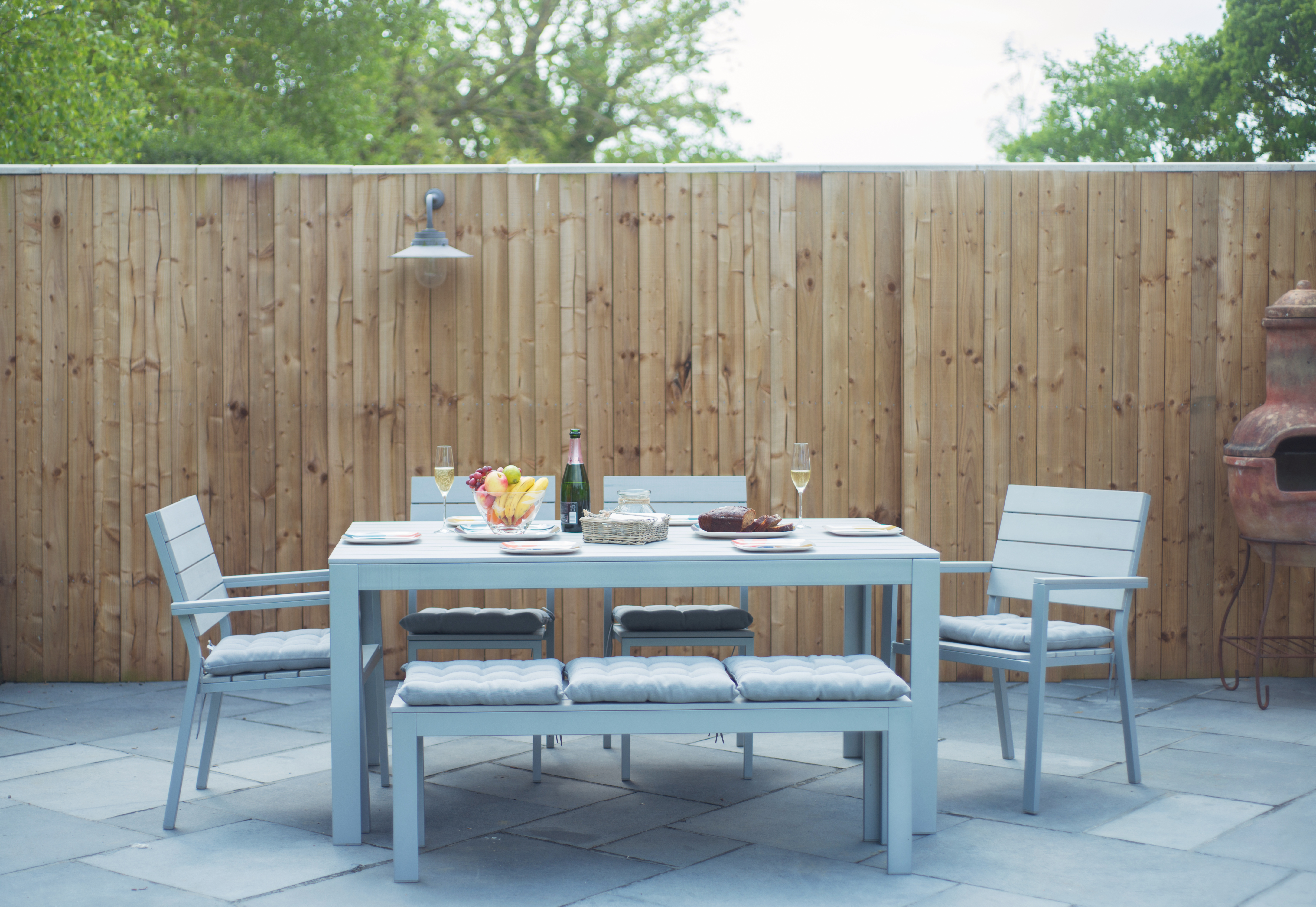 The garden is a great size to enjoy with your family too and a bonus that the playroom is outside. The doors can be opened and children can run in and out as they please. It also hosts a climbing fort with slide, water tray and sandpit as well as some ride-ons – a big hit with the twins.
Our Weekend Itinerary
When visiting somewhere new, I always put some time in to researching the area to see what there is to do to make our family holiday special, as mentioned above, Jane the owner helped me with this as we wanted to make the most out of our stay. We were in Spindle Cottage, in the New Forest for 4 days and apart from the journey to and from which was just over 2 hours from Essex, the rest of the time was ours so here is what we planned.
On previous trips whilst the twins were still in carriers, we ventured out walking quiet a lot but this time we wanted to explore the coast a little more and that we did. I think this itinerary would suit most families staying in the New Forest.
Day 1 – Moors Valley Country Park and Forest
There is so much to do here for all ages. After a 21/2 journey we arrived here just in time for lunch so headed straight to the café where we all enjoyed some hot food. There were plenty of tables and highchairs available. We could then begin our family holiday together. The girls then needed a run about so we went and explored the large outdoor toddler play park area before heading for a walk to the lake. There are also play areas for older children but this one was perfect for the twins. We then popped around the Gruffalo trail before heading back to the car.
There is so much more to do than this including large play parks, high ropes, the Zogg trail to name a few. But CLICK HERE to explore Moor Valley a little more!
Late afternoon – Head to Spindle Cottage to settle in to our family friendly cottage.
Day 2 – Hengistbury Head
After a lazy morning (we don't rush about on holiday!), and a play in the playroom, we headed to Hengistbury Head for some lunch in the Hiker Cake and then took to the beach/coastal path for a walk.
The walk was beautiful as a path ran alongside the pebble beach which was perfect for the buggy. The twins did incredibly well and walked all the way up to the point and back again. You could go further but 4 little legs had done quite enough and we didn't want to push it but the girls enjoyed chasing the waves and throwing pebbles into the sea – what child doesn't enjoy doing that!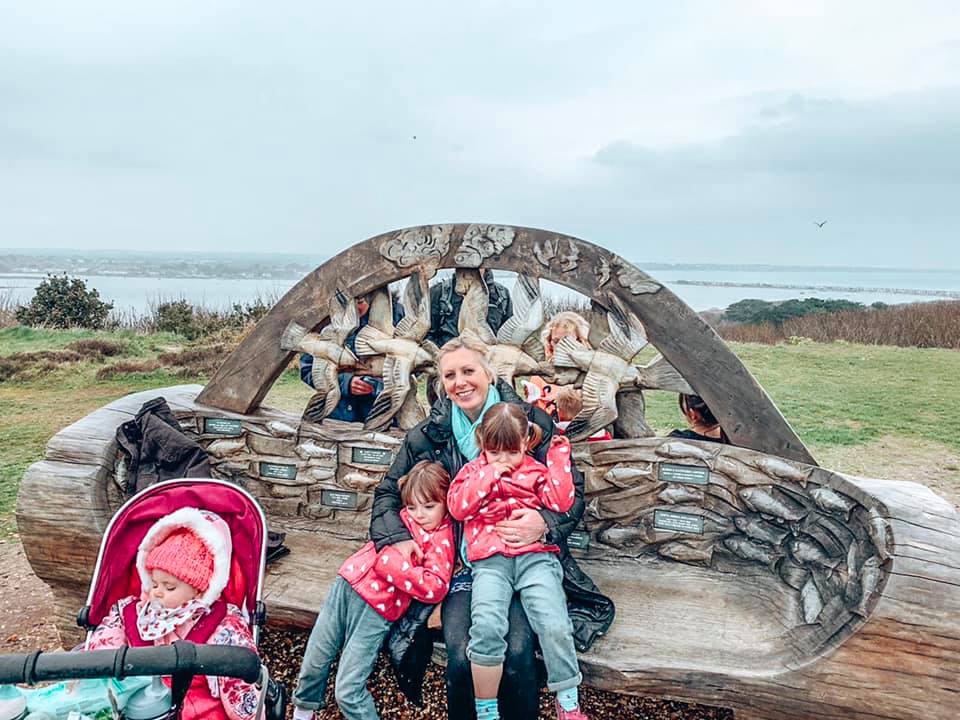 Please note – twin 2 did fall in the sea and got wet so spare clothes are advisable!!
Afternoon  – On the way home, we took a drive through the New Forest National Park to enjoy get a feel for what the area really is like. The girls loved seeing the wild ponies grazing in their natural environment out of their window.  PLEASE NOTE that there is a code to protect the ponies. They are wild animals and shouldn't be approached. More details on how to enjoy the beauty of the New Forest and the wild ponies can be found here.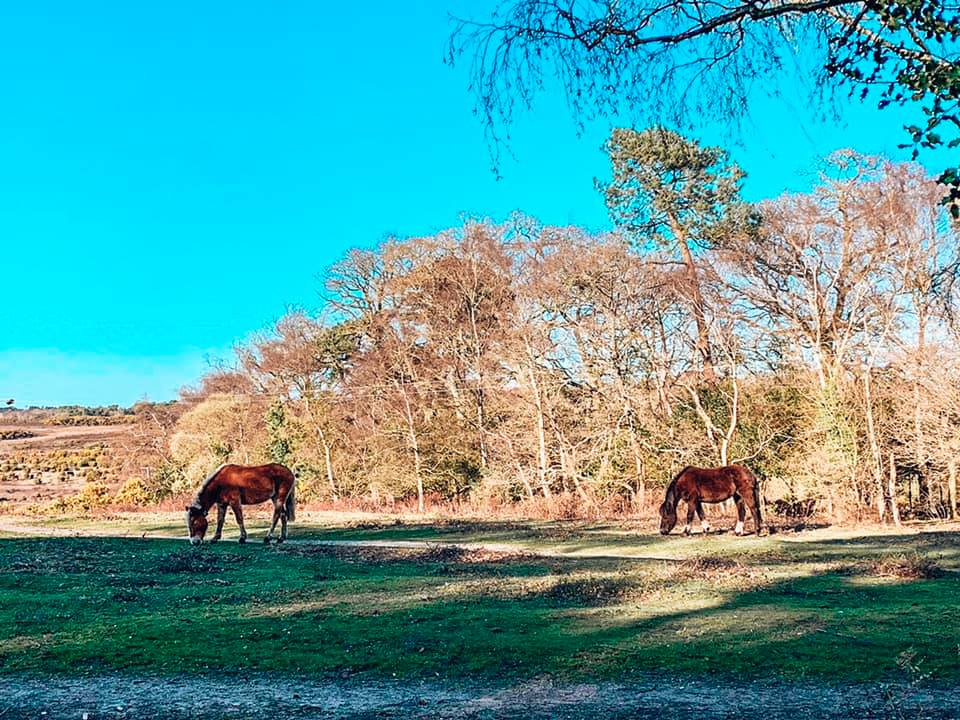 Day 3 – Avon Beach, Fryers Cliff
We were incredibly lucky and day 3 had sun written all over it – 17 degrees in March, totally amazing so we made plans to head to a different beach, one which was full of sand and perfect for small children to play on. We were very fortunate to have been offered a beach hut for the day and this really made our trip out perfect. The beach hut is available to hire (at an extra cost) for anyone staying at Spindle Cottage and I would highly recommend you do this. The details can be found in the cottage.
The beach hut comes complete with a table and chairs, sun loungers, beach play equipment and a great play/nap space for baby. Sometime the sand can get too much for tiny ones!
The beach hut itself is just a 5 min walk from the car park and is set just off the beach, up a few steps. This part of the beach was empty and the twins played happily for hours and would have stayed longer.
We took a picnic and all sat in the beach hut to eat it which was lovely – a sand free lunch for once!
Evening – Tonight was a real treat, Jane, the owner treated me to a Mindfulness session. She is an expert in the field and offers sessions to those staying in her cottages as well as running a successful Mindfulness and Pilates business called New Forest Retreats.  In all honesty, I had no idea what I was letting myself in for and was possibly a little sceptical about it, but went in with an open mind!
We planned the session for the early evening when the sun was going down. It is my favourite part of the day and often find it really calming. Jane transformed the playroom and set up the session by lighting candles and laying out mats and blankets, she turned it into the most perfect peaceful space.
So what is mindfulness? Mindfulness is about paying more attention to the present moment – to our own thoughts and feelings, and to the world around us and not about what has happened, or what may happen.
It can be so easy to rush through life without stopping to notice much and an important part of mindfulness is reconnecting with our bodies and the sensations they experience. This means waking up to the sights, sounds, smells and tastes of the present moment.
The session was 30 minutes long and for the first time in a long time, I relaxed. I'll admit, I was taken by surprise by this feeling. At one point, I completely drifted off, I have no idea where to, but it was to a happy, relaxing place!
I would usually turn to a massage to destress but would still lie their thinking about everything that needed to be done. This didn't happen in this session and it is one I am going to explore more; I am even considering a weekend retreat! It was the perfect end to our family holiday.
Day 4 – Furzey Gardens/home time
After packing up the cottage we headed the Furzey Gardens to have some last minute fun before heading home. Furzey Gardens is a relatively small public garden on the edge of Minstead, a picturesque rural village, set in the very heart of the New Forest.
We enjoyed a relaxing stroll through the gardens looking for fairy houses before seeking out the large pond which plays host to a variety of wildlife, and at the other end of the gardens the girls enjoyed the large play area, including a number of timber tree houses and connecting walkways. There is a café but it is worth checking the website for opening times as it wasn't open on the day we visited.
To sum up our family holiday at Spindle Cottage in the New Forest
Spindle Cottage is a beautiful cottage, perfect for a relaxing getaway in the UK and only 2 hours from London. You can arrive with just your food and clothes for a week and let the cottage treat you to everything else you need.
It is totally child and baby friendly with both indoor and outdoor toys, baby walkers, books, DVD's, stair gates on the top and bottom of the stairs, booster seats, baby bouncer, playgym, baby bath, monitor, steriliser, bed guards, highchairs, cots, potties, steps and eating accessories.
As a treat for mum and dad, book a mindfulness session with Jane the owner and go home feeling more refreshed and relaxed than you have in a long time.
This comes highly recommended by Popitha!
To book a stay at Spindle Cottage, pop over to Baby Friendly Boltholes website.
Don't forget, if you book any of my properties through Baby Friendly Boltholes, you receive at £25 discount for stays longer than 4 nights. Just use the code BFBPOPITHATWINS.
If you have enjoyed reading this, you may like to read other reviews which are also close to London such as New Park Manor Hotel, or Greenwood Grange and The Cowshed in Dorset. If you are looking for a fun, family friendly farm stay in Devon, then you will just love North Bradbury Farm.
**This stay was gifted for the purpose of the review but all thoughts and opinions are my own.
GO ON, PIN IT