Woolley Grange Hotel is set in the beautiful Wiltshire countryside, just 20 minutes from Bath. It dates back to the 1600's, and is steeped in history. From its origins as a family home through to a maternity hospital in the second world war, there is always a story to be had in front of the fireplace of what the Woolley once was. When the fires are lit, the house comes alive.
A few weeks back we were extremely lucky to be invited to stay at Woolley Grange Hotel which, like New Park Manor in the New Forest, where we stayed a few month back, it is part of the Luxury Family Hotel chain and yet again they totally live up to their name; they most definitely know how to look after families.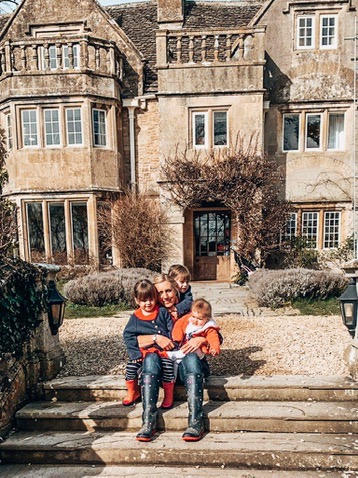 Woolley Grange is only twenty minutes from Bath and just on the outskirts of Bradford-on-Avon in Wiltshire. If you have more than a few days, I would definitely recommend taking a trip to Bath but as we only had a few days, we had no intention of going anywhere – there was plenty to do on the doorstep and I was looking forward to a rest, which amazingly I got!
When I tell friends and readers about these hotels, they look at me as if I am dreaming – 'what, you can really take your children to a posh hotel without embarrassing yourselves?' 'how do I keep them quiet'? 'how do I stop the almighty tantrums?', 'how do they stay on best behaviour the whole time?' and quite frankly, when we stay in a Luxury Family Hotel, children are allowed to be children and they understand that all children have a little wobble from time to time. Everyone is made to feel at home and everyone is welcomed.
Child Friendly Features
The staff at Woolley Grange Hotel couldn't do enough for us throughout our stay. Whatever we needed they got, whatever we asked, they answered, anything to make a hotel stay with little one's fun and easy. From the minute you walk through the door, you come across toys. Toys can be found in most rooms – This is perfect so you can enjoy a coffee or a cheeky glass of wine whilst the children stay entertained.
The Den
Talking of children being entertained, The Den is the complimentary child care you are offered when you book your stay at Woolley Grange for babies and children over 12 weeks old. Whilst we love holidaying with our children, there is also that small sparkle that lights up in my eye when I hear the words 'a few hours off'. Let's face it, we all deserve it!  For us, taking the children to The Den is a no brainer, it is a massive perk of the hotel. You get a whole two free hours to yourself whilst your children immerse themselves in play. The Den is well equipped to cater for all ages and children can enjoy a mix of art and craft, role play, small world and if the weather is nice, they even have their own outdoor area.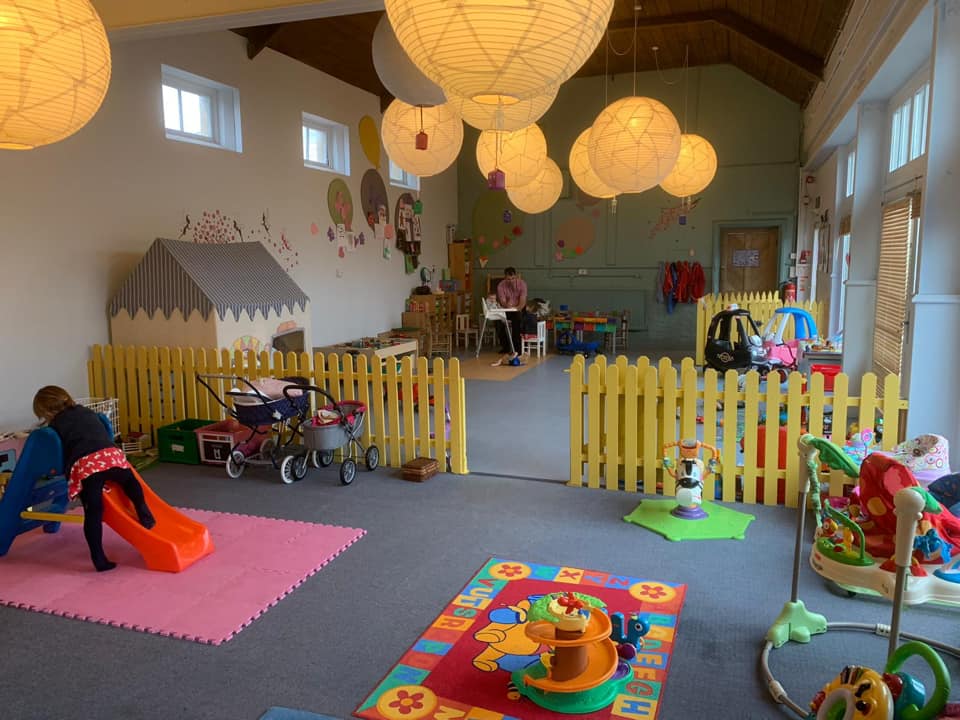 The staff in the Den were fabulous. On the first day we had a few tears (which apparently lasted for a whole 30 seconds, just enough so we felt a tad guilty for leaving them!), but on the second day, they ran off without even saying goodbye – to me, that says it all!
You can choose from two sessions; 10-12 or 3-5pm. Just don't forget to book it in advance though. If you want to enjoy the wonderful toys and crafts as a family, you can head over between 12.30-2.30 for a play. This doesn't need to be booked. Depending on your package and time of year, there are also a few additional sessions at times, some from 8am and some from 12.45 so do check when booking.
The outdoors
The grounds at Woolley Grange Hotel are beautiful. We were so lucky that the sun shone on the Saturday morning so we could head out and explore. We managed to lose ourselves out there for at least 2.5 hours and decided to take on the Woolley sheep challenge.
Around the grounds, a trail has been set to find 8 sheep. Each sheep had a letter which makes up a word. My husband saw this as a great challenge and off we went – it allowed us to explore Woolley Grange properly.
There are several different areas and things to do outside. To the front of the house was a large garden with pond dipping (a massive hit with the girls), a swing, outdoor toys such as a giant connect 4, trampoline and football.
Then as you walk up and around, you go through a fairy garden full of mini-beast's houses.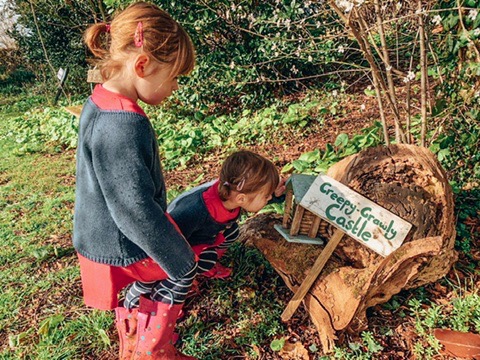 To the side of the Grange, and next to The Den is a small park with a sandpit hidden in a neat little garden.
Then as you walk past the car park towards the spa, you come to the walled garden where all of the vegetable produce is grown in season. But, it is not just a vegetable garden, it is also home to ducks, chickens, rabbits and a shy pig.
In the walled garden area, you will also find more play equipment for the children including the witches house which I think is super cool, a real tractor, two large playhouses fully equipped with toys and children's gardening equipment.
Can you see why we spent so long out there!
The Cinema Room
Come Saturday afternoon, the grey clouds had arrived and the rain set in. Matilda went up for a nap with Daddy (I am guessing he napped too!) whilst the girls and I snuggled into Finding Nemo in the cinema room. As well as films running during the day, they have two child friendly films in the evening. One at 6pm, and another at 8pm.
High Tea
One of the highlights for us was how easy they made mealtimes – Now we all know how much I hate meal times and am usually the last one who manages to eat their stone cold dinner after dealing with all the faffing the girls do! But at Woolley Grange, there are a few different options to make feeding time a more manageable experience.
You can feed the children high tea at 5pm and then eat dinner yourselves after you have put the children to bed, and use the baby-listening service or request a babysitter (£10 per hour, minimum 2 hours) in advance – we took the baby listening service option. Alternatively, you can dine as a family between 6-7.30pm.
Bottle Washing
How could I forget to tell you about this?! One thing I hate is washing Matilda's bottles and the staff at Woolley Grange even take this little job away from you. There is a basket just outside of the dining room where you pop your dirty bottles and they are returned clean and sterilized!! How fab is that?! They just need another basket next to the bottles for dirty washing, don't you think!!
The Facilities at the Woolley Grange
The Bedrooms
Many of Woolley Grange's rooms are set up for families and ours was no exception. We stayed in 'Balcony', which was a separate building to the main house but totally perfect for us.
As much as I love my children, one thing I hate about hotels is that you generally all have to squeeze into a room together, listen to the children tossing and turning all night and being afraid to move in case I wake anyone up, but at Woolley Grange, there is the option of having a two-bedroom room. We were in a double bedroom and the children had a twin room complete with bed guards and travel cots – just think of the space you will have in your car!
On request, and depending on the age of your children, Woolley Grange Hotel have a whole heap of other baby paraphernalia they can equip you with from sterilisers, fridges to bottle warmers, potties, steps and changing mats, if you need it, just ask for it, they will have it!
Dining
As mentioned above, everyone is well catered for at the Woolley Grange especially in the food department. We had a great breakfast and you can choose from a selection of pastries, fruit juices, yoghurts and cereals. They also had a hot menu you can order food from including mushrooms on toast, smoked salmon and scrambled eggs or a full English breakfast.
After a huge breakfast, none of us were really hungry come lunch but they offer simple sandwich options for both adults and children. There was also an afternoon tea option which was yummy!
The evening meals were to die for. We ordered the girls high tea for 5.15, and they happily tucked into sausage and mash but there was a great selection for children to choose from including pasta, pizza, fish just to name a few, followed by ice cream of course, whilst Matilda enjoyed some baby mash! By the time they had finished that, and we had a story by the fire, and it was time for the girls to go to bed.
Once settled, we turned on the listening service and made our way down to the lounge where we enjoyed a glass of wine before dinner which we could not fault one bit. There was a lovely selection of starters, mains and deserts. I chose scallops, followed by sea bass, whilst Tristan had crab jelly and lamb. The desserts looked delicious but we couldn't fit anything else in!
The Spa
No hotel would be complete without a spa. A space for a little you time to indulge in a massage or facial or a pool for children to have a whole heap of fun in! It was the first time Matilda had been swimming so I wasn't sure how long we were going to last but she was happy for a full 45 minutes.
The pool was really warm and perfect for babies, children and people like me who very rarely get into a pool. Whilst there was a sauna and a steam room, the only thing I feel was missing was a Jacuzzi.
In season there is also a gorgeous heated outdoor pool with sun loungers – I can just imagine lying out in the sun whilst the children are in the Den! However, my three little girls don't miss a trick and would be jumping into the pool if they could.
Would I recommend Woolley Grange Hotel to families?
YES, YES, YES. I honestly can't rate this Luxury Family Hotel enough. I simple love the fact that everyone can have some down time and some time to enjoy the simplicities in life. Children can enjoy being children, and adults can enjoy being adults with some special time making memories too.
Prices vary at Woolley Grange. It is a Luxury Family Hotel so I won't say it is cheap but you get what you pay for. The service is 5 star, food delicious and children's facilities outstanding.
If you would like to book a stay at Woolley Grange, all you have to do is either call them on 0844 482 2152 or CLICK HERE.

You may also like to read our review on New Park Manor in the New Forest where we had a fabulous time last year. This is also part of the Luxury Family Hotels.
** We were invited to stay at Woolley Grange in exchange for an honest review. All thoughts and opinions are my own.
GO ON, PIN IT!