There is something quintessentially British and tranquil about woodlands carpeted with an enchanting expanse of beautiful bluebells and some of the bluebell woods in Essex are simply stunning. Nothing beats a family walk in Essex through ancient woodlands or country parks surrounded by a sea of bluebells. It's a great opportunity to find spree beautiful places to visit in Essex, get the kids outdoors to climb trees and burn off some energy whilst you take in the piqueturess blue scenes that you see before your eyes and maybe take a few photos of bluebells. A delicate aroma and breathtaking wave of vibrant colour, they are a clear sign that Summer is on its way!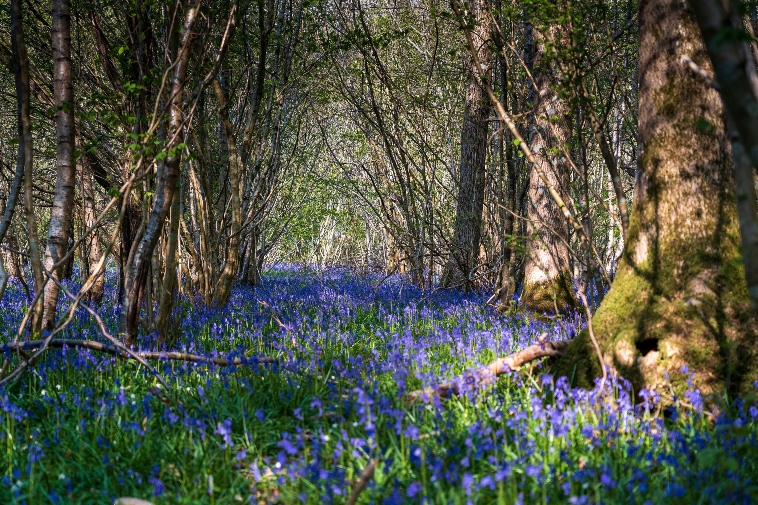 Which Bluebells grow in England and Bluebell Woods in Essex?
The bluebell season sees bluebells growing wild in England are the native bluebell (Hyacinthoides non-scripta) with a drooping head, curly edged flowers, a creamy white pollen.
The Spanish bluebell (Hyacinthoides hispanica) is darker in colour with tubular flowers. These are the ones generally found in gardens across the country.
The bluebell has a range of names that include: English bluebell, wild hyacinth, wood bell, bell bottle, cuckoo's boots, wood hyacinth, lady's nightcap, witches' thimbles as well as their scientific name Hyacinthoides non-scripta.
When do Bluebells flower?
Bluebells Woods in Essex start to make an appearance from mid-April to late May, The bluebell flower is a protected species, and celebrated for attracting a great array of bees and butterflies.
Where can I find Bluebell Woods Near Me? Bluebell Woods in Essex
With blue flowers blooming all over the UK, you're sure to find bluebell woods near me. Here are some of our favourite bluebell woods in Essex.
Bluebell Woods in Brentwood and surrounding areas
Weald Country Park, Brentwood
CM14 5QS
To see the bluebells head to Belvedere mound.
You will find a café with toilets at Weald Country Park. You can also buy deer food in visitor centre for the deer.
Thorndon Country Park, Brentwood
CM13 3RZ
The bluebells are in the Childerditch Wood direction.
Thorndon Park is also home to the Gruffalo trail, a great visitor centre with a café and toilets.
Weeleyhall Wood, Weeley
CO16 9AT
Bluebell Woods in Chelmsford and surrounding areas
Blake's Wood, Little Baddow
CM3 4AU
Explore the many paths that lead you through this ancient wood through valleys and alongside streams.
There are no facilities. Small free car park.
Hanningfield Reservoir, Billericay
There are two places to park at Hanningfield Reservoir. You can either park at the Nature Discovery Park Visitor Centre (Billericay, CM11 1WT) or Hanningfield Waterside Park (CM3 8HX).
The Essex Wildlife Trust Hanningfield Reservoir Nature Discovery Park visitor centre is where the Wind in the Willows trail is. There is a café and toilets here. Free Parking.
Hanningfield Waterside Park also has free parking with a new playground. There is a café and toilets here.
Neither allow dogs.
Blake's Wood, Danbury Common
CM3 4ED
Danbury Country Park, Danbury
CM3 4AW
The bluebells are through the woods close to the ice house and lakes.
There are toilets.
Bluebell Woods in Colchester and surrounding areas
Highwoods Country Park, Colchester
CO4 5JR
Highwoods Country Park with a lake, 2 play areas close to the car park, Nordic walking trail & a community garden.
Visitor centre, cafe, picnic area and toilets. Parking.
Hill House Wood, Colchester
CO6 3NY
Wivenhoe Woods, Colchester
CO7 9GW

Other Bluebell Woods in Essex
Gusted Hall Woods, Hockley
SS5 4JL
There are no facilities – just enjoy a stroll and the bluebells in Essex. Free parking
Mill Meadows, Billericay
CM11 2YX
There are 12 access points for visitors around the reserve including:Southend Road
Greens Farm Lane
Langemore Way (off Hillside Road)
Chaffinch Crescent (Mill Grange Estate)
Jackdaw Close (South Green).
Bedford's Park, Havering-atte-Bower
RM4 1QH
There is a visitor centre with toilets, a shop, café & refreshments.
Picnic area
Norsey Woods – Billericay
CM11 1HA
Picnic area & buggy/wheelchair friendly 'easy access trail' less than a mile long. Toilets.
Norsey Wood has a wide variety of plants and animal life. The wood is helping to conserve biodiversity by providing suitable homes for some threatened and rare species like the dormouse and pipistrelle bat.
Pound Wood, Benfleet
SS7 2UR
One of the largest remaining areas of ancient woodland in South East Essex.
Chalkney Woods, Earls Colne
CO6 2PR
Chalkney Wood is an attractive example of ancient woodland that is currently transitioning to a site of native tree species.
There are no facilities. Free parking.
Bedfords Park, Havering-atte-Bower
RM4 1QH
There is a playground and views of London from here. Take some carrots to feed deer.
Parking is Free.
Belhus Woods Country Park, Aveley
RM15 4XJ
Go towards Running Water Wood or Whitehall Wood to see the bluebells.
There is a visitor centre with a café and toilets, plus a playground.
Epping Forest, Epping
There are three main areas that are well known for Bluebells in Epping Forest – Bluehouse Grove in Chingford, Chalet Wood in Wanstead Park and Strawberry Hill in Loughton. I also found a great spot to see them at Bury Wood in Chingford and, more recently in two locations on the Forest Way in Upshire.
Shadwell Wood, Saffron Walden
CB10 2NB
Park by the track to Little Hales Wood on the opposite side of the road
Apes Grove, Abridge
RM4 1UL
Ape's Grove Wood is known locally as 'Bluebell Wood' and is a wonderful semi natural ancient woodland.
Weeley Hall
CO16 9AT
Protection of Bluebells in Essex
When visiting Bluebell Woods Essex or garden, please look after our bluebells. Stick to the paths. Avoid walking through the bluebells, as you will damage the plants' flowers and leaves, which will affect the bulbs' flowering in the following years.