Autumn is well and truly on it's way and it's the season for cosy knits, spiced lattes and Halloween which means pumpkin picking. Visiting a pumpkin picking field has become a more and more popular family day out in the UK with lots of farms opening up for PYO pumpkins and we have found a fair few places to go pumpkin picking in Essex. It's such a fun day out in Essex with the family. If you are in the North West, check out this post Pumpkin picking in the North West.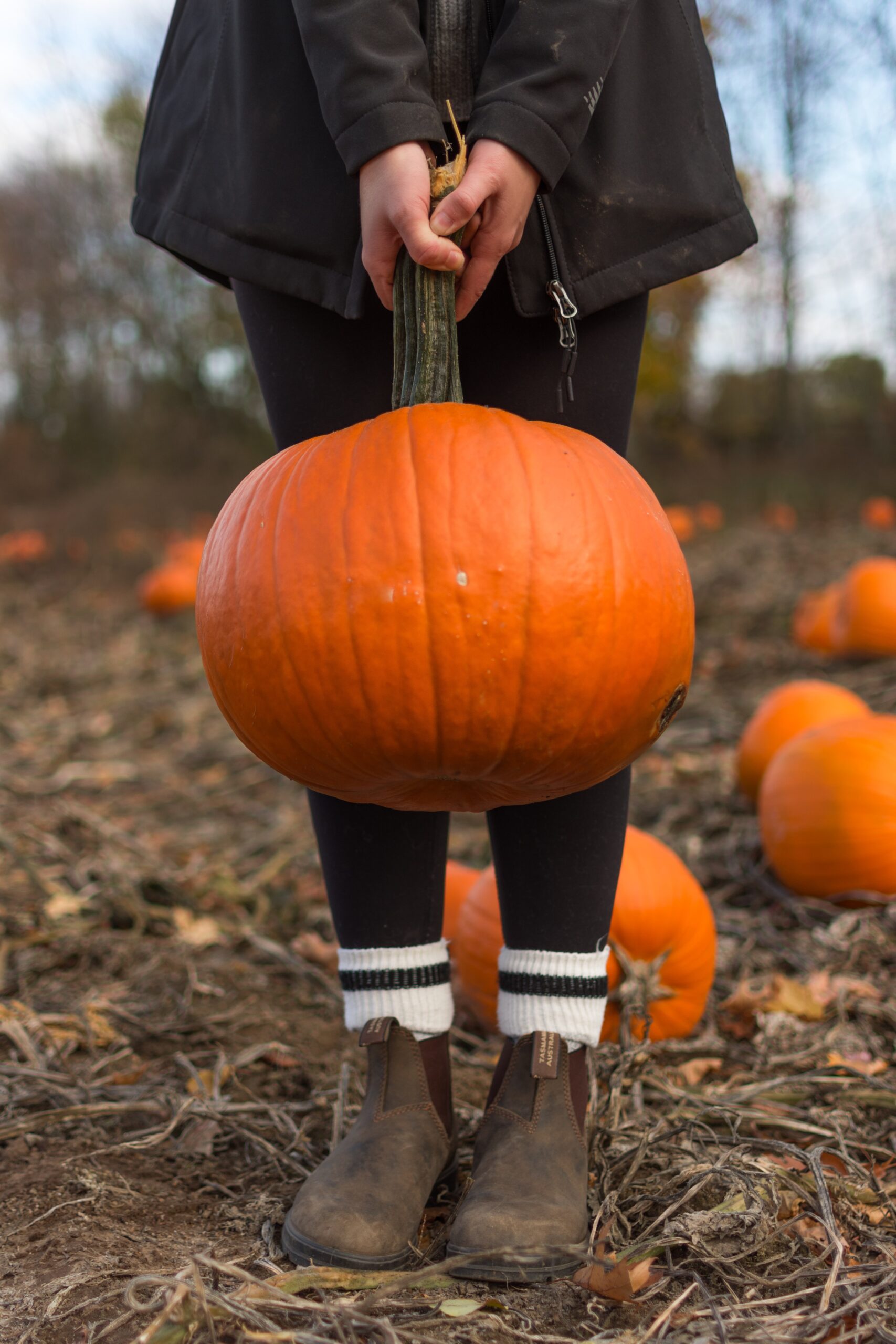 Scroll though our list below and enjoy a fun day outdoors searching for those perfect pumpkins. Remember to take your wellies and be prepared to carry all of your impressive finds back to the car.
Pumpkin picking in Essex:
Pumpkin Picking Village
http://pumpkinpickingvillage.co.uk/
Marsh Farm, Marsh Farm Road, South Woodham Ferrers, Chelmsford, CM3 5WP
(Photo by: Life with Jupiter and Dann )
Visit Essex' premium pumpkin picking village & Halloween shopping experience – next door to Marsh Farm in South Woodham Ferrers. There's free parking and timed entry slots to the Pumpkin Village, customers can enjoy a visit to the Pumpkin Village to go pumpkin picking and shopping as well as a spooky pumpkin night sessions.
Open: Every day from October 6th– 31st from 11am – 5.00pm
Prices: From £3.99 to £9.99 per person (does not include entry to Marsh Farm)
Foxes Farm Produce – Pumpkin Picking in Essex
https://www.foxesfarmproduce.co.uk/
Watch House Farm, Wash Road, Basildon, SS15 4ER and  Green Lane, Aldham, Colchester, CO6 3PR
(Photo by: Little Miss Eden Rose)
Foxes Farm Produce is the original PYO pumpkin patch in Essex offering pumking picking in two locations, one field is in Basildon and the other in Colchester. There are ready cut pumpkins in the field with 15 different varieties to choose from, you can also make use of the wheelbarrows to easily transport your pumpkins.
Open: On 25th & 26th September and every weekend in October.
Prices: Pre-booking is a must at £5.00 for a family of four. Additional tickets cost £1.50 each.
Cobbs Farm
https://www.cobbsfarmshops.co.uk/
Goldhanger, Maldon, Essex, CM9 8BQ
Cobbs Farm in Maldon is great for pumpkin picking in Essex. They have a large field where you can pick your own pumpkins from the vine. There is a large selection of pumpkin varieties to choose from and they are all very reasonably priced.
Open: October half term week.
Price: Free entry and no booking required (you just pay for your pumpkins)
Cammas Hall Farm
Needham Green, Hatfield Broad Oak, Near Bishop's Stortford, CM22 7JT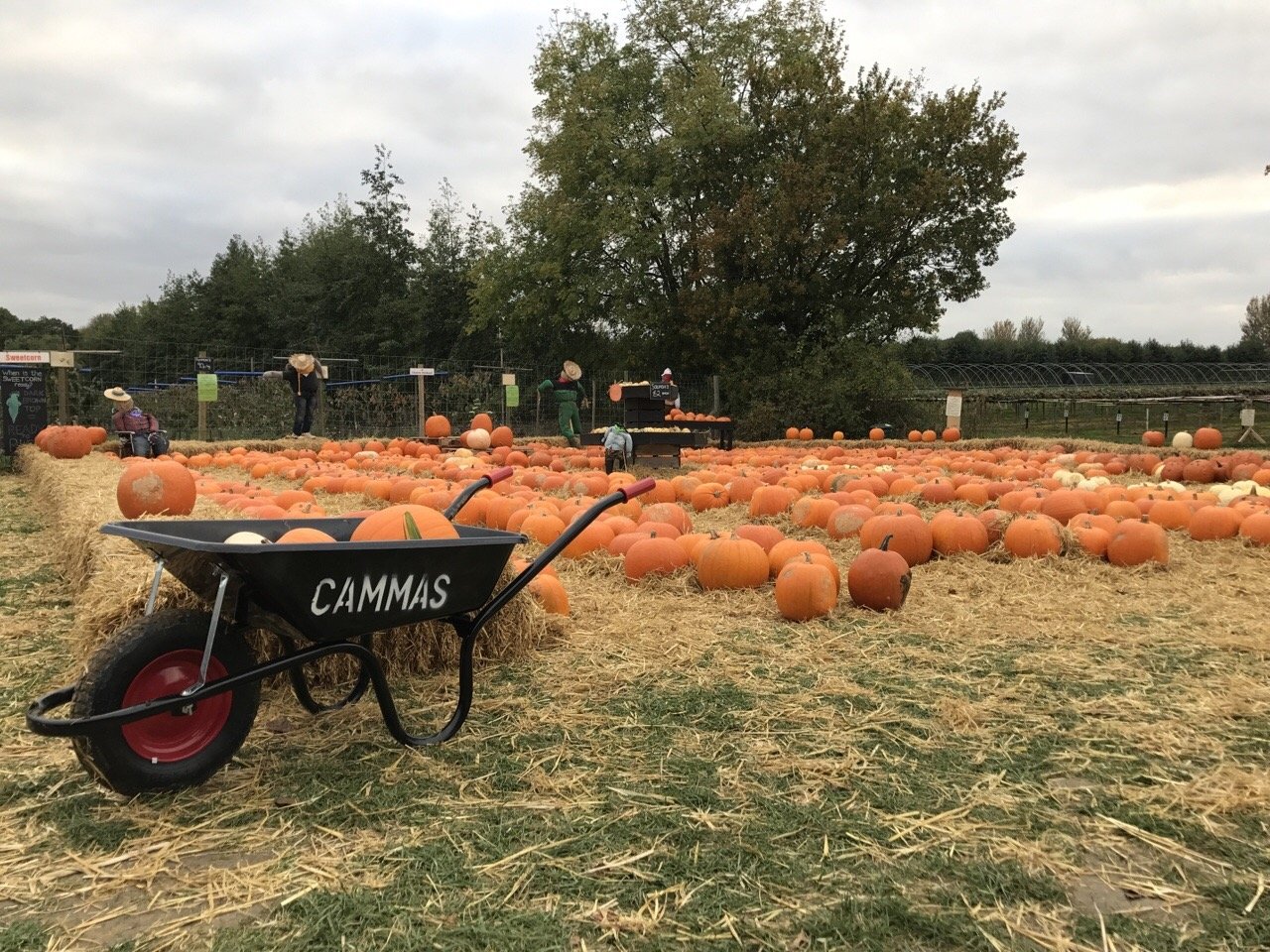 (Photo by: Little Miss Eden Rose)
Cammas Hall offers a ready picked pumpkin patch in Essex with a huge variety to choose from with friendly Halloween characters wandering around. Extra Halloween activities are available such as two maize mazes, you can also visit them  in the dark for the first time!
Open: Throughout October, visit the website for details
Prices: £2.25 per person – Tickets are for admission only and therefore there is no money off the pumpkins you purchase. Pumpkins are charged by weight and small ones will cost as little as £1
Pumpkin Forest at Hurleys
Christmas Tree Farm, Battlesbridge, Woodham Road,Wickford, SS11 7QL
Hurley's Pumpkin Forest pumpkin farm and pumpkin patch is based at the Christmas Tree Farm in Battlesbridge. There is plenty  going on at Halloween with lots of fun activities to choose from. There is pumpkin bowling and welly wanging as well as a maize maze.
Open: Throughout October
Prices: Pre-booking is essential. £5 per family car. Includes car parking for 1 car & entry to the farm for any passengers
Lathcoats Farm
https://www.eapples.co.uk/
Beehive Lane, Galleywood, CM2 8LX
Pumpkin picking in Essex at Lathcoats Farm also includes pumpkin carving and a Halloween Hunt for all of the family to enjoy.
Open: 18th to 31st October 2021.
Prices: Book online tickets 50p per person
Hatter's Farm
https://www.hattersfarmpumpkins.co.uk/
Takeley, Bishop's Stortford, Essex, CM22 6NP
Hatter's Farm have thousands of pumpkins and squash at their Pumpkin Patch for you to choose from, with over 25 varieties, whether you like knobbly ones, giant ones, tiny ones or colourful ones, they have it all. Other activities include the Pumpkin Cannon and a Maize Maze.
Open:Daytime Pumpkin Picking 9th, 10th, 16th, 17th and 23rdto 31st October. Pumpkin Nights 23rd, 24th and 26thto 31st of October.
Price: £4 entrance per car plus the prices of your pumpkins
Photo: by Life with Jupiter and Dan (hatters-farm)
Hasty's Adventure Farm
https://www.hastys.co.uk/book-now/
West Road, Clacton On Sea, CO15 1AG
During the October half term, Hasty's Adventure Farm have a pumpkin trail as well as a great variety of Halloween themed activities for kids like giant (but friendly!) spiders and you can even play a game of Pumpkin Skittles.
Open: Friday 22nd – 31st October 2021
Prices: Pre-booking is essential. Entry ticket plus pumpkin picking £8.95 per person
Pumpkin Jim's
https://www.pumpkinjimspatch.co.uk/
Grange Road, Ickleton, Saffron Walden, CB10 1TA
Technically Pumpkin Jim's is on the border with Cambridgeshire but it is still one to visit.You can spend the day picking your own pumpkins, digging for spuds, picking wild flowers and sampling delicious food from local food trucks.
Open: 23rd to 31st October 2021 from 10.00am – 3.00pm.
Prices: Pre-booking is essential – a minimal ticket fee (£1) to prevent multiple bookings. There are two hour time slots.
Do you have more ideas?
These are some of out top places to go pumpkin picking in Essex. Do you have any more which you would like to recommend?