If you are on the lookout for the perfect family holiday it may prove to be a wide-ranging task. You may decide to venture to America so you can hit the theme parks to please the kids, but if you are considering something further afield, Asia, the largest continent on earth, is a place that offers so much diversity for all kinds of people that if you're travelling with the kids there is plenty to suit everyone. From cultural history to vibrant modern cities and of course, plenty of theme parks, Asia is where you need to go. Let's show you some of the best places.
** This is a collaborative post and I have been paid for my time.
Malaysia
A place full of beautiful sandy beaches, jungles, and mossy forests, it is somewhere you can all go for great adventures as a family. There's plenty of opportunities to unwind as well, but if you are looking for a combination of adventure and proper downtime, you could find a Cyberjaya house for rent in Selangor and venture to one of the many theme parks. Skytrex Adventure encapsulates the high-rise experience. Full of zip lines and tree canopies, your family will love this, just as long as they aren't afraid of heights.
Hong Kong
A wide-ranging cultural mecca, Hong Kong is one of the super cities in Asia. It is easy to get around and with so many places to eat and drink, as well as exposing your kids to a wide variety of cultures, everybody will be happy. The kids will be especially pleased that there is a Disneyland. While Hong Kong Disneyland is one of the more obvious choices out there for a holiday, it is really one of those magical experiences that you feel that your children need to have in their lives. In addition, there are fantastic theme parks away from the Disney banner. The Ocean Park theme park provides a wide variety of rides, creatures to stare at, and play areas that will appeal to everybody, even yourself.
Singapore
One of the most popular destinations for families looking to explore Asia. While they have beaches, they're not considered the best in Asia. If you're looking for an experience where you can stick firmly to the hotels while venturing out on day trips, this is the perfect opportunity. You can head to places like Sentosa Island and stroll along the beaches but you can also venture to the MacRitchie Reservoir and the Bukit Timah Nature Reserve to witness the outdoors in such a unique way. In fact, on Sentosa Island there are also plenty of fun activities and theme parks. With Universal Studios Singapore you can see numerous exhibits in the insect Kingdom while also hitting the MegaZip Adventure Park.
Thailand
If you are looking for traditional Asian cuisine you must head to the island of Phuket to explore their beautiful beaches, or if you are on the lookout for a place to cool down with a significant dose of adventure thrown in, the Splash Jungle Water Park is a fantastic place to get away from the sand, and the kids will be occupied for hours. If you are looking for something a bit more cultural, the Phuket Trickeye Museum is a wonderful place for photo opportunities, especially its Baan Teelanka (Upside House). For the older children, you can go to theme parks like Phuket FantaSea and enjoy wakeboarding canoeing, ziplining, and zorbing, and many other high-octane experiences.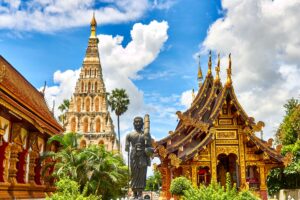 Indonesia
A very attractive destination for tourists and a must for a Southeast Asia itinerary, especially the island of Bali, but it is one of those places that is ideal for children to slow down. There's a wide variety of restaurants in Bali, which is a lifesaver if you have children that are picky with their food. But if you are looking for a little dose of adventure while relaxing you can hit one of the many surf courses near the beach and get your thrills there. And for those children that need stimulation, the Bali Treetop Adventure Park provides many thrills. While on the surface Bali seems to be one of those relaxing islands, if you venture deeper, you've got so much to choose from. In fact, it covers so many bases. Ubud showcases a wide variety of temples, galleries, and high-energy shows. There is also the Bali Safari and Marine Park for those who like their nature and wildlife.
When it comes to family holidays you may try to venture closer to home. As you can see, Asia provides so many different things, from theme parks to water adventures, Asia is one of those places that certainly ticks all the boxes.