Austria is a European beauty spot. Home to the Alps mountain range the alpine scenery and lovely summer climate makes it the perfect place for a family holiday – just picture a summer in Austria! There are so many activities for families in Austria, and there's heaps of things to do in Alpbachtal – a spectacular part of Austria.  From alpine roller coasters, skiing, pony riding and llama trekking. The spectacular scenery alone will have you wanting to return year after year, the crystal blue lakes, stunning mountains and history, culture and architecture are all beautiful. Plus there is so much going on for the kids, you won't  want to leave!
The Region of Tirol
The region of Tirol is a western Austrian state in the Alps that is famous for its ski resorts, historic sites and traditional folk style. The capital city, Innsbruck is surrounded by mountains and is home to Habsburg Empire landmarks such as the Hofburg Palace and Gothic Hofkirche Church. Tirol has so much to offer including outdoor activities and spectacular scenery out two favourite regions in Tyrol are Alpbachtal and Wilder Kaiser.
Things to do in Alpbachtal – About Alpbachtal
Alpbachtal is a town in western Austria in the state of Tirol in a beautiful location 1,000m above sea level, it has been voted to be  "Austria´s most beautiful village." In Alpbach you'll enjoy fresh air, meadows and breathtaking mountain views and typical timber houses. Whether you want to hike, cycle or just relax, Alpbach is an unforgettable place for an Austrian holiday.  Alpbach's hotel accommodation is clad in the traditional wood, a local regulation which has earned the resort the title of the prettiest village in Austria in the past. The hotels in the main part of the village are clustered around the village church with chalets, hotels and shops.
How to get to Alpbachtal
Innsbruck airport has the shortest transfer time to Alpbach, but both Munich and Salzburg airports are easily accessible because of the good motorway connections. Alpbach is around 45 minutes' journey from Innsbruck airport. Brixlegg railway station down in the Inn valley is the closest to Alpbach and is on the direct line from Innsbruck, Salzburg and Munich. Buses run during the day through to early evening from the railway station on the 30 minute journey and taxis are also available.
Alpbachtal in Summer – What is the Weather Like?
During the summer months you are most likely to experience good weather in Alpbach with pleasant average temperatures that fall between 20 degrees celsius and 26 degrees celsius.
10 Things to do in Alpbachtal
Lauserland am Wiedersberger Horn – Alpine Roller Coaster & Adventure Park
Alpbach 311, 6236 Alpbach
Lauserland is an amazing adventure playground situated directly at the Wiedersbergerhornbahn – 6-seater gondola in Alpbach top station. The playground offers a fun programme of events during the summer including grilling sausages, crafts and nature activities – It's honestly one of the best things to do in Alpbachtal.
The modern Alpine coaster has its start at an altitude of 1,845 m next to the Wiedersberger Horn gondola lift top station. Ride in two-seater sledges reaching speeds of up to 40 kmph. Three to eight year olds can ride aboard a sledge in the company of an over eight year old (minimum body height 1.30 m). It's so much fun!
Hike to Wiedersberger Horn
Whilst at Lauserland, you can also head off on some amazing hikes where you can take in the colours of the various Alpine flowers and the blossoming meadows. At approx 1,880 m altitude beneath the peak is the beginning of the panorama path around the Wiedersberger Horn, with views over the Kitzbühel Alps, to the Zillertal Alps and the Rofan Range. Children will love the adventure playground at the top station of the Wiedersbergerhornbahn.
Juppi Zauberwald (Juppi´s Enchanted Forest)
After a ride with the Reitherkogelbahn a 2,5 km long, varied path awaits you. You and your family are bound to have a great time with fun & games in
Juppi Zauberwald
. While the adults stop at the viewing platform to take in the wonderful vistas over the Alpbach, Ziller and Inn Valleys children can enjoy themselves in the various play areas.
The Alpbach Card
The Alpbach Card is  a must if you are looking for things to do in Alpbachtal. It is great for all ages and offers numerous possibilities to explore the Alpbachtal holiday region. The Alpbachtal Card is issued by your host from your first overnight stay and includes a variety of services such as summer mountain lifts, the regional bus, swimming pools, activity programmes and more.
It allows you to take trips on the Regiobus included within the 10 communities of Alpbach, Brandenberg, Breitenbach, Brixlegg, Kramsach, Kundl, Münster, Radfeld, Rattenberg and Reith im Alpbachtal. The Alpbach Card also gives free entry to Reither Badesee Reith, Reintalersee Kramsach (at all marked beaches and at the restaurant Fischerstube), swimming pool Brixlegg and swimming pool Münster.
Alpbach St Oswald Parish Church
Alpbach St Oswald Parish Church was first mentioned in 1369, then a larger one was built in 1420 in honour of St. Oswald, a Northumbrian king. The existing church was built in 1720 in Baroque style and it has a beautiful Rococo facade. The churchyard is also worth a visit.
Gorge Hike – Tour through the Kaiserklamm
6234 Aschau, Austria
Kaiserklamm is a forested canyon with a narrow hillside hiking trail and tunnels, with rushing green water below. Kaiser Gorge in Brandenberg follows the stream for 1km. The narrow gorge path follows the impressive course of the Brandenburg Stream for approx. 1 km upstream. Towards the end of the gorge the landscape mellows and several beautiful spots are the perfect spot to spend some time in nature. The hike will take you around 30 minutes.
Reintalersee Lake
The Alpachtal Valley is home to many natural swimming lakes, including the Reintalersee which is the largest and warmest in the town of Kramsach. It's a popular choice for visitors in the summer but there is a lot of space around the lake at various points for visitors to spread out.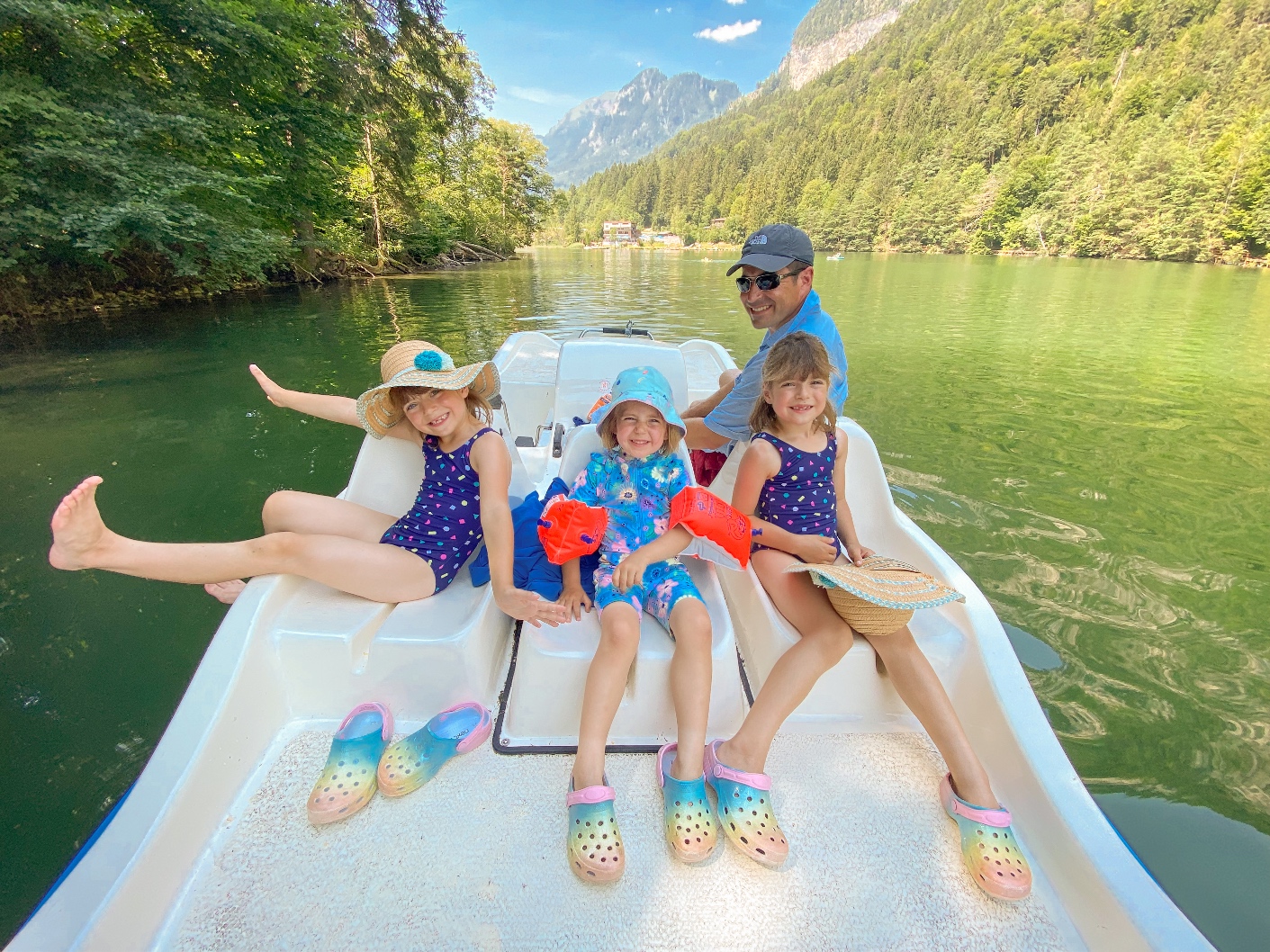 On this trip we based ourselves by the Fischerstube restaurant where we also enjoyed lunch which had an amazing view over the lake -make sure you sit upstairs.
Facilities around the lake include well-tended sunbathing lawns, changing cabins, children's play areas, a beach volleyball court, a boat rental service – the girls loved the paddle boats and a campsite as well as a number of hiking paths with great views.
If you feel like a walk, you can enjoy the walk to the idyllic Berglsteinersee (approx. 30 minutes) Circular walk around the Berglsteinersee lake but today we opted for a chilled day.
Drive to Kramsach, Reintalersee car park.
More Great Things to do in Alpbachtal
Lake Berglstein
Lake Berglstein is a lake in Tirol that covers an area of just two hectares and it is two metres deep. There are plenty of places along the shore to lie down and relax in summer. It is the perfect spot for swimming, sunbathing and paddle boats and enjoying a picnic or some lunch.
White Water Swimming, Tube Riding, Kajaking in the Tyrol
Clothed in the appropriate gear (wetsuit, helmet, gloves, and shoes) and following a guide along the Brandenberg Stream, jump into the current, swim, walk and you're smack in the middle of exciting white water sports.
Museum of Tyrolean Farmhouses in Kramsach
The
Museum of Tyrolean Farmhouses
is Tyrol's largest open-air museum is situated near Lake Reintal in Kramsach. An air of nostalgia hangs over the old farms with their interesting pasts. Experience a journey into the Tyrol's past in the Museum of Tyrolean Farmhouses. Visit the historic farms and outbuildings from all of Tyrol's valleys on a walk through the open-air museum. The small school is particularly worth seeing. Chickens and sheep live in the museum.
Ski Juwel Alpbachtal Wildschönau
Alpbach 311, 6236 Alpbach
Ski Juwel is a family-friendly ski area with lifts which is a great place for summer hiking and mountain biking routes.  There is a large playground for children right next to the  mountain slopes.
Alpbacher Bergbauern Museum
Alpbach 34, 6236 Alpbach
The Alpbach Mountain Farming Museum is above the small church in Inneralpbach. The farm was built by local carpenters between 1636 and 1638 and was inhabited until 1952. Around 800 pieces of furniture and utensils can be viewed here.
Mühlbacher Besinnungsweg
This is a walk through the woods, along a stream with plenty of areas to stop off for a rest and take in the beautiful scenery of the surrounding area.
Alpbacher Heimatweg
On the Alpbacher Heimatweg you can walk around Alpbach and learn a little about the past of the town. It is family-friendly but not suitable for pushchairs so a baby carrier would be needed. Sturdy shoes are mandatory. There are information boards about the animals and plants that live in the area.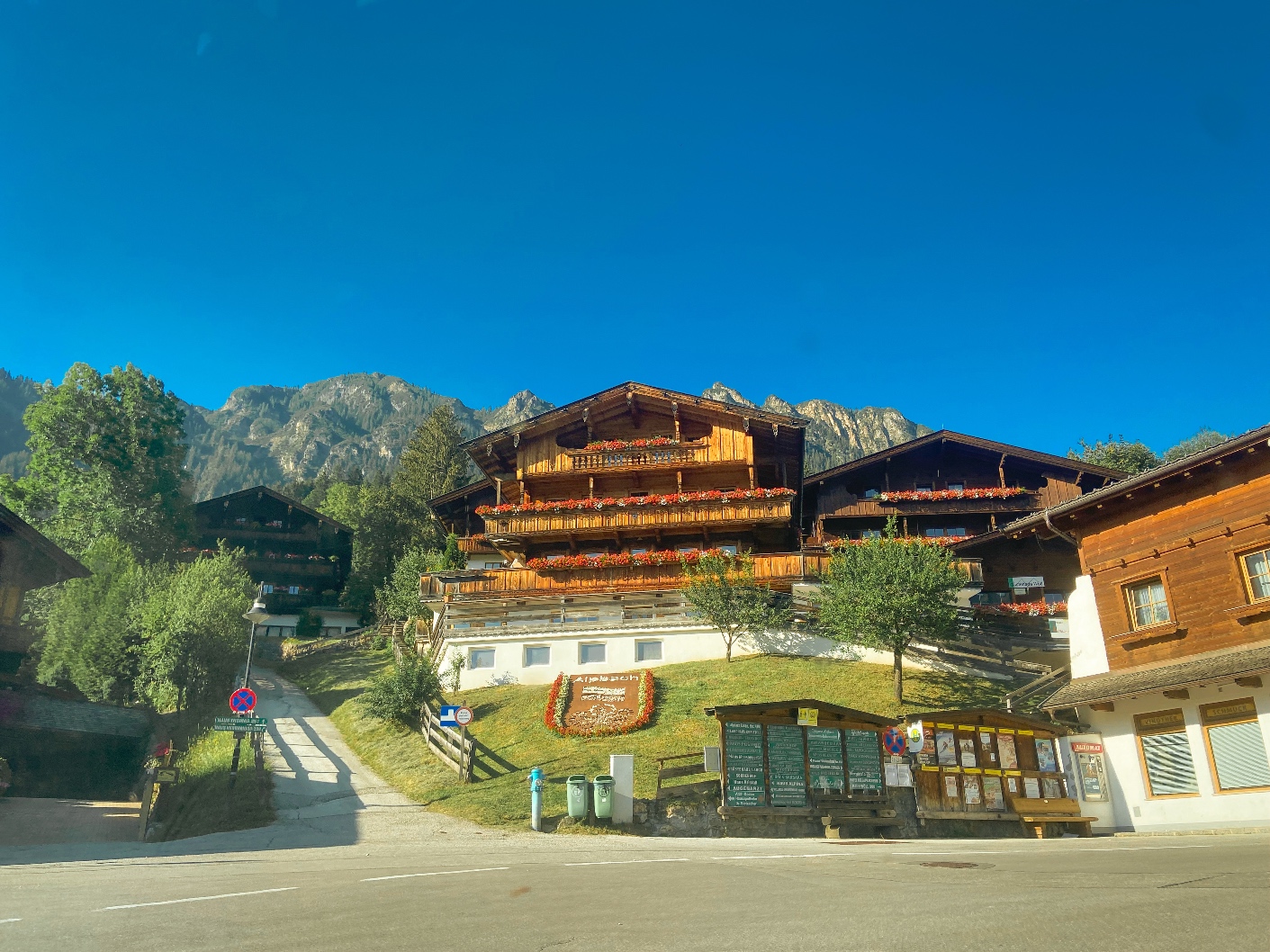 5 Family Friendly Restaurants in Alpbachtal
Connys
Connys offers stylish, cosy wooden rooms as well as a sun terrace with a children's playground and views of the Alpbach mountains. It has an a la carte Restaurant using regional and national products and it offers a varied menu of traditional and modern dishes including traditional Tyrolean delicacies.
Hotel Zur Post
The Hotel Zur Post in Alpbach has more than 200 years of hospitality and is full of tradition and charm. From breakfast to dinner, you will be spoiled for choice with fresh products from the region. In addition to hearty home cooking, they also serve a selection of international dishes.
Reintalersee – Fischerstube
The team at Reintalersee Fischerstube will spoil you with culinary delicacies in a wonderful ambience right on Lake Reintal. Whether in summer on the terrace with a view of the lake or indoors, you can choose dishes from fish to meat or vegetarian dishes that are all freshly prepared. There is a large selection of ice creams and homemade cakes for those with a sweet tooth.
Gasthof Jakober
Gasthof Jakober is a cosy, country-style inn offering a restaurant, a bar and mountain views, plus free breakfast. In the restaurant you can expect a simple but stylish ambience in addition to a pleasant atmosphere.
Restaurant Gut Matzen
In the historic ambience of the Lipperheide Stube you can dine with pleasure and celebrate in style. Equipped with neo-Gothic wood panelling and a richly decorated tiled stove from around 1700, the cosy atmosphere is magical. Food available includes regional specialties or international dishes.