Summer in Austria with Kids
A Summer in Austria has been a dream of mine for a long time. To breathe in the pure mountain air, admire the spectacular views, dance on the hills, I wanted to do it all! I am curious about the alps in the winter, and I really want to take the children on a family skiing holiday, but it is the mountains in the summer that I have been pining for – And this year (2022) my dream came true.
I had to pinch myself just an hour in to the flight. As I peered out of the window, there they were – sparkling in the afternoon light were the mountains. They totally blew me away. Always take the window seat for this reason – it's honestly magical.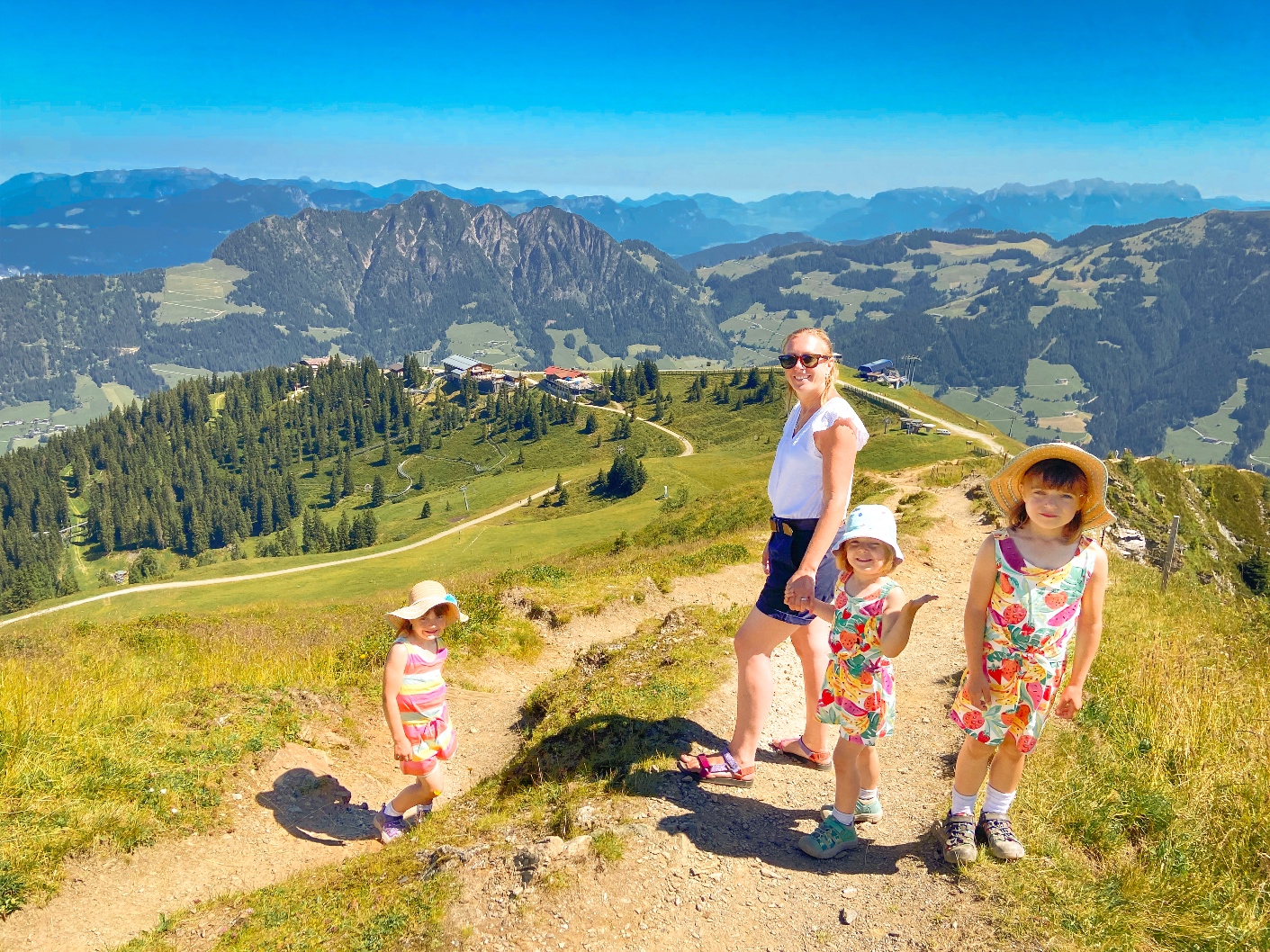 **We were invited to Tirol to experience summer in Austria in exchange for this article.
Where is Austria? 
Austria is a mountainous landlocked country in Central Europe, it shares borders with the Czech Republic and Germany to the north, Slovakia and Hungary to the east, Slovenia and Italy to the south, and Switzerland and Liechtenstein to the west. It is a beautiful country with lakes surrounded by flowers, mountains and waterfalls, stunning traditional architecture and Austrian landmarks.
There are so many places to visit in Austria but Tirol is one of the most beautiful regions to go in the summer.
The Region of Tirol 
The Region of Tirol is a stunning western Austrian state in the Alps that is famous for its ski resorts, historic sites and traditional folk style, but visiting in the summer is totally out of this world.
The capital city, Innsbruck is surrounded by mountains and is home to Habsburg Empire landmarks such as the baroque-style Hofburg Palace and Gothic Hofkirche Church.
Two areas we explored on our first family holiday to Tirol were Wilder Kaiser and Alpbachtal.
In summer, Wilder Kaiser offers plenty of enjoyment for a family holiday. There are so many things to do in Wilder Kaiser,  with many places to visit and fantastic vistas that will make everybody feel happy. The Kaiser mountains are seen to the north and in the south there are smaller mountains and hills, offering easier hikes for the family.
There are four main towns in Wilder Kaiser – Going, Ellmau, Scheffau and Söll. The mountainous area in the east of Tirol has lots of walking trails and children can look forward to six outdoor adventure attractions which are totally amazing. They were so much fun and completely unexpected in Austria.
Nature lovers will love "Moor & More" in Going, an area of wetland and the region also has a number of indoor and outdoor swimming pools such as the Kaiserbad Ellmau.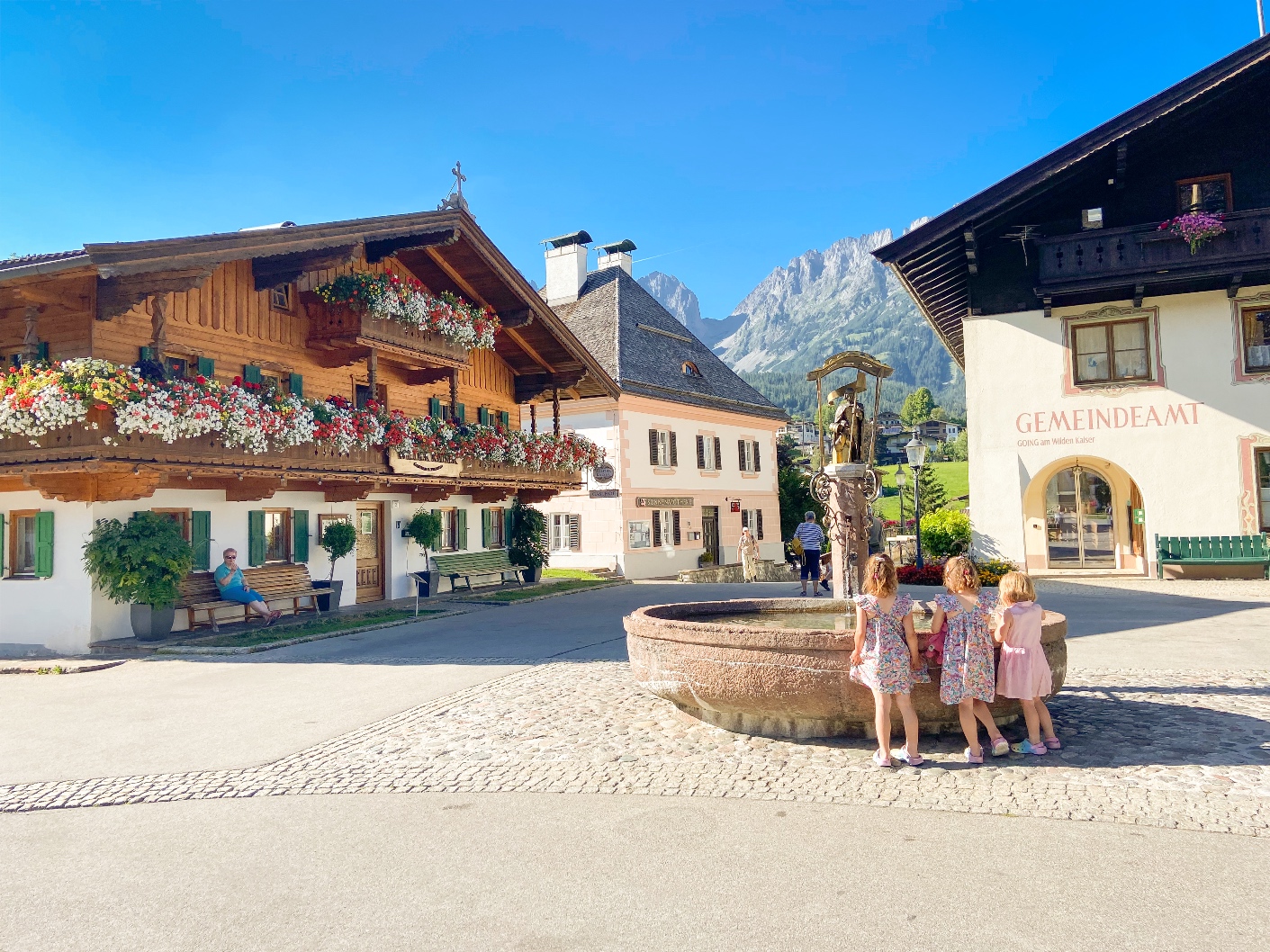 Alpbachtal is a town in western Austria in the state of Tirol in a beautiful location 1,000m above sea level, it has been voted to be  "Austria´s most beautiful village" and it really is. Everywhere is just gorgeous.
There's lots of family things to do in Alpbachtal as well as enjoying the fresh air, meadows and breathtaking mountain views and typical timber houses. Whether you want to hike, cycle or just relax, Alpbach is an unforgettable place for an Austrian holiday.
Alpbach's hotel accommodation is clad in the traditional wood, a local regulation which has earned the resort the title of the prettiest village in Austria in the past. The hotels in the main part of the village are clustered around the village church with chalets, hotels and shops.
Is Austria Good for Families?
People have been surprised when I have told them how family friendly Austria is and I know I have already convinced many families to book a family holiday to Austria already! There are plenty of child-friendly attractions and many restaurants that offer great food options for children and many with play areas, parks and outdoor nature spots.
Being one of the most scenic and historically rich countries in Europe, Austria is great for seeing some culture and for adventure-loving families. From hiking, skiing, llama trekking and swimming in the breath-taking lakes – families will be spoiled for choice in Austria.
Flying to Austria – Where are the Airports in Austria?
In Austria there are six international airports. Austria's three major airports are in Vienna, Salzburg and Innsbruck ensuring that the country is well connected both nationally and internationally.
The three other smaller airports are in Klagenfurt, Graz and and Linz.
We flew in to Innsbruck airport. It was just an hour and a half from London which makes Austria just as perfect for a short family break as a two week family holiday. For us personally, we were staying a week in two different regions but honestly, there was so much to see and do, we could have easily enjoyed summer in Austria for much longer!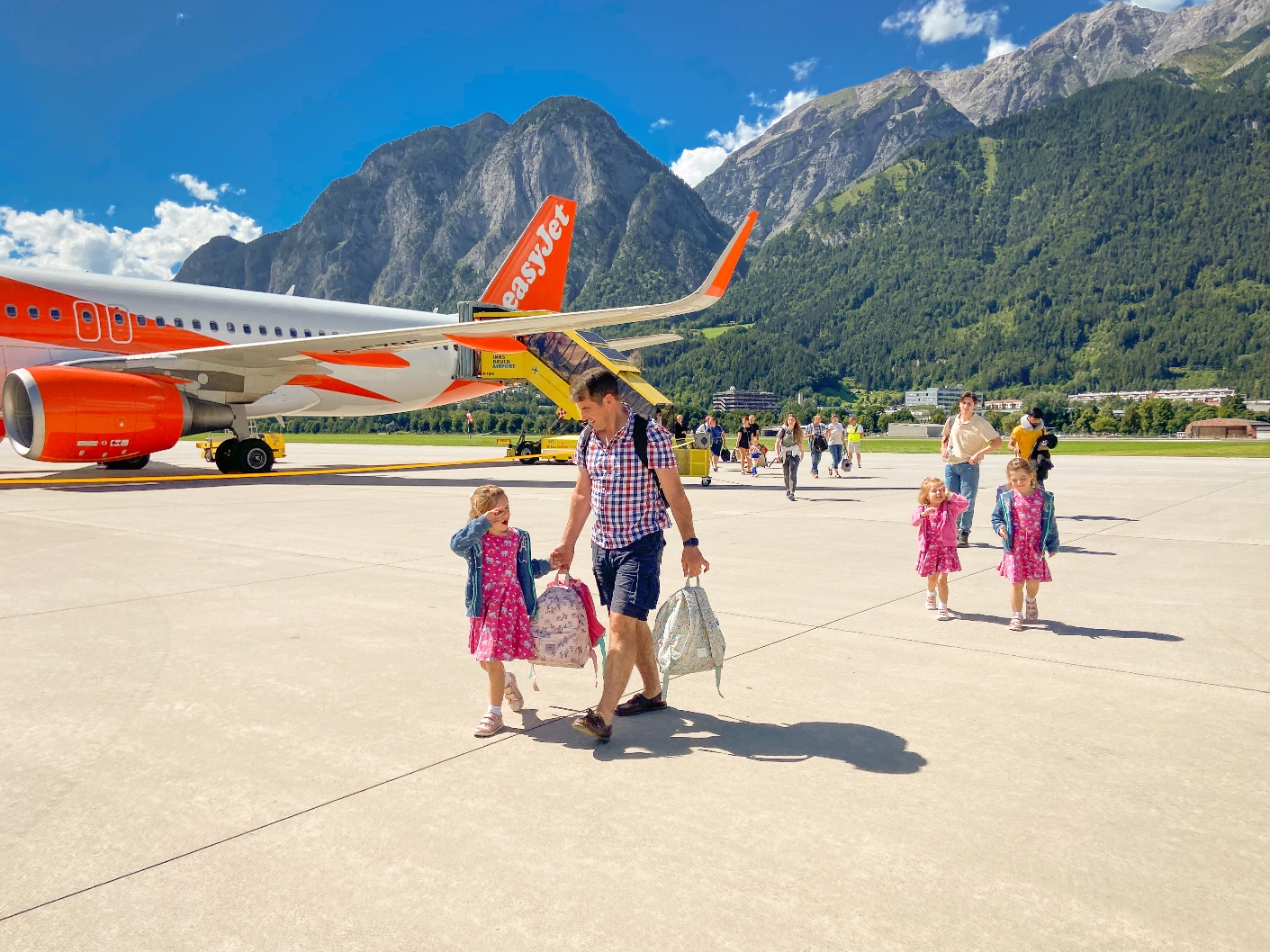 Summer in Austria – Where to Stay
When planning a summer trip to Austria, we really recommend spending time in the Austrian Alps. Here you are more immersed in the great outdoors where you can enjoy hiking, cycling, climbing and plenty of other fun outdoor activities.
The Tyrolean areas of Wilder Kaiser  and Alpbachtal are all beautiful places to base yourself in Austria in the Summer. In the evening, restaurants and hotels host Tyrolean bands, creating a steady stream of music that accompanies you from one side of town to the other.
Our Summer in Tirol, Austria 
We stayed in the beautiful region of Tirol, at two different locations. Wilder Kaiser for 4 nights and then at Alpbach for 3. It worked perfectly and they were were only 45 minutes apart.
The drive from Innsbruck airport to our first destination, Wilder Kaiser was just over an hour by car. We got so excited as soon as we came off the main roads and became surrounded by mountains and hills. It honestly felt like we were on set of the Sound of Music – One of my all time favourite films. Julie Andrews is so wonderful.
Where is Wilder Kaiser and Alpbach?
Both Wilder Kaiser and Alpbach were very easy to navigate and offered heaps of family friendly attractions for all ages.
Where to stay in Austria – Accommodation for a Week in Austria – Tyrol
Knowing our children as well as we do, we knew that farm stays in Austria would work really well for us. The girls would love farm life, have animals to help with and there would be lots of space for them to run about.
The two farms we stayed on were Farm Wolfseggstal in Going and Schneiderhäusl in Alpbach.
Farm Wolfseggstal 
Our first farm, Farm Wolfseggstal in Going was perfect.
We had a 2 bedroom apartment on the top floor of the owners house (this is quite normal in Austria) which had a kitchen, lounge and family bathroom with a shower. The was a door in both the lounge and the bedroom which led out to a balcony which had beautiful views of the hills. I could have sat there all day.
Farm stays are well known for giving families hands on experiences to farm life. The girls loved to watch the cows being milked, grooming the pony and cuddling the chickens (I think my girls are the only ones who can ever catch a chicken, let alone cuddle them!).
With acres of land for the girls to run about in, it kept them so happy, especially when they spotted the swings, sandpit, hammock, and football goals.
There was also a lovely playroom in the house and a games room in the garage with a football table, table tennis table which was also home to various ride-ons for toddlers.
The farm can cater up to 30 people so it was nice for the girls to have other children around and we boarded on a B&B basis.
Farm Schneiderhäusl
The second farm we stayed on was again beautifully located in the hills with amazing views over Alpachtal. The town of Alpachtal is 45 mins away from Wilder Kaiser. We absolutely loved exploring the two different regions.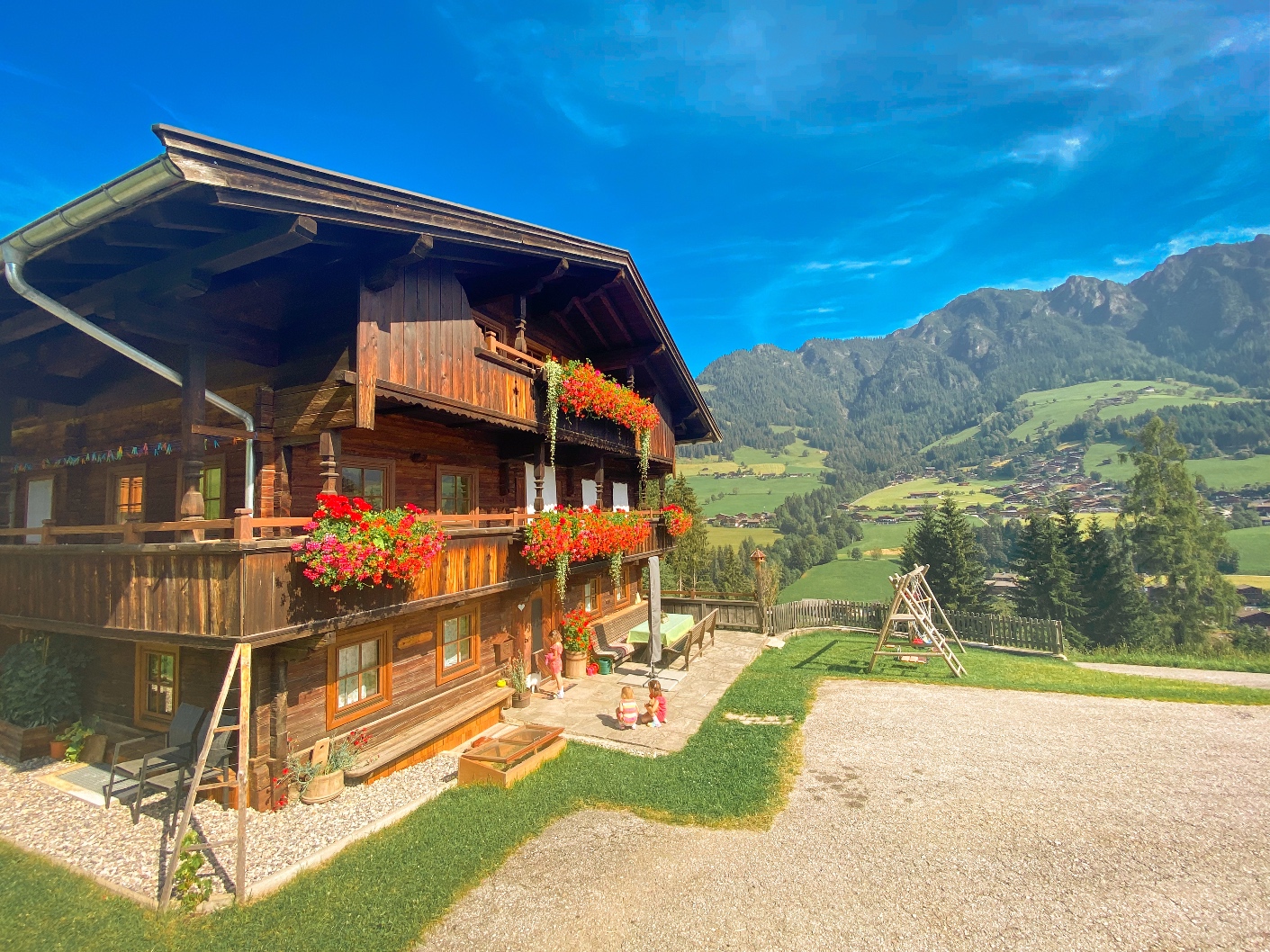 Schneiderhäusl was a much smaller set up. Again we were on the top floor or the owners chalet and this apartment had 3 bedrooms, kitchen/dining room and a balcony.
Outside there were goats and a rabbit, along with a small play area with swings and a little wooden house and slide.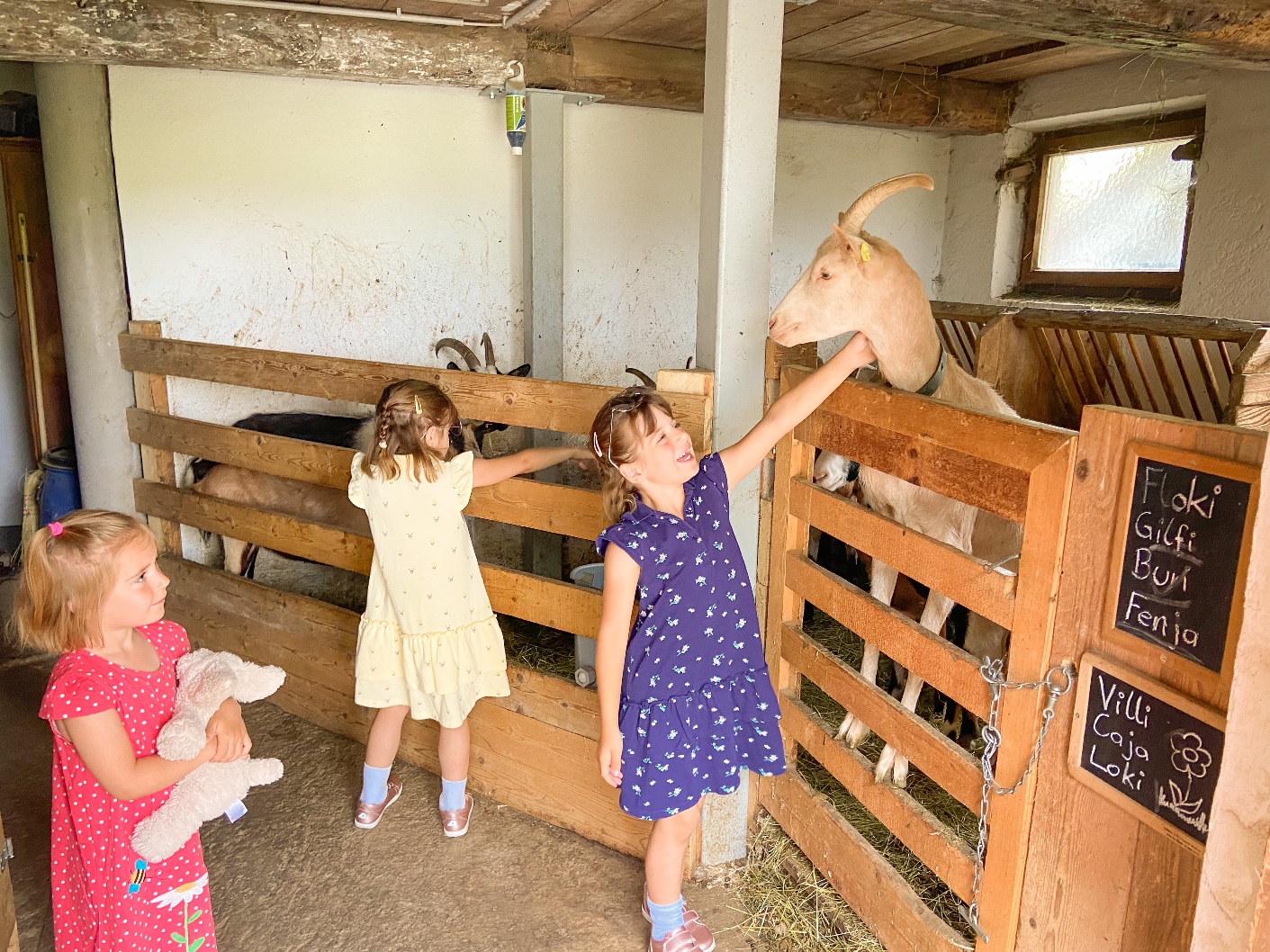 Tirol with Kids
Our 7 days in Tyrol was so much fun. All of us loved every second and we made so many family memories. The girls were just 4 and 6 at the time of our trip (2022) but this is a region that would suit kids of all ages. The younger children enjoy the family attractions, whilst bigger kids would rise to the mountain challenges with heaps of places suitable for ebikes.
7 days in Tirol 
We had an action packed family holiday in Austria planned. I always plan out our holidays in advance so I can make sure I have packed the right things for us all and so that we are not spending our evenings researching things to do in Austria.
READ: See our holiday packing guide here.
We had such a wonderful family holiday in Austria, that I want to share our exact Tirol Itinerary with you. I don't think we would have changed a thing…. Except for extending it!
The days out were perfect for the girls ages and everyone could join in. We had a mix of visiting attractions and exploring Tirol too.
Our 7 day Tirol Itinerary – Austria with Kids
Our trip consisted of 4 nights in Wilder Kaiser and  3 nights in Alpbachtal.
Day 1 – Arrive in Austria
It was late in the day when our flight arrived in to Austria and so we knew we wouldn't have any time to explore on our first day.
We had booked dinner ahead which is worth considering on your first night. We picked up the hire car and made our way down the E45 to Wilder Kaiser, Tirol to our accommodation which took an hour and ten minutes.
Our home for 4 nights was in Farm Wolfseggstal.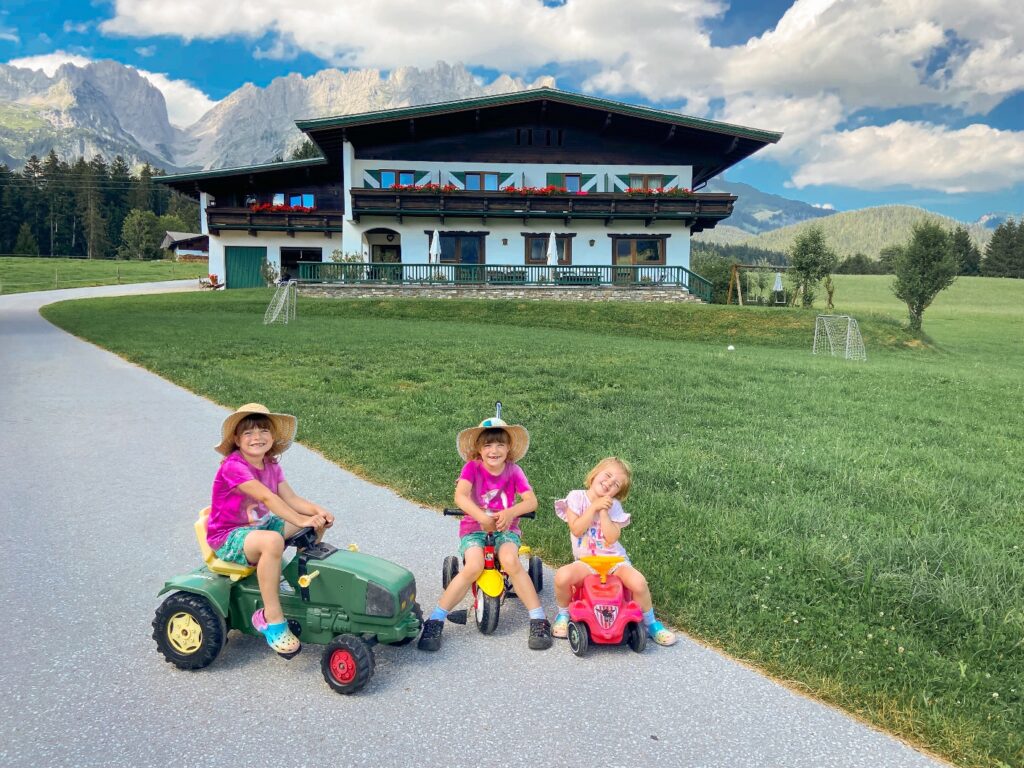 Our chalet was in Going, a small village in Wilder Kaiser. Whilst the centre was not far away, it was getting late and so we took the short drive to dinner in Lanzenhof in Going – A typical Restaurant in the heart of Going. It catered for both adults and children well and the food was good. For those with fussy eaters like mine most restaurants offered fish fingers, sausages, chips and spaghetti bolognaise.
Look out for live music and village concerts in Austria. The communities are small and festive which we loved. Upon leaving dinner we heard music… we followed the sounds to find a small open air theatre outside the church with traditional Austrian music to which the girls danced the night away to – what an Tyrolian welcome we got!
Day 2 – Astberg Ponyalm
We had an exciting start to the day because we got to use a chair lift for the first time – this was just as fun as any attraction. The ski lift is operated by the SkiWelt Wilder Kaiser and you have to get your tickets at the base of the mountain. We were heading up the mountain to Ponyalm.
It was seriously cool making our way up – even I was excited. What a great way to travel and it's even more exciting when you are about to be surrounded by 20 ponies at the top – can you imagine the girls faces when we arrived and I told them they were going horse riding!
Astberg Ponyalm is for horse lovers of all ages but the ponies are small so we left the riding to the girls.
Accompanied by an adult, children can ride ponies and discover the area surrounding the Astberg mountain. You can head off around a trail with views across the mountains – so beautiful.
The ponies aren't the only animals on the Astberg mountain. You can also feed and pet small animals at the petting zoo. They are all very friendly!
Alongside the animals is the most gorgeous walk around Astberglake. It is only a short walk but it is one of the most famous photo spots in the region.  The children will love the playground along the way with a perfect view of the Wilder Kaiser Range!
Lunch: Our Recommendation would be the "Brenner Alm", which is a short walk down.
Dinner: Die Ellmau Alm – a traditional mountain chalet on the outskirts of Ellmau.
Day 3 – Llama Trekking
Llama-Trekking on the "Koglhof" in Ellmau was such a fun activity. The Koglhof is set in the mountains, owned by the Oberhofer family since 1942. It's an amazing experience which you can do in a private group or as part of a bigger trek.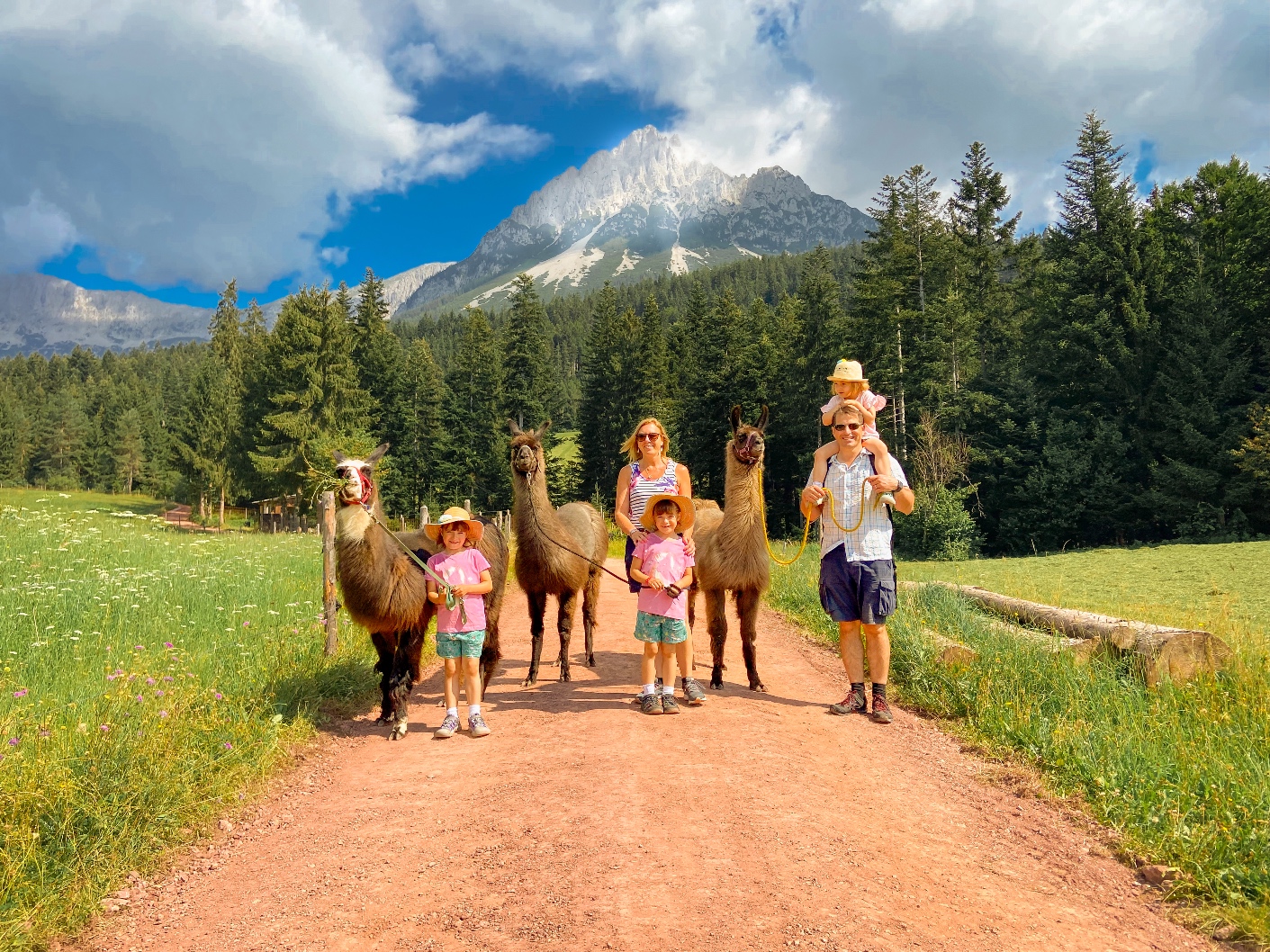 Everyone gets to lead a llama, even Matilda who was in her element. The llama experience starts by you getting to know your llama, giving it a groom, followed by a leisurely, unhurried walk. It was the perfect way to experience the mountains on the paths suited to the llamas.
After the llamas, we headed in to Ellmau for a little explore. The villages in Tirol are beautiful.
If there's one thing the Austrians do really well (in addition to the Alps, ski resorts and wiener schnitzel, of course), it's window box flower displays.
Almost every building in Austria is adorned with balcony boxes that transform a house into a colourful, welcoming feast for the eyes. Geraniums and petunias are the main flower!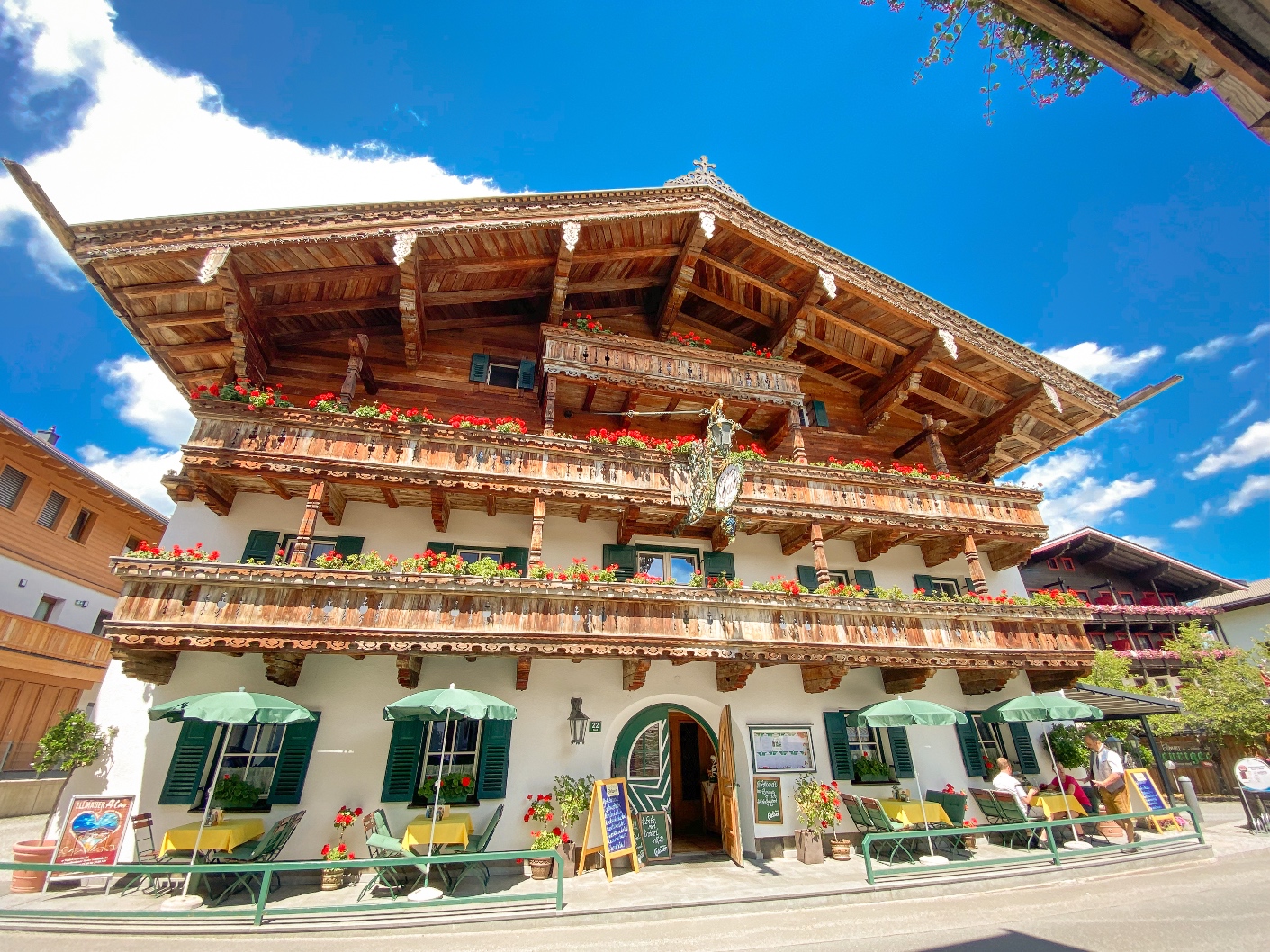 In the evening we enjoyed Dort-Fest in Scheffau – a traditional town fete with dinner in Ellmau: Heuriger – Ellmau. You could also opt for the Pizzeria Memory in Ellmau.
Day 4 – Hexenwasser, Söll, – The Witches' Water Theme Park
It's back up the mountains today for a two part adventure. This cablecar, operated by SkiWelt Wilder Kaiser – Brixental takes you up to the Hexenwasser Theme Park, and then a second cable car takes you to the top of the Hohe-Salve mountain – also a must!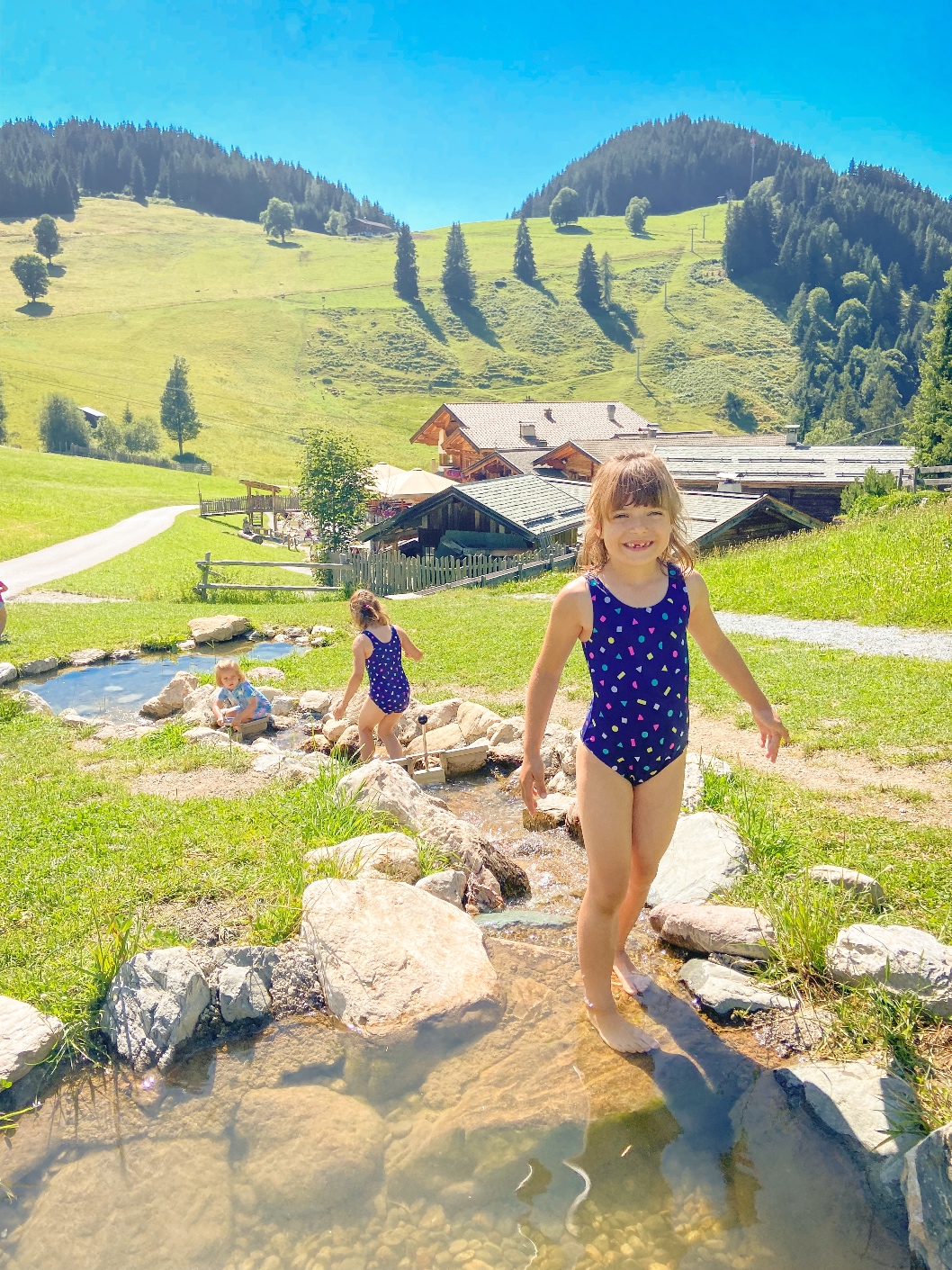 We went straight to the top to explore first.
Wow – what a view. Even the children were mesmerised. We stood watching the paragliders launch off the mountains and glide over the valley – something that is on my bucket list for next time.
It wasn't long before the girls spotted the small play area so they ran off to play whilst we continued to take in the surroundings.
At the top there is also the coolest revolving restaurant Bergrestaurant Hohe-Salve – It took us a while to realise we were moving but it's incredible. The centre tables move round so that everyone can enjoy the view – it's one to add to your list of must places to eat – just for the experience. But the chicken wings were delicious too!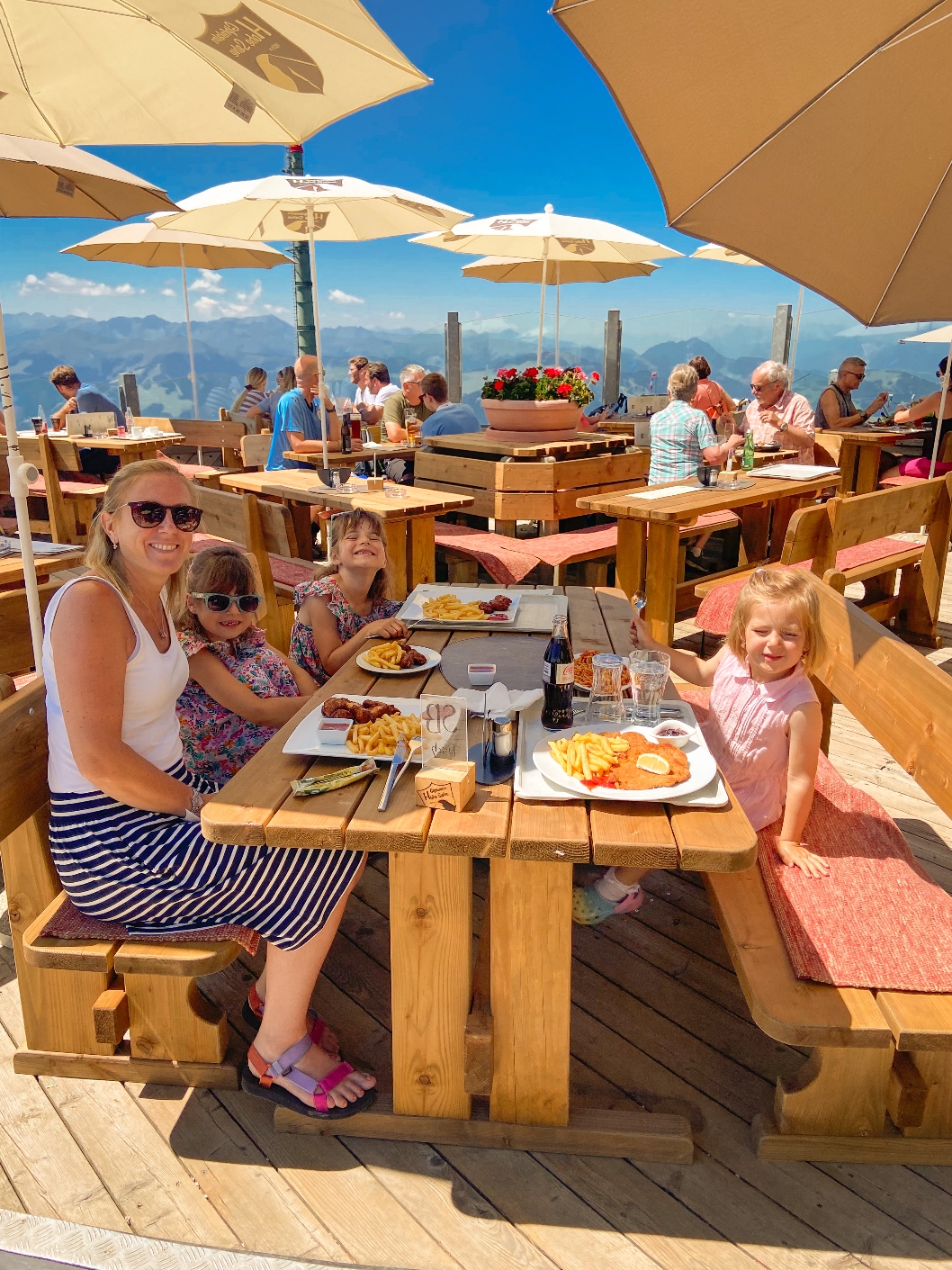 After lunch we dropped down on the cablecar to Hexenwasser – wow, what an adventure we had – it's totally awesome! But then every day is here in Tirol with kids!
You can't miss the Mountain Adventure World of "Hexenwasser". Hexenwasser is a water based adventure playground where you find the witches of Söll! Take sunscreen and swimwear and you will have a blast!
It is Austria's longest barefoot trail leads over grass, bark mulch, through woodlands, massaging stones and rippling water to numerous stations where all the senses are addressed in a new way. But I would take shoes you can get wet – UK feet are not quite as hardcore as the Austrians!
Lunch – Bergrestaurant Hohe-Salve
Dinner – We ate in the apartment
Day 5 – Going Swimming Lakes
This was our last day in Wilder Kaiser. Today we packed up early, made a picnic and headed to a local mountain lake in the village. It was such good fun and so nice to be swimming in the natural waters!
It's located right next to the forest edge and offers panoramic views of the Kaisergebirge mountain range. Fed by the springs of the Wilder Kaiser mountain range and featuring a flat, white beach with separate children's and non-swimmer zones with smaller slides and water play.
There's 2 one hundred-metre-long open-air slides, taking this bathing lake to the next level. While children run around in the adventure park with pirate ship, grown-ups enjoy a bite to eat in the lake buffet or enjoy sunbathing.
PRICES FOR ACTIVITIES IN WILDER KAISER CAN BE FOUND HERE.
Day 5 afternoon: Move to Alpbachtal – Farm Stay Schneiderhäusl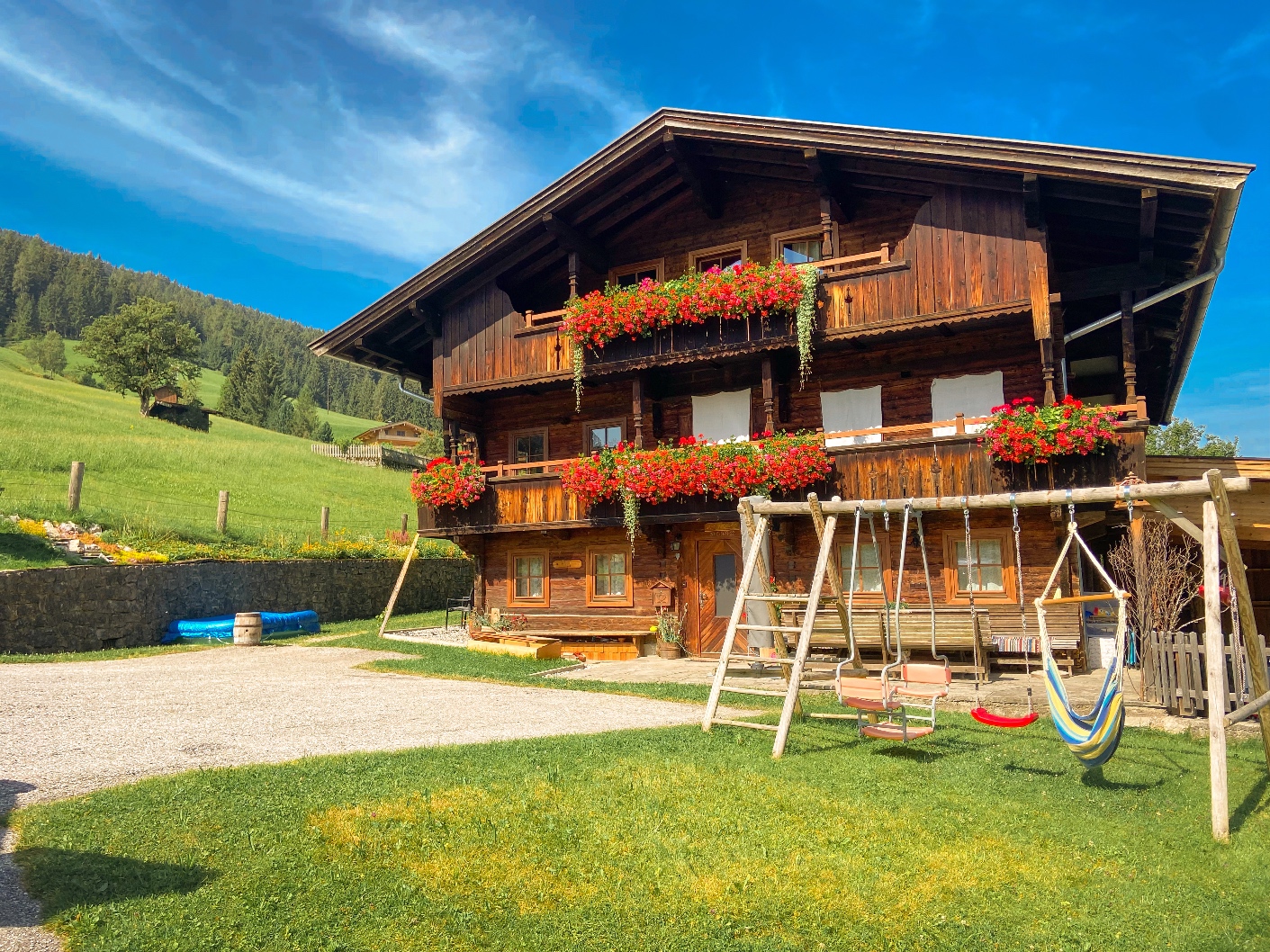 Alpbach is a 45 mins drive to Wilder Kaiser.
We settled in and made our way to dinner at Messners – Pizza
Our evening was spent in Reith im Alpbachtal at a gorgeous village music festival which shared such a wonderful vibe with both its residence and visitors to the region. Everyone is so friendly. Make sure you ask your hosts if they know of any festivals in the area when you arrive – Many offer food and music so you can make a whole evening of it.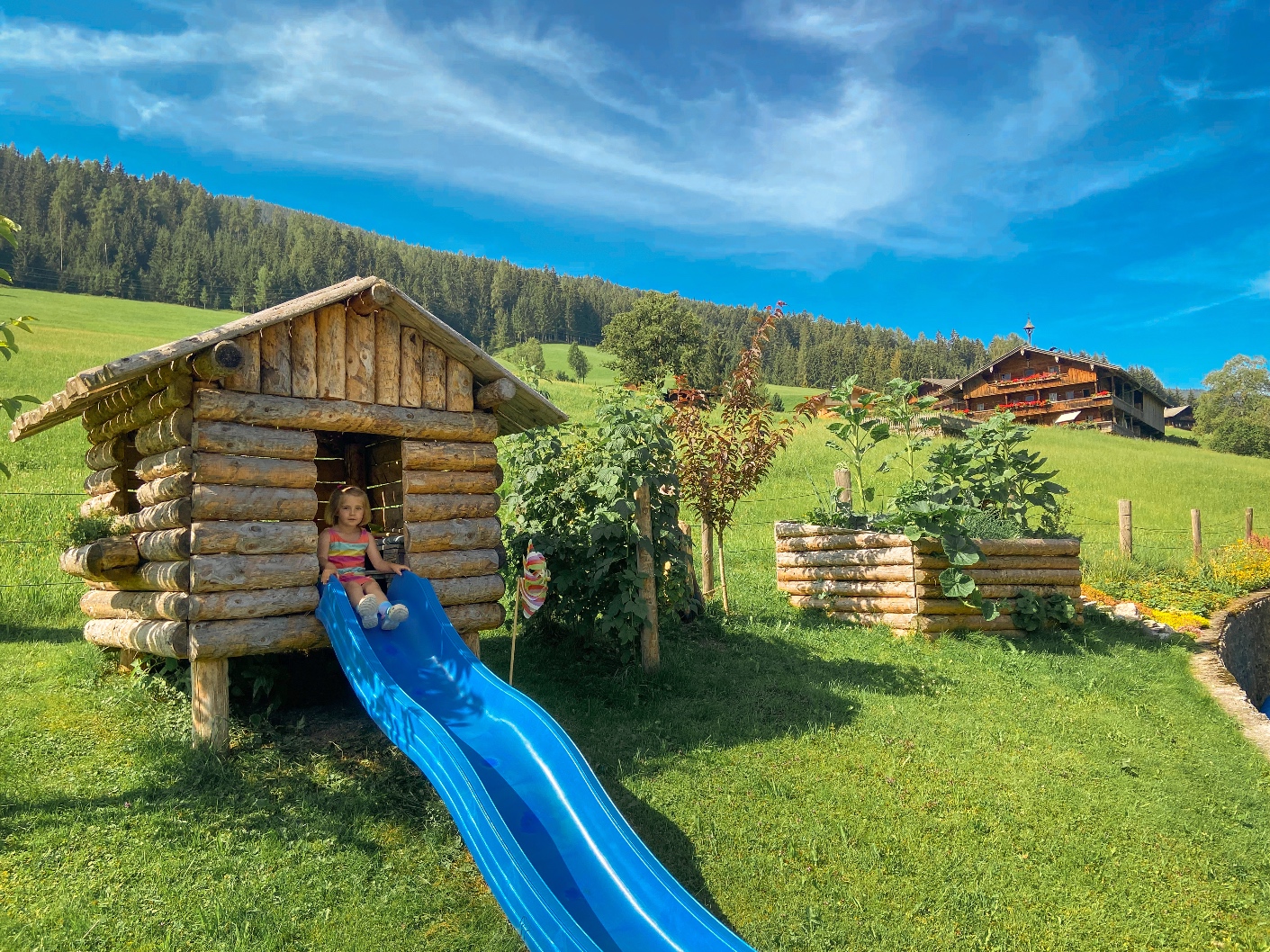 Day 6  – Hike to Wiedersberger Horn & Lauser-Sauser – The Alpine Rollercoaster
Up up we go…. Ascent with the Wiedersberberhorn cable car in the village of Alpbach.
NOTE: When you arrive at your accommodation, you will be given an Alpachtal Card – it is really important you keep this with you as it gets you up the mountain for free.
The Alpbach Card is great for all ages and offers numerous possibilities to explore the Alpbachtal holiday region. The Alpbachtal Card is issued by your host from your first overnight stay and includes a variety of services such as summer mountain lifts, the regional bus, swimming pools, and more.
We couldn't come to Austria and not take the girls on a hike. They are pretty good with hikes and so many are family friendly in the Austrian Alps, many of which offer the most incredible views. On this occasion, we chose a short hike (45 mins up and 30 mins back down) for the girls but it was a steep climb which was the challenge. As always they were excited by it and marched their way up and were so chuffed by their achievement – We enjoyed a picnic lunch with a view!
Lunch recommendations: Berggasthof Hornboden
Add this to your Tirol days out list now… Ride on the Alpine Rollercoaster "Alpbachtaler Lauser-Sauser"  – The alpine coasters are just so much fun – we absolutely loved it and  all rode it twice.
The Alpine Coaster of the Alpbachtal valley, the "Lauser-Sauser", was the highlight of the 4 year old's holiday. Matilda absolutely loved it – I think she's going to be our little thrill seeker!
The adventure begins right at the top of Wiedersberger Hornbahn Gondola, at the popular adventure playground Lauserland.
We have had so much fun in Lausersauser. Lausersauser at Wiedersberger Horn is another mountain attraction. It's an enchanting forest playground with 40 playstations, with giant pillow leaps and an alpine rollercoaster!
Geared towards thrill-seekers, the Alpine Coaster in Alpbach provides one and a half kilometers of gravity driven twists and turns. This is the highest of its kind to be found in all of Austria, giving kids and adults an especially wild plunge at speeds up to 40 kilometers an hour – and yes Matilda wanted to go faster!
Dinner – Hotel zur Post in Alpbach
Day 7 – A beautiful day on the Lake
We spent our final day relaxing by the lake and it was the best way to finish off the most fabulous week.
Drive to Kramsach, Reintalersee car park  – Parking fees at the lakes, mountain railways etc. are not included with the card.
The Alpachtal Valley is home to many natural swimming lakes, including the Reintalersee which is the largest and warmest in the town of Kramsach. It's a popular choice for visitors in the summer but there is a lot of space around the lake at various points for visitors to spread out.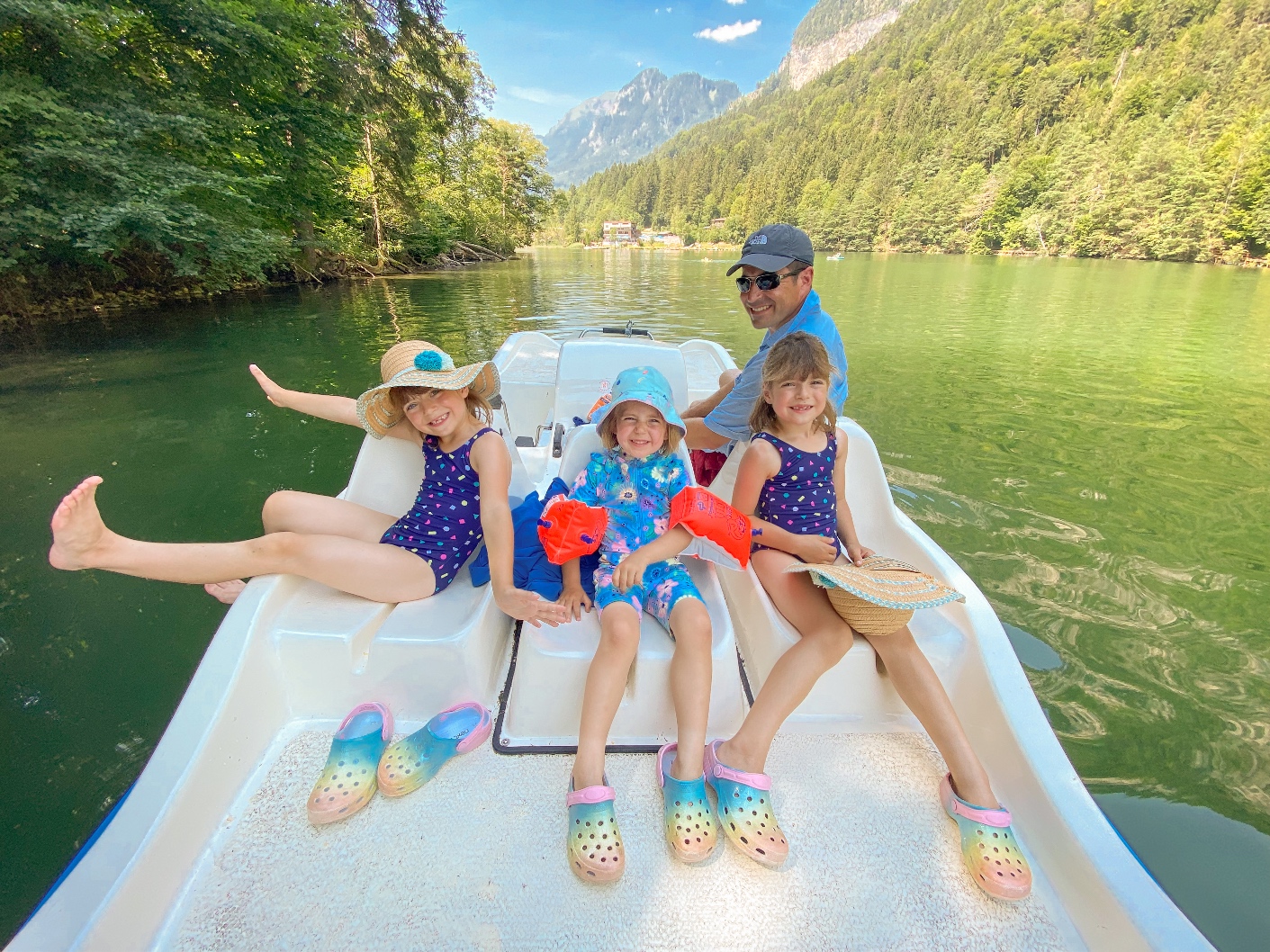 We based ourselves by the Fischerstube restaurant where we also enjoyed lunch which had an amazing view over the lake -make sure you sit upstairs.
Facilities around the lake include well-tended sunbathing lawns, changing cabins, children's play areas, a beach volleyball court, a boat rental service – the girls loved the paddle boats and a campsite as well as a number of hiking paths with great views.
If you feel like a walk, you can enjoy the walk to the idyllic Berglsteinersee (approx. 30 minutes) Circular walk around the Berglsteinersee lake but today we opted for a chilled day.
Lunch on return directly at the Reintalersee.
Dinner – Conny's in Inneralpbach – super child friendly with an outdoor and indoor play area.
FOR MORE INFORMATION ON THE ACTIVITIES IN ALPBACHTAL, TAKE A LOOK ON THEIR WEBSITE
Day 8 – Home
It was a sad day for us all!
How to Book your Summer in Austria with Kids
This concludes our amazing alpine adventure in Tirol. Wow what an adventure it was. What a country. It's honestly one of the most beautiful family holidays we have had – A summer in Austria is the place to be.
This holiday was all booked independently but it was super easy.
The accommodation can be found through Urlaub Am Bauernhof , flights were with EasyJet (Gatwick to Innsbruck) and Car hire with SIXT at Innsbruck airport.
All attractions were a max of 15 minutes from our accommodation and can be booked on the day – but keep an eye on the websites for any changes.
More Things to do in Summer in Austria with Kids
There is so much to do in the summer in Austria with kids. You can walk through the alpine pastures, bathe or swim in a lake, go hiking and admire the beautiful mountain scenery, biking or boating, stroll through a forest, trek with llamas or go pony riding up a mountain.
Head into a city and admire the history and architecture and experience the local food and drinks. There are so many outdoor activities to take part in as well as more relaxing days spending time unwinding in nature.
We have written two amazing family days out guides to inspire your family days out in Austria; Things to do in Wilder Kaiser in Summer and Things to do in Alpbach in Summer – enjoy!
FAQ about Austria with Kids
What is the best month to visit Austria with Kids?
The best time to visit Austria for outdoor activities is during their summer between June and August, July is often considered to have the best weather though. Austria's Spring falls between April and May, and Autumn falls between September and October. June to August is considered to be the high tourist season due to the sunny weather but it wasn't busy like other European countries. We really felt like we lucked out there. Attractions were quiet and we always got a lunch/dinner reservation.
Is Austria with kids better in summer or winter?
For most tourists, winter is the natural choice with its wonderful skiing and Christmas markets, but don't dismiss the summer. It is honestly amazing and Austria has won us over. It will always hold a special place in our hearts as it has many mountain lovers out there!
What is Austria like in summer? What is the weather like in Austria in the summer?
Most people love to visit Austria in summer months. Summers can be beautifully hot, with temperatures sometimes reaching up to 30 degrees Celsius. But with the mountain breeze, it makes the temperature perfect for summer activities. With plenty of activities and places to visit and of course the beautiful landscapes, Austria is a great choice for a family summer holiday. The hottest month in Austria is usually July.
When does summer start in Austria?
Summer in Austria with kids begins in late June and ends in late September.
Is Austria Baby Friendly? 
Most places in Austria are very baby-friendly and you will have no problem with a pushchair in local towns. Bringing a baby carrier along would be sensible, especially if you are planning on doing lots of hiking.
It was such a fabulous week in Austria, I cannot recommend this holiday enough. There's is so much on offer for families – Summer in Austria is the place to come!