1st Birthdays, what is your take on them? Go all out and celebrate with presents and a party knowing full well that they won't remember a thing, or wrap up a cardboard box, open a bottle of bubbles and enjoy a quiet celebration at home as a family? I always find 1st birthday present gift ideas so hard.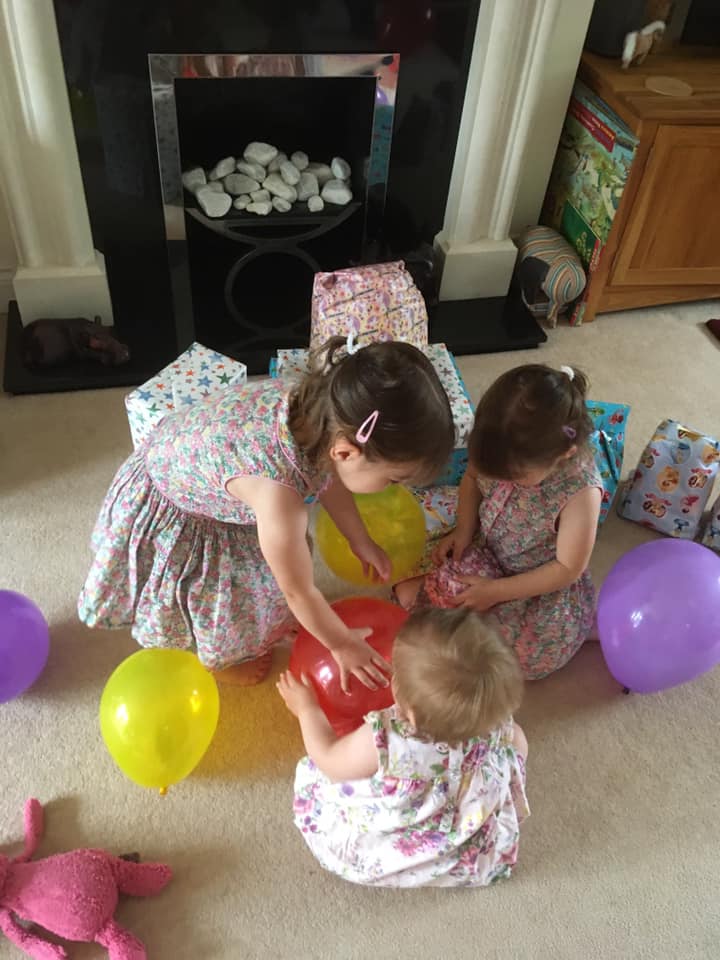 I am of mixed opinions here. I totally agree that they won't remember it so in a way, why bother with the extra expense and bother, but on the other hand, it is lovely to have a little celebration with family and friends and to open presents on your little one's special day, and let's face it, you have survived a whole year too!
**Some of these items have been gifted for the purpose of this post. However, all thoughts and opinions are my own
I also think if you have other small people in your house, as we do, it is important to celebrate with at least a few presents even though you know full well that the bigger children will be opening them and yes, the twins were straight in there with Matilda's gifts and then spent the following three days arguing over them!
So now you have made the decision to buy a few presents, you will need some 1st birthday present gift ideas. I really struggled this year as the twins had so many from their first birthday and we had packed them all away in the garage. I will be honest, I wrapped most of them up but we did buy Matilda a few new things too.
To ensure you don't struggle like I did, I have put a list together with some suggestions of what to buy your little one on their first birthday – toys that both the twins and Matilda love!
Playmobil 1.2.3 Zoo
Perfect for small hands, the Playmobil 1.2.3 range makes a great 1stbirthday present yet older children get a lot of fun plating with it too. The twins enjoy setting the scene up and putting the pieces together which is very simple to do, and Matilda loves dropping the penguin down the slide.The set includes two penguins, two monkeys with bananas, three people, a dove, the fencing, wheelbarrow and fork and a bucket of fish.
You can also combine this set with smaller sets such as the Zoo Keeper with Elephant, or Giraffe
Hey Duggee Musical Singing Dog
This Duggee toy had us laughing out loud. We pressed Duggee's little hand for Matilda and she started dancing away to the music. Duggee plays multiple songs from the show on one hand and Press Duggee's other hand to hear the theme tune, fun phrases and sounds from the show.  He is also able to flap his ears and make his own badge flash as the music plays. Duggee stands at 24cm which is just the right size for those one year olds.
You can get your own Duggee here;
Wow Toys
The cause of many arguments this week but goes to show that they are loved by one and four year olds! Wow toys offer a huge selection of small world toys including these three. There are toys to suit al children's interests from fairy tales, to fire engines, space rockets to farm machinery, and town buses to airplanes, the list goes on and on. There is even a bath toys range. No need for batteries (thank goodness!), Wow toys are totally baby proof. Designed to be the safest, most durable and fun toys for children.
Sleepy-Time Igglepiggle
We have always played music at bedtime for the girls. It has helped our three know that it is time to go to sleep and I will do anything to help aid sleep! This new Sleepy-time Igglepiggle is based on the character from the much loved Cbeebies show, In the Night Garden. Igglepiggle is super soft and cuddly. To make him play the tunes, simply press his hand and he will play soothing lullabies from the show. Whilst the music plays, Igglepiggles cheeks softly glow and he sways to the music.
Baby Annabell Heartbeat
Matilda finally has a doll of her own and one she can tell the girls is hers and one she can cuddle and fall asleep with! Baby Annabell Heartbeat is a great for young children because she is only 30cm and is very soft and head made from soft vinyl to cope with all the squeezing!
Press the heart on Baby Annabell's tummy and listen for the steady heartbeat and gentle breathing noises. It is scientifically proven that babies sleep more peacefully, fall asleep more easily and feel more protected when they have a toy that makes breathing noises. The volume of the 20-minute sound is adjustable.
You can get your own Baby Annabell here;
More 1st birthday present gift Ideas!
I asked a few other bloggers if they could give us some more 1st birthday present gift ideas, and this is what they said;
Bobby Car
My eldest got a Bobby Car for his 1st birthday, and one of those wee ladybird backpacks with the integrated reins. My youngest had obviously already inherited loads of stuff from his big brother, so he got a large Paddington Bear + Paddington Bear book with the complete stories.
Jenni from The Bear and the Fox
Dilly Blue Pegs
We love Dilly Blue peg dolls here! Beautiful, hard-wearing (doing well with our teething baby), and educational 🙂 perfect for small world play, eco-friendly, and from a small UK business. Perfect! Plus you can get 10% off with code MAGIC10
Rachel from Magic Mayhem Repeat
Little Tikes Trike
We got Harry a little Tykes Trike thing. He loves it even now
Kat from Raising Harry 
Ball Pond
‪I remember getting my daughter an inflatable princess ball pond/paddling pool with roof, so it was shaded. She absolutely loved it and it was ideal for the summer months too.
Emma from The Mini Me's and Me ‪
Rock n Pop Turtle
My youngest got a Rock n Pop Turtle, she loves it. I've had to replace the batteries 3 times. Oh and she loves her Fisher Price controller too. She copies her dad playing the playstation.
Lyndsay-Rose from My Family of Roses
Lego 

Duplo
‪I got my son a Lego toy train number set. He loved it so much and was so protective of the packaging box.
Yvette from Uplifting and Inspiring Content 
‪
Tomy Photo Album
I got my oldest a children's photo album and put in photos of all of the family. He loved looking at it and it got passed along to my youngest who loved it too. Josie from Me, Them and The Others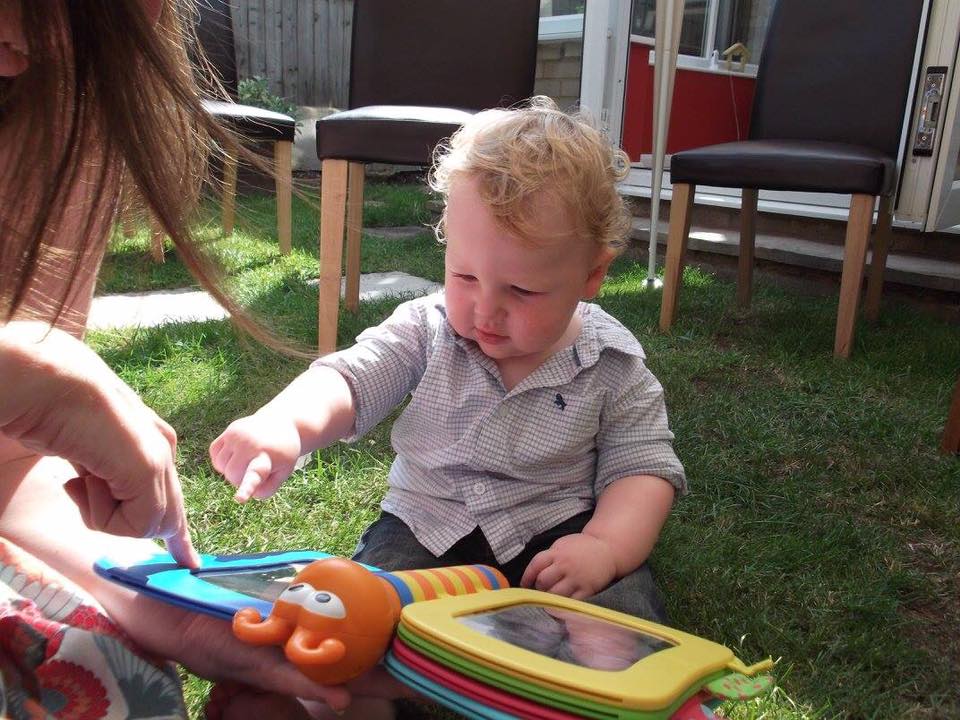 Play Tunnel
A play tunnel from Mothercare for Jake, it is still played with now by him (5) and his younger brother (1)
Emma from Emma Reed
Fisher Price Little People
We got our son a fisher price little people caring for animals farm and a year later he still plays with it every day.
Joanne from New Mum Fun 
Little Tikes Dino Car
A little tikes Dino car here – 2 years later and he still plays with it most days, and so does our 1 year old! We also got given a box set of Beatrix Potter books which are now very well loved and so nice to read. Other gifts our kids have loved aged one (or still love as they're now 3 and 1) and the squeaky eggs in a yellow box and the Grimms Rainbow and Grimms People – those all seem to come out every day!
Hayley from Devon Mama
If you need any more 1st birthday present gift ideas, check out my other guides;