The twins are 4 years into their lives and have all the toys in the world – sound familiar! So what do you buy twins/children that have everything, and sometimes two of everything! I have spent hours on the internet searching for ideas (like I do every birthday!) and want to share with you what I found.
Some of the gifts are building on previous collections that they already have, whilst others are new to them and will hopefully inspire you on your search to get your little ones some great presents. And for even more inspiration, I recommend taking a peek at Wicked Uncle's toys for 4-year-olds; they focus on unique and creative gifts, which is perfect when your kids already seem to have everything!
(** Some of these products were gifted for the purpose of this article. There may also be some affiliate links in this article which mean I my get a small commission if you click on the link. However, you will not be charged extra for this)
Sylvanian Families
The Alpaca Family
The Alpaca Family consists of mum, dad, a girls and a baby. Easy to play with and all have movable parts including the necks, hands and feet.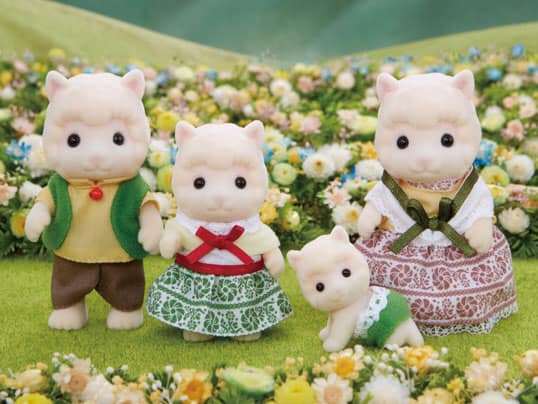 The nursery range is perfect for 4 year olds.
The Ferris Wheel
Turn the handle to make the Ferris Wheel spin. It comes with one baby – the Toy Poodle. You can add up to 3 babies to this ride to maximise the fun!!
Baby Airplane
The Sylvanian babies love this Baby Airplane ride as they can soar above the clouds. The airplanes can be moved around, and go up and down.
It includes 1 Maple Cat baby to start play.
Baby Choo-Choo Train
With just a little push, the Sylvanian babies can move about the track on the Choo Choo Train and the Petit Baby Bear is included too.
Tonie Box
Toniebox – making stories come alive. Listening to stories brings so much joy to many children. It is a chance for them to relax and let their imaginations run wild.
It is an innovative audio speaker made for children – it even has two ears that control the volume!
It has characters which you simply place on top and they play the story. It is as easy as that!
They range from your favourite Julia Donaldsons, to nursery rhymes, to Fairytales.
But wait, there are more… they have just launched two new stories and this time from Disney. I know, how exciting. One is The Lion King (my absolute favourite!) and the other, The Jungle Book which, let's be honest is just as fun.
The stories are only short, 20-30 mins so keep children entertained and engaged and they include all your favourite songs too!
Counting Mountain by Orchard Toys
Counting Mounting is a fabulous educational game to practice number recognition and counting. Be the first to reach the mountain top in this exciting counting and addition game, which includes a 3D mountain! Take turns to turn over two footprint cards, count the yeti footprints and move your climber up the mountain the same number of spaces. Children will enjoy hanging their climbers onto the 3D mountain.
However, watch out for the yetis! If you turn over a yeti card you must move backwards the number of footprints shown. If you turn over two yetis everyone moves backwards two spaces!
First Words Sticker Colouring Book by Orchard Toys
Children will learn their first words with the the First Words Sicker Colouring Book as they match the stickers and practise writing by tracing the letters! Each word features a bold and friendly illustration, which can be coloured in after learning the word as a reward. Includes 81 colourful letter stickers! There are other books in the range too, just click here.
Match and Spell by Orchard Toys
Match and Spell is a lovely little game that encourages letter recognition, teaches phonetic word building and promotes matching of pictures and words, from simple words like 'cat' to more complex four-letter words.
There are two ways to play this game. In the first version of the game, players must match the letter cards to the letters shown on their board in the correct order to build a word. This is a simple matching game, which is a great way to introduce letter shapes and sounds. As children get more familiar with the letter sounds, they will progress to reading the words out loud. In the more challenging version of the game, players use the blank side of their boards and use the letter cards to build the word of the picture shown. These must be placed in the correct order.
My Fairy Garden – Dragons' Tower
Dragons' Tower Garden is a Grow Your Own playset featuring a magical tower castle that is home to Mummy and Baby Dragons and the beautiful Fairy Thea. Take the Baby Dragon anywhere in his egg shell. You can use the egg shell to water the plants as well! Dragons' Tower Garden comes complete with pea and grass seeds to grow in 3 growing areas. Just add soil!
Creature Peeper
The Creature Peeper lets you see bugs from above and below at 3X their original size perfect for sending children in the garden to go on bug hunts with. Children can choose bugs and more to study; try ladybirds, crickets, worms, grasshoppers and even pebbles! Examine both sides of your bugs – then let them go. Child and bug-friendly, the Creature Peeper is easy to use and sturdy with a durable base. Includes your very own beetle replica!
My Talking Globe by Learning Resources
This amazing interactive My Talking Globe will spark their curiosity as they learn about continents, countries, animals and nature. It encourages young children to learn about the world that they live in.
The Talking Globe offers three modes of learning:
Explore – gives extra information about a location on the globe
Quiz – tests knowledge about a location on the globe
Measure – Gives the distance between two locations on the globe
Children just have to select their mode of play and touch the Talking Pen to any location on the globe to start learning! The Globe and stand measures 45.5cm and includes 12-hours of English audio.  It features the voice of wildlife conservationist, Bindi Irwin
Pup in a Cup
Pup in a Cup will be your little ones new best friend as is perfectly sized for little hands. 6 cute styles to choose from. They even include a sticker sheet to decorate your teacup. This is one adorable puppy soft toy and a teacup with a twist. Twist to transform each teacup into fun accessories – a puppy bowl, puppy bed and collar. Each puppy has it's own name tag hidden underneath the cup. Includes surprise puppy accessory.
Fuzzikins – Fuzzi Street
Fuzzikins Fuzzi Street Ice Cream Shop and Pizzeria brings you a fuzzy world of fun and imagination! Fuzzikins are adorable flocked creatures to colour and play with. Little ones will love personalising the penguin ice cream seller in this set or the chef mouse. The cute characters are the perfect way to inspire your creativity!
The set includes the Fuzzikin characters, three felt tip pens, a building and lots of accessories to colour in and customise! You can even rinse and recolour your Fuzzikins when you want to change it up!
Talking Waffle Dog
Fans of the hit new CBeebies Waffle Dog show will love their very own Waffle soft toy. Waffle the Wonder Dog super soft and huggable, kids will love this gorgeous, fluffy Waffle as much as the real one. Press Waffle's left paw to activate some of his favourite sounds from the show and even hear part of the catchy theme tune. Sing along to 'Waffle Doggie, such a good dog' and join in the fun. Approximately 23cm tall.
Emoji Unicorn and Mermaid Reversible Single Duvet Cover Set
This reversible Emoji Unicorn and Mermaid Duvet Set makes a great gift for those little ones who have all the toys in the world! This duvet in particular features the unicorn and mermaid themed emojis and fits a single bed. Each set contains 1 single duvet cover and 1 pillowcase.
Emoji bedding is available at Price Right Home, Very and Matalan
Emoji Blanket
This Emoji Unicorn Fleece Blanket is perfect for any unicorn maniac. Ideal for use in the car, whilst camping or at sleep overs. Approximate size: 100 x 150cm. Machine washable at 40C and can be tumble dried.
Emoji Towel
The Unicorn Emoji Towel is our favourite and most used emoji by the girls! So of course we need one of these unicorn emoji beach towels in our lives!
This features our favourite unicorn of all time! This beautiful lilac beach towel measures 70 x 140cm approx, it is machine washable. Children will go mad for this design and it would make a lovely swimming towel.
Emoji Poncho
The Emoji Unicorn Lilac Hooded Poncho Printed Towel is great for the beach, swimming pool or at bath time. When your little one starts to siver, pop it over their head to get dry. One Size Poncho Size: 115 x 50 cm,
Gruffalo Cushion
The story has told us so we definitely know, that there IS such thing as a Gruffalo! Young fans of The Gruffalo will love this officially licensed cushion which comes in the shape of the loveable monster himself and great addition to any fans room. There are also many more accessories in the Gruffalo range.Approx size 32 x 32cm.
Masha and the Bear Game
Masha and the Bear Race to the Tree House game. The aim is to be the first player to reach the finish space at the top of the game board. On your way there, the rope ladders may speed you up or slow you down.Be the first to reach the top, but be aware of the pink and green arrows. Assemble the fun 3D game board to begin the game.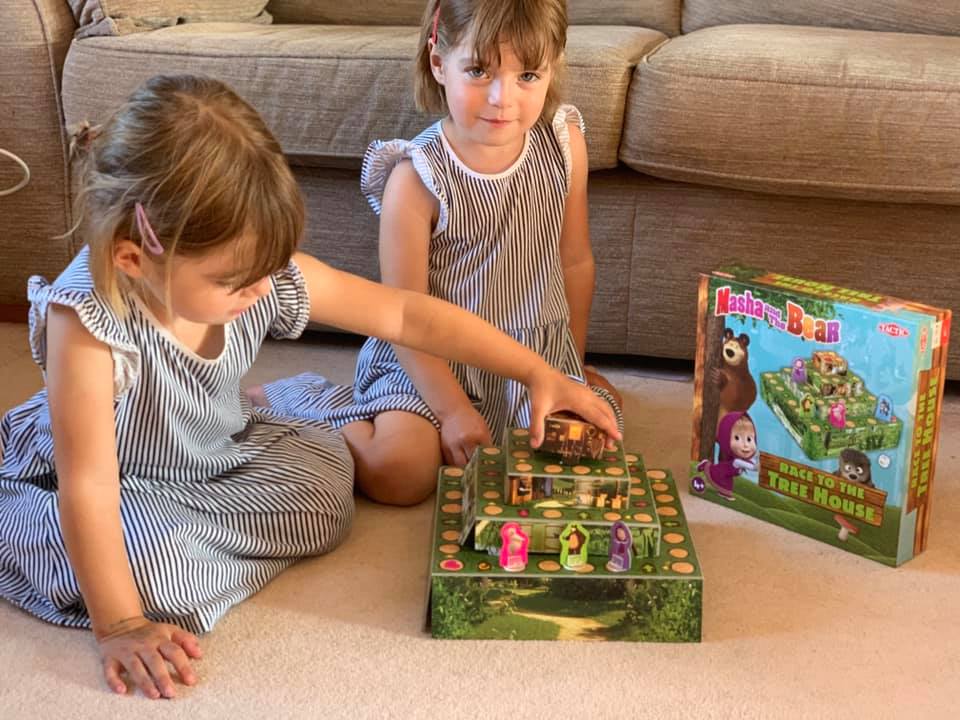 Speedy Beedy
Speedy Beedy is an easy-to-play colour matching game. Invite the other players to use their bees to collect the flowers in the right order. Sometimes, the players might end up picking up a bug that steals the flowers. Keep an eye on which flowers to collect and remember that a bit of speedy action may just be enough to win.
Paw Patrol Sonic Jet and Super
Paw

s Pups

Introducing the PAW Patrol Super PAWs Mighty Jet Command Centre! This 2-in-1 deluxe team vehicle transforms from a jet into a mobile command centre for the PAW Patrol! On land, lift the handle on the jet to switch into mobile command headquarters. With room for all of the Mighty Pups (figures sold separately) and one Deluxe Mighty Vehicle (sold separately), the pups can get ready for adventures inside. When it's time for a rescue mission, pop the included exclusive Mighty Ryder figure into the cockpit, and load the disc launcher. Close the headquarters back into Mighty Jet and soar through the sky!

Push the button on the front of the jet to launch the discs and take down obstacles. With real lights and sounds and realistic details, the PAW Patrol's Mighty Jet is ready for anything!

Rescue in a tight space? Ryder is on the case! Open the jet back into the command centre and push the button to eject Ryder and his mini jet – continue to launch discs and help to save the day!
Have no fear, the Mighty Pups are here! Add all the Mighty Pups to your PAW Patrol collection with this 6-Pack Gift Set! Transformed into Mighty Pups by a meteor shower, Marshall, Chase, Skye, Rubble, Zuma and Rocky are wearing their brand new Mighty Pup uniforms. Wearing all new Mighty Pup suits, masks and rescue backpacks, these pups are ready to save the day! To find their way to adventure, each Mighty Pup has their own light-up badge and paws. Kids can push the button on their badge to animate the light-up features! Bringing all the heroism and excitement of the Mighty Pups to life, this gift set is the fastest way to collect all the Mighty Pups.
I have also written other present guides aimed at other ages. hey are well worth a look!