Double prams are convenient for parents of two young children, but they are a necessity for parents of twins. When both kids are the same age, there's no compromising with a double travel system; they both need a seat and possibly a place to nap – but which double pram do you choose?
Double prams aren't incredibly hard to find, but they are also not excessively abundant. When it comes to children, parents only want the best so picking out a safe double pram for newborns that meets your needs is very important.
We have created a list of the best double buggy, all of which are excellent choices that come with different price points, styles, and features.
All of these double buggies are suitable for siblings of different ages, and great twin prams too.
You don't win awards for being an average twin buggy, which is why the Out n About Nipper Double is a solid choice for parents of twins or two young siblings. One of the best features of this double buggy is that it has a side-by-side configuration but still fits through a standard doorway.
It has all the features any parent would want, like retractable sun canopies with see-through hoods and excellent suspension for bumpy terrain. Adjustable seats and handles mean that this pram will be comfortable for both kids and parents.
It comes standard with a rain cover that will keep kids dry on rainy days, and pockets and a pouch for storage. The Nipper Double is suitable for children up to 4 years old, so it will go on plenty of adventures with the family.
We had this buggy and can personally highly recommend it!
Baby Jogger City Tour Double
The City Tour 2 Double Buggy makes getting around town with two kids easier than ever! It has a lightweight design that fits through a standard doorway and features an ultra-compact fold. It's compatible with our exclusive Carry Cot infant bassinets, City Tour 2 can be used from birth (Carry Cot sold separately). This fully featured double buggy includes 2 comfortable padded seats with multiple recline positions as well as adjustable calf supports and UV 50+ canopies. Add-on accessories allow for easy customization of the City Tour 2 Double Buggy, so you're equipped to carry on with your day, wherever it may lead you.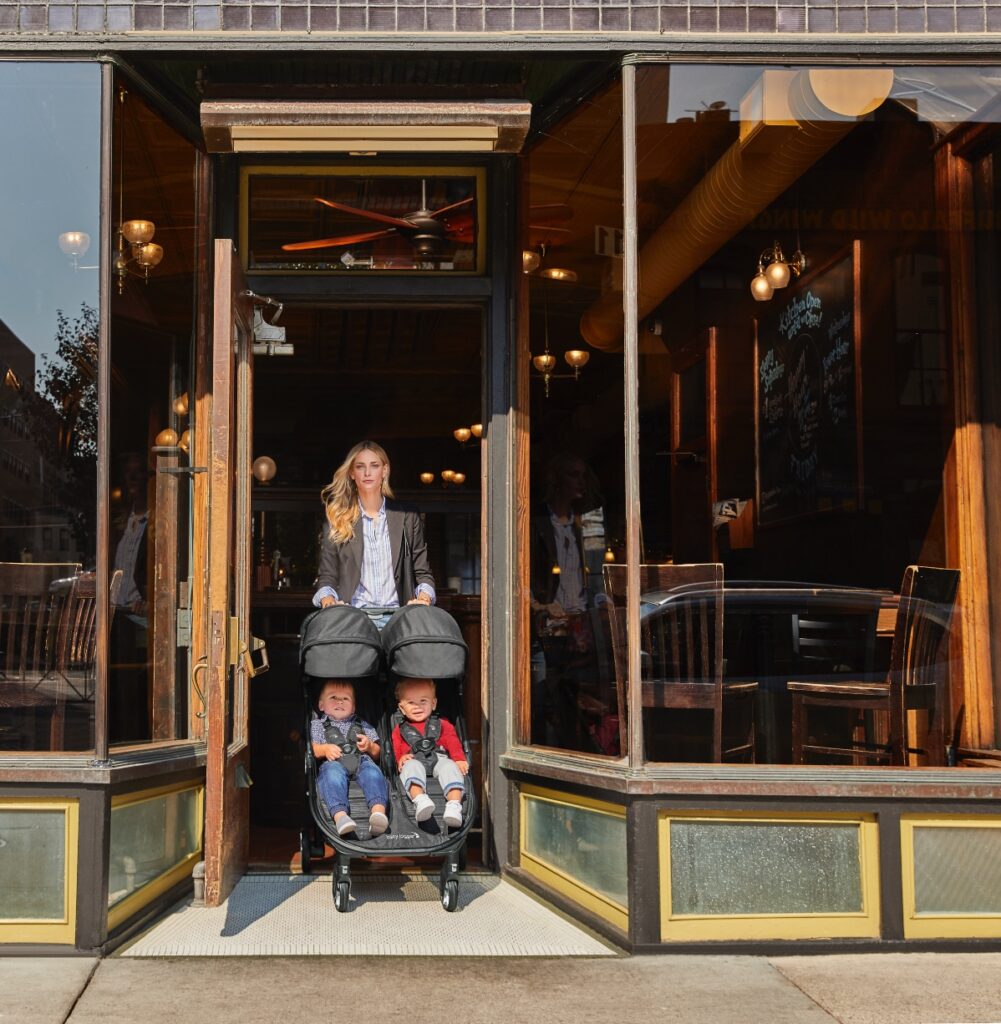 Despite its name, this double pram comes in multiple colours, which is only one reason that parents love it. It is suitable for kids up to 25 kg, so it may be the only pushchair for twins, parents would ever need. This twin buggy comes with everything a parent would ever want in terms of comfort, including adjustable handles and seats.
The canopies extend out over the seat for great sun and rain protection, and a mesh window makes the seats breathable and allows parents to check in on their little ones. The stadium seating gives both kids a clear view of what's in front of them, so they are entertained and engaged. It comes with a carrycot, which is perfect for a sleeping baby, and this inline double pram folds up nicely for better storage. The basket underneath is not the biggest, but it is still large enough to comfortably hold a diaper bag or a few shopping bags.
We also had the iCandy. We found it great if in cities as it took up less room on the pavement and when in shops – maybe this could be the best twin pram for you!
This side-by-side pram is an affordable option that's great for travel and everyday use as it folds down into an impossible-seeming footprint. It has mesh on both the shade hood and the back of the seat, making it breathable and comfortable for kids on hot days. The seat folds all the way back, creating the perfect area for babies and toddlers to nap. Parents will love the convenience of this double pram, too, with an under-seat basket to carry essentials and adjustable handles to find the perfect height.
The City Mini's sleek design makes it look like an armored vehicle, but it's designed to be a lightweight buggy. For a side-by-side pram, it maneuvers remarkably well and doesn't sacrifice anything in style or features. It can support two carrycots for newborns and kids up to 22 kg, so it will grow with your children.
Large canopies provide exceptional protection from sunlight and rain and peek-a-boo hoods make it easy to check in on the kids at any time. In cases of extreme precipitation, this pram comes with a transparent rain cover that protects the entire seat and promises to keep your twins dry and comfortable. The under-seat basket is large enough to carry a nappy bag and anything else you may need to bring with you.
The Bugaboo Donkey Twin is a customizable wonder that parents of twins, different aged young ones, and singles will equally love. This fantastic double pram can also work as a single buggy with abundant storage, including a spacious side basket as well as an under-seat basket.
The double travel system is expandable with just a few actions, and a single stroller turns into a double that can hold 2 kids. The wheels of this pram are specially designed to work on all terrain, which is excellent, especially for longer walks where the terrain may change along the way.
Graco is a well-known and trusted brand that parents can rely on. This budget-friendly model is perfect for parents of twins looking to save money or who aren't entirely set on the type of pram they want. The inline buggy fits kids up to 3 years old, so it's excellent for babies and small toddlers, but won't be the only buggy most parents of twins will ever own.
The seats have adjustable backs, but they don't have as many positions as other models, especially the front seat, which only allows for 2 positions. On the plus side, this double pram can fold up with a single hand and works with all Graco model car seats. One more benefit to this double pram is the generous under-seat storage, which is uniquely shaped to hold more gear than most double travel systems.
The Voyager has got to be one of the most unique twin buggies on the market today, with so many customizable options that parents love it. It's sold as a single-seat, but parents can buy a double kit to turn the Voyager into the perfect inline double buggy for twins. It works as a double seater for toddlers but can also be a double pram for babies, and seats can be configured in multiple ways to best suit the needs of babies and parents. There are 5 reclining options for the seat for maximum comfort, and the wheel suspension gives this pram a smooth ride on any surface. Parents also love it because they can push one-handed with ease. Like all great pram options, the Voyager easily folds down for storage.

The Perfect Double Pram at any Price
All of these options are unique in their own way and most parents would be happy with any of them. They run the gambit in prices and features, and most decisions will come down to which design works best for your family's specific needs. When you're armed with the best double buggy, being out and about with your twins is easier than ever.
Bio: Mikala Colman found out she was expecting twins in 2014. After she got over the initial shock, she set off on an adventure looking for all things twin; however, once her girls were born, she realized how hard it was to find the products she needed. Today she runs Things for Twins with another mum of twins, Jade, where they provide support and sell unique products for other mums and dads of multiples.
NOW IT'S TIME TO PIN IT!