Do your children spend hours playing outside? I think most young children are naturally drawn to exploring the outdoors and connecting with the natural world. There are endless opportunities for creativity and imagination not to mention improved fitness.  However, it is a known fact that children are not spending the same amount of time outside as they used to. So it is our jobs as parents to find ways to encourage children to go outside… wooden playhouses are your answer.
** This is a sponsored post.
One way we got the girls playing outside more was to get them a playhouse for their birthday. Children's playhouses are a great way to encourage them to take part in make-believe and imaginative play which sparks them to use their imagination, later used for story writing when they go to big school.
What is imaginative play and how can we encourage it?
Some children find it hard to be imaginative and often need some help to lead them into the world of make-believe. A good way to get started is by reading heaps of stories. Stories are full of make believe and children love to immerse themselves magical worlds. The more they read, the more likely they are to recreate them through play. Later, they will be able to create their own fantasies by putting the different ideas together.
Can playhouses help children in the world of make-believe?
Children's wooden playhouses can lead children's creativity and be absolutely anything a child wants. From a cottage in the woods, a mud hut in Africa to a house on the moon. They really can believe and role play anything; it is all possible and wonderful to watch. A playhouse can give them a starting point and something to build on…
Where can I find a playhouse?
Wooden playhouses come in all shapes and sizes, and meet all budgets and garden spaces. Wickey sell a great range of playhouses. Some are stand alone which are at ground level, whilst others are up a set of steps with swings, slides and climbing walls leading off them.
Types of Playhouses
Panda Park Pro
The Panda Park Pro is an easy care, pressure treated, wooden playhouse with a chimney, window and shop counter measuring L123 x W97 cm, height: 156 cm. It comes complete with detailed instructions for easy assemble, a ring telephone and 3 weatherproof FATMOOSE stickers.
Fatmoose Hippo House
The Hippo House is a similar design to the Panda Park but larger which is sometimes needed if you have more than one child. Again, the wood is pressure treated and measures L156 x W132 cm, height: 169 cm.
If you are looking for something a little more creative, and physical, then take a look at these…
FATMOOSE Vanilla Villa Joy with Super Swing
This wooden playhouse with slide is a little way off the ground and entered via only a few steps, perfect for toddlers. The Vanilla Villa also has the added features of a toddler swing and a slide. The size of this product is L325 x W290 cm. Platform height: 60 cm. The slide comes in a choice of colours.
If you are looking for something for the bigger kids in your family, then Wickey also do a great range of larger wooden playhouses connected with play equipment such as climbing walls, ladders, slide and swinging equipment.
Tower Playhouse Wickey Smart Travel
The Tower Playhouse is 120cm off the ground and a true paradise for little explorers. It connects a climbing frame with swings, a slide which comes in 5 colours and a swinging ladder and a climbing ladder with holds. It even comes with its own telescope so children can watch out for pirates attacking, or search for animals grazing on the African plains before jumping in their jeeps and heading off on safari. The dimensions for the Tower Playhouse are L473 x W377 cm. Platform height: 120 cm.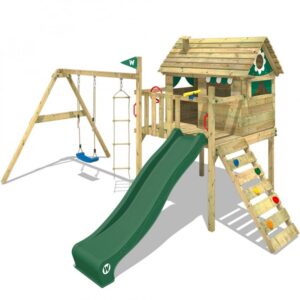 For THE ultimate playhouse, take a look at this…. You will never see your children again!
Tower Playhouse – Wickey Smart Explore
Creativity is very important to Wickey and their aim is to inspire and create endless play opportunities wherever they can and the Tower Playhouse can really do all of that and more. It sits 210cm off the ground so it really feels like you are up in the trees with a slide to whizz down on. It even has its own water connection point for those hot summer days.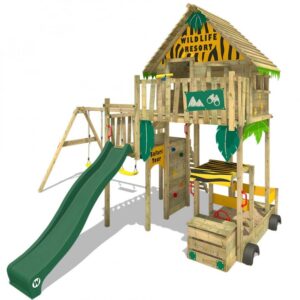 The Tower Playhouse Smart Explore comes with 2 swing seats, 5 climbing stones and 4 plastic handles to give those little climbers a helping hand. In the playhouse you will find a racing steering wheel, telescope, and 4 windows. To reach the top you have the option of two ladders, on angled, one straight and a climbing wall. Underneath the playhouse is an integrated sandpit so you can really feel like you are on that beach holiday overlooking the ocean! Dimensions: L581 x W573 cm. Platform height: 210 cm
If you found this interesting, then you might be interested in some other play articles…
100 activities for toddlers at home