With the summer holidays approaching fast, I am sure many of us are looking for ways to keep the children entertained outdoors. If you have a garden, summer is always a great time to make use of that outdoor space with some new play equipment and the best outdoor toys for kids.
In this 'Outdoor Toys for Kids' gift guide,  we will be sharing some of the best play equipment and outdoor toys for the garden including swings, climbing frames, wooden toys and inflatables – all of these are perfect boredom busters and will keep your toddlers to teens engaged in the great outdoors.
** This is a paid collaboration with Fatmoose.
It is always nice to have outdoor toys and play equipment that looks natural and sturdy, that's why we love the trendy Scandinavian brand Fatmoose. Their wooden outdoor products, such as swing and slide sets, climbing frames, wooden playhouse and sand pits are all made of the highest quality wood which has been treated with a high-quality, water-repelling impregnation to keep it in tip-top condition. What is even cooler is that it is possible to change the climbing frames from a swing to a superswing or add an extra climbing tower.
Swing and Slide Set – Outdoor Toys for Kids
With so many combinations to choose from, you can't go wrong with children's swing sets. From a basic swing, to a swing and slide set, Fatmoose really does have it all. Sets can also come with a slide, climbing net or ladder and a platform. There are even options to upgrade to different swing seats including baby seats, nest swings double party rider swings. It will be like having your own playground in the back garden!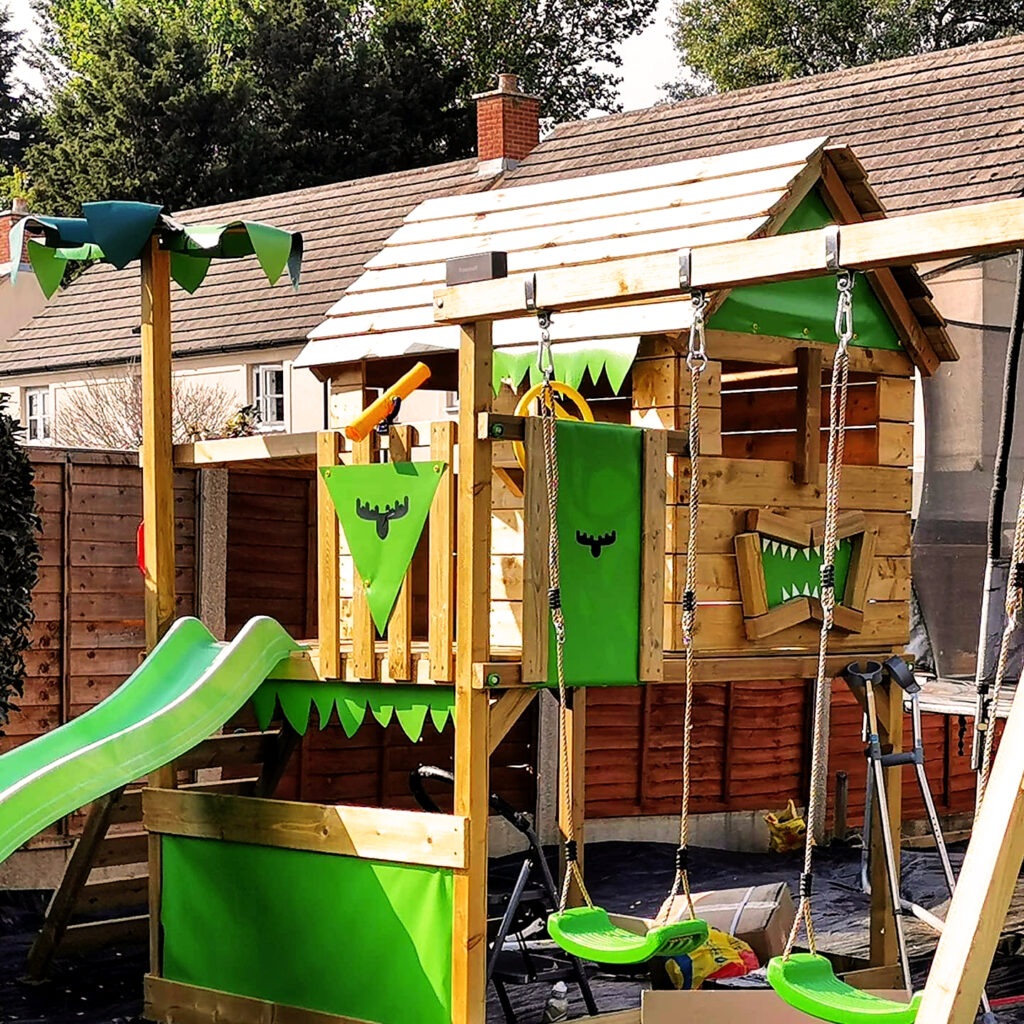 Sandpits
Bring that beach vibe to your back garden with a stylish sandpit – a great outdoor toys for kids . Sandpits come in so many designs to suit all budgets, some have fold down lids to protect them from the elements and others even have benches around the edges. So whether the kids enjoy digging for treasure or building spectacular sandcastles, a sandpit is sure to keep them busy and will become one of your child favourite garden toys.
Playhouses
Outdoor playhouses have come a long way since we were children, obviously you can still buy the metal framed Wendy houses with material covers but a lot of the new playhouses resemble sleek, wooden beach huts you can even buy them on stilts. Inside a wooden playhouse children can let their imaginations run wild and create their own little den or even make it into their own little cafe or shop.
Climbing Frames
A climbing frame in the garden is something that every child will appreciate and its the perfect outdoor toys for kids. Again many climbing frames are now made from solid wood and can withstand wind and every type of weather. Many of the modern climbing frames are adaptable and can also have add-ons such as swings and slides. Your children will have great fun and also get to test their strength whilst climbing or swinging on the monkey bars.
Wooden Easel
Get expressive outdoors with a wipe clean wooden easel. Little budding artists can get crafty and be inspired by nature at the same time. A lot of outdoor easels come with wipe clean painting screens ready for the next person to take their turn.
Swimming Pool
From inflatable paddling pools for toddlers to full on steel framed swimming pools – these are a must to help everybody cool off on a balmy summers day. The larger sized pools are easy to set up and can often fit up to seven people in them. The material used is thick, durable and puncture proof so you'll get to enjoy using them for many years to come.
Mud Kitchen
Mud kitchen's are a great accessory for your garden, kids love getting creative and making potions and mud pies. There are many wooden mud kitchens available to buy but if you are handy at DIY you could even make your own from some wooden pallets. Save all of those old pots, pans and baking trays and let the little ones go wild in the garden.
Bubble Machine
Who doesn't love bubbles? Bubbles are even better with a bubble machine as you can just add the bubble solution into the reservoir and you'll end up with a constant stream of bubbles to pop and chase.
Bouncy Castle
Not just for parties or fun fairs, you can actually buy your own bouncy castle. These are made from high quality material which is both fire and water resistant and puncture-proof. Custom inflatable manufacturers can help you to create your dream bouncy house and use it for a long time. If your kids love comics or Disney cartoons, you can discuss the design with them and create the most unique and colorful bouncy castle. This, for sure, will be their favorite place to spend the summer.
All you'll need is an air blower to inflate it. Having your own saves hiring one out for your kid's parties and just think about how much energy will be burnt off from an afternoon of bouncing – What a great outdoor gift for kids!
Giant Jenga
Giant Jenga is the perfect large outdoor game for all ages to enjoy. Get all of the family involved in building the giant wooden tower and see if all of you can hold your nerve as you remove each block and hope that that tower doesn't topple over.
Space Hopper
Space hoppers take me back to my own childhood in the 80s. They are great fun and come in many colours and patterns. Great for keeping fit and also for teaching co-ordination and fine motor skills too.
Basketball Net
I used to have hours of fun trying to shoot hoops into a basketball net as a child. There are many to choose from, from smaller ones for toddlers, adjustable ones and wall mounted ones. Again this is another piece of equipment that will help to teach co-ordination and one that will grow with the family.
We hope that this guide has given you some inspiration for having fun outdoors in all weathers!
Have you Pinned it?