Holiday in Croyde Bay
As we turned the final corner, we knew our holiday in Croyde Bay was almost upon us. From the car window we could see  the sand was sparkling and the waves were crashing – this was going to be the best summer at Croyde Bay Beach and it was right ahead of us!  With everyone looking for the best UK holidays for kids this year, I honestly think we had just landed on our feet. We were all so excited by this Devon Beach holiday.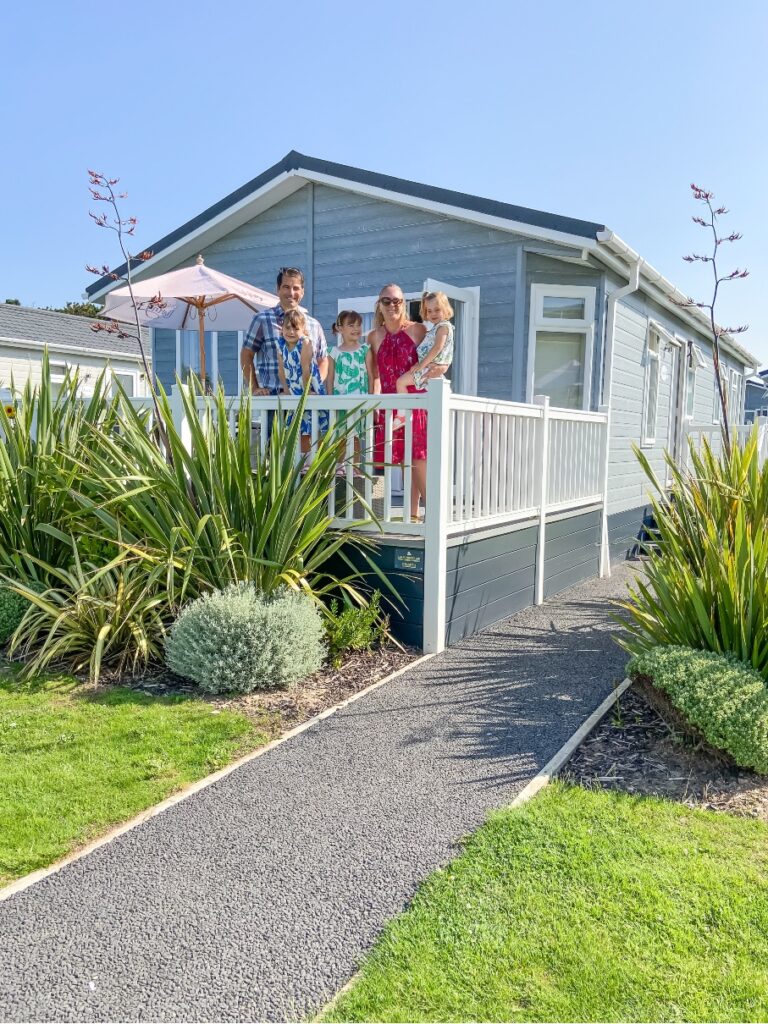 ** We were gifted a week in Croyde Bay in exchange for an honest review
The Location of our Holiday in Croyde Bay
If you are considering a beach holiday in Devon then this is the place you need to be. Croyde Bay Holiday Park is on the North Devon Coast in the UK and perfect for UK family holidays – it is beautiful. It's main attraction is Croyde Beach because of the huge sandy beach which is backed by sand dunes. Just beyond the sand dunes was our resort – you really couldn't get a closer location!
Our holiday in Croyde Bay in 2021 took us just over 4 hours from our home in Essex to get to and we had a good run. The children are used to long car journey's but we always take plenty of healthy travel snacks and travel games to get us all through the journey. We have always found that leaving home early works the best for us. It avoids the traffic and we literally wake up and go with the girls in their PJs and take breakfast with us – we were at Croyde Beach by 11.30am!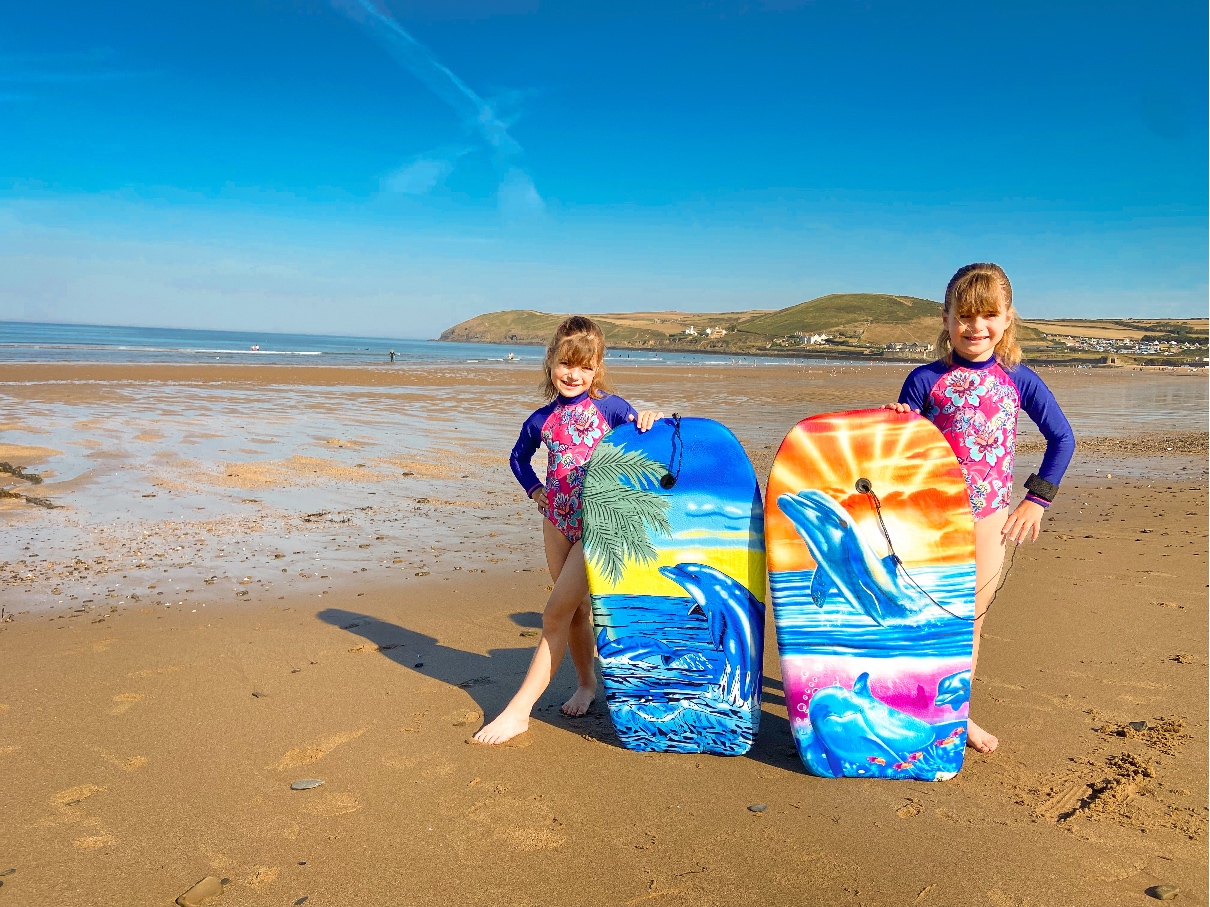 Holidays in Croyde Bay
Croyde Bay Resort really does have all the ingredients to make a family holiday in Devon just perfect. It is known as being one of the top holiday resorts in North Devon, being located right on one of the most beautiful beaches. It boasts a number of family friendly facilities which I can wait to share with you – so read on!
We arrived just before midday, way before check-in with the aim to beat the holiday traffic. We popped in to reception, just to tell them we were here and were greated by the friendliest team. The Staff at Croyde Bay are amazing and the service five star. Nothing was too much trouble and they did what they could to make your stay as amazing as possible. They said they would give us a call when our room was ready but we could use everything on the resort until then.
We decided to take the 10 min stroll into the village to stretch our legs, explore a little and get some lunch as we had booked in to the restaurant in the resort that evening. The village is really sweet with small shops, pubs and tea rooms and you can take a gorgeous walk back to the resort down the beach path.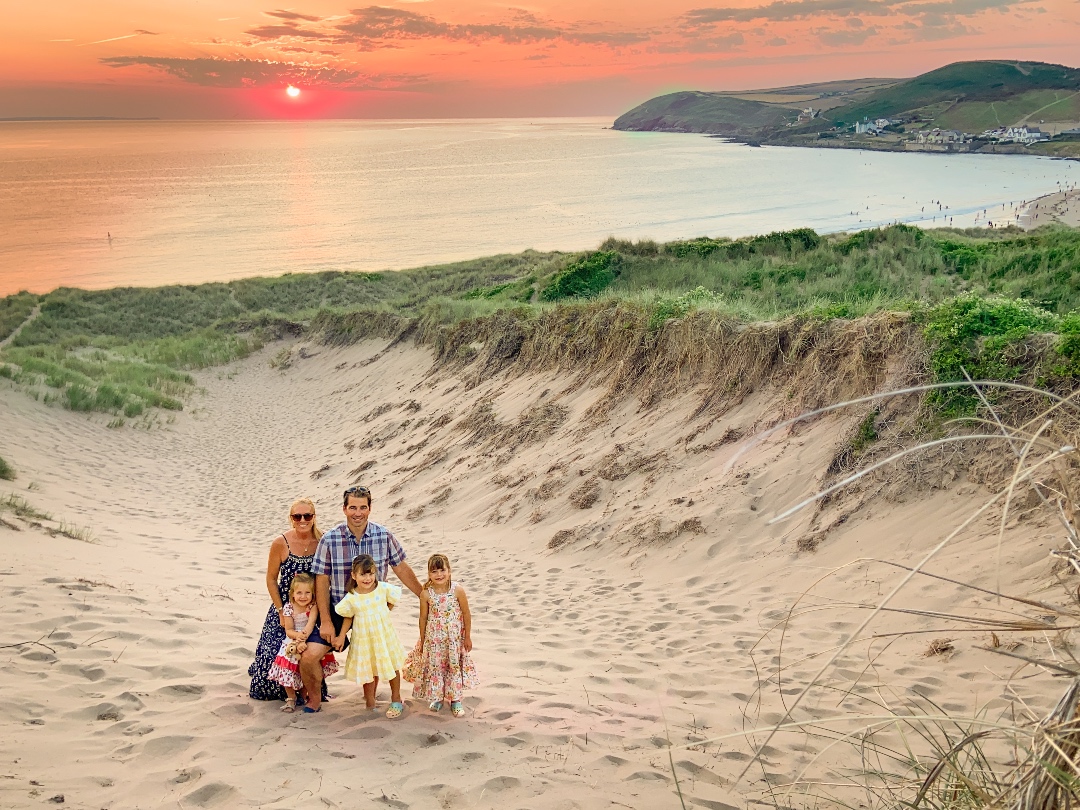 The Accommodation at Croyde Bay Resort
Croyde Bay Resort offers a variety of accommodation options. It consists of a hotel, self-catering holiday cottages and self-catering lodges with up to 4 bedrooms. We loved that there was so much choice and something for most family sizes.  We stayed 2 nights in the hotel and 5 nights in a 3 bedroom lodge.
Croyde Bay Hotel
The hotel in Croyde Bay Resort was a really pleasant surprise. I am not one for the whole family to be huddled in to one room on holiday, I do like my space, so when I entered our room on the first day, to see it had 2 bedrooms, I was overjoyed!
The hotel room was a good size for a hotel room overall. It had 2 twin beds at one end which was divided by the bathroom, they had put up a third bed for Matilda in the middle, and then there was our double bed at the other end. Our room opened up on to a small patio, which lead onto lawns where the children could play. There was an interconnecting door in our room and whilst it was locked, it did mean that it was suitable for larger families too.
Inside the hotel room you found a fridge freezer, coffee making facilities and a TV. There were no kitchen facilities so you do have to eat out for meals – however there is a great restaurant on the resort and other options in the village which is a 10 min walk away.
Croyde Bay Lodges
For the second part of our Devon family holiday, we stayed in a 3 bedroom lodge on Croyde Bay Resort which was amazing. The family accommodation was such a great size with 800 ft.² of living space. We were all totally taken a back with how clean and tidy it was. Absolutely spotless and not a fleck of sand in sight which was a miracle being right on Croyde Bay Beach.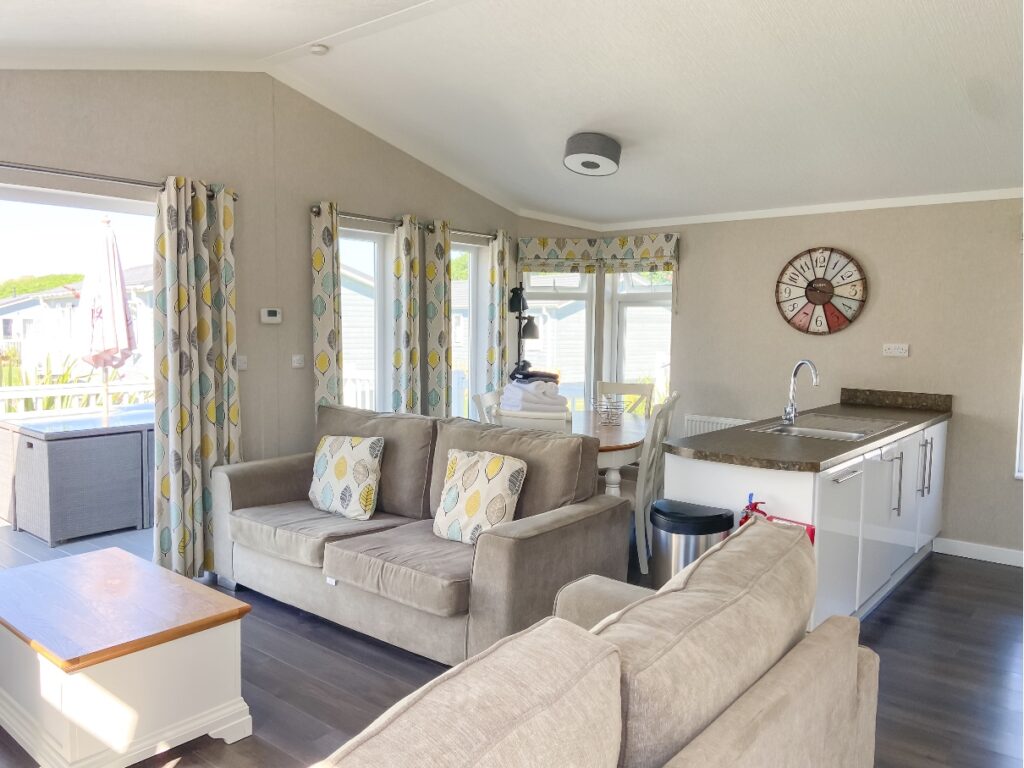 The open plan lounge area was really spacious. I love having us all chilling in one open plan room because even if we are all doing different things, it still means we can chat and are together. Tristan and I could be busy making lunches, and the girls playing and there was enough space for us all!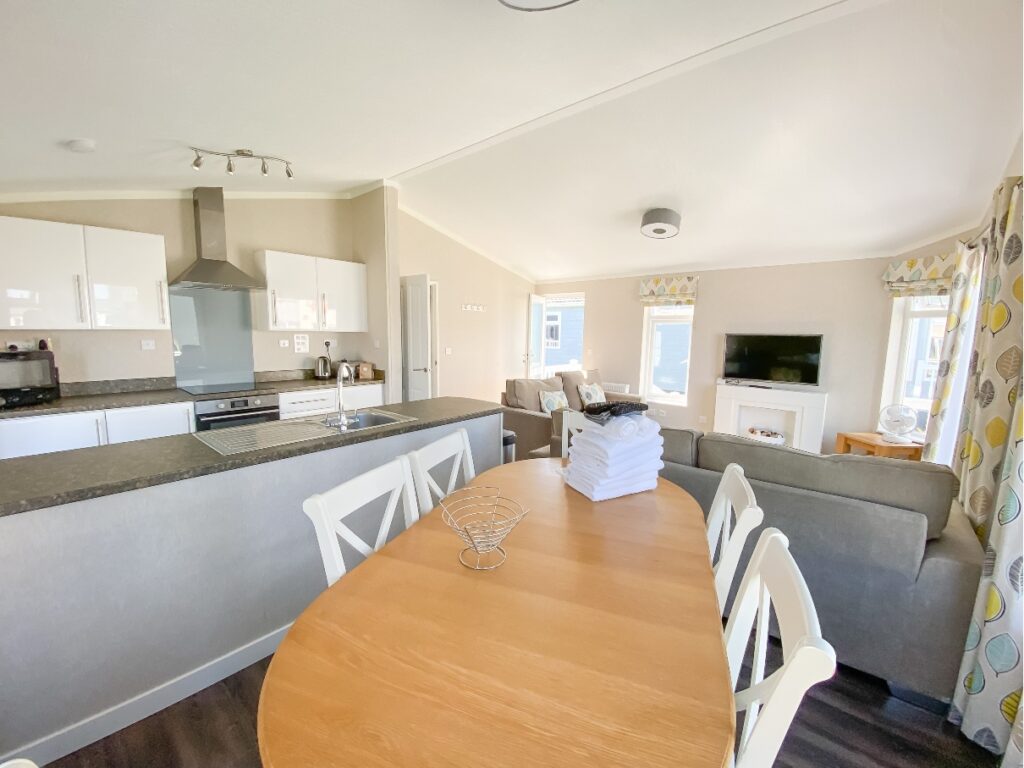 The kitchen was well equipped with everything you possibly need to prepare meals and live for the week. It even had a washing machine and a dishwasher which as you know with kids are a god send. There were two large 3 seater sofas in the living area and a good sized dining table to meals.
The double patio doors from the lounge area opened onto a private terrace which was large enough for the girls to play, us enjoy a glass of wine and hang everyone's swimming bits on from the day, without it feeling cluttered. Plus the view of the dunes was just divine!
The rest of the lodge was well laid out and really spacious too. There was one family bathroom with a bath and overhead shower and one en-suite off our bedroom. The two twin bedrooms both had good sized beds with a wardrobe and chest of draws. There was also a bedside table in between the two beds too. The main double bedroom had a large fitted wardrobe with a lot of hanging space and shelves with a separate chest of draws which had a TV on. It was really nice to have an en-suite shower room with a decent shower! It was great to be able to actually unpack for the week and have heaps of storage! All bedding and towels were provided.
I will be totally honest and the one thing I was really worried about was that noise. Whilst the lodges were spaced out well, you never know how loud a resort can be in the evenings but it really was so quiet. Apart from the odd bark (because the resort also offers dog friendly lodges), you could enjoy a quiet evening which was so nice.
The Facilities at Croyde Bay Resort
When we are on holiday with the kids in the UK, we always carefully select places to stay that have excellent facilities for families. It makes for such a relaxing holiday; for the kids to be constantly entertained in special in our eyes, and this is why we are so impressed with Croyde Bay.
Absolutely everything (other than meals) at Croyde Bay Resort are included in the price. The swimming, gym and tennis are free, as are all the activities on the greens and equipment is provided. This is why Croyde Bay Resort is on of the best family holidays in North Devon.
The Swimming Pool
A holiday at Croyde Bay means we were able to swim every day. Despite being at Croyde Beach most of the time, it was still nice to get up and have a swim in the pool to get us going for the day. It was never busy when we went. Only one or two other families which was lovely.
There is a large main pool with a deep end, and also a smaller toddler pool. Again great for those on holidays with toddlers or with young children. My girls loved splashing around getting their confidence up again!
Play Areas
The play areas were such a big hit with the girls and they absolutely loved them! There were bigger climbing frames for the twins, and also smaller ones for Matilda. There are picnic benches dotted around for parents to chill out whilst the kids played – there is such a nice feel to Croyde Bay Resort everywhere you go – it is incredibly family friendly!
As well as the main play area, there's also table tennis, a soccer table, bowls, and smaller games dotted around the resort. They were never busy and the girls were constantly playing on them. Because they are literally right outside the lodges and hotel rooms, it allows the children to just play because they are still so close to you.
Crazy Golf
The crazy golf is right next to the play area and so much fun – you can help yourself to golf clubs and balls and get going straight away.
Tennis
Croyde Bay Resort has a full sized tennis court. You can borrow rackets free of charge.
Restaurants at Croyde Bay
Having a restaurant on the resort was such a treat. Whether it was just popping up for a drink, a quick snack or a hearty dinner, the restaurant caters for all of this and more!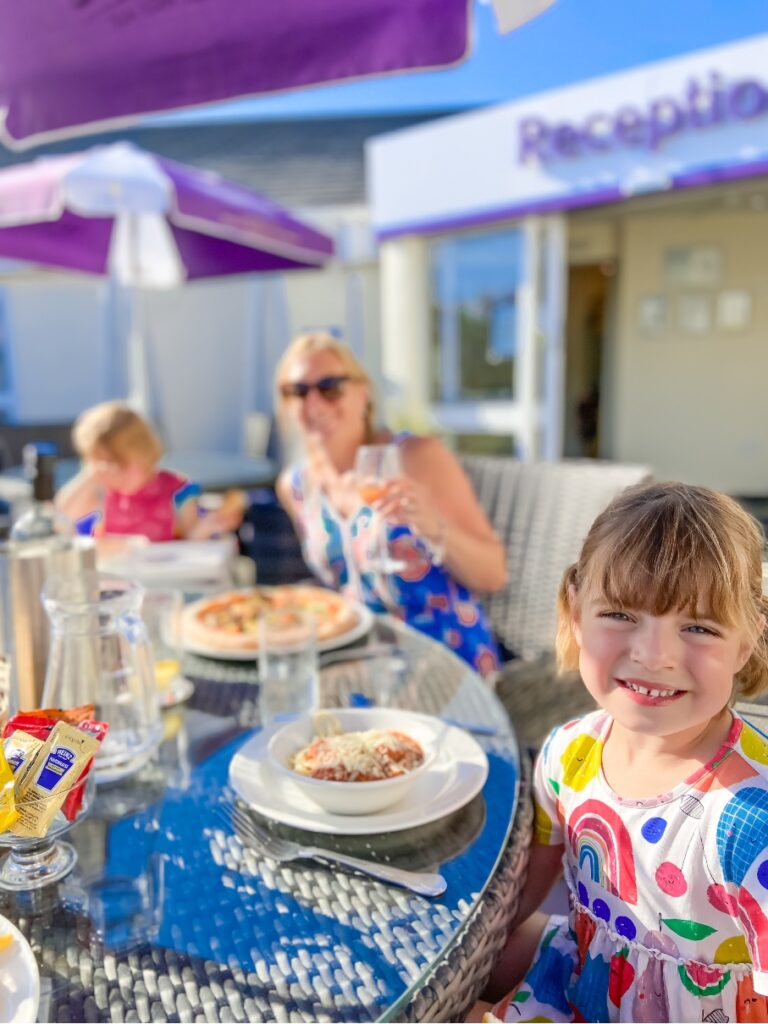 Sometimes when you have been out all day, and the last thing you need when you get home to your lodge is to have to start cooking. We did exactly this and had a few meals at the resort and the service was always quick, and food delicious. There was a good selection on both the adults and kid's menus which replicates good pub food.

Holiday in Croyde Bay Beach
Croyde Beaches
For someone who is not a big fan of the beach – I absolutely loved this one. Croyde Beach is so beautiful and so much fun for the children. And the best bit is, it's just a short 5 min walk, 10 with small kids – away through the dunes.
We packed up our beach bags, and headed off from our lodge around 10am and were welcomed by an empty beach. By lunchtime it was busier but by no means crowded.
We always set up camp to the left on the slightly wetter sand because here were all the rock pools and shallows, so much more fun for the girls to explore from. We also headed back in the evenings for sundowners – it was such a special time to be at the beach.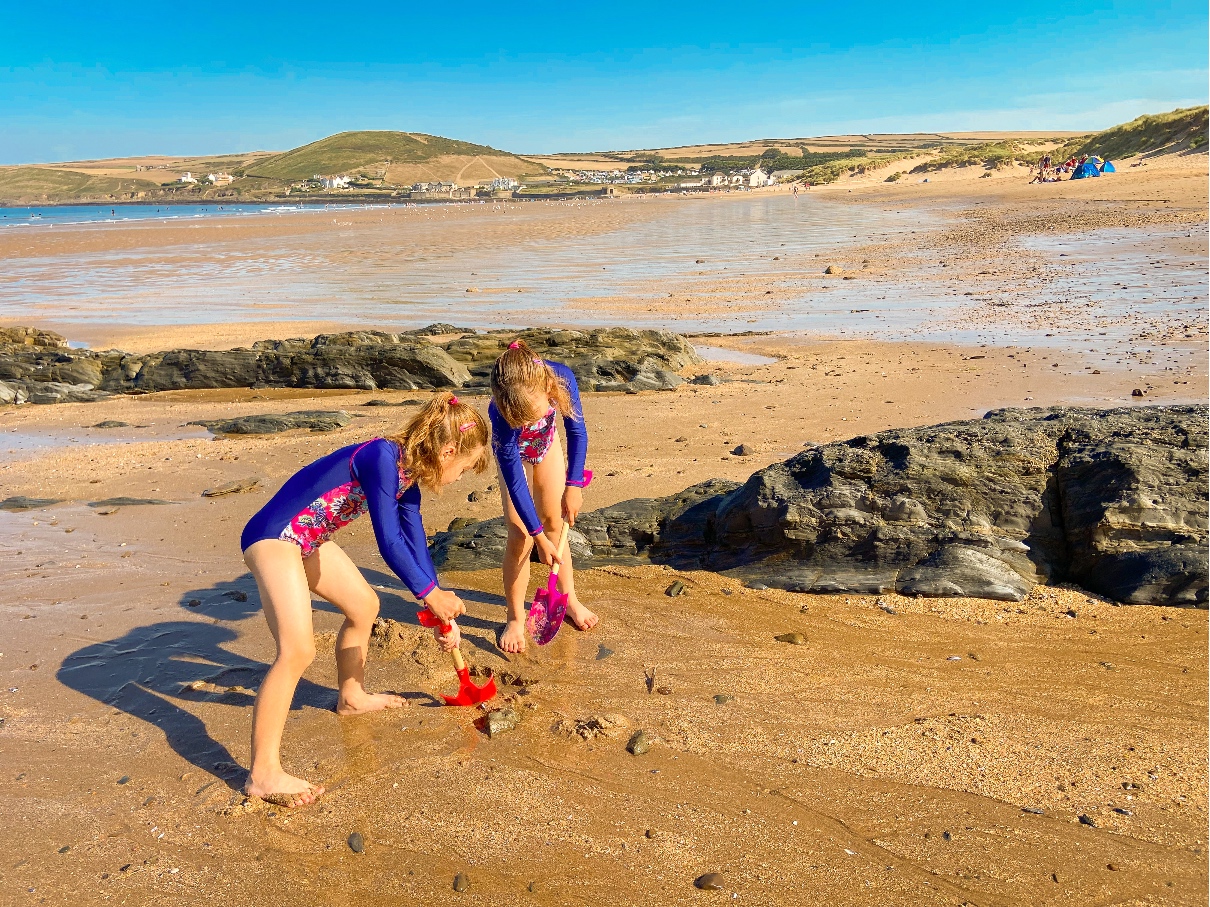 How to Book a Holiday at Croyde Bay
It's really easy to book a Devon family holiday at Croyde Bay Resort – Just hop on to Croyde Bay Website to book today.  It really is one of the best UK holidays for families.
Days out in Devon – Making the most of your holiday in Croyde Bay
We had some lovely days out in Devon From Croyde. There really is heaps to do and so much for families.  If you are looking for things to do in Devon with kids, then check out this article; Days out in Devon with Kids (to follow)
Thank you once again to Croyde Bay Resort for hosting our stay. We had just the best UK family holiday and would love to come back again and explore Devon some more one day!
IT'S TIME TO PIN IT!