If you thought that staying in a hotel with children was a thing of the past, then think again because this is all possible especially if you stay in one of the Luxury Family Hotels.
I didn't realise this either until we stayed at New Park Manor Hotel in the New Forest. I was really dubious about how much relaxation was really possible, especially with pre-school twins and a baby but I actually came away relaxed, and I read a book, on my own without being disturbed. This is how I did it!
Free child care
Lets start with the important one – Child free time! As much as we love our children, to get a few hours' peace is my idea of heaven and I can't remember the last time I did it. For every night you stay in a Luxury Family Hotel, you receive 2 hours' free childcare in the on-site crèche – yes FREE, it's a no brainer really isn't it!
Relaxation
So what do you do whilst the little ones are having fun in the crèche? You pop to the Luxury Family Hotel spa for a few hours. Book a massage or a treatment, or just take a leisurely swim. Alternatively, you could take a book into one of the dining rooms and just chill… do nothing for a whole 2 hours.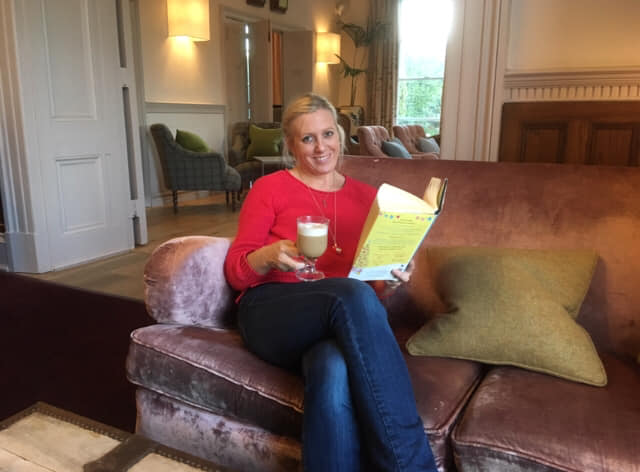 Hotel staff  that actually like children
I know it is a strange concept to actually like children but the Luxury Family Hotels staff really do! From the moment we walked in, they welcomed all three of the girls with open arms, accepted the tantrums, my children's crazy dancing in the lounge and understood all about my fussy little eaters!
Outdoor space
Hotels are often set in beautiful grounds, and New Park Manor certainly is, so take the opportunity to go for a walk, explore, let the children run wild to burn off some energy.
Child friendly mealtimes
Eating together is so important, but it can sometimes be hard to find hotels that cater for children's early meal time needs. However, the Luxury Family Hotels do just that. The have children's dining from 5pm, and then adults only dining from 7pm.
I used to love getting dressed up to go for dinner pre children, but we don't really get the opportunity anymore. However, if you are staying in a posh hotel, then it is a great opportunity to do so and with child friendly dining at the Luxury Family Hotels, we can all sit down together. The girls had been gifted these rather gorgeous dresses from David Charles, so the twins just had to wear them – don't they look amazing!
The Dresses – 

David Charles London
David Charles, the designer of these gorgeous dresses has dressed the royal's children and specialises in fine sophisticated designer dresses for children aged 2-16 years.They are just perfect for all special occasions – Christmas, Weddings, hotel stays! They are just simply beautiful and superbly made and in the girl's words 'perfect for twirling in'. Their most favourite thing to do! Take a look on their website as they have some really incredible dresses!
For the full review on New Park Manor, Luxury Family Hotels, it is here!!
CHRISTMAS GIFT GUIDE FOR CHILDREN
If you are still looking for that perfect gift for your children this Christmas then take a look at our GIFT GUIDE. It is full of lots of fab ideas for your children!
GO ON, PIN IT!